"HE'S A SUPERSTAR.
HE'S GOT THAT 'IT' FACTOR,"
says Bill Manning,
"He's got amazing energy that you can feel and a great smile. On the field, he's got great skill and can make those special plays that fans want to see. Off the pitch, he's stylish and dresses well. He's a family man and of high character. As a designated player, we want them to have an impact on and off the field, and he definitely has all the factors that make him a superstar."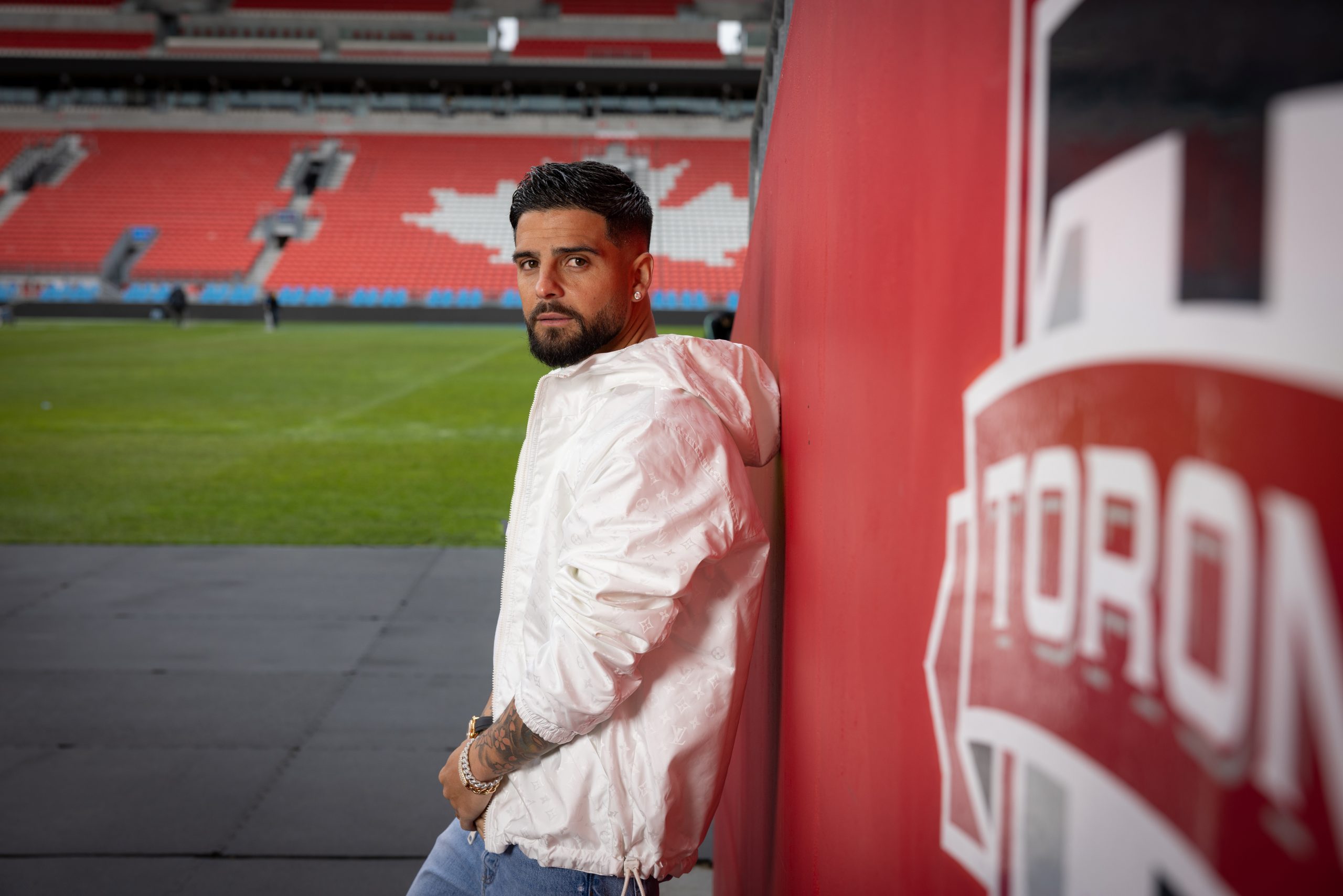 This superstar is none other than Lorenzo Insigne, one of the most recognizable players in Major League Soccer (MLS). The dynamic Italian left winger spent the majority of his 12-year soccer career with Napoli and made the move to the Toronto Football Club (TFC) on a four-year deal that began on July 1, 2022. The 31-year-old Insigne becomes MLS' highest-paid player, making $14 million US annually. The deal is considered a "transformational signing" for both the club and league by Bill Manning, Toronto FC president. There is an expectation not only that Insigne will produce offence given his price tag with the largest salary in league history but also help get TFC back into the playoff picture. After making the MLS Cup final three out of four years from 2016 to 2019 and winning in 2017, TFC finished 26th out of 27 teams in 2021 with a dismal 6-18-10 campaign.
The question is whether Insigne's attacking flair and left-winger experience will help return a young, revamped TFC side up the standings in 2023. Insigne has played at the highest level, from the Champions League to World Cup, where he won the European Championship with Italy after winning 3-2 in a penalty shoot-out against England in 2021. He spent most of his career with Serie A side Napoli, where he's made a combined 416 appearances, scoring 114 goals with 95 assists across all competitions (Serie A, Coppa Italia, Super Cup, UEFA Champions League and UEFA Europa League). In 11 seasons with Napoli, Insigne won three titles, including Super Cup (2014/2015) and Coppa Italia (2013/2014 and 2019/2020). In March 2021, Insigne was selected Serie A MVP of the month after scoring three goals and registering one assist in four games and served as the club captain since 2019.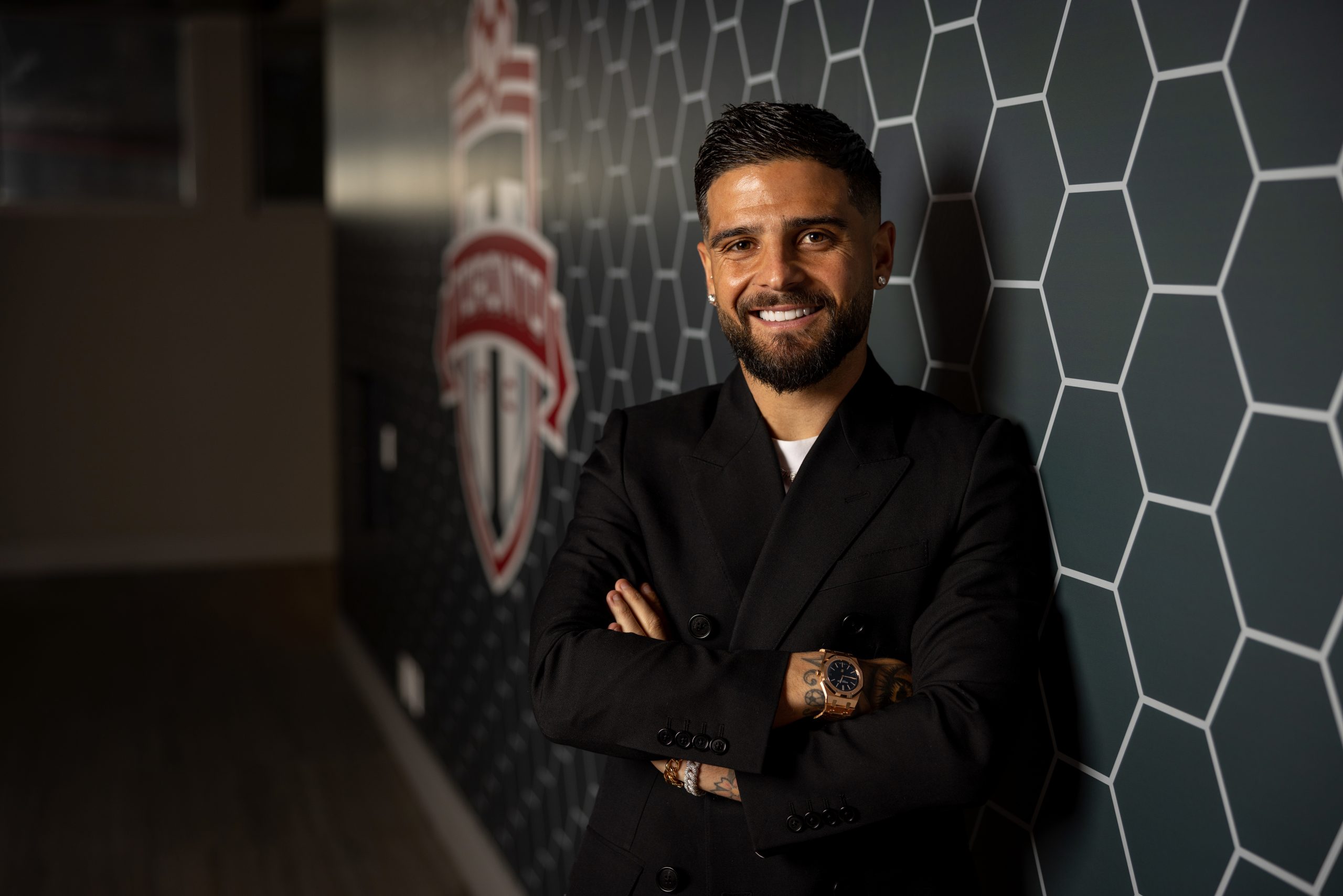 So why would the 5'4" and 132 pounds soccer superstar born in Frattamaggiore, Italy ( just north of Naples) leave his hometown club S.S.C. Napoli to start a new life with his family here in Toronto? "I am here to play soccer and help bring a certain level of competitiveness to this team through my own experiences. I want everyone to know how important MLS is as a league and how important it will become," expresses Lorenzo in this exclusive interview.
His transition to Toronto began when Manning contacted his agent, after being on Manning's radar as one of the Italian national players who was coming out of contract.
"INSIGNE HAD A BIG PROFILE – CAPTAIN OF NAPOLI AND IN THE PRIME OF HIS CAREER – AND WE HADN'T HAD A PLAYER OF THIS MAGNITUDE COME TO MLS YET. I THINK THE TIMING WAS RIGHT, AND OUR GREAT FINANCIAL OFFER TO MAKE THE CHANGE FROM A TOP-FIVE EUROPEAN LEAGUE TO MAJOR LEAGUE SOCCER WITH A LONG-TERM CONTRACT LEADING INTO THE 2026 WORLD CUP ALL PLAYED OUT THE WAY I WAS HOPING FOR US,"

remarks Manning.
The idea of coming to a new continent and an up-and-coming league to make his mark and be the cornerstone for this new period for TFC was an exciting move for Insigne; he states how "It was his [Manning] contagious enthusiasm and strong convictions of me joining TFC that turned into my desire to wear the Toronto jersey and to undertake this new career and life path. Once I signed, I watched all the games. I stayed up late at night just to watch them. I became more and more excited to become part of this organization, this club. It is true that I came into the season halfway, and the season ended the way it did, but I am here to win championships. The Toronto fans deserve championships. They are loyal fans and supported me as soon as I arrived. They welcomed my family, and I want to give them what they deserve."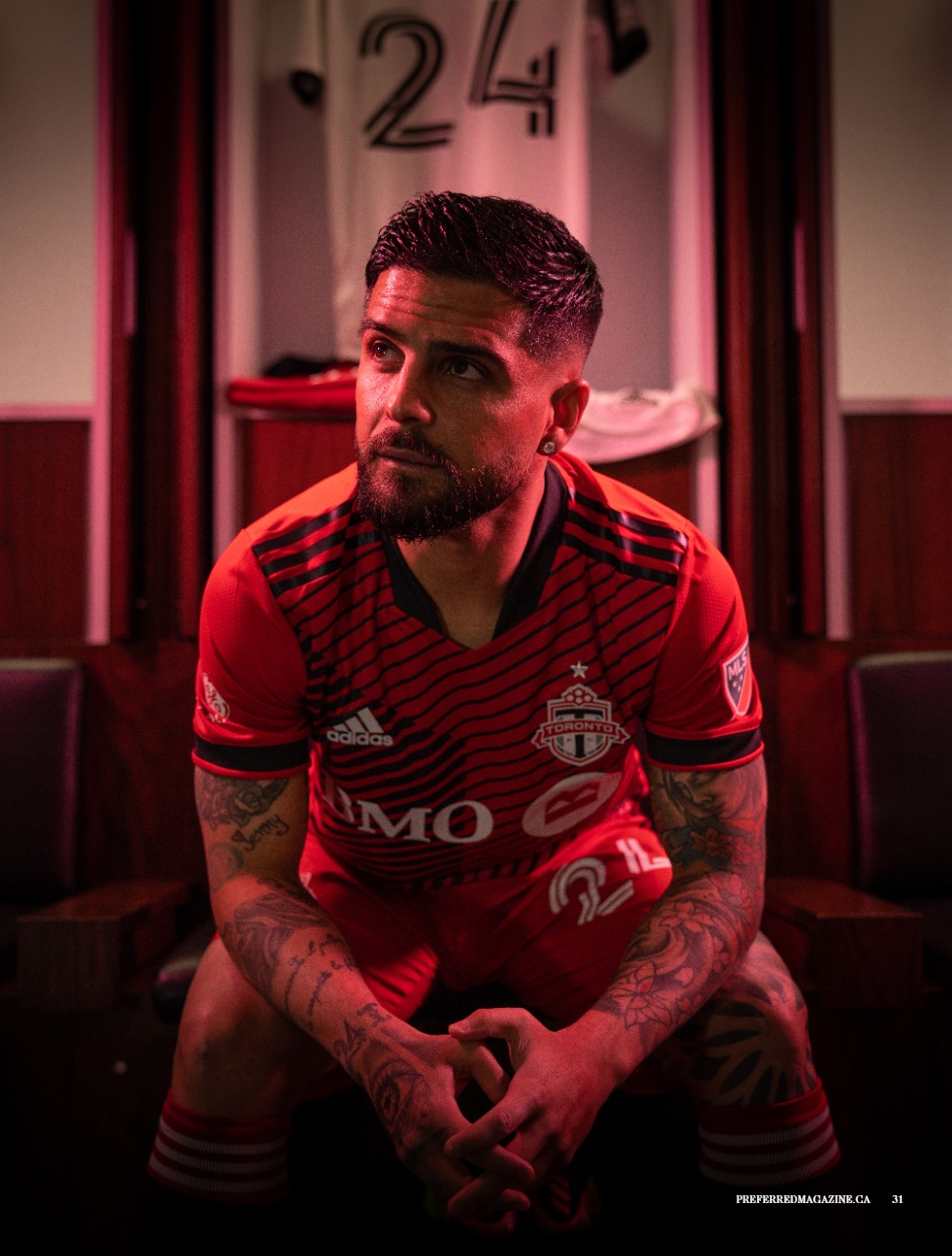 Lorenzo is accompanied by his wife, Jenny Darone and their sons Carmine, aged nine, and Christian, seven, and they will be calling Toronto home for at least the next four years. "Toronto is a city that is equal to all other large metropolitan cities in the world. It has such a high standard of education that is so important to my children and me; it will be their future. The multiculturism of this city is unbelievable; my wife and I are so happy about this. It will give our children such an open-mindedness about the world and about people, and with such a strong Italian community here, we feel like we belong," shares Lorenzo.
Unfortunately, Insigne arrived late in the season, playing in only eleven out of the 34 games but nonetheless, he immediately made the mark the club was expecting.
"HE QUICKLY BECAME A FAN FAVOURITE. EVERY SINGLE GAME SOLD OUT WHEN HE AND FEDERICO (BERNARDESCHI) ARRIVED. HE HAD SIX GOALS AND THREE ASSISTS FROM THE RUN OF PLAYS AND WAS INVOLVED IN NINE GOALS IN ELEVEN GAMES, WHICH IS WHAT YOU EXPECT FROM YOUR BEST PLAYERS. WE ARE REALLY LOOKING FORWARD TO HIM BEING AT THE START OF TRAINING CAMP
IN JANUARY,"
explains Manning.
While the fans of TFC may have embraced Lorenzo with open arms, have the existing players done the same? The team at present has some incredible players, such as Jonathan Osorio, Richie Laryea and Mark-Anthony Kaye (who all played on Canada's Men's National Team (CMNT) at the 2022 FIFA World Cup in Qatar), team captain Michael Bradley, and Federico Bernardeschi (who like Insigne joined Toronto in July and stands fourth on the MLS pay scale at $6.256 million). Manning replies, "A lot of the guys were excited. Good players want to play with other good players. Lorenzo is a professional who trains hard, so they see that. The players on the team who also speak Italian have helped him build some relationships. He scored a number of goals down the stretch, but it was a bit too late in the season. So I'm really eager to see how things come together this year."
There are high aspirations for Insigne and how his presence will contribute to the team's overall success in 2023. Bob Bradley, TFC's head coach and sporting director, was quoted saying, "His ability to create chances for himself and his teammates is special. Having watched him for many years, I also know he's also a player who works for the team. Lorenzo is the kind of player you come to watch because there's always a chance he'll do something unforgettable." Lorenzo is optimistic about this new chapter here in Toronto, not only for his career but also for his family, saying, "Canadian fans go to the stadium to watch the games with their family. They enjoy the game, and this makes me happy. It also makes me happy that I will be able to take my family out after the games and enjoy the celebrations with the fans and the city, something I was never able to do in Naples. I can pick up my children from school, hear about their day, and watch them play sports. Even my dog, Ciro, is happy here; I can take him for walks, which is something I could never do before."
Toronto FC appears to have all their soccer balls in a row: a club president, Manning, where TFC played in three MLS Cups (2016, 2017 and 2019) and won the Canadian Championship in 2016 and 2018; a head coach, Bradley, who is a three-time MLS Coach of the Year and brings over 20 years of head coaching experience to Toronto; and high-level players like Insigne, Bernardeschi, Kaye, and Laryea who are all impact starters spearheading the revival. In his short time on the field, Insigne recognized the calibre of the players and their skill, revealing, "To be honest, MLS surprised me at the level of play. I was expecting a lower level of play, but the truth is that there are teams within the MLS that play at a high level of competitiveness. If the clubs continue to invest in players, the league can only continue to grow."
ULTIMATELY, THE END GOAL IS,

"WE WANT TO BE THE CHAMPIONS. WE ASPIRE TO CHAMPIONSHIPS. WE DON'T GO OUT AND GET THE TYPE OF PLAYERS WE HAVE WITHOUT HAVING GOALS.
IT'S ABOUT TROPHIES FOR OUR CLUB,"

AFFIRMS MANNING.
Lorenzo Insigne is planning on bringing his 'Serie A'-game to BMO field as a key player and catalyst to winning those games for Toronto FC in the 2023 MLS season, avowing,
"I WILL DO MY BEST TO FULFIL THE EXPECTATIONS, NOT ONLY FOR MYSELF, BUT FOR MY FAMILY, THE CLUB, AND MOST IMPORTANTLY, FOR THE FANS OF TORONTO."