WRITTEN BY DANIEL STAUFFER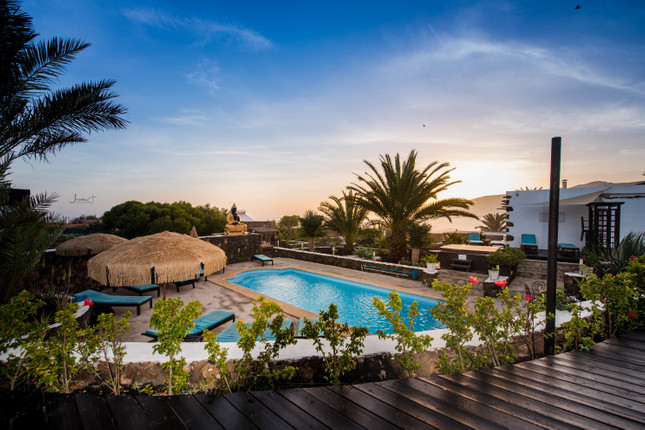 When you pair a good cigar with a delicious drink, you increase the complexity of the flavor profile. There's more balance and more nuance on your palate. Cigar and whisky combinations are the most highly valued marriages, but other beverages can complement the cigar just as well.
Cigar connoisseurs have long turned to beverages that provide additional flavors that can enrich, harmonize, or contrast with the creamy vanilla or caramel cigar aroma.
Whisky is a common companion to a cigar. The robust flavors of scotch, bourbon, and rye whisky amplify the intensity of the cigar's aroma. This is the most famous and most natural pairing, as cigars and whisky often have similar flavor profiles.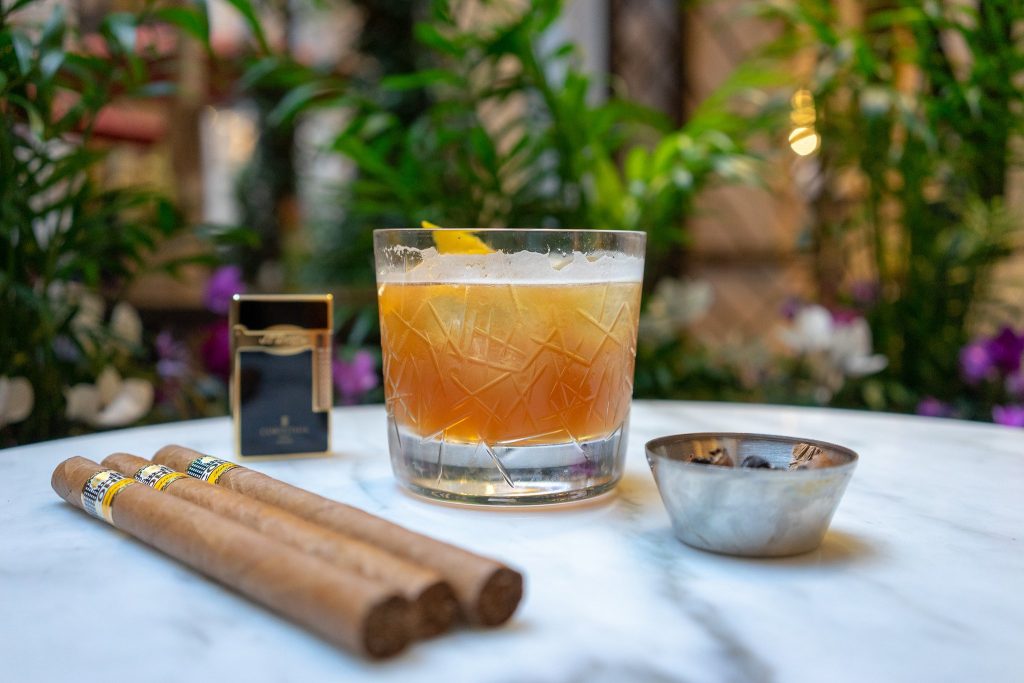 Other brown beverages are equally satisfying, including brandy and rum which add a slight sweetness that offers an interesting complement to cigars with spicy or bitter notes. Cigars can pair really well with cocktails, and not just the classic Cuba libre. You can also turn to non-alcoholic beverages, including Cuban coffee, to help you enjoy a smoke.
In this article we explore a variety of pairings and provide practical advice on how you can get more flavour out of both your cigars and drinks. Some pairings ruin both the cigar and the drink. But some are divine.
Cigar Whisky Tasting
The general rule when pairing a cigar and whisky is to match the body of the cigar to that of the drink. This prevents you from overpowering or drawing out the off-notes of the other.
Bourbon is the go-to drink of choice to pair with cigars. You can't go wrong with bourbon, whose fruity notes find a compliment in just about any cigar, especially those with leathery or dark notes.
Canadian whisky is generally smooth and goes well with light cigars, although the vanilla hint common in Canadian whiskies also goes well with a full-bodied cigar that offers a hint of chocolate, coffee, or leather.
Irish Whisky is another favorite to enjoy with cigars. This typically smooth drink pairs well with a light cigar, although a full or medium-bodied cigar with java notes is a great match.
Try a Canadian or Irish whisky with H Upmann Magnum 54 cigar, which provides a light, yet flavorful, blend
Best Cocktails for Cigars
Some people say you can't pair cocktails with cigars. They've probably never tried. Different cocktails have distinct flavors that bring out distinct qualities in different cigars. Here are some of the most well-loved mixed drinks to match with cigars to help get you started.
Cuba Libre
This classic Cuban drink, which consists of rum with coke and lime, is a top-notch partner for a great Cuban cigar. It just works – two simple yet beautiful products from the same Caribbean island.
Mojitos
Mojitos provide a great refreshment to complement the warmth of a nice cigar. As another rum-based concoction, you can be confident it will pair well with most Cuban cigars. The fresh flavors of mint and lime juice beautifully complement a lighter smoke like the Guantanamera Minutos. The delicate earth and cedar flavors characteristic of this fine cigar play off the natural flavors in the drink.
Vodka Martinis
Vodka alone is not known for pairing well with cigars, but the strength and depth of a vodka martini can bump this spirit up to the task. The traditional dry martinis aren't often enjoyed with cigars, but newfangled varieties are often an excellent match for a warm smoke. Try a decadent martini with a dash of chocolate liqueur or a fruity variety with a cigar for a wonderful mix of dry cold and warm smoke.
Margaritas
The sweet and sour of an ice-cold margarita is a wonderful pairing with a cigar. Lean toward on-the-rocks presentations and rim the glass in sugar rather than salt for added decadence. The strength of margaritas is in their full-forced flavor, so be careful not to overpower your cigar. Go for a full-bodied cigar like the Partagas Coronas Gordas Anejados for a nice peppery complement to your tangy drink. You can keep things simple by pairing a plethora of straight-up spirits with your cigar. In general, you'll do well to stay away from clear spirits and gravitate to deep, dark drinks, but as always, there are exceptions.
Rum
If you're an expert at enjoying a cigar with an alcoholic beverage, you've probably come across this one. Excellent rum and superior cigars are both made in Cuba, so it's no surprise that the two pair nicely together. Rum is strong enough to hold its own against full-strength cigars and brings complex spicy flavors to the table. Try the famous Cuban Havana Club rum with Hoyo de Monterrey Grand Epicure el 2013 to get a spicy balance of sweet, coffee, and chocolatey notes from the excellent match.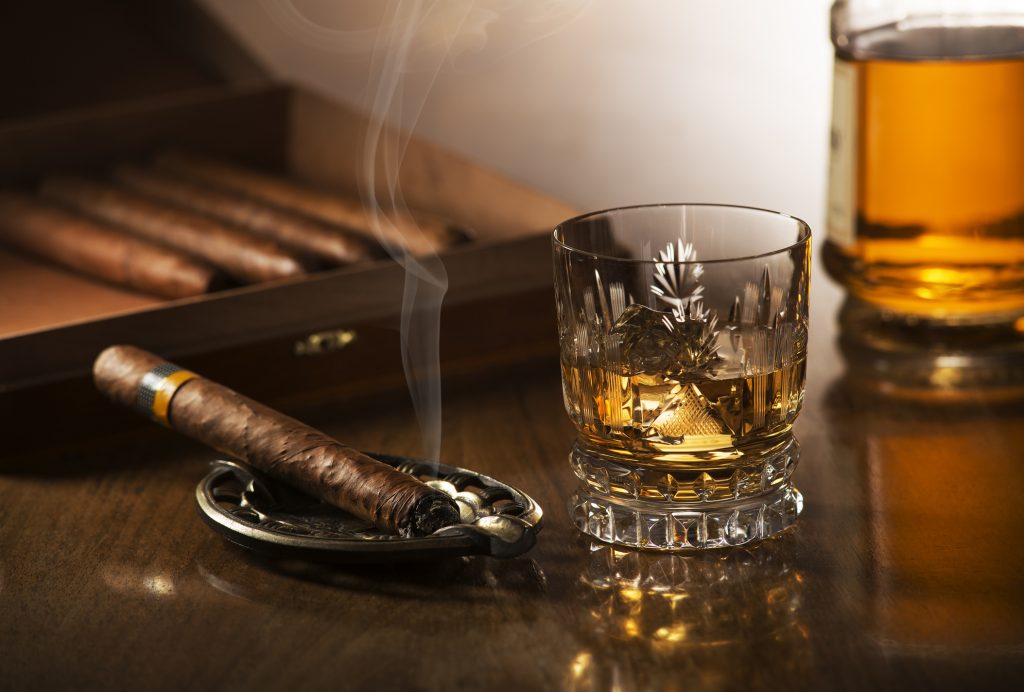 Pairing & Cigars Wine
You generally want to pair red, full-bodied wine with a fullstrength cigar, while white wines go well with lighter cigars. A full Spanish red wine is an excellent companion for a full Cuban cigar.
If you're looking for a white wine to pair with a cigar, Chardonnay and Riesling are great options with a lighterbodied cigar.
Ports and other fortified wine accompany strong cigars. Tawny port is known for being the best to pair with a really robust and strong cigar. Try port with a Cohiba Genios Maduro cigar – it's a delectable experience. Dark chocolate and peppery notes in the cigar go hand-in-hand with sweet, fruity notes in the port.
Other Tips for Cigar Drink Pairings
When it comes to enjoying a great cigar alongside a beverage, there are no rules that can't be broken according to your own preferences. However, if you're looking for direction to begin experimenting with such delicacies, look to what the experts are doing. Before lighting up a Cuban cigar, consider what Cuban beverages can complement it. Cuban rums and gins are easy choices that almost always heighten the experience. Cuban coffee or drinks with coffee liqueur can also create a sumptuous experience. Bailey's Irish Cream in an Irish coffee makes a great pairing with Cuban cigars and plays beautifully with the java notes in the smoke.
In general, it's best to avoid bubbles when smoking a cigar. Overdoing the carbonation and smoke can create a nasty burn on your tongue. However, one glass of champagne can be a great celebratory drink to enjoy with a nice cigar later in the evening.
But First, Get a Great Cigar
It's hard to find a beverage that will harmonize with a poor-quality cigar. To enjoy a blend and balance of flavors, find a great cigar that supplies its own blend of complex aromas and tastes. For the best pairing you need a Cuban. Cuban cigars are understandably famous and so much goes into their production, , from growing the tobacco to carefully hand rolling This helps to provide a depth and complexity of flavor, which is what you're looking for in any pairing. Ensure you're getting the best quality, genuine Cuban cigars by sourcing through Swiss Cuban Cigars, the leading online seller of authentic Cuban cigars. While cigars and whisky are a popular pairing, Swiss Cuban Cigars provide premium Cuban cigars to go with any beverage you choose. Enjoy a warm night at your home with a premium cigar in hand, and a refreshing cocktail in the other. The better the cigar the better the pairing can be!