Whether your stay is for business or for pleasure, the Monte Carlo Inns™ is Your Home Away From Home™.  With over 30 years of experience, you can trust in your decision to stay in one of their Greater Toronto Area boutique hotels.  At Monte Carlo Inns™, their mission is to offer quality, comfort and value to all patrons by offering outstanding customer satisfaction with honesty, fairness and integrity.  With their tradition for excellence and unparalleled guest service, the Monte Carlo Inns™ properties are consistently acclaimed among the top hotels in Canada.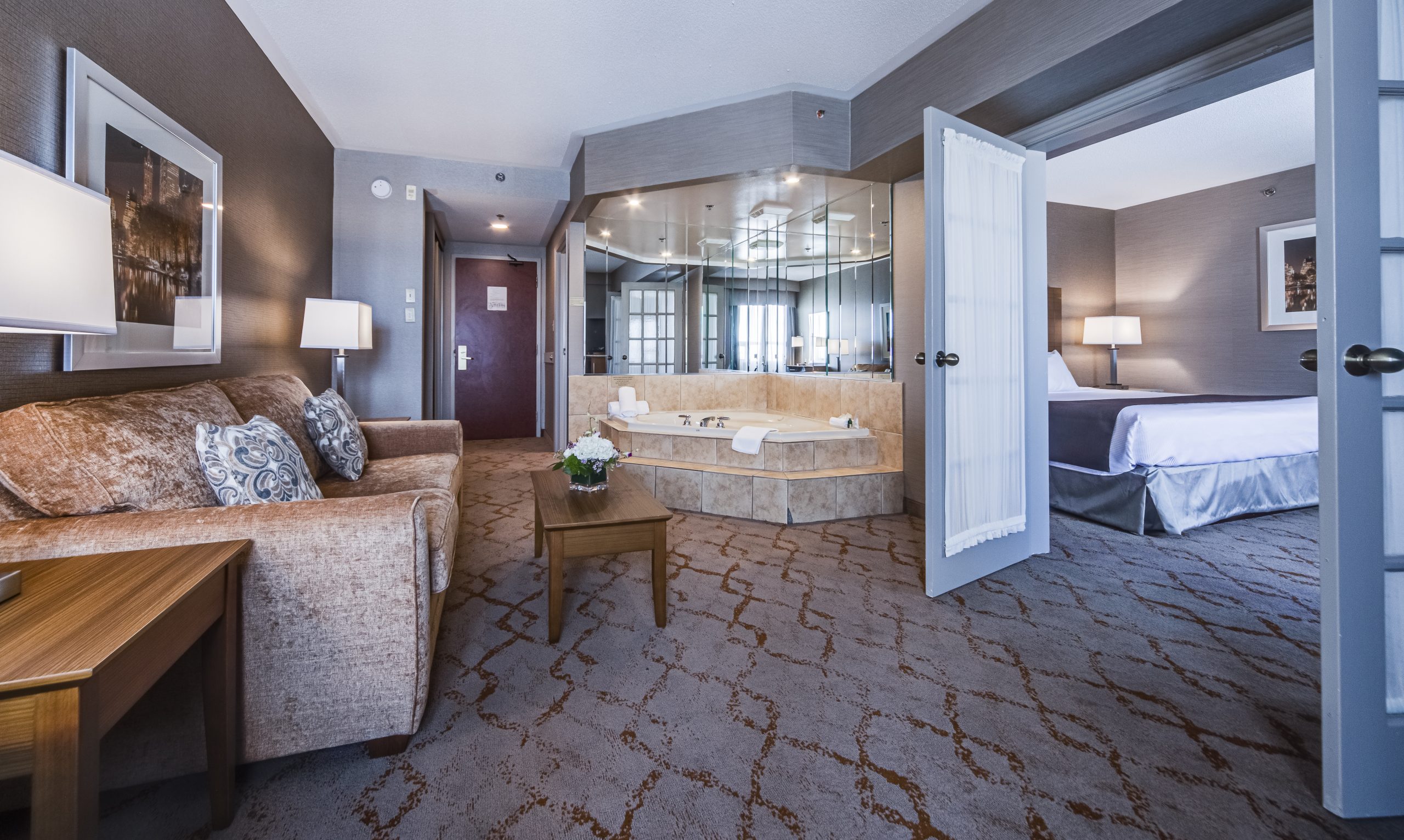 At Monte Carlo Inns™ they want you to kick up your feet and make yourself at home. Taking care of you is what they do best, and it really is what sets them apart from other hotels.  From their hands-on approach to service to the detailed quality of the people you'll encounter, you'll quickly understand why so many people come back to Monte Carlo Inns™ time and time again.
From their executive-style suites fully wired for business to themed suites with Jacuzzis to complimentary perks like Wi-Fi, newspaper and a Healthy Start Breakfast, Monte Carlo Inns™ is the perfect choice for corporate travelers, couples and families.  Their well-appointed business class suites feature a separate living area and work desk with ergonomic chairs. Their renowned stylish Jacuzzi suites feature a fireplace, king-size bed, spacious seating area and a refined décor creating that perfect ambiance. The functional family suites feature 2 queen beds and the comforts of home including microwaves, fridges, coffee makers, irons and ironing boards, and 49" LCD TVs with the On-Demand digital movie system.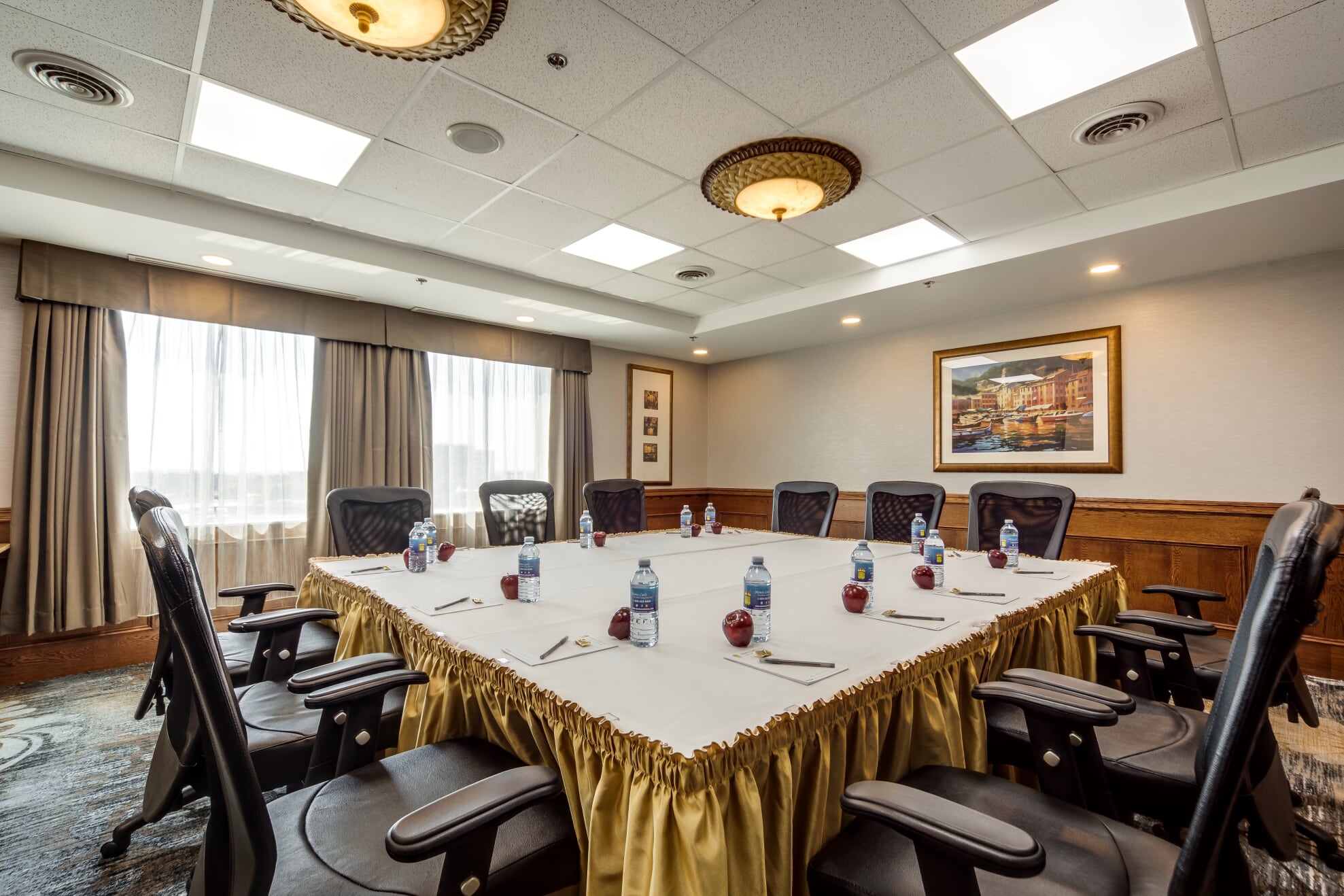 At the Monte Carlo Inns™, dining is an important part of the overall experience.  From your morning complimentary breakfast, to your late evening snack, they want your culinary experience with them to be comforting and memorable.  Monte Carlo Inns™ restaurants have something for everyone and every taste bud providing full room service and daily lunch and dinner specials.
They also take pride in making groups feel at home.  If you're looking for the perfect accommodation for your meeting, wedding or special event, Monte Carlo Inns™ offers stylish accommodations for any group event.  Their sales team members will work with you to ensure a hassle-free planning experience for your group while extending special amenities such as Express Check-In, Group Discount Rates, and in-house catering including customized menus.
When in today's day and age it appears that meeting with people is less important than it once was, at Monte Carlo Inns™ they feel that interacting with people face to face is an integral part of the success of any company.  This is why they have designed meeting facilities that will exceed your company's expectations from a functionality and budget standpoint.  They have versatile meeting/social event rooms that can accommodate groups from 10 – 200 people and in the summer months, their courtyards are the perfect setting for a spectacular outdoor event.  The meeting spaces are equipped with comprehensive audio/visual equipment, whiteboards, podiums, flip charts and other meeting accessories such as complimentary note pads, pens, and mints.
The Monte Carlo Inns™ were created to provide guests with the ultimate in luxury, comfort, value and boutique-style service while being committed to reducing its carbon footprint and increasing its environmental standards with its Clean Team Program. From their ecofriendly, allergy free cleaning products, to the LED lighting and water energy saving program their guests can participate, this quality control and Green initiative helps preserve our natural resources for future generations.
Since their flagship property opened in Mississauga, Ontario in 1985 by a young dynamic entrepreneur, Domenic Meffe, their reputation has become known as "Your Home Away From Home"™.  Meffe decided that the service philosophy would be based on a very simple but effective premise – every customer is very important, and no one should take that for granted.  He believed that, aside from the importance of price and cleanliness, what differs one property from the next is the quality of customer service, "We want people to see our properties as luxurious, but, in the same breath, affordable.  We try to give our customers a product that is accountable from the moment our guests check in to the moment they check out."
Meffe's desire to treat every customer as special extends into their philanthropic contributions to various charities and community initiatives. They have raised over $500,000 in recent years for the 'Darling Home for Kids' Charity that provides high quality respite and palliative care services for children who are medically fragile and technology dependent.
At each Monte Carlo Inns™, they strive to set an industry standard by offering the best possible product, at reasonable rates, with exceptional customer service.  "Nothing gives me greater pleasure than to hear a customer tell me they have been staying with us for over 30 years and that, no matter what location they choose, they always feel at home," expresses Meffe.  And now with eight locations to choose from, the Monte Carlo Inns™ are conveniently located to be minutes away from the financial, commercial, and retail districts of the city they are in as well as effortless access to popular attractions, nightlife, and a wealth of restaurants, pubs, and theatres.
At the Monte Carlo Inns™, their approach to customer service is the foundation of their business. They understand that their success is directly related to their passion for making your stay at Monte Carlo Inns™ feel like Your Home Away From Home™ and Your Office Away from the Office.