WRITTEN BY GIOVANNA BONOMO-BLESCIA LUXURY LIFESTYLE EDITOR, ITALY
Discover the Michelin-Star restaurant in the heart of Puglia where humble ingredients are the protagonists, curiosity the muse, and majestic atmosphere the grand stage.
Nestled inland between Puglia's coastal towns of Mola de Bari and Polignano a Mare lies Conversano, a town encrusted with noble palaces, monasteries, art and human ingenuity inhabited as early as Paleolithic times. Its rich archaeological heritage communicates in the language of megalithic walls. These medieval walls tell the story of strength, a lively and dynamic town that rose to glory after being hit, divided, and tested. Despite the storms of time, they are here to remind us they resisted. Not because of the strength of its walls but because of the resiliency of its people.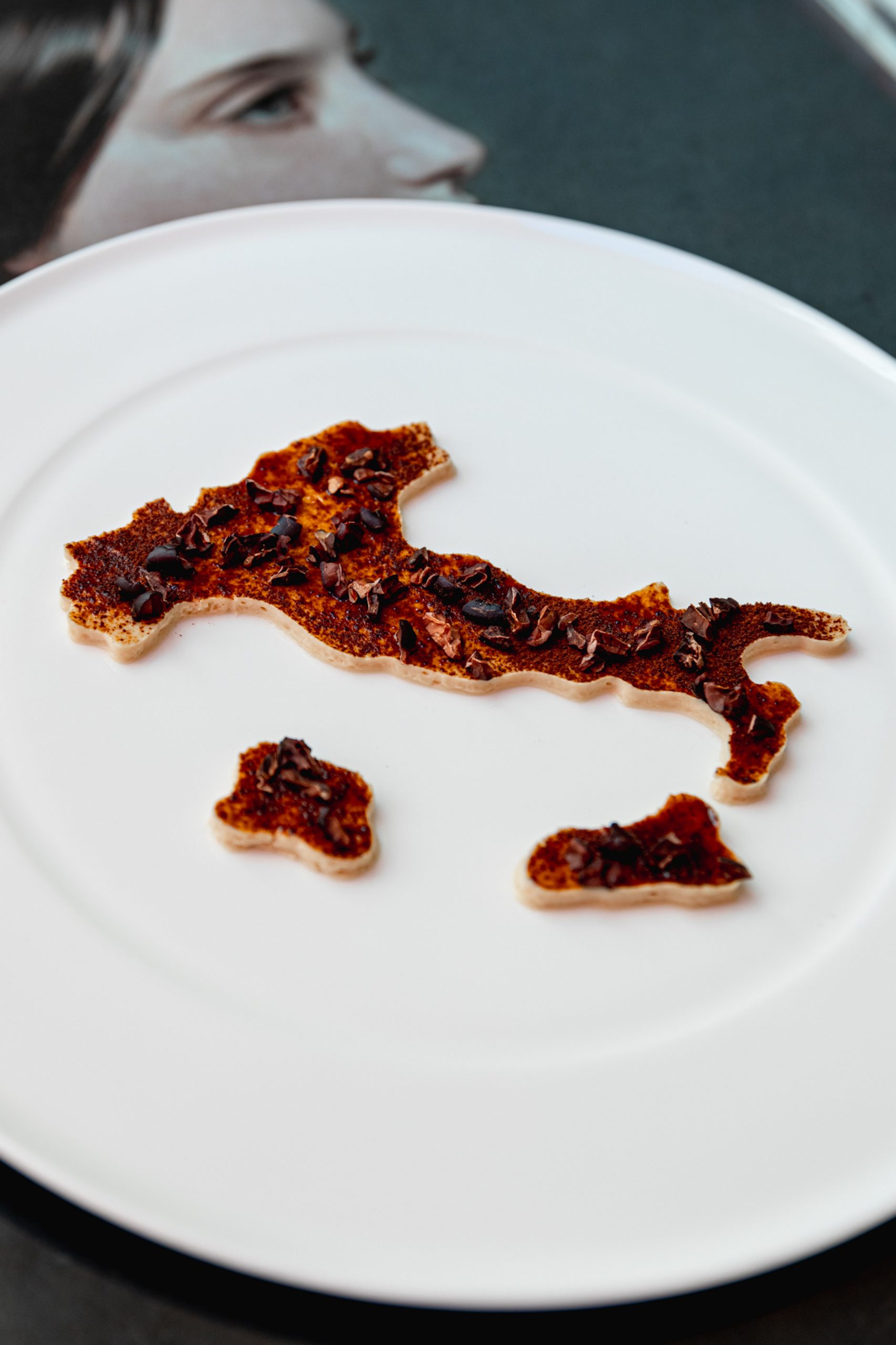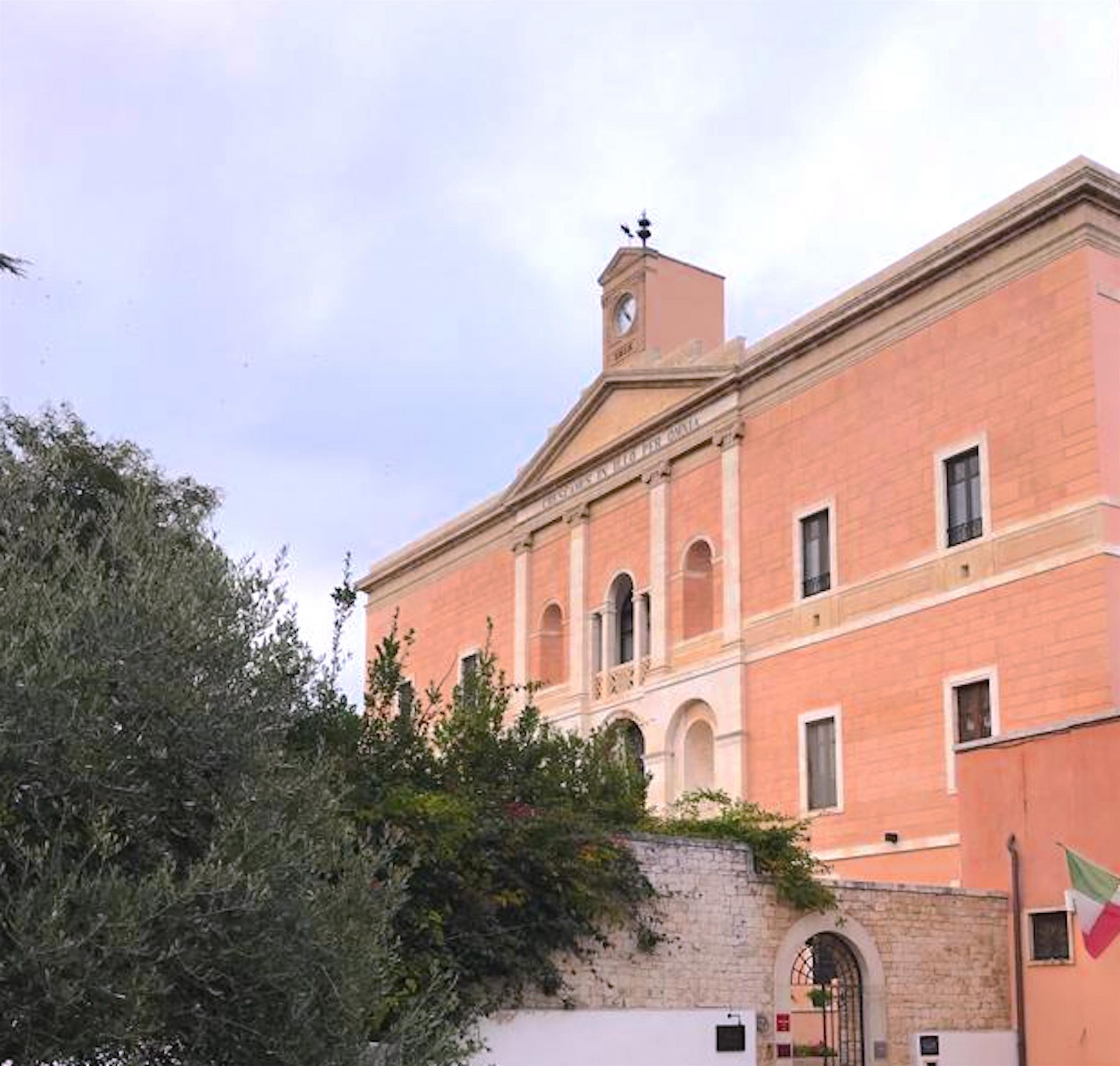 On October 24, 2020, I experienced a journey that has since opened my eyes wider to the treasures of the Puglia region: culinary artisanship, the nobility to be found in humble ingredients, and the magnificent transference of knowledge from the "Maestro," the father of contemporary Italian cuisine Gualtiero Marchesi to Italy's master Michelin-starred chefs to Chef Antonio Zaccardi and Pastry Chef Angelica Giannuzzi at the helm of Pashà since 2018. Initially, I had scheduled y my highly-awaited, first-ever Michelin-star experience in February 2021. However, I could feel the high-spirit tides of summer quickly waning and a melancholic wail on the horizon, almost subconsciously preparing us for the next wave. I suspected that if I didn't move-up my trip to Pashà, I'd miss telling the world about this gem in the March issue. The lockdown one week after my visit confirmed all suspicions.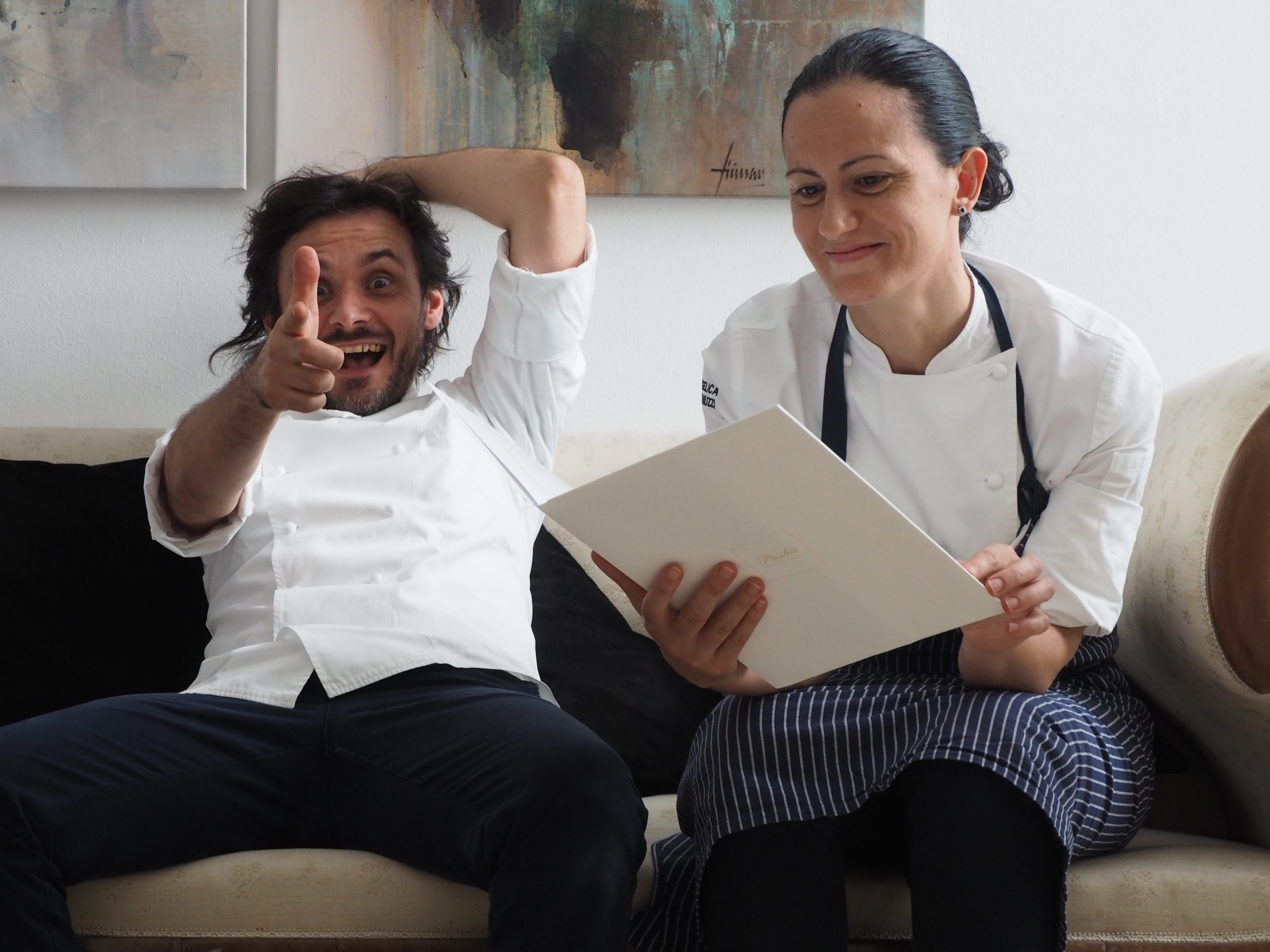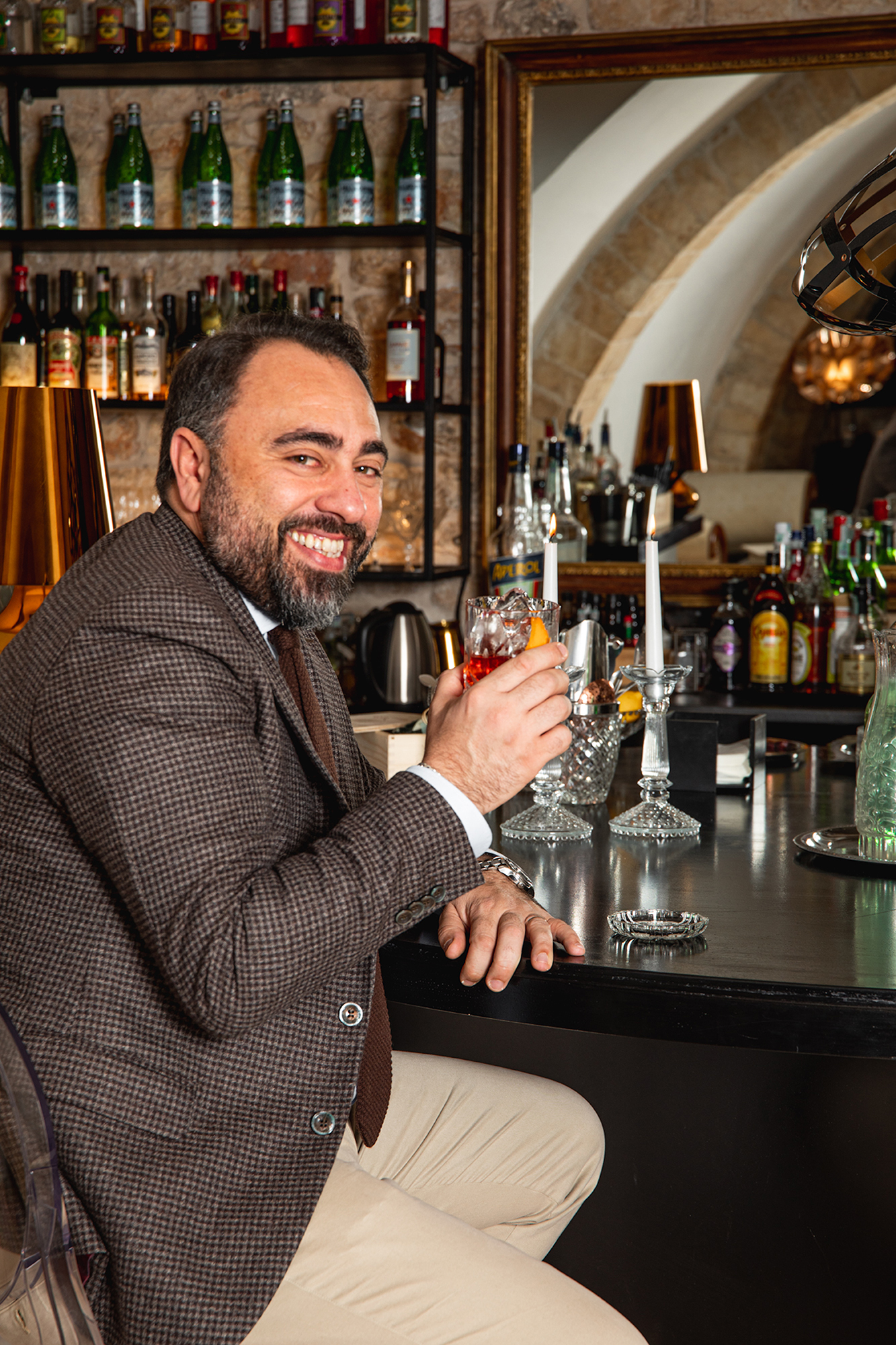 A VISIONARY BACKSTORY
Listed as one of Italy's top 100 Excellences by Forbes Italia, the award-winning restaurant reflects the ambitions of Owner/ Sommelier Antonello Magistà. His vision to introduce haute cuisine to a region best known for agriculture, seascapes and olive groves than Michelin Stars was considered a risky aim at best and a mirage at worst. Like Pashà's Angelica Giannuzzi, many talented chefs leave their native homes in southern Italy to learn cutting-edge techniques from the great masters in the north. Magistà's unwavering determination to twist the culinary fabric of Conversano's fate and compliment the town of art into a home for Italian haute cuisine would trigger a domino effect in the lives of many, far and near, including his mother, Maria Cicorella.
One day, Magistà's head chef had to abruptly stop working because of an impending surgery, leaving Magistà with a full-dining hall and no support in the kitchen. Antonello asked his mother for help in the kitchen, a prophetic request. Within a few short years, the homemaker and talented self-taught cook was crowned with a Michelin-Star, in 2013 and has defended it ever since. This highly secretive and selective-status quickly attracted top chefs from all over Italy and would inspire young ones to see the region's potential and come back home.
TRADITION, EVOLUTION, INNOVATION
"I am a fatalist at heart: cautious of the world, but open for fate to step in when it must. Antonio Zaccardi's arrival was never a contest. It was never the result of an open call for chefs. It was a "chance" meeting at the right time. Immediately, both I and Maria knew the culinary baton would be passed on to Antonio."
– Antonello Magistà Owner/ Sommelier Pashà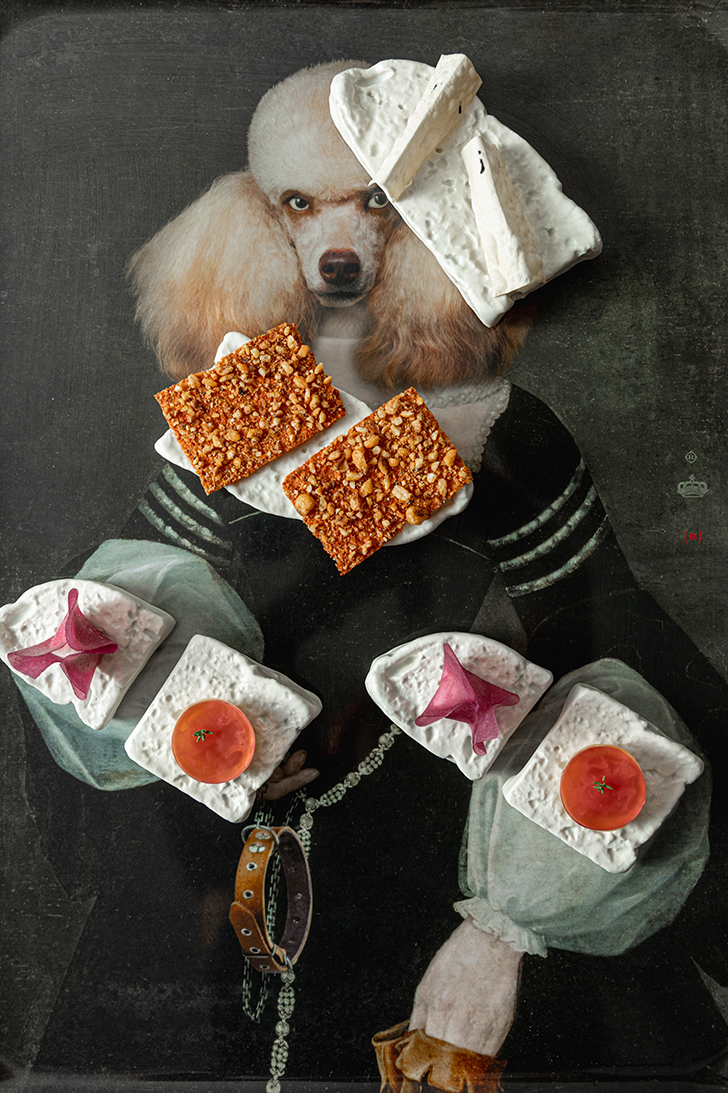 With every mise-en-place chronicling the story of regional, simple ingredients that rise to peaks of glory, Zaccardi's dishes represent a rare flair, experimental nature yet still true to its roots. "A chef, if starred or not, famous or not, is a cook. This means we have a connection to tradition, to the land, to the farmers, the local butchers, and fishers," said Zaccardi.
"They make Italy magic and make us artisans of food."
The message in every dish is clear: Zaccardi's artisanship draws squarely on the relationship between master and apprentice and minimalist ideas. "Every artisan needs a master. For me, those masters were Enrico Crippa, Paolo Lopriore, and Carlo Cracco," he said. In wizardly fashion, Zaccardi is capable of turning the simplest of ingredients into masterful works of art. He explains that what distinguishes one chef from another are the precise movements (gesti) that a cook develops over time and that are sharpened by technique, experience, culture, and the exchange between raw material and the human hand that ultimately becomes our unforgeable signature.
The curious glow in his eye sees what many do not: the beauty of simplicity. "I love simplicity, with a touch of peculiarity. Simplicity is the future," he added. Minimalist by design, the menu includes everything from a clockwise amuse-bouche to enticing entrees, surprisingly normal yet unusual palate cleansers, and topped off with Giannuzzi's head-spinning delicacies.
– Antonello Magistà Owner/ Sommelier Pashà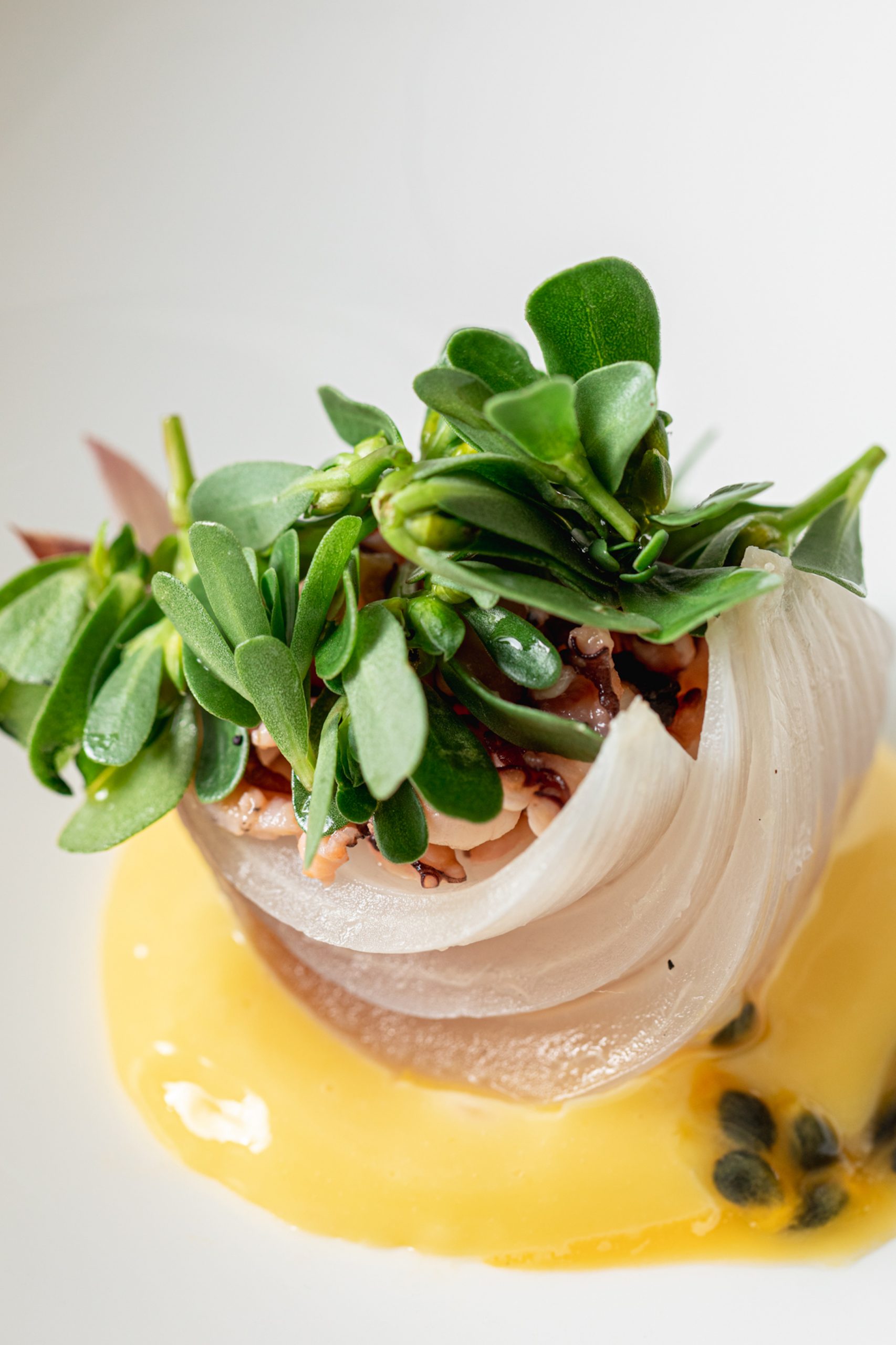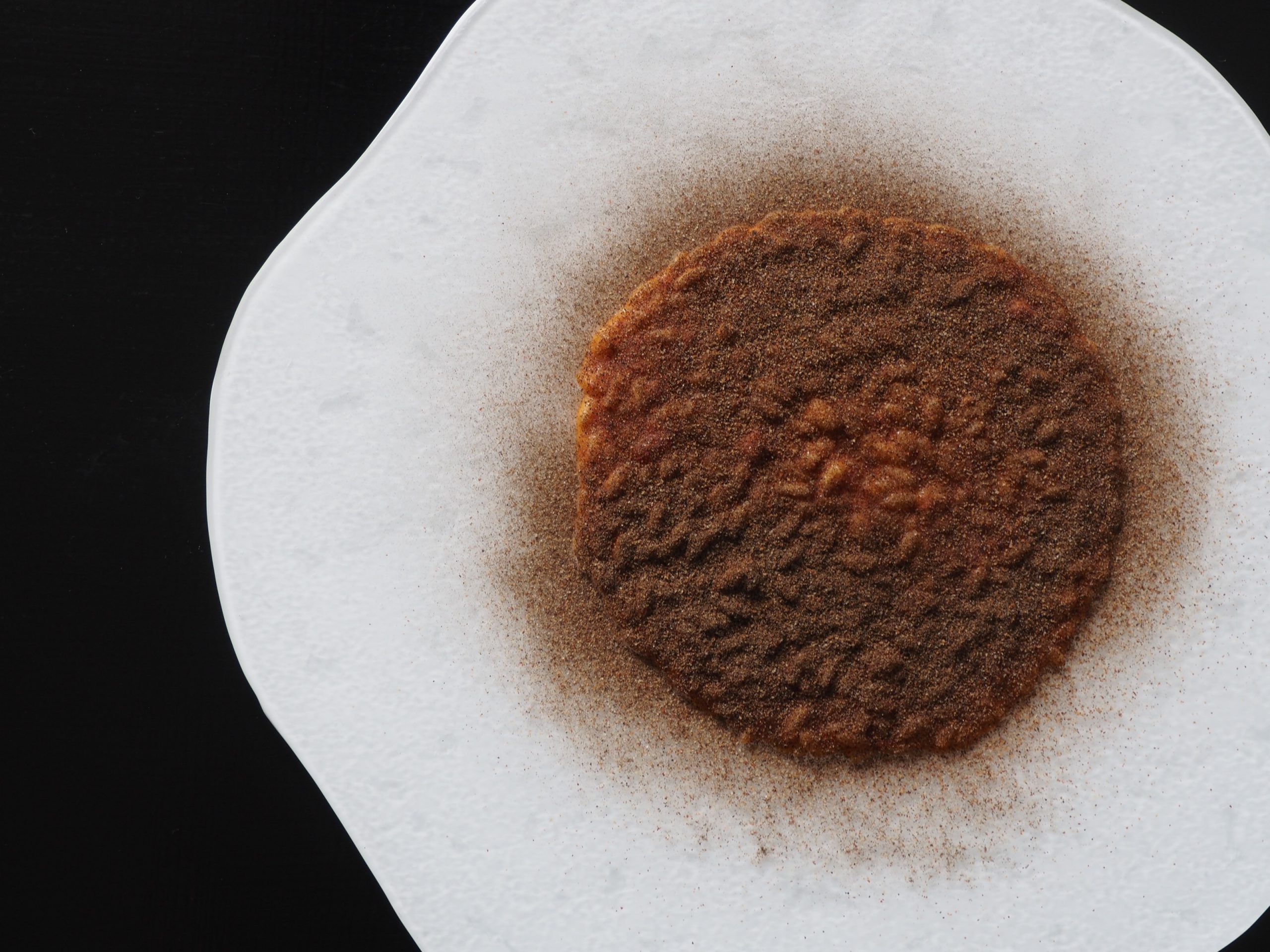 Both Zaccardi and Giannuzzi, natives of Abruzzo and Puglia, have worked throughout the territory alongside Pluri-Michelin chefs who were trained under Gualtiero Marchesi. One of Zaccardi's most relevant examples of Italian unity and craftsmanship is his Risotto alla Marinara. "Born out of the mind of Gualtiero Marchesi, with the culinary techniques from the north, paired with the tomatoes from the south and bread from Puglia, my Risotto alla Marinara unifies north and south, which, in its simplicity, reveals who I am."
Every dish tells a story, but it isn't always the story it appears to be. When Giannuzzi presented me with her re-interpretation of Tiramisù, I thought it was a delightful surprise, but when she explained the metaphor behind it, it struck a chord. Tiramisù, in Italian, means "pull/life me up." By meticulously forming this classic Italian dessert into the shape of Italy, her message to Italians is that of encouragement, as to say: "Let's pick ourselves up again, Italy."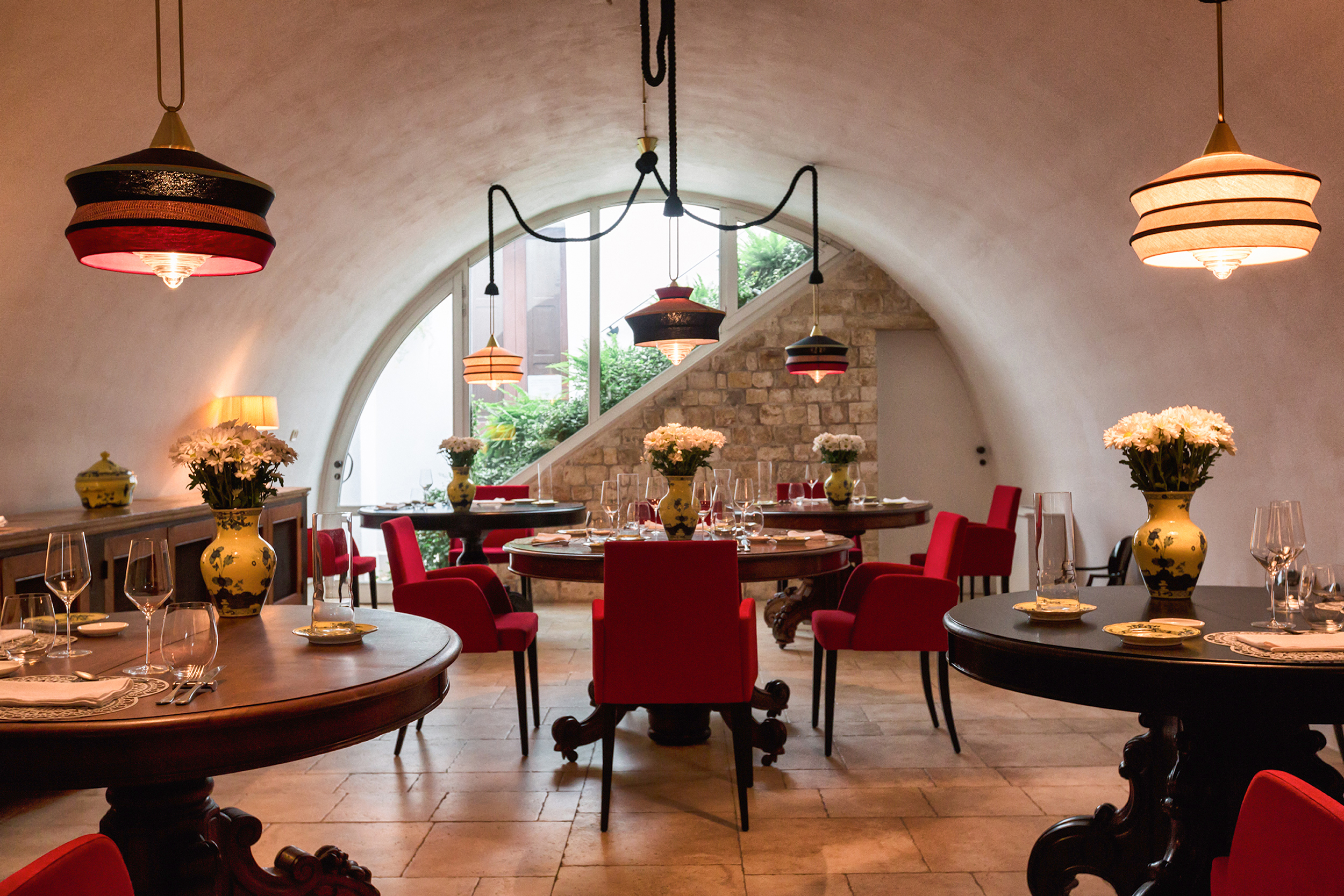 Pashà will go down in my personal history as my first Michelin-star experience. Still, more than the star, it will remain the experience that temporarily suspended me from the outside world. I gather this would be the mark of what distinguishes one experience from another: its ability to transcend and transport the guest to an invisible place that exists in the mind-soul-palate realm where humble ingredients and human ingenuity imbue a simple dish with lasting significance. The pandemic has swept in like an invisible tornado, undoubtedly, affecting the entire restaurant sector in this country. But if Italy's history is an indicator of future events, the Bel Paese, along with its most noble activities, will rise again, stronger and more resilient than before.
ANCHOVIES, PECORINO, AND PARSLEY
BY ANTONIO ZACCARDI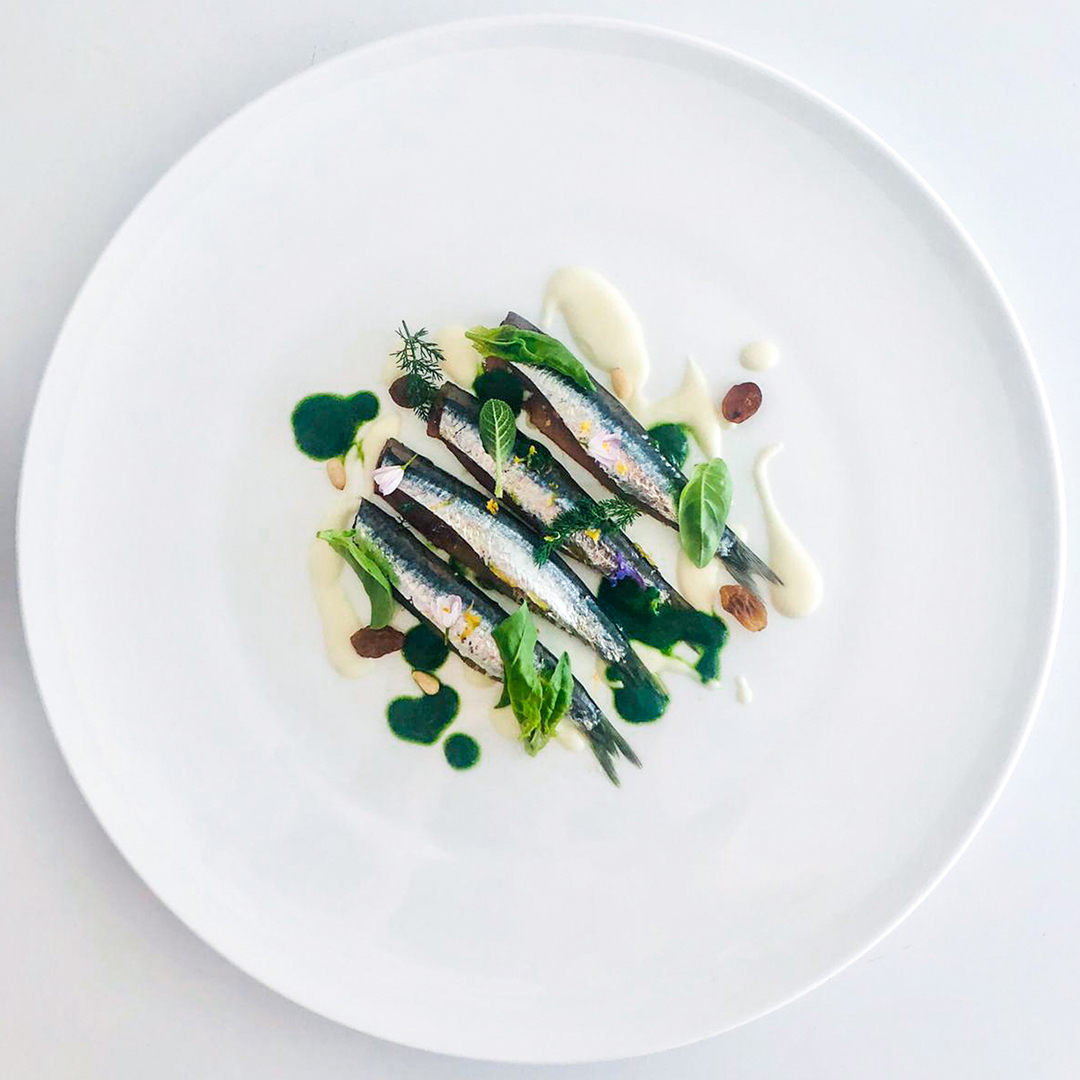 Pecorino cream: Add 80g of grated pecorino cheese in a saucepan over low heat, with 100g of milk and stir.
Clean parsley, fillet the anchovies, add the bread crumbs, parmesan, pecorino, fennel, oregano, lemon peel and pepper. Cook the parsley in salted water and cool in water and ice; blend in a mixer with cooking water until creamy.
Slice open the anchovies and stuff them with the bread and parmesan mix, close them and lay flat in a hot skillet for 1 minute. Then put them in the oven at 160 degrees for 3 minutes.
Prepare a mix of aromatic herbs to give freshness to the dish: fresh oregano, hare's-tail grass, garlic flowers, mint, baby spinach, basil and wild fennel.
Serve with a mix of herbs, Parmesan cream and raisins and pine nuts.
800g Anchovies
300g Parsley
100g Milk
80g Pecorino
10g Parmesan
30g Breadcrumbs
Raisins
Lemon peel
Pine nuts
Oregano to taste
Fennel powder to taste