WRITTEN BY GIOVANNA BONOMO-BLESCIA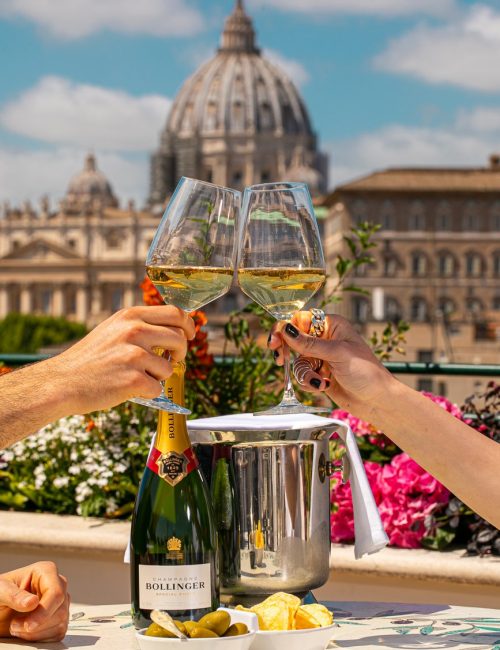 At dawn, while the city sleeps, St Peter's and the surrounding area exude magic. For a fleeting moment, the Papal Basilica turns rose gold, seagulls swoop in and around the empty streets in unison, playfully rejoicing at their gift of flight and ability to experience Rome in a way mortals never will. I have been to Rome hundreds of times, yet I have only experienced this moment once, at Atlante Star Hotel. Rome, a vibrant and multicultural metropolis that emanates and vibrates throughout its narrow alleyways. A metropolis where history and culture are braided into narrow streets encrusted with
treasures, mystical history, and ancient artifacts of inestimable value that lie on the ground. To come to Rome is to enter another realm with the willingness to be catapulted into another dimension. The secret to enjoying this city of marvels is finding a hotel that gives you proximity to must-sees and a spectacular view over the city—where reality takes a backseat and dreams take over.
ATLANTE STAR HOTEL

When Benito Mencucci envisioned a hotel in the center of Rome where guests could enjoy breakfast, brunch, dinner, or a drink atop a roof garden bursting with varied species of plants, flowers and aromatic herbs typical of the Mediterranean flora. Benito wanted to create an atmosphere that guests wouldn't expect. He wanted to arrest their attention and leave them with a memorable experience. "The local guests come back," Benito said. "But our international guests take a memory back home with them that matters. At first everyone said I was crazy."
LOCATION

Situated between the Michelangelo-designed St. Peter's Square and the Tiber River, this boutique hotel is within walking distance from Via Della Conciliazione—the magnificent road that connects Saint Peter's Square to Castel Sant'Angelo on the western bank of the Tiber River. It is also across the street from St. Peter's Square, what Gian Lorenzo Bernini called the "maternal arms of the Church," Castel Sant'Angelo, Villa Borghese, Piazza Navona, the Spanish Steps, and the iconic Trevi Fountain, not to mention Rome's finest restaurants, cafes, bars, markets, shops, parks, and museums. With endless activities and attractions, Atlante Star Hotel's strategic location offers something for everyone at walking distance.
PROPERTY: CONTEMPORARY MEETS COMFORT
In addition to its recently renovated rooms, what puts this leisure/ business traveller hotel a cut above the multitudes of the other boutique hotels in the Eternal City is its on-site terrace restaurant, conference/hall, and rooftop cocktail bar. Open to both guests and patrons, its open space with a 200-person capacity has proven essential during Covid, allowing the hotel to continue to host corporate events, weddings, and conferences in compliance with anti-Covid regulations.
LÈS ETOILES —PANORAMIC RESTAURANT
Les Etoiles, the indoor/outdoor fine dining panoramic restaurant is the crown jewel of Atlante Star Hotel. Guests enjoy a rich breakfast aperitifs, and dinner with a magnificent view over the Basilica and Castel Sant'Angelo. Inspired by regional cuisine, the menu is simple with a strong focus on raw materials and quality, making each dish a joy to the palate. The state-of-the-art kitchen, headed by Roman-born chef William Anzidei, has worked in the most outstanding hotels in Rome, from the Hilton to the Hassler to the Mirabelle and the Atlas.
Vogue Italia chooses Atlante Rooftop for Francesco Totti
---
THE GREATEST SATISFACTION IS WHEN GUESTS TELL ME THAT THE PLATES INTRIGUED THEM AND THEIR PALATES WEREN'T DISTRACTED BY THE EYE-ARRESTING ATMOSPHERE.
---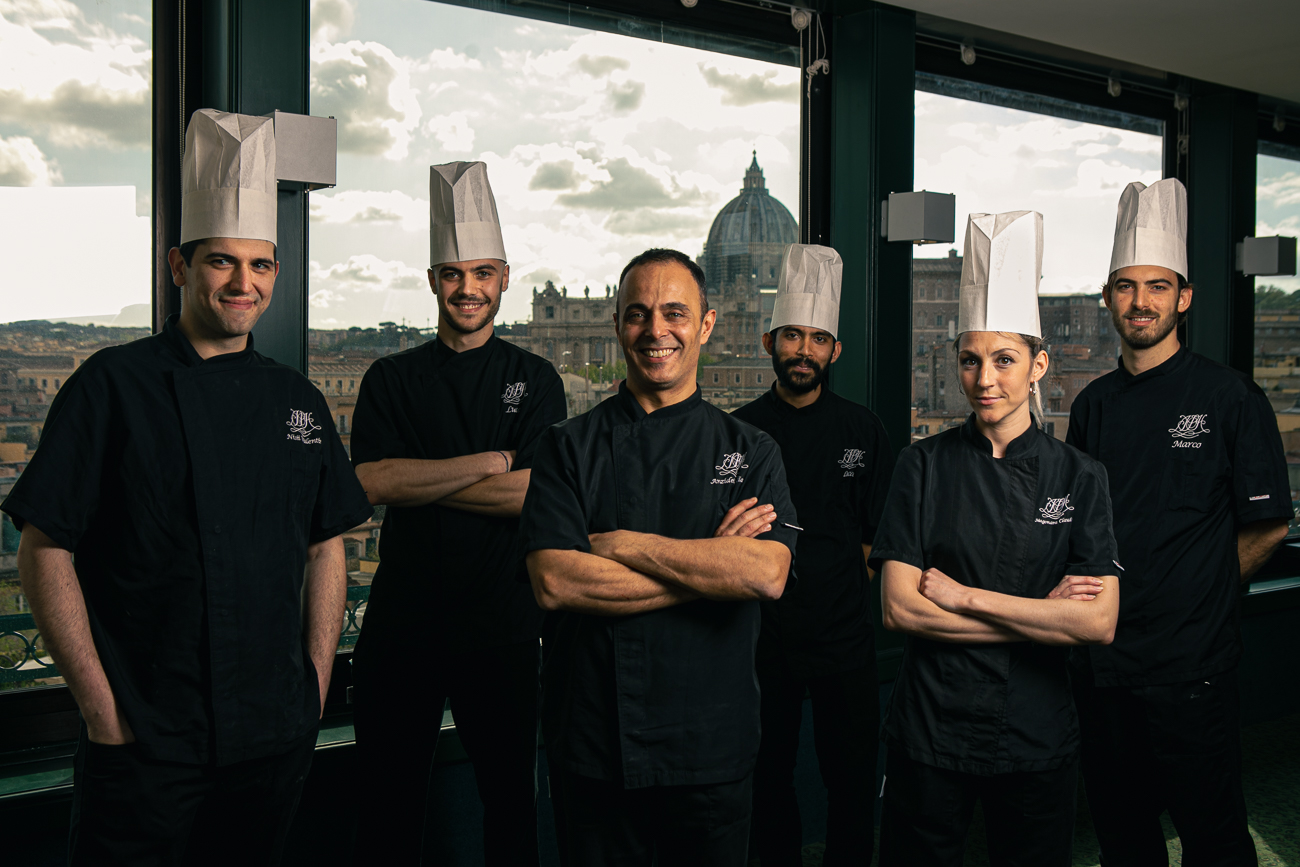 LÈS ETOILES —COCKTAIL BAR
For more than forty years, this high-altitude cocktail bar immersed in the charm of the Eternal City, has not only been a popular set location for magazine photographic shoots, films, television and fashion shows, but is also listed as one of Rome's most popular cocktail destinations for their Made in Italy drink list, including, but not limited to Negroni, Americano, Garibaldi, spritzes and the classics served with olives, traditional taralli from Lecce, and an extra dish from the kitchen that ranges from Roman fries to homemade focaccia.
---
BOOK YOUR STAY
www.atlantehotels.com
Via Giovanni Vitelleschi, 34, 00193 Rome, Italy
+39.06.686386
info@atlantehotels.com
---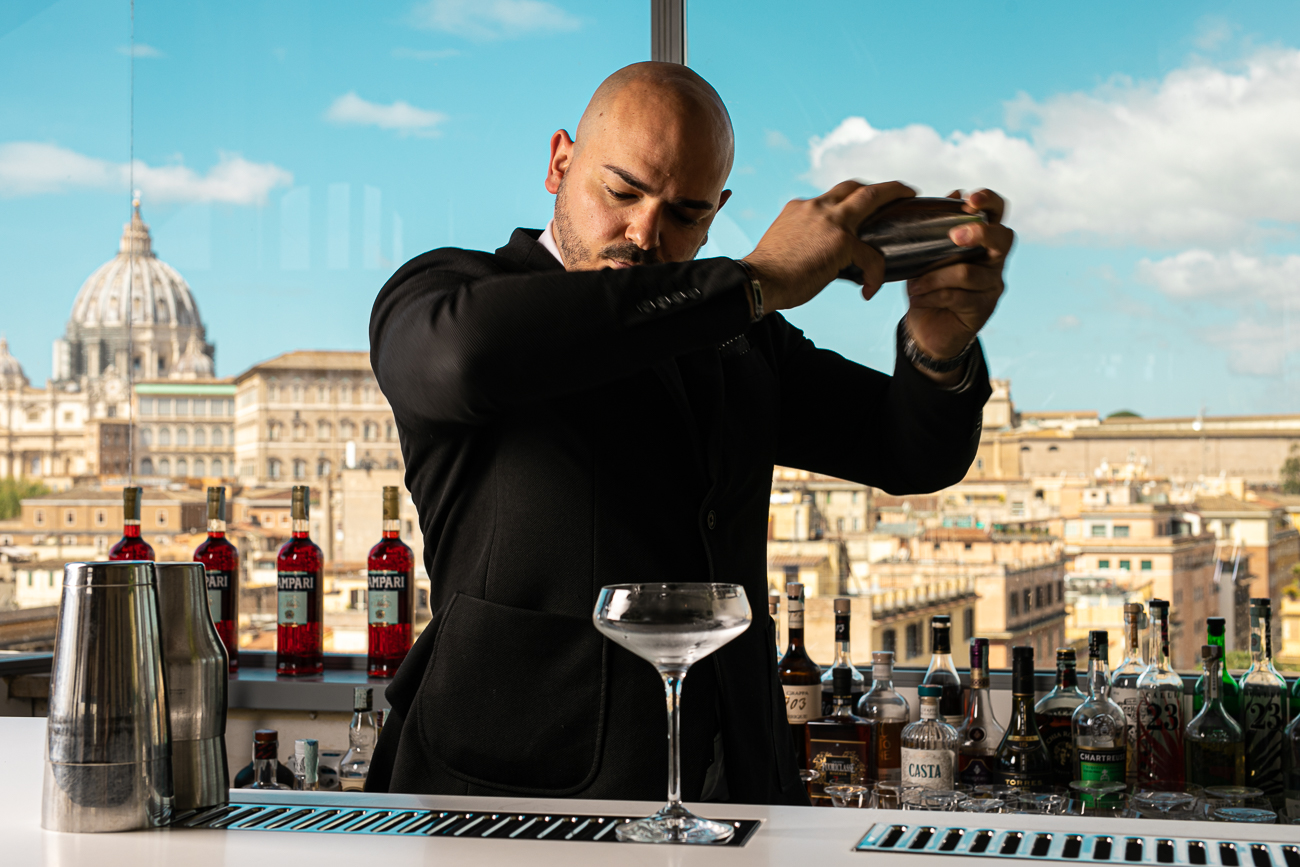 CONCLUSION
Atlante Star Hotel stands out as one of the most strategically located business and leisure hotels in the heart of Rome, noted for dazzling guests with its proximity to major sites, welcoming staff, and of course, the evocative view from their panoramic rooftop restaurant and cocktail bar. Definitely worth a visit the next time you are in Rome.