Technological excellence, performance, style, exclusivity
By Jessica Ashley Merkely
Style and Shape are the basis of futuristic design that brought the prestigious Italian tech-designer Andrea Pivetta to create and explore original paths in the realization of his creations. The music, an art essentially invisible and immaterial, founds a world of objects. In the music does not count only the sound, but everything that revolves around it. And what music is – as is played, distributed and listened – takes shape through design, creating not only an atmosphere that can amplify the impact of music from the psychological and emotional point of view, but also a collective memory.
His professional philosophy goes towards the realization of excellent products that want to meet the wishes of the customer for which the process of creation is a unique masterpiece and is custom-made for each individual. Every creation is a piece of art, which can bring the greatest delight to eyes and ears. Piveta designs for music lovers, exclusive high-end audio devices of all shapes, sizes, capabilities and more.
Among his projects is Opera Only –  the new frontier of technology design, and an extraordinary creation reviewed all over the world.
It is undoubtedly a new and fantastic combination of sophisticated technology and artistic avant-garde that has never before been applied in the field of high-end audio devices. Having this operating device is a thrilling experience. It is not only a technical and functional tool, but a work of art that fascinates. It is fascinating and indescribable which means, instead, it must be experienced.
The external structure is made of aircraft aluminium and the openings or connections are not visible from the outside, and if he or it is switched on, we feel the "Phoenix from the ashes" equivalent—the spectacular act of awakening, which you just have to experience personally. When turned off, it is an impressive black 12-sides prism (WHD) 1.25 x 1.9 x 1.25 m (4.1 x 6.2 x 4.1 ft), 1,500 kg (3,307 lb), but its structure changes completely once the device is turned on 1.85 x 2.5 x 1.85 m (6 x 8.2 x 6 ft). It is divided into seven distinct sections to reveal all the electronics at a glance. Suddenly you have the impression that you are looking into the technology of space!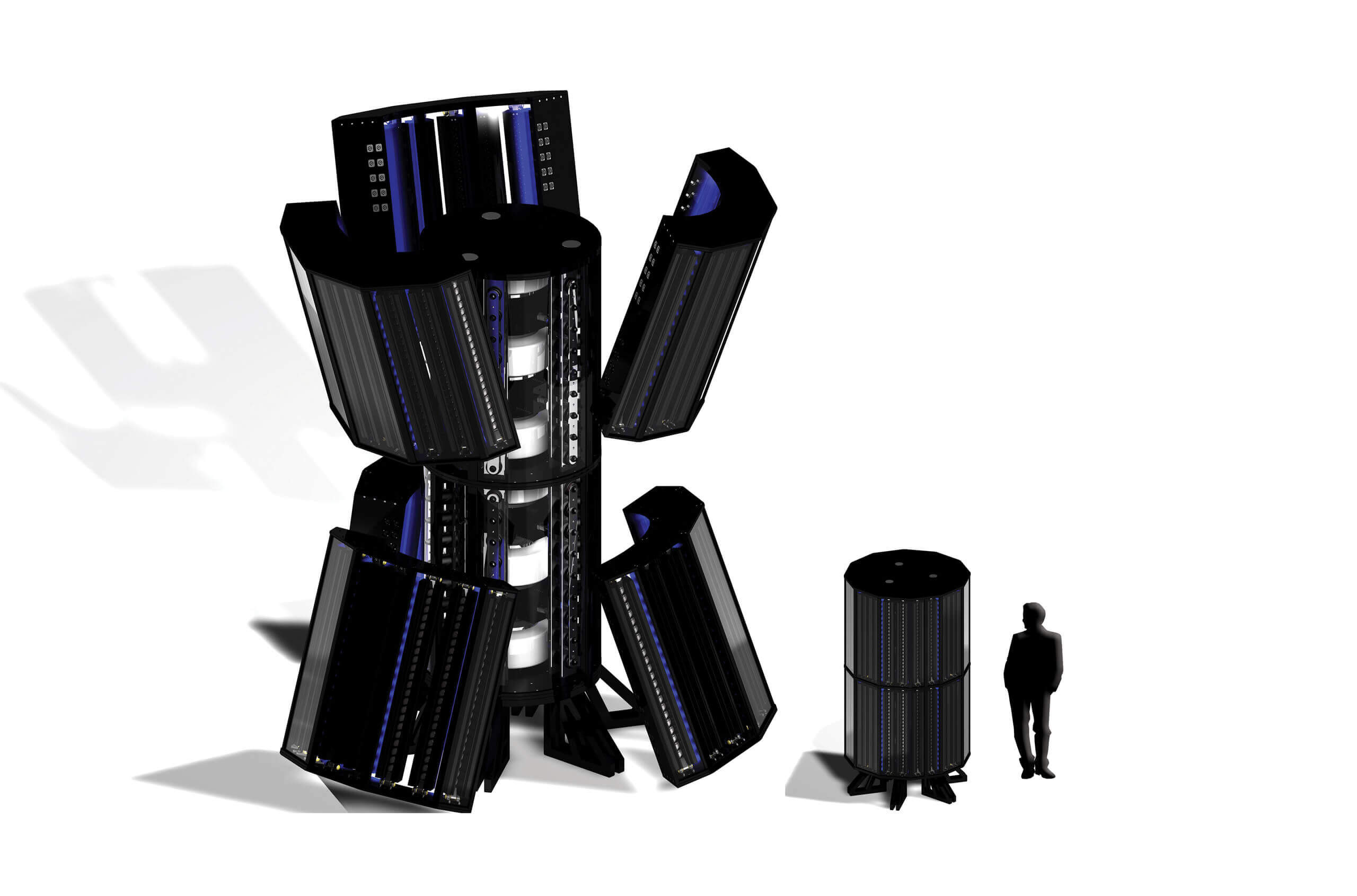 This unquestionably gorgeous state of the Art Amp features: power input 230/400V 50/60 Hz 450 Amp(400V), six 30 kW triple-insulated toroidal transformers, 16 ceramic diodes 1600V/400A (tot 6400 Amp), 216 Kendeil aluminium electrolytic capacitors 6800uf 160 Volt, 2,112 high current bipolar transistors, 12 analog (RCA/XLR) inputs and six digital, 12 output channels, and 192 speakON connections. It's capable of producing an awe-inspiring 120kW rms at 8 ohm class A, distortion: THD+N 0.002%, speaker impedance: down to 0.1 ohm, frequency range: 20 – 20.000 Hz (max 160kW – the specs show output configurations of 6 x 20,000W rms or 12 x 10,000W rms).
Opera Only is designed as an extreme engineering example of what Andrea Pivetta can realize for Music Lovers. For the first time 120.000 watt have been reached in a single device. So we invite you to see Pivetta "Opera Only" live.
  —
Available in 3 different versions, both in terms of size and performance, assembled to order (will take around 10 months to construct ) and lifetime warranty. The asking price? A cool €1.6 million, it is stratospherically priced, but for the lucky ones who are able to partake in such extreme audio luxuries, the "Opera Only" is without peer. Undoubtedly is the biggest, most powerful and most expensive Amplifier in the world.