The Asian World Film Festival (AWFF) is one of the most prestigious festivals in the world, bringing the best of a broad selection of Asian World cinema to Los Angeles, California. November 1-11, 2021, marks the festival's seventh year of bringing greater recognition to the region's wealth of filmmakers, thus strengthening ties between the Asian and Hollywood film industries. Uniting through crosscultural collaboration, the AWFF champions films from 50 countries across Asia, spanning from Turkey to Japan and Russia to India. The festival is unique in that it predominantly screens films from the Asian Continent that have been submitted to the Academy of Motion Picture Arts and Sciences and the Golden Globes for "Best International Feature Film" and "Best Picture – Foreign Language," respectively. The festival has screened over 100 Oscar-submitted films and 70 Golden Globe submissions during the past six years. Supported by patrons from the Los Angeles Asian communities, the Asian World Film Festival focuses on people who love cinema, especially foreign and independent films. Two such people in the Los Angeles area are Sir Daniel Winn and Loni Anderson. Sir Daniel Winn is an internationally recognized blue-chip museum artist, fine-art curator, awarded entrepreneur, and highly respected philanthropist. He is a multi-talented artist with remarkable achievements, including being awarded the "Philanthropic Artist of the Year" award in 2019 by the  NEST Foundation in Hollywood and recently winning gold medals in both the category of Contemporary
Painting as well as the category of Sculpture from the prestigious Mondial Art Academy, as granted by 45 renowned international judges. In recognition of his direct support to humanitarian causes and having assisted in raising millions of dollars for non-profit aid in the United States and Asia, Winn was honoured with the prestigious title of "Sir" when knighted in 2018 under the Princely House of Schaumburg-Lippe-Nachod. The Vietnamese American artist has had work on display worldwide, including at the Shanghai Art Museum in a dual exhibition with Salvador Dalí and with the work of Pablo Picasso (coming in 2022). Among many other distinctions, he is the Board Chairman of The Academy of Fine Art Foundation, CEO and curator of Masterpiece Publishing Inc., and Founder of Winn Slavin Fine Art, two of the most prestigious art galleries in Beverly Hills. Located on the famed Rodeo Drive and Santa Monica Blvd., the highly reputed gallery manages, fosters, and connects a wide range of master sculptors and painters
with global art collectors.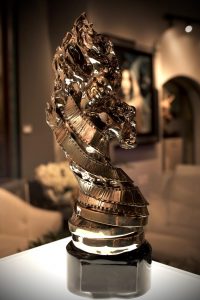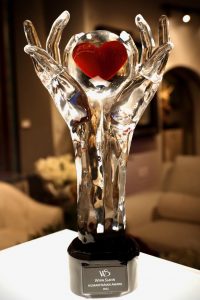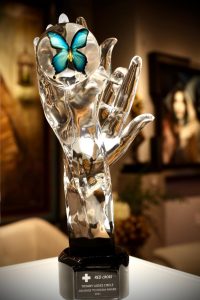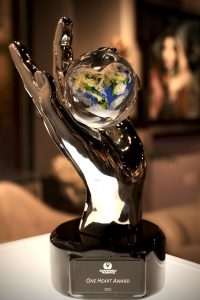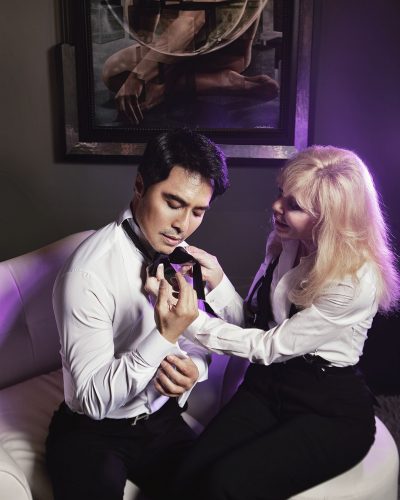 Recognized and esteemed for his unique style, Sir Daniel Winn has been commissioned by the Asian World Film Festival to design the new statuettes for their Snow Leopard Awards, Humanitarian Award, Red Cross Award, International Benefactor Award, and One Heart Movement Award. Sir Daniel is also creating a special recognition award this year, the Angel Benefactor Award for Angelina Jolie, and is hoping she can attend the awards ceremony to receive it. The Executive and Program Director of the festival, Georges N. Chamchoum, expressed the following about Sir Daniel: "As we approach the 7th Edition of the Asian World Film Festival this November 2021, we are thrilled that we have finally found the perfect partner in Sir Daniel Winn, an artist whose talent has reached the four corners of the world, but most of all a man of great humanity with a big heart. I passionately believe that the spirit of AWFF will guide Sir Daniel's hands to create the ultimate inspirational trophy!"
The spirit of the Asian World Film Festival did inspire Sir Daniel to create all five statuettes that are like no other. Unlike the original generic bronze award of the past, Sir Daniel was commissioned to create unique sculptures that symbolize the name and meaning of the award. "I was asked to create awards that are not only about recognition but have a profound message and philosophy in each one of them. With every statuette taking 2-3 months to create, each one is a work of art that the recipient of the award will be receiving," explains Sir Daniel. The award statuette is extremely complex as Sir Daniel creates each one using mixed media such as bronze, stainless steel, and lucite to cast it from clay to the final product. Sir Daniel also uses a process whereby each statuette will be handcrafted as if it was one-of-a-kind. Along with his trained artisans, he will continue to personally have a hand in the creation of these thirteen AWFF awards for years to come.
The Snow Leopard Award that commemorates the Snow Leopard Trust, the primary partner of the AWFF, was the most complex award to create. "The snow leopard is rare and almost extinct, and I needed to incorporate its significance with the film industry and
the Asian World Film Festival. I feel that I successfully accomplished this with the award I created," describes Sir Daniel. Although Sir Daniel doesn't typically take on commissioned work, as he sees himself as an artist who wants to communicate his own visual
language through what he is sculpting or painting, in this particular case he made an exception, saying, "Because it was the Asian World Film Festival and being Vietnamese American myself, I wanted to create something profound and symbolic that will make a difference now and in the future for my community as well as to leave a legacy behind for generations to come."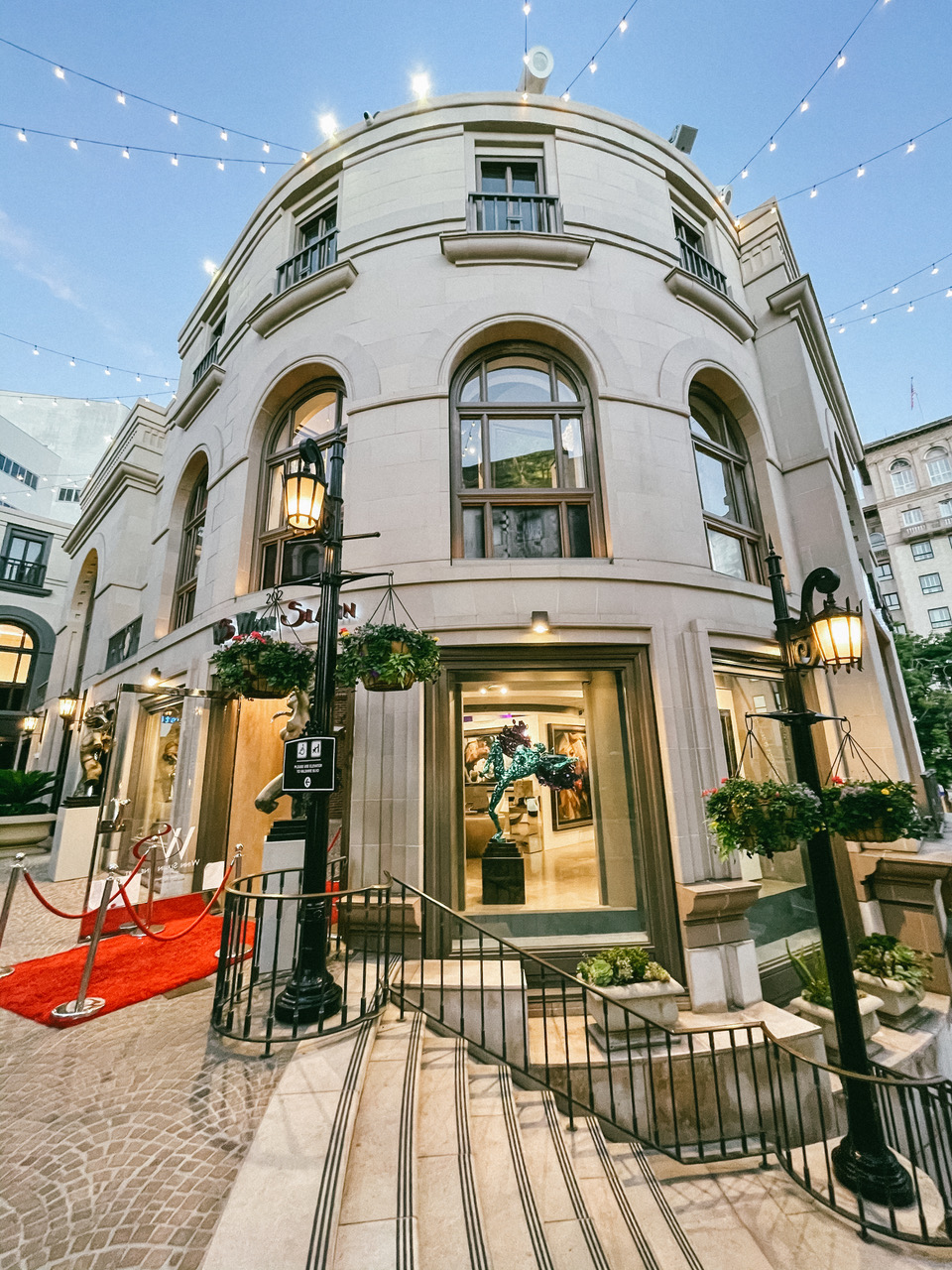 It is their love of art that brought Sir Daniel Winn and Loni Anderson together almost 25 years ago. At the time, Loni met Sir Daniel because he was involved with representing young artists and sponsoring them. A lifelong art collector herself, Loni loved the art Sir Daniel was curating and creating himself. "My artistic taste has changed, evolved, and broadened over the years, and when I got to know Daniel, I became interested in some of the artists he was interested in and supporting. So I have quite an eclectic collection of art throughout my home," shares Loni. She was also impressed by Sir Daniel's philanthropic work, such as raising funds to provide medical services and necessities to underprivileged children and families in the U.S. and Vietnam, as she also gives her time and commitment to causes like The Race to Erase MS, the American Cancer Society, and Us Against Alzheimer's
Loni Anderson, best known for her role as Jennifer Marlowe on the hit series WKRP In Cincinnati, for which she received multiple Emmy and Golden Globe nominations, is a well-known actress, best-selling author, activist, wife, mother, and grandmother. Over the subsequent three and a half decades, Loni went on to star in five additional television series, seven feature films, eighteen television movies and two mini-series, along with scores of starring roles in television series and specials, plus a joyful and welcome return to her first love, musical theatre. She also wrote and published the NYT bestselling autobiography, My Life in High Heels. Her latest venture is the second season of the hilarious series, My Sister Is So Gay, now streaming on Amazon Prime. With a degree in Art Education from the University of Minnesota, Loni's passion for art led to her being an avid art collector and supporter of up-and-coming painters and sculptors. This passion is what brought Loni and Sir Daniel together, and they have been kindred spirits ever since, as she shares,
"I LOVE ART. I'VE BEEN COLLECTING IT FOR YEARS AND YEARS. AS AN ACTRESS, I THOUGHT ABOUT HOW I COULD ALSO BECOME INVOLVED WITH MY OTHER PASSION, ART, AND THEN I MET DANIEL. I IMMEDIATELY LOVED WHAT HE HAD TO SAY, THE PERSON HE WAS, HIS ARTWORK, AND HOW HE WAS SUPPORTING OTHER YOUNG ARTISTS. HE IS FASCINATING TO BE INVOLVED WITH"
Sir Daniel encouraged Loni's involvement in the Asian World Film Festival by recommending that she be one of the judges at this year's festival and present an award knowing her keen interest in Asian films. "I have been a big Asian film fan since my teens. I discovered foreign cinema on the late show with a horror film called Matango, and I went on to love Godzilla, both the American and Japanese versions. My appreciation grew for Asian films with Akira Kurosawa and the Seven Samurai, animation with Miyazaki, all the way to the magic of
Crouching Tiger, Hidden Dragon. It is such a compliment and a thrill to be a judge at this event," expresses Loni. Sir Daniel divulged to Loni that she had been his muse in the creation of the awards for the AWFF. Being a dear friend and confidant of Sir Daniel's, Loni had shared information about the film and TV industry that Sir Daniel, as an artist, had not had experience with. He used the knowledge he gained from conversations with Loni about the world of Hollywood to inspire his creations, saying, "Loni to me is the last of what I call Royal Hollywood.' She is an icon in the Hollywood era I grew up in, along with Elizabeth Taylor and Marilyn Monroe. I connect her with the glamour of old Hollywood, old movies and TV shows I'm familiar with. So she became my muse to create each of these statuette awards based on what I learned from our intimate and candid conversations about her experience in Hollywood and her stories in the film industry over the last four decades." Sir Daniel's friendship with Loni gave him the
inspiration and insight he needed about the performance arts to create awards that visually communicate why the person is receiving the award and what it represents. Discovering her role in the creation of the awards, Loni elatedly shares, "When Daniel told me that I was his muse, I was astonished and thrilled. To come this far in my career and have this happen at this time with such a special friend and talented artist is almost too much to take in." Two kindred hearts brought together by their love of art, Sir Daniel feels he and Loni bring their artistic knowledge to others by guiding each other in making a difference in the world. The newest Winn Slavin Fine Art Gallery on Rodeo Drive will host an event during the Asian World Film Festival honouring Vietnam Film and Vietnamese actors, directors, and producers. Prior to the commencement of the festival, another evening at the gallery will be dedicated to the unveiling of the Snow Leopard Award statuette.
AS A SUPPORTER OF THE ASIAN WORLD FILM FESTIVAL AND THE CINEMATIC ART THIS ORGANIZATION CHAMPIONS, IT IS AN HONOUR TO HAVE THE OPPORTUNITY TO COMMISSION THESE PRESTIGIOUS AWARDS FOR THE 2021 CEREMONY,
expresses Sir Daniel Winn. "My hope is that through the festival we can bring more awareness to Asian talent and global connectivity through the arts."