Standing 6-foot-5 and weighing in at approximately 250 lbs of mostly sheer muscle, Dwayne Johnson is the "The Rock" personified. The pro-football player, turned pro-wrestler, turned Hollywood actor is a mountain of a man whose humble beginnings instilled in him a work ethic that has translated into Hollywood Gold.
Born Dwayne Douglas Johnson in 1972 to a Canadian father and a Samoan mother, Johnson's early years were spent travelling the pro-wrestling circuit with his father, Rocky Johnson. There wasn't much money back in those days, lending to a poor upbringing that would ultimately shape his outlook and set him on the path to personal and professional success and fulfillment.
The turning point for Johnson came at the tender age of 15. Living in a small studio apartment in Honolulu with his mother, the pair came home one day to discover that they had been evicted. The $180 a week rent proved too much for his mother who cleaned hotel rooms to make ends meet, and it broke the gentle giants heart. "I remember saying to myself, 'I will do anything and everything I possibly can to make sure we never get evicted again," he reflected. "But what does that mean— what does it mean to be successful? Well, the successful men I admired all built their bodies."
So began Johnson's quest to emulate the success of such role models as Stallone and Schwarzenegger through enhanced body physique and tough guy bravado. With purpose and focus, he began boxing and weight training after school. During his junior year of high
school, Johnson spotlighted as a star defensive tackle and was recruited by the University of Miami. With sights set on the NFL, he suffered a personal setback when a back injury sidelined him in his senior year. Down but not out, Johnson joined the Canadian Football league where as luck would have it, he played for two short months with legendary teammate Doug Flutie before being cut.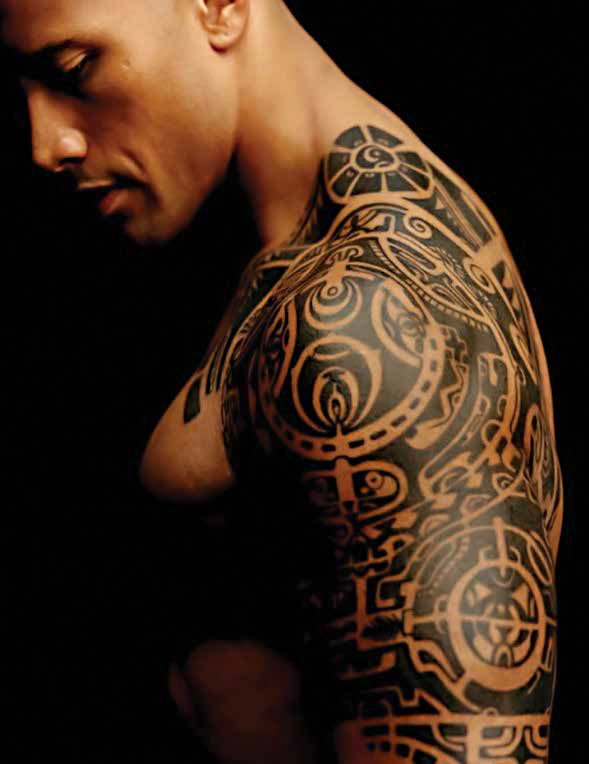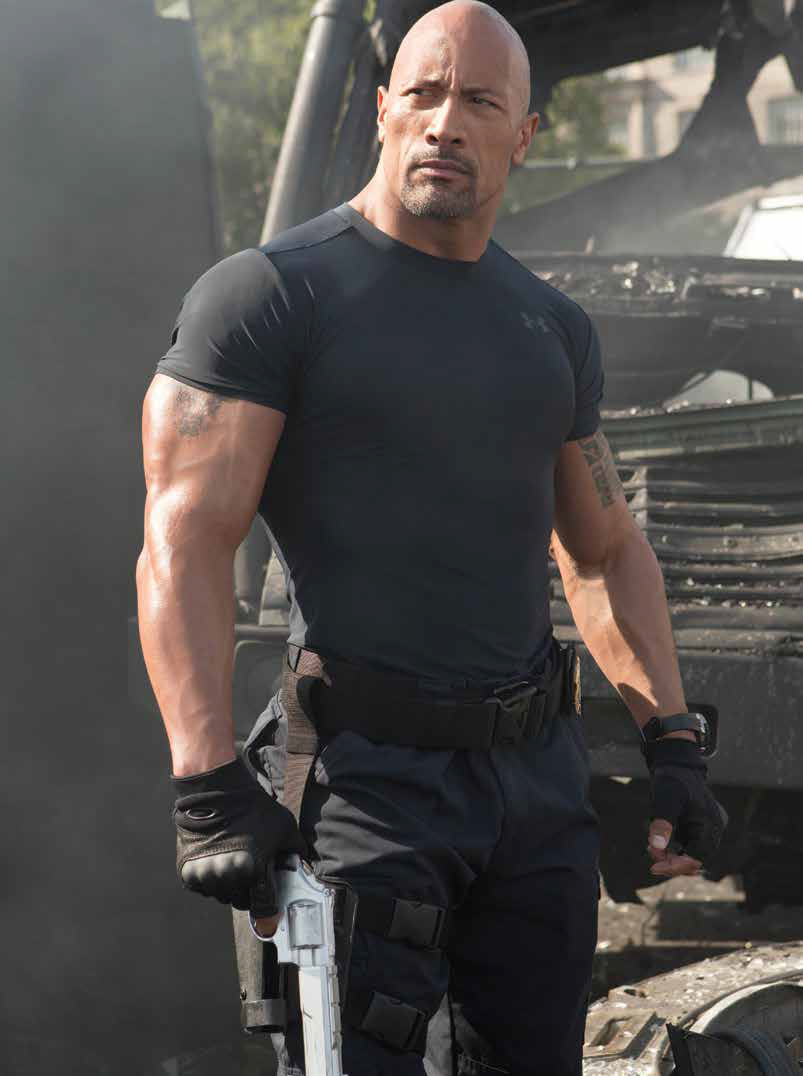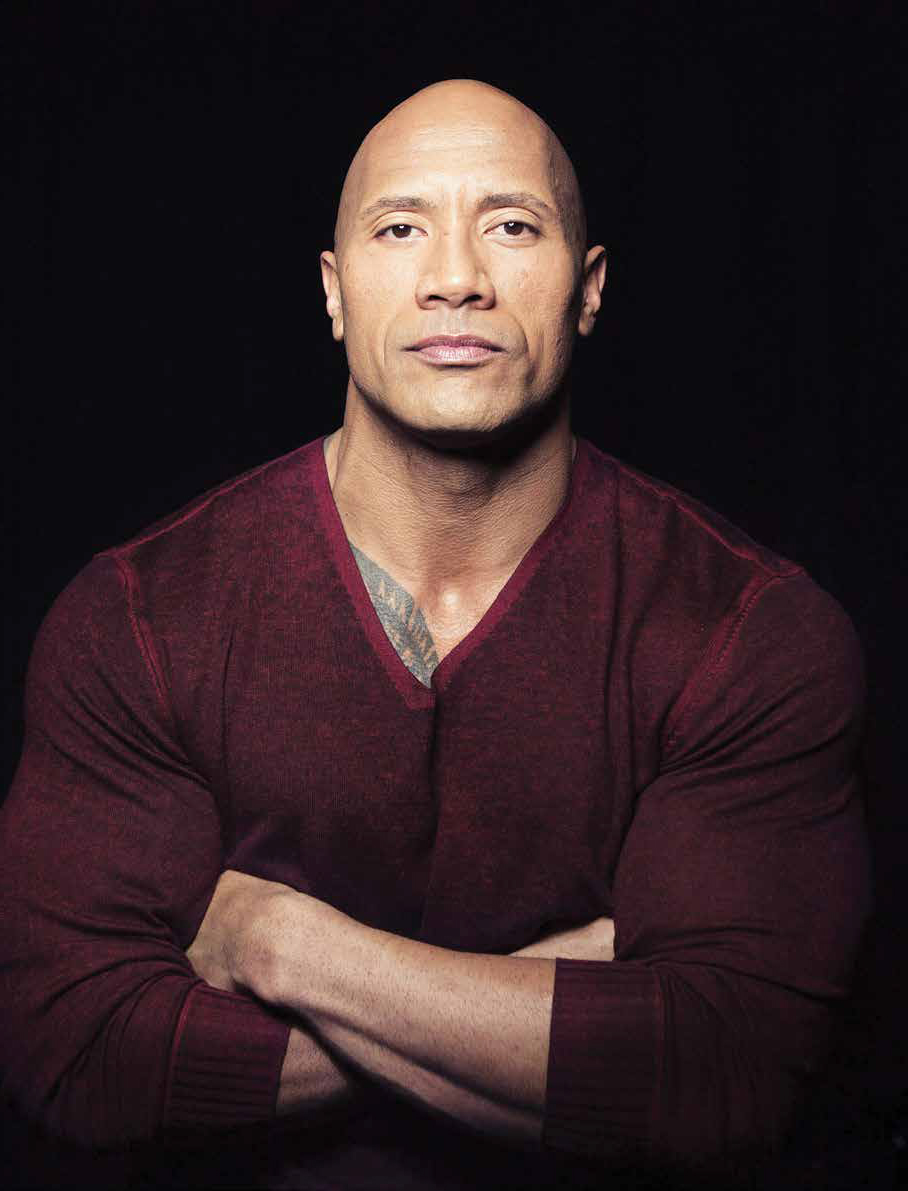 Broke and out of work, Johnson returned home to Miami. With 7 dollars his pocket – the inspirational namesake of his company 7 Bucks Productions – he opted to try his hand at the family business. As the son of a professional wrestler, Johnson stem from a long line of pro-wrestlers. His grandfather Peter Maivia was a professional wrestler, as were two uncles and five cousins. Even his grandmother worked the business a wrestling promoter. With nothing to loose and family tradition in his favour, he took to the ring.
In 1996, he made it to the WWE as Rocky Maivia. From Rocky to 'The Rock", Johnson quickly morphed into an industry icon as the biggest superstar televised wrestling has ever seen. Fans went wild and The Rock had found the success and financial stability he vowed to achieve as a teen.
During his tenure as The Rock, Johnson garnered numerous titles including the first ever, 7-time WWE World Champion. As one of the worlds most recognized names in wrestling, it wouldn't be long before Hollywood would come knocking. It was the year 2000 and Johnson was invited to host Saturday Night Live. The show was a hit and both a new breed of fans and Hollywood took notice.
Taking on a number of leading roles between wrestling stints, Johnson quickly proved himself Hollywood caliber in such movies as The Scorpion King where he earned an outstanding 5.5 million dollars – then considered the highest price tag for a first time star. Torn between the wrestling ring and the acting studio, The Rock officially retired from professional wrestling in 2004 to become Dwayne Johnson, full time Hollywood actor.
"But what does that mean—what does it mean to be successful?
Well, the successful men I admired all built their bodies."
From athlete to actor, Johnson's transition was seamless. His Hollywood breakout moment came in the 2005 release of the action-comedy Be Cool. In the role of Elliot Wilheim, a gay bodyguard with the perfectly coiffed fro, the artist formerly known as The Rock had captured the spot-light and proved himself a versatile actor worthy of A-list Hollywood status.
It wouldn't be long however, before The Rock would make a comeback. In an effort to both win back wrestling fans and help boost WWE business, Johnson signed a three year wrestling deal in 2011. The move to re-incarnate The Rock was cathartic for the athlete turned actor, turned athlete/actor. Back in the ring, The Rock set payper-view- buy rate and attendance records for the franchise and won back the respect of fans who appreciated his genuine candor for the sport that made him a legend. "I think fans realized, 'Wow, you're back, and you committed for three years, and you don't have to be here," he said. "I had the balls to be authentic."
As a celebrity in any discipline, you know that you have made it when you warrant a wax likeness of yourself in the renowned Madam Tussaud's Museum, and Dwayne "The Rock" Johnson has hit the motherload. With his wrestling days behind him but not forgotten, Johnson re-emerged on the Hollywood scene as the highest grossing actor of 2013.
Born Daniel Wroughton Craig on March 2, 1968, in Chester, England, Craig grew up near Liverpool, where he enjoyed going to the theater with his mother and sisters. Many of his mother's friends were actors, and he felt drawn to the profession.
Having completed theatrical schooling and following a number of reputable screen roles, including the love interest to Angelina Jolie's character in the action film Lara Croft: Tomb Raider, Craig landed the lead of a charismatic coke dealer in the 2005 crime drama, Layer Cake. Hollywood took note. It was around that time that rumours began to surface that Craig would be cast as the next 007, James Bond. Critics and skeptics came at the actor hard and fast: diehard Bond fans set up a website criticizing Craig as too blond and too old.
However for Craig, assuming a role is based on the complexity of the character that best allows him to excel as a performer. When opportunity presented itself, he welcomed the chance to reboot Bond as a multi-dimensional, complex character who has a license to kill but harbours dark demons and conflicting emotions. "When I accepted the job to work on Bond, I genuinely did it to change my life," he explained. "I knew that it would flip everything on its head… I've never made movies for money—I've always made them because I truly wanted to do them."
Boasting an already impressive resume of stage and screen performances including Munich, Defiance, and The Girl with the Dragon Tattoo, this Craig as Bond fan is thrilled. Craig, Daniel Craig has signed on to do another James Bond film following the October 2015 release of Spectre.
So, what do former Bonds think of the blond, blue-eyed Craig as the 007 re-incarnate? "I think that he [Daniel Craig] is the Bond. He's quite brilliant," said Sir Roger Moore. "To me, he looks like a killer. He looks as though he knows what he's doing. I look as though I might cheat at backgammon."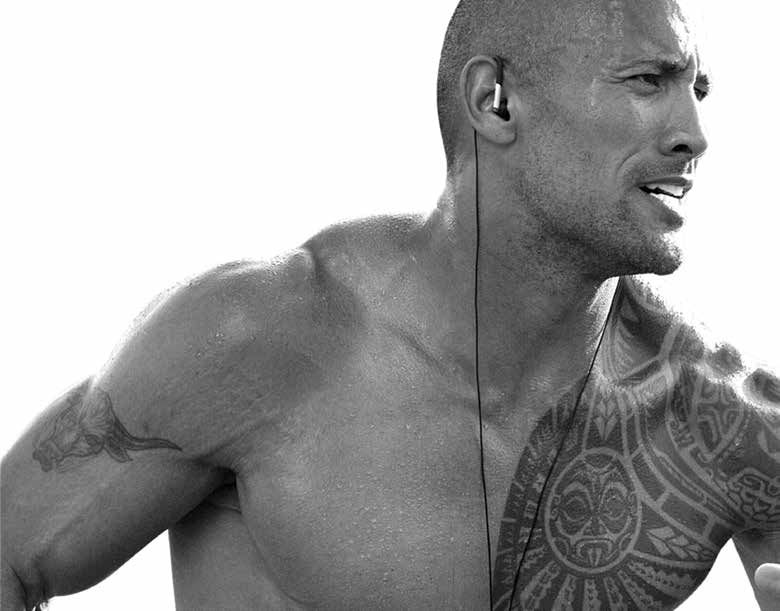 Boasting an impressive repertoire of Hollywood hits, including Gridiron Gang,  et Smart, GI Joe: Retaliation, Fast & Furious 6 and Furious 7, San Andres and Hercules, the actor continues to champion the big screen as one of the industries hottest commodities.
Global fame however is status earned, and Johnson's commitment to the craft has earned him full bragging rights. Brawn, brains, and intensely handsome, Dwayne, formerly "The Rock" Johnson is a Hollywood producers dream. His dedication to a role is unbridled and carries through to post-production marketing and promotion; basically, he tweets and posts religiously. It has been said that, "his social media efforts add $15 million to $20 million in marketing value to a film or TV project."
Where does this fervor to test the limits of success come from? Johnson attributes his drive to the discipline garnered from wrestling. "Training is my anchor," he said. "Being on a regimented schedule, setting a goal, failing at a goal. It's the philosophies of being an athlete that carry me today."
With a few of projects on the roster including an adaptation of the comic book Shazam, a big screen remake of Baywatch, and a starring role in the imminent HBO series, Ballers, it goes without saying that, Dwayne "The Rock" Johnson will forever reign as the "People's Champion."