WRITTEN BY GIOVANNA BONOMO-BLESCIA
Meet Maria Grazia Cucinotta, the Italian actress, producer, and author who has captivated hearts worldwide ever since her breakthrough role in the Academy Award-winning film, "Il Postino," more than three decades ago. In this exclusive interview, Maria Grazia takes us on a journey to her beloved Sicily and talks about the importance of taking risks, Hollywood, and marriage
YOU SAY, "THOSE WHO TRY, NEVER FAIL" — DOES THIS TRUISM COME FROM PERSONAL LIFE EXPERIENCE?
If I hadn't left Sicily to participate in the Miss Italia pageant when I was a teen, I might have never left the island. I came from a hardworking family where no one knew anything about the world of entertainment, including me. But something inside of me told me I could do it, and I did. I made it to the finals, and my career took off from there. I didn't study acting; I learned by doing. If you stay in the same place complaining saying, "I'll never do it," you never will—that's why I say, "Those who try never fail." Failing is not about making mistakes. Failing is never trying—never risking.
TELL ME ABOUT YOUR FASCINATION WITH "THE COINCIDENCE OF THINGS."
My first job was on Renzo Arbore's hit show "Indietro Tutta." It was a stratospherically, successful television program. And what I noticed then that continues to amaze me even now is the coincidence of things. As soon as "Indietro Tutta" finished, I met Giorgio Capitani and his wife Simona, which led to my debut on the silver screen. Ever since, my life has been a series of coincidences — interconnected streets and paths that crossed day after day.
WHAT WAS THE GREATEST FEAR YOU'VE HAD TO FACE IN YOUR CAREER?
Moving to Los Angeles at the height of my career in Italy without knowing one word of English and pushing the big red stop button on acting in Italy — that terrified me. But once again, there was something inside of me that said I needed to stay there. Being in Los Angeles for ten years rewarded me with cinema know-how and inner confidence that I wouldn't have experienced had I shied away from fear.
"THAT "SOMETHING INSIDE OF YOU" WHAT IS IT?
It's a sixth sense that Sicilians have – especially the women. I've always had it, but I haven't always listened. But it's part of the magic that comes from Sicily.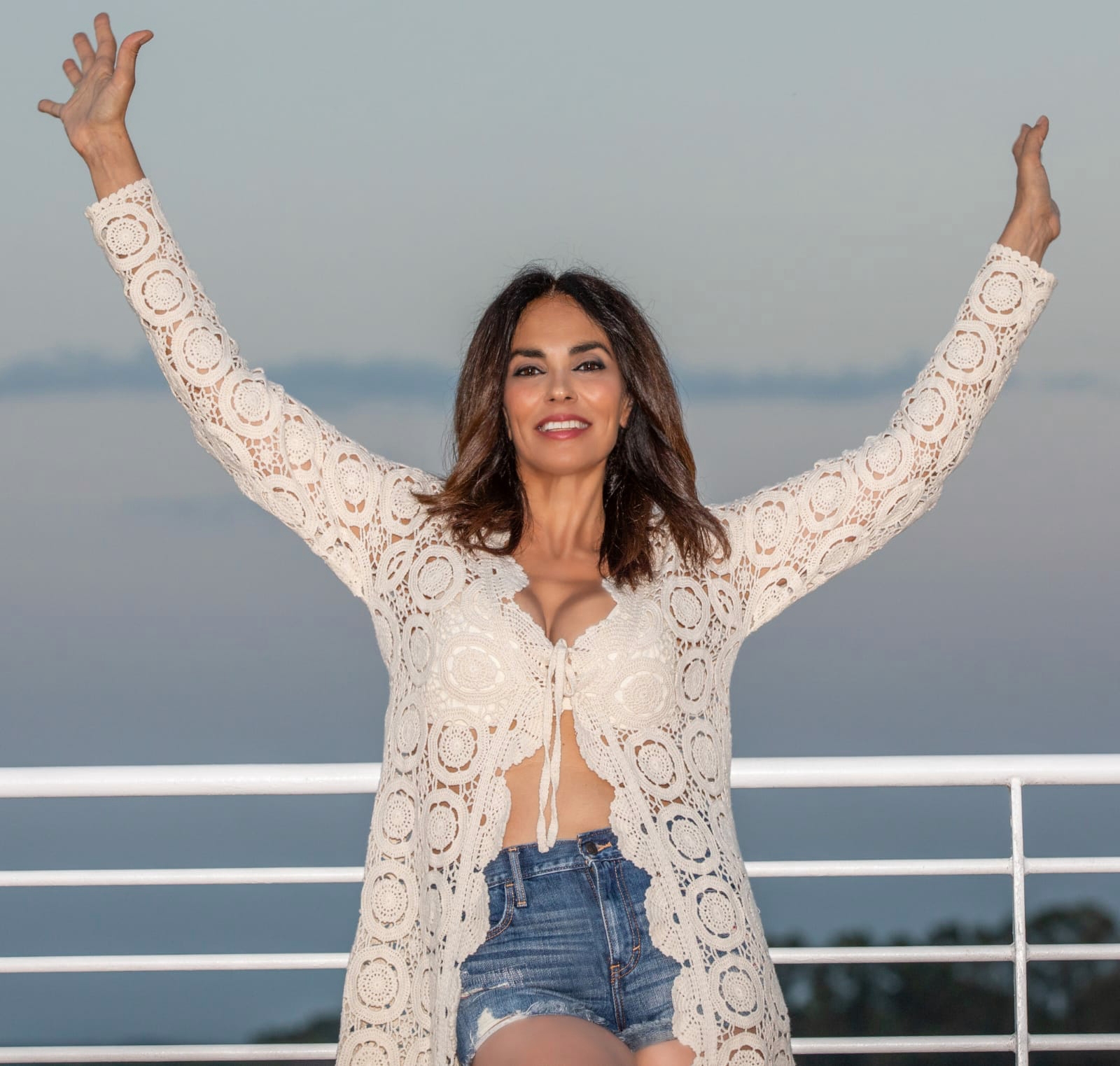 FROM SICILY TO HOLLYWOOD—WHAT WAS YOUR FIRST IMPRESSION OF AMERICA?
They recognize talent. If you have talent, you'll go far. They don't ask where you come from, who you are, or care about your background. The important thing is that the public loves you— because we work for the public. Even though my agency represented Charlize Theron, Kevin Costner, and Vin Diesel, my agents, who I'll always be grateful for, treated me like a star — this gave me the inner confidence and strength that needed to work with Hollywood giants, such as Pierce Brosnan, in the James Bond film "007– The World Is Not Enough."
YOU SAY A FILM IS NEVER JUST A FILM— WHAT DO YOU MEAN BY THAT?
Every film is a door to new talent and an opportunity to introduce and make people fall in love with our country and culture. Until now, a lack of strong international distribution has kept international audiences from accessing Italy's films. I hope that the dawn of streaming platforms like Netflix and Prime will bring a revival of Italian films to the world.
HOW WAS LIFE GROWING UP IN SICILY?
Life growing up was difficult, filled with many sacrifices. But I wouldn't change any of it. It was the most beautiful childhood that I could've ever asked for because looking back. I know what it feels like to have nothing yet feel like a millionaire at the same time. Because all I had to do was go to the beach, pick chestnuts, or picnic in the woods with warm bread, tomatoes and olive oil, and I felt rich with zero.
YOUR EYES WELL-UP WHEN YOU TALK ABOUT SICILY. HOW HARD WAS IT FOR YOU TO LEAVE?
The biggest sacrifice that I've ever had to make was leaving my mother, family and home in Sicily. When you leave your family, you leave that place that's secure, and you will never find that place anywhere else —even now that I have my own family and home in Rome. Still, when I think of home, I think of Sicily. I think of my mother. I think of that place, my childhood home.
WHAT WOULD YOU SAY TO THE SICILIANS WHO WERE FORCED TO EMIGRATE AFTER THE WAR?
Thank you. Many Sicilian families owe much to you—the brothers, sisters, children of our island who emigrated to North America and other countries searching for work—leaving Italy wasn't easy for you. Still, you did it to help your families back home. Your help contributed to the well-being of our nation. The Italian excellence we bring to the world today is also because of your great sacrifice back then.
TELL ME SOMETHING ABOUT ITALY THAT YOU LOVE.
Take Sicily, for example. You have Mount Etna, which is the biggest volcano in Europe. A smoking monster that's as scary as it is fascinating, yet you can ski on it — and from on top of the mountain, you can see people swimming in the sea! Sicily has everything that you could ever want sea, mountains, woods, food, magical islands. Every year I do a tour of the islands because they are dreamlike places where strangers open their doors to you and set a place for you at their table with a plate of spaghetti and tomato sauce. The pandemic brings us back to the basics and pushes us to re-discover the things that really matter, love, health and everything that Italy offers for free.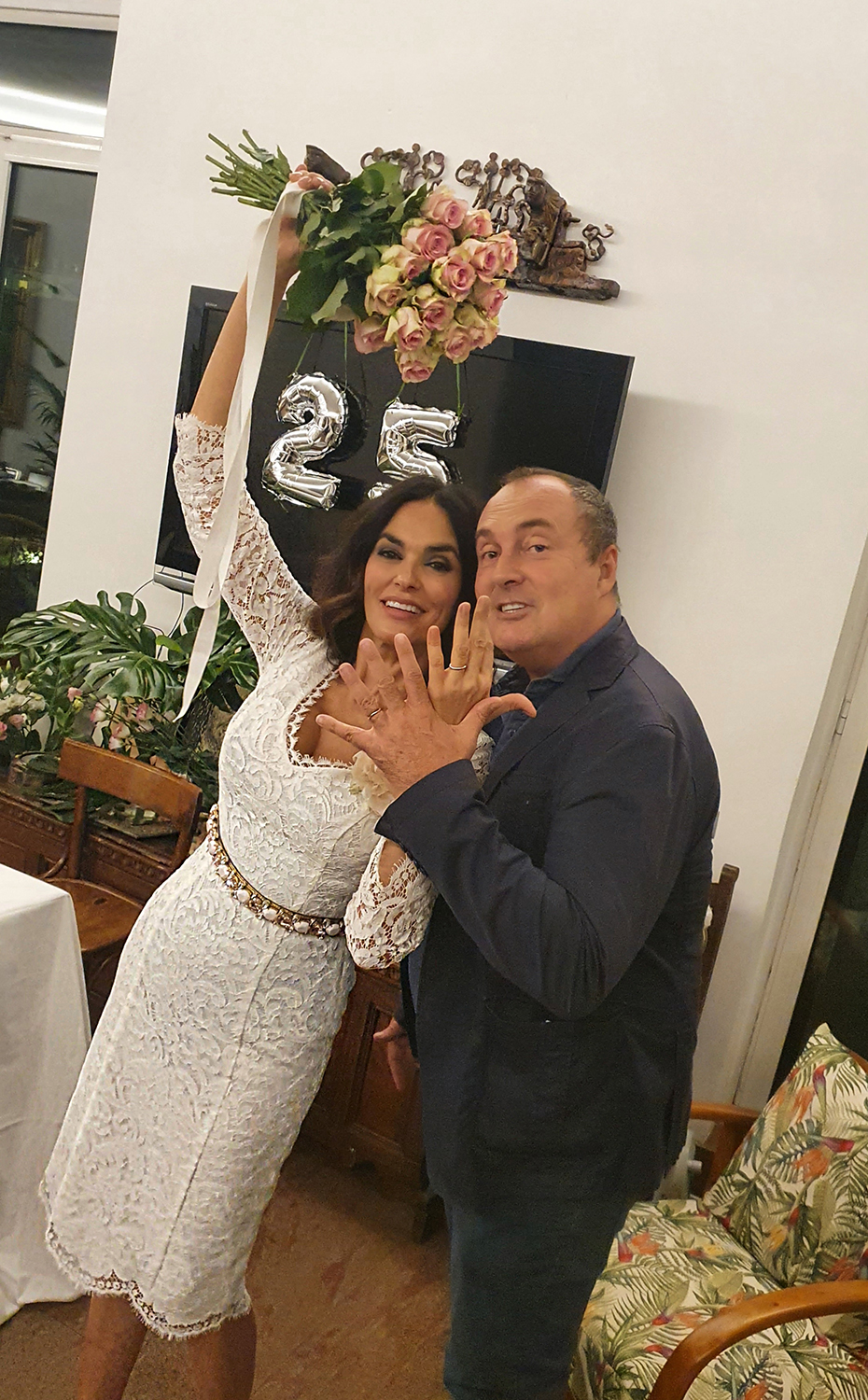 Kolymbethra Garden in the heart of the Valley of the Temples in Agrigento. It's a rare archaeological and agricultural jewel. It's like being inside the Garden of Eden with olive groves, orange and lemon trees from 2,500 years ago. I am so grateful to FAI for giving new life to these trees' origin and growing fruit that has never been manipulated—the way it was meant to be.
YOU RECENTLY CELEBRATED 25 YEARS OF MARRIAGE WITH A WEDDING CEREMONY — WAS THIS A RENEWAL OF VOWS OR AN ACTUAL WEDDING?
It was an actual wedding. The plan was to have a big ceremony and reception. But then the pandemic intervened, which is why we celebrated at home with only a few close relatives— my Mother joined us remotely from Sicily.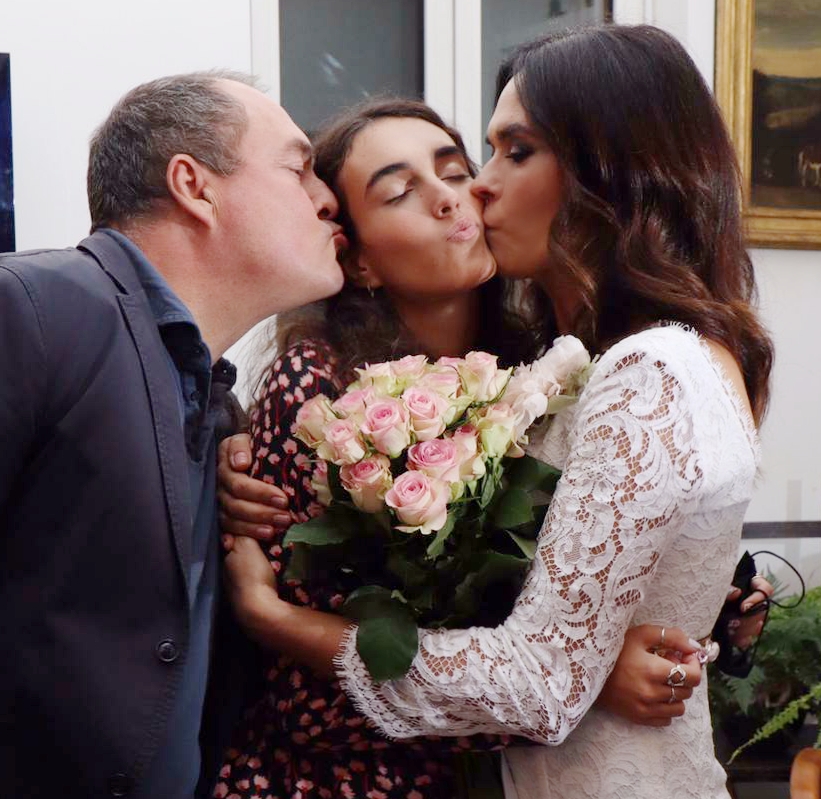 WHY A MARRIAGE WITHIN A MARRIAGE?
When Giulio and I met, we were both very young. Getting married was about the celebration. After the wedding, we woke up with this ring around our fingers without knowing the significance. Now, I feel that we really truly chose each other. We got married for real. We decided to continue to spend the rest of our lives together, knowing who he is and who I am.
GIULIO VIOLATI IS ONE OF ITALY'S MOST PROMINENT ENTREPRENEURS, YET WHEN YOU GOOGLE HIM, WE FIND "HUSBAND OF MARIA GRAZIA CUCINOTTA, HOW DOES HE HANDLE THAT?
It used to get on his nerves, now he laughs and calls himself "Mr. Cucinotta." But his favourite title is "Father of Giulia." He is the real protagonist; he's the real star but doesn't compete for the spotlight.
TOP THREE PROJECTS FOR THE FIRST QUARTER OF 2021?
Live Theatre Show – "Figlie di Eva"
directed by Massimiliano Vado.
Cinema – "Gli Anni Belli"
directed by Lorenzo d'Amico de Carvalho
Short film – "Padri"
the story of a child abducted by a satanic cult.