BY: M O N I Q U E S I M P S O N
Whether to escape the bone-chilling winter or to top up your summer vitamin D intake, the white sandy beach vacation is an annual rite of passage. In our household it's a dichotomy of ying and yang needs – one prefers to sit on a beach for ten days straight without requiring more than the suns gleaming rays, lapping waves and a good book, while the other can stomach a couple of hours a day of 'nothingness' before the inevitable boredom of inactivity sets in.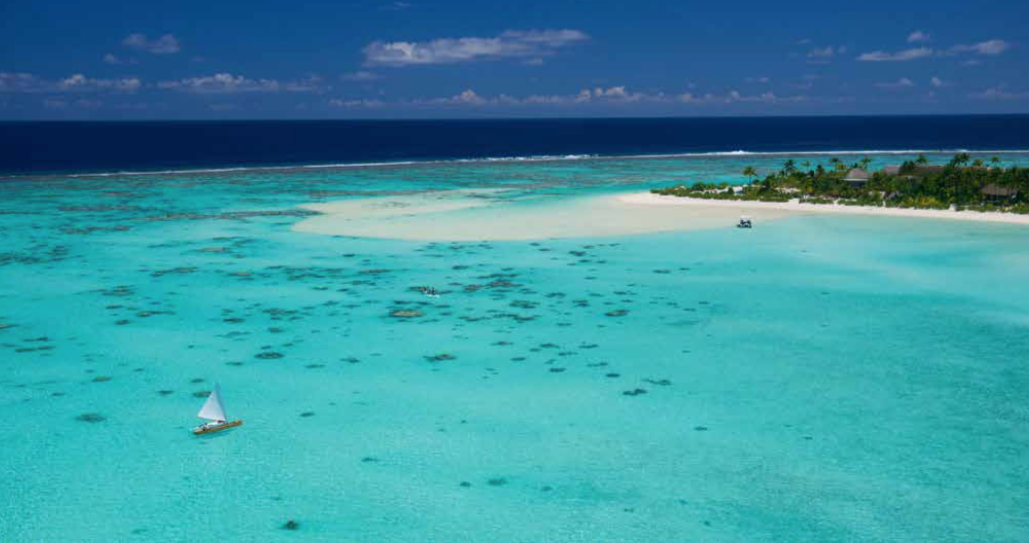 A new year brings a new search for a paradise further afield. French Polynesia – an untouched island constellation in the middle of the South Paci c Ocean – is pretty much as far as you can get and while it wasn't on our list of conventional go-to destinations; it should have been.
Moorea – Local Charm and Thrilling Activities
After a scenic 30-minute crossing on the Aremiti fast ferry from Papeete to Moorea we land on 'island time'. At the starting point for our guided boat excursion, we are warmly greeted by Maui, Moorea local and operator of Corallina Tours. After boarding, Maui briefs the group on the day ahead joking "we will make our way to Bora Bora and sleep on the floor overnight" and "only lose a couple of you to the sharks". We're in for an entertaining day! Just o the dock, we spot a pod of Spinner dolphins gracefully leaping out of the water that Maui mentions frequent the lagoon all year round unlike the seasonal Humpback whales migrating here June through August. Today, with temperatures clocking 28 degrees, the lagoon is water sport paradise – kite surfing, jet skiing, paddle boarding, para sailing and locals surfing on the coral reef breaks. Ahead reveals a stretch of glinting shallow turquoise water with a handful of other vessels anchored and we know this is 'the moment'; our opportunity to swim with both stingrays and sharks. Maui reminds us the sharks living inside the lagoon are small, well fed reef sharks and accustomed to humans in this protected, no fishing zone.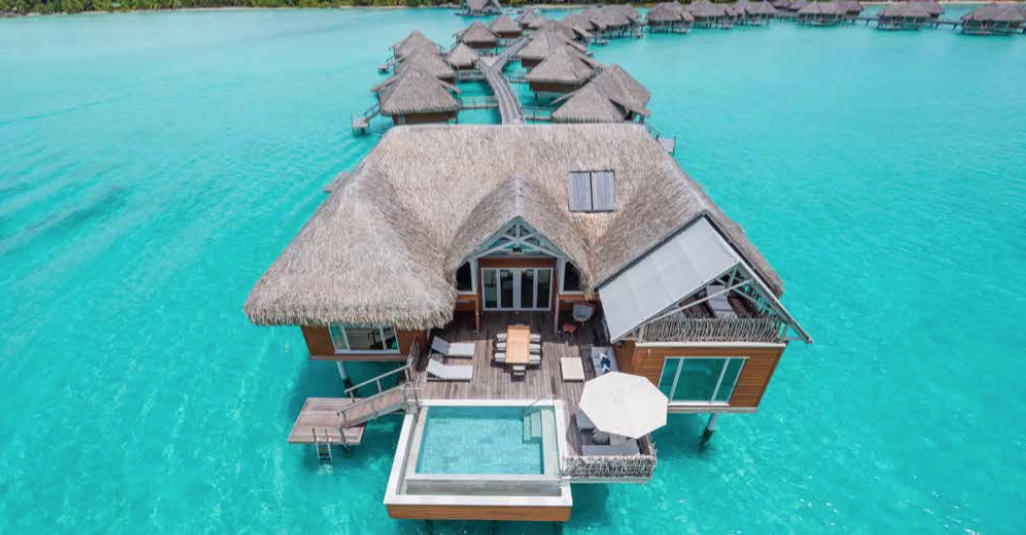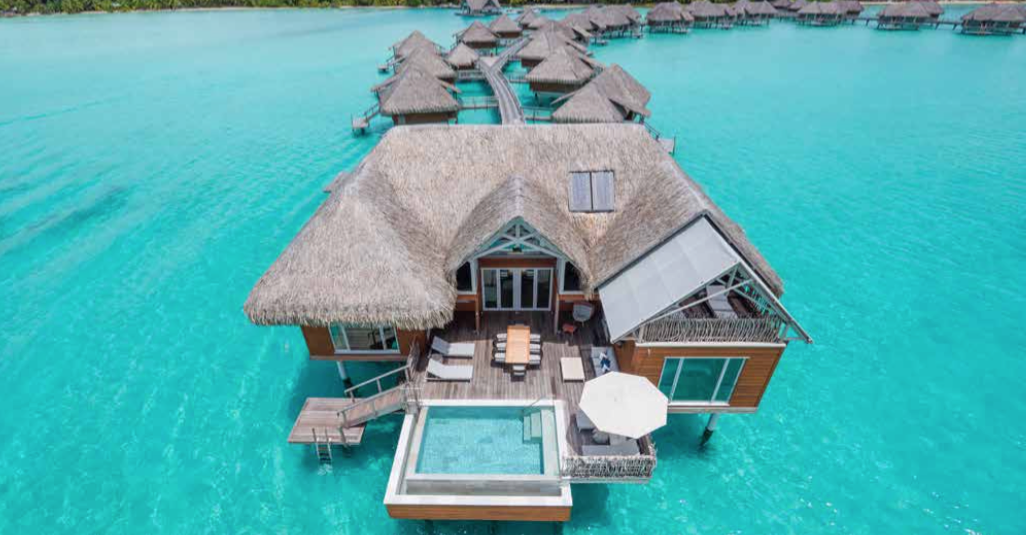 As Maui dives in, the rest of us sheepishly dismount the boat gingerly stepping into the water. Remarkably it doesn't take long for comfort levels to soar as the sting rays' soft ns glide against our bare skin and the trepidation of the 'Jaws' moment dissipates.
We cap off the afternoon at the sandy little motu o Hauru and a bite to eat at Coco Beach, a popular spot amongst tourists and locals. English speakers are well outnumbered paving the way for us to dust up on our French whilst enjoying the friendly, local hospitality. Our return to our beach bungalow is followed with an intimate candle lit dinner at So tel's K ('barefoot if you so choose') restaurant, and is the perfect end for what was an authentic French Polynesian experience.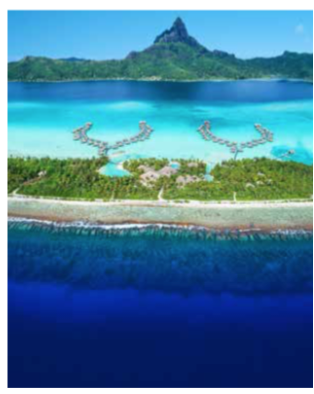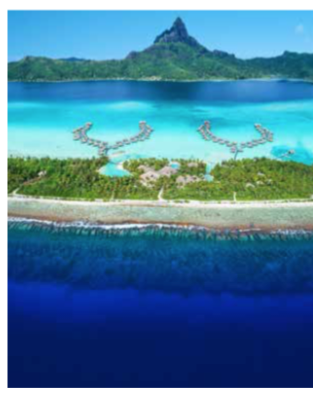 Bora Bora – Million Dollar Lagoon View
Bora Bora, often described as the jewel in French Polynesia's crown, has been popularized amongst honeymooners and made famous by Hollywood movies and A-list celebrities coming here to escape. From the air, the dramatic, sheer faced, emerald green volcanic island set in a lagoon of iridescent shades of turquoise blue enclosed by a string of motus along the barrier reef is truly beguiling.
Bora Bora's charming airport sits on the small, at coral of Motu Mute accessible only by boat, so you won't find any taxis here unless it's of the water variety!
Arriving at InterContinental Resort & Thalasso Spa's resplendent entrance and curving along the overwater boardwalk to our suite, we are already impressed by the spaciousness and upkeep of the oceanwater villas and the profound quietness absent of the standard hum of air conditioning units. The entire hotel property is powered by seawater air conditioning (SWAC) – an ingenious eco-innovation using cold sea water sourced from the depths of 3000 feet just beyond the reef, which is passed through a heat exchanger, cooling the closed fresh water loop that is then pumped around the hotel. But it's at the final turn we are totally bedazzled, the end of the pontoon revealing a palatial oceanfront suite towering overhead.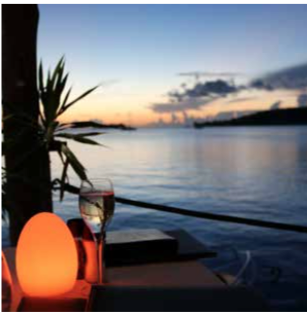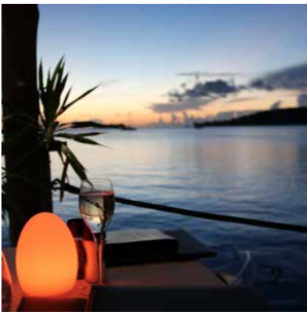 Stepping in the grandiose entrance of the newly completed "Brando Suite" unveils something quite special – a spacious open plan layout flowing onto an expansive terrace and large private infinity pool with an unobstructed view of the lagoon and Mt Otemanu's jagged peak. This tech haven, fitted out with all the latest technology including wireless surround sound, is contemporary and soave with its emulsion of white furnishings and oak hardwood whilst design accents including coral depictions and French Polynesian artwork brings local flare. The suites 180-degree breathtaking views lulls you into a deep state of relaxation that you may never wish to leave but fortuitously 24 room service is only a phone call away!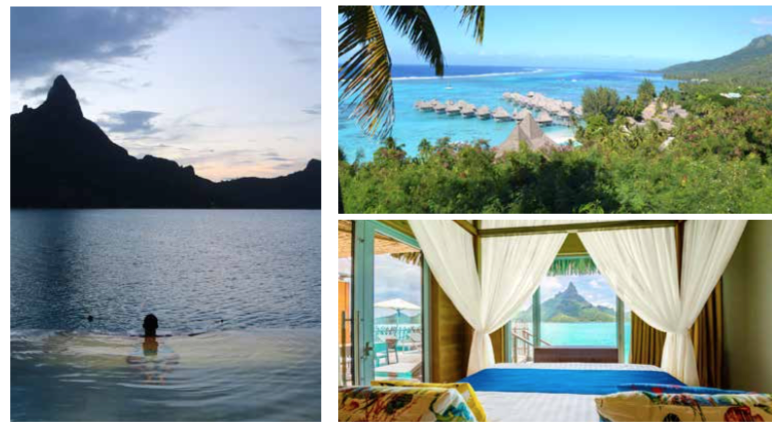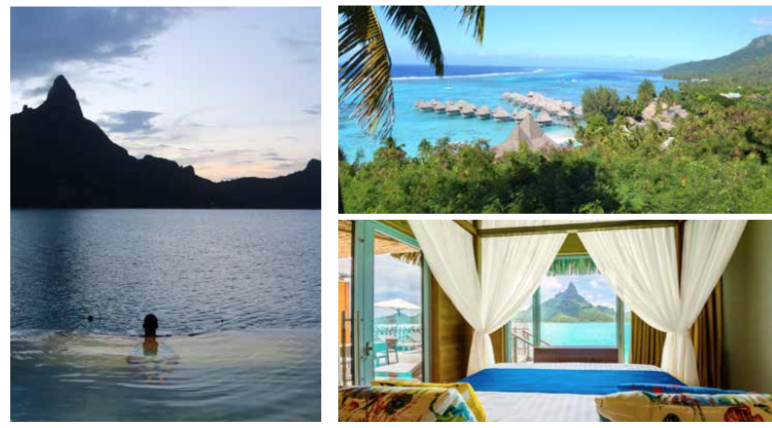 Awakening the first day, sporting a touch of sunburn, we book an after-sun care treatment at the Deep Ocean Spa. The Spa is the metaphorical and literal centerpiece of the Resort, uniquely using thalassotherapy (seawater therapy) for its signature water experiences and hydrotherapy pools. After immersing ourselves in the mineral rich pools and heavenly massages, we retire to the relaxation lounge to enjoy the quietness broken only by restful music and onshore breezes rippling through the room. At this point we are left wondering if we could feel any more relaxed.
Day two brings a different pace with an exhilarating jet ski tour with Tarie from Matira Jet Tours. Today, the couples ride as pairs, Tarie suggesting the men drive and swap with their partners halfway around Bora Bora. With Tarie in front hanging o the side of the jet ski at speed like a seasoned pro, taking in the sights around the entire island and light refractions revealing the lagoon's palette of blue hues is one magnificent ride.
Before returning to Matira Beach, we make one final pit stop in a sheltered bay ringed with heavenly white sand and glinting water where Tarie opens a couple of coconuts and whips up a "local hotdog" – an appetizing coconut 'bun' layered with banana and mango. We end the day with a sunset cruise with Romantic Tours Bora Bora.
With a glass of Champagne in hand, we watch the fiery red orb of light materialize as the sun slowly dips below the horizon. As the lingering light dyes the sky, the traditional outrigger canoe makes its way to esteemed, fine dining St James' restaurant. Disturbed only with the splashing of manta rays and pools of fish schooling below, we enjoy a romantic candle lit meal and the nautical twilight.
Our last day gives us a chance to enjoy our infinity pool, and the resorts' facilities including paddle boarding, canoeing, and learning how to open a coconut like a pro, and an encore at Thalasso's gastronomic restaurant, Le Corail, is a fitting conclusion.
Tetiaroa Island – Luxurious Private Island Retreat with a Higher Purpose
No actor is so inextricably linked to French Polynesia than the famous Oscar winning actor Marlon Brando who fell in love with Tetiaroa Island while scouting filming locations for Mutiny on the Bounty. After years of negotiating, he finally acquired his Island paradise living here periodically to escape Hollywood's pressures until his death. In 2014, with the assistance of Richard Bailey, experienced hotelier, good friend and passionate environmental visionary like Brando, the uber-exclusive and eco-conscious resort made its debut housing 35 beachfront villas hidden among the palm fronds on Tetiaroa's only inhabited island, Onetahi.
After a short 20-minute private charter flight, our view through the captain's window reveals the contours of the famous atoll – an uninterrupted coral reef and 12 tiny motus covered in dense green vegetation and laced with shimmering white sand encircling the glistening turquoise lagoon – the sole remnants of the ancient volcano's sunken crater.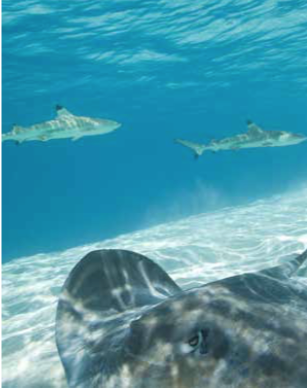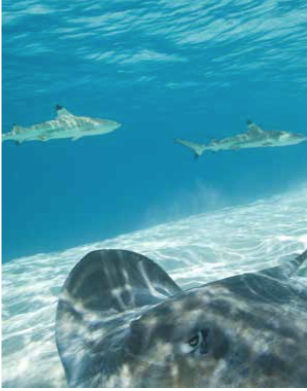 Whisked away to our residence, our eyes wander to our magnificent villa enveloped by coconut trees eloquently blending into the natural backdrop. Opening the front door, we are greeted by a bottle of Ruinart Champagne, macaroons, and personal touches including a plate of chocolate chip cookies that I faintly recall noting as one of our nostalgic treats on the guest questionnaire all those weeks ago. The villa has all the luxuries you would expect including your own secluded private beach, outdoor bathtub, infinity plunge pool overlooking the pristine lagoon, and both genders are thoughtfully catered for with his and her sinks and bathroom amenities, flip flops reusable drinking bottles, beach bags and wardrobes so as Jean-Philippe, our Concierge, maintains "no one gets jealous".
While sleek and modernist with every tech need tended to, including an in-house iPad, it's eloquently restrained and connected to the land through the use of local wood, thatched roo ng and earthy palette.
Although The Brando offers a bed and breakfast package, the vast majority of guests hoose the all-inclusive package. Let's face it when your daily choices entail choosing a bottle of Bouzy Brut Champagne or Joseph Drouhin Savigny-lès-Beaune to accompany your freshly caught red tuna sashimi for lunch, dining at the resort's gastronomic restaurant – Les Mutinés – or enjoying a white table cloth romantic candle lit dinner in the privacy of your villa; and selecting which state of the art Spa treatment to enjoy it's a truly unmissable exclusive all-inclusive experience!
Rest assured there is plenty to keep active relaxers involved – water sports, tennis, beach yoga and biking to a name a few, and of course the opportunity to swim and snorkel for hours through life size coral labyrinths and alongside the stunning myriad of marine species. And when the sun slips below the horizon we can't escape Bobs Bar, a tribute to Brando's buddy and great drinker, where you can indulge in a Marlon's Mojito or enjoy a detox smoothie.
Beyond the blissful luxury of the villa and resort facilities, guests are encouraged to discover the history, culture, people and natural eco-system of Tetiaroa. In collaboration with The Brando, Tetiaroa Society (a non- pro t organization designated as "environmental steward of Tetiaroa) manages daily expeditions around Onetahi and the other motus by boat furnishing Brando's vision of tourism with a higher purpose. The Ultimate Discovery Tour certainly accomplishes this. Departing Mermaid Bay with our Tetiaroa Society guide Ngnahina, we firststop at the Island's most exposed motu – Reiono.
Stepping off the boat, we forge a path through the undergrowth. With densely layered canopies overhead and broken coral pieces underfoot that form the motu, this "forest of atoms"– a thriving natural eco system untouched by humans – has an airy Jurassic Park feeling. Exploring the marvels of Tetiaroa, Ngnahina chats with us about some of Tetiaroa Society's University partnerships and pioneering conservation and scientific research projects conducted out of the Society's eco-station and laboratory right here within the resort. Their work includes the successful eradication of the dengue, chikungunya, and Zika carrying mosquito from Tetiaroa Island by sterilizing the male mosquito, explaining the absence of the humming of mosquitos we are accustomed to in the tropics.
One of our personal highlights was The Green Tour, which allows guests to go behind the scenes and view first-hand what carbon neutral actually means. 3744 solar panels lining the airstrip providing 70% of the resort's energy requirements with the remaining 30% powered by biofuel generators using locally sourced coconut oil, SWAC system, desalination plant, waste management facilities and organic garden gives The Brando its feather light carbon footprint, earning it prestigious Platinum LEED status.
Ultimately for The Brando it's about creating "magical moments" and as Silvio Bion, The Brando's General Manager, explains "if you are open to learning and discovering [and]…you take home one thing about sustainability, we are happy" as I am sure Marlon Brando would be! Indeed, seeing the line of recycling bins and the eco-digester gobbling up food scraps for compost gave us the 'kick' to ditch coffee cups and purchase reusable JOCO glass cups on our return.
The Brando's multi-dimensional experience eclipsed all expectations; the property's 'mana' or spiritual energy a true testament to why many of its guests, whispered to include Royals, high pro le politicians and celebrities, return here year after year. The Brando is undoubtedly the perfect French Polynesian finale offering an inimitable luxury and holistic experience fostering a deeper level of connection in an environment fostering total privacy, relaxation and disconnection from the outside world.
French Polynesian promises delight and beauty but proves itself phenomenal with the people truly defining our stay. Their smile, warmness, and genuine authenticity inspiring and moving. With an impressive first taste and with many more islands yet to explore, we don't say goodbye to this little tranquil treasure in the Pacific but simply à bientôt!