It is a busy world we live in and sometimes that long to-do list can become more like a wish list, or a "one day" list, leaving you feeling that you're constantly a step behind, always playing catch-up. It's easy to be coaxed into the belief that absolute independence and achieving everything on a daily list is only something to be celebrated if we tackle all tasks on our own, yet sometimes, we simply need help.
Enter Handled Concierge- a spectacular new service that will step in and handle those extra tasks so that any seemingly free time, becomes real free time to enjoy with loved ones or to focus on the important things in life.
Handled is an online personal shopping service which offers gift purchasing, wardrobe consultation and styling for busy professionals in the Greater Toronto Area. The service's individualized and bespoke manner when determining the needs of each client, sets Handled apart from other similar services offered.
Ahead of launching in June of 2017, the founder of Handled, Shira Yoskovitch, a busy professional and caretaker, herself , had experienced firsthand just how daunting the day-to-day could be. Determining that there wasn't enough time in the day to achieve her long to-do list, Shira set out to fill a void in the market which seeks to alleviate the stress and pressure that results when those who have jam-packed days with moments only to spare, find it tricky to tackle their own basic to-do list.
The team at Handled ensures to provide clients swift assistance and to operate as a helpful extension of each client and their busy lifestyle. A novel booking system allows any busy professional to select as many tasks to be completed as needed after which, each task is synced to calendars of the Handled team who are at your service promptly while adhering to the budget set by you.
The fashion enthusiasts on the Handled team will ensure to assist you in looking your best for any occasion, however, Handled Concierge does not only partner with select boutiques. Instead, representatives seek to understand your personal style, and thereby selects outlets and style destinations based on what suits your unique appeal and your budget.
Style does not end with the clothing selected, but goes encompasses all services that help you to feel and look your best. The knowledgeable Handled customer care reps will happily book appointments, whether at grooming salons or in the comfort of one's own home, with the perfect specialist to achieve the look that is hoped for.
Additionally, Handled doesn't stop at clothing and styling. The team will also promptly and perfectly select gifts needed for special events such as birthdays, anniversaries and holiday parties. As the holiday season approaches, it would likely be a happy addition to any busy executive's life to have a Handled representative taking care of office gift shopping in addition to items on loved-ones' lists.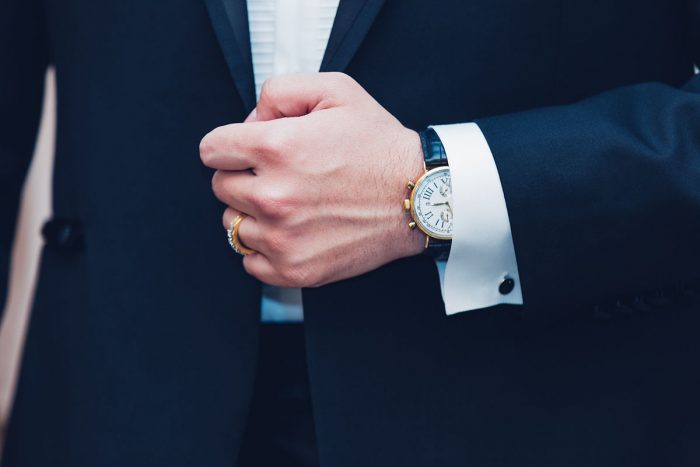 As many as 1 in 5 Canadians experience that ultra stressful "crunch time" in their day-to-day, and Ms. Yoskovitch explains why Handled is the perfect collaboration for making this stressful point of the day non-existent.
"I know how busy life can get. I've been there, and sometimes there just aren't enough hours in a day to get through your 'to-do' list. Whether it's planning for a big life change, or simply updating your wardrobe for an upcoming vacation, Handled takes the stress out of a routine activity like shopping, and gives clients time back in their day to focus on more important tasks."
Receiving the assistance needed by a handler could not be easier as the concierge service has developed the perfect initialization process to assist you in checking tasks off your list all via a mobile site. Clients simply create a profile and take part in a free consultation, during which a budget is set and tasks are selected with a complementary timeline to match.
Each handler is an expert in retail and fashion, and once given an assigned task for a particular client, the representative will conduct the appropriate research, weighing options between online and brick and mortar shops, to determine best options and prices for the specific client's needs. This process, in turn, saves clients the time, energy and money that may be invested in searching for the perfect items on their own.
In-house personal shoppers can take a toll on the bank account while not offering the personal touch that comes when clients select to have their shopping handled by an expert at Handled. This unmatched concierge service in the GTA offers expertise and professionalism, while catering to specific tastes and needs of each individual client, acting truly as a second set of hands to that of each client at typically half the cost of traditional in-house personal shopping experiences.
The team at Handled speaks for itself when it comes to reliability and expertise. CEO Shira Yoskovitch has sought the best in the industry and has succeeded in finding just that with the team that complements her own expertise. Handlers consists of Lindsay Jennings, previously manager of the VIP shopping experience at luxury brand Pink Tartan, as well as Andre Reid, who has been a star addition to retailers such as Hugo Boss and J Crew.
A standout newcomer to the world of personal shopping, Handled is also ensuring to develop programs that cater to the needs of busy professionals. For this reason, Handled has introduced a new gifting service which allows clients to upload a list of items to be gifted for upcoming events, while entrusting the purchase of the items to an experienced team member. In the near future, a VIP gifting service will be rolled out which will provide a VIP reward program for frequent clients of Handled.
The perfect complement to assisting in getting things done, you're in expert hands with Handled Concierge. Learn more about this spectacular service that seeks to simplify your life.