A DAY IN THE LIFE OF A VINTAGE CIGAR AFICIONADO
By Orion Armstrong
I recently had the honour to participate in a local 'Vintage Cigar' Dinner presented by inaugural hosts, La Casa del Habano in Toronto. As an authentic and much appreciated touch, the evening was complimented by Master Cigar roller Tania Perera flown in directly from Cuba to sport her skill. During the event, patrons gained valuable insight into the classification of leaves; blending; and the transformation of Tabaco leaves into magnificently rolled Habano cigars.
Held at Toronto restaurant, Crème Brasserie in the heart of the infamous Yorkville district, the meal was exceptional and the event drew an intimate crowd of cigar enthusiasts. The one aspect of this event that I appreciated the most was the focus on the Vintage Cigar Experience; an experience close to my heart and something I am obviously very passionate about.
A dinner and cigar occasion not to be missed, I jumped at the opportunity to attend and brought a small group of friends to round out an enjoyable evening. As part of the dinner package, everyone who came out enjoyed three vintage cigars from La Casa del Habano's vaults. The first cigar was a Hoyo de Monterrey Regalos, Limited Edition 2007 (46×51/2); the second, a Montecristo Especial, 2008 (38×71/2); and the last was a San Cristobal de la Habana Mercaderes, LCDH Edition 2005 (48×61/2). The Montecristo Especial turned out to be the prize smoke of the bunch and a true gem. This cigar was aged beautifully, complex in flavor, and was thoroughly enjoyable right down to the nub.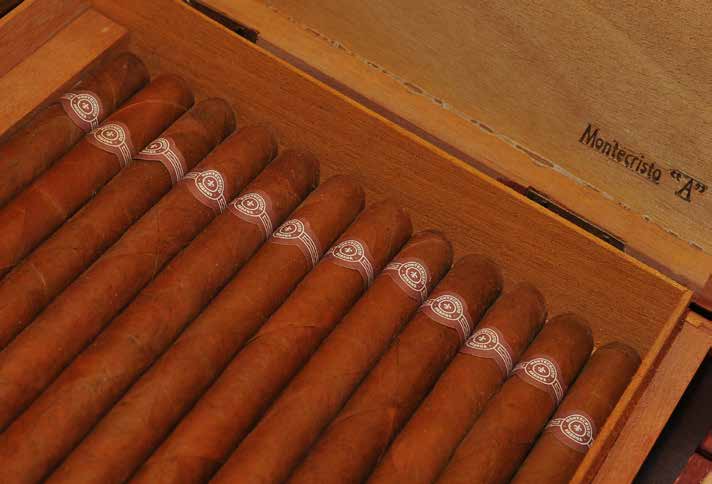 After dinner, the store manager Isabel invited us back to the store for a private review of their Vintage Cigar selection. The store dedicates a small section of their walk in humidor to Vintage Cigars. This is always nice to see, as it gives me confidence that the cigars have most likely been well maintained and kept in consistent conditions which is very important to ensure that the cigar properly matures and is enjoyable.
Among the vintage cigars we selected was this issues featured smoke: the celebrated Montecristo A (47×235) 1991. A spectacular cigar and an incredible smoke, this cigar is visually appealing with its long brown silky wrapper and old style Monte label. From its nine-inch length to its perfect smoking performance, this vintage cigar delivers a smooth taste. The taste profile is filled with coffee, light leather, and a peppery finish. The Montecristo blend is created exclusively with selected tobacco leaves from the Vuelta Abajo region in Cuba, considered home to one of the finest tobacco growing regions in the world. In short, this cigar is exceptional and highly recommended.
My Preferred Rating 98