The Caribbean Island of Nevis is an unspoiled, rustic West Indie paradise located a short 3.22 kilometer boat ride across the "The Narrows" from sister federation island St. Kitts. Dominated by Nevis Peak, a 985 m (3,232 ft) dormant volcano predominantly shrouded by clouds that can turn from white and unassuming to threatening without warning, the island's lush rainforest descends into fine white-coral sand beaches with a Jurassic Park like quality. If Nevis were a Michael Crichton novel, cloned dinosaurs would inhabit the island along side the resident donkeys, goats, Vervet monkeys and tropical birds.
Aptly named Nevis from the Spanish Nuestra Señora de las Nieves – or Our Lady of the Snows for its white cloud capped mountain peak, Nevis was once a prosperous colonized mecca of sugar plantations and mills. In the 18th century, its sugar production amassed so much wealth for its then British inhabitants that it became known as the "Queen of the Caribees". Abandoned mills still spot the landscape, and a handful of its grander plantation houses have been converted to stylish retreats.
Today, the organic rich oasis is a favourite tourist hub for its relaxed charm, raw beauty and privacy. It is rumoured that Princess Diana escaped to Nevis post her divorce from Prince Charles for its remote lack of paparazzi. Who could blame her? It is the consummate quiet of this underdeveloped, sleepy little island that draws the super elite to its shores and beckoned this winter weary Canadian to the five-star Four Seasons Resort Nevis.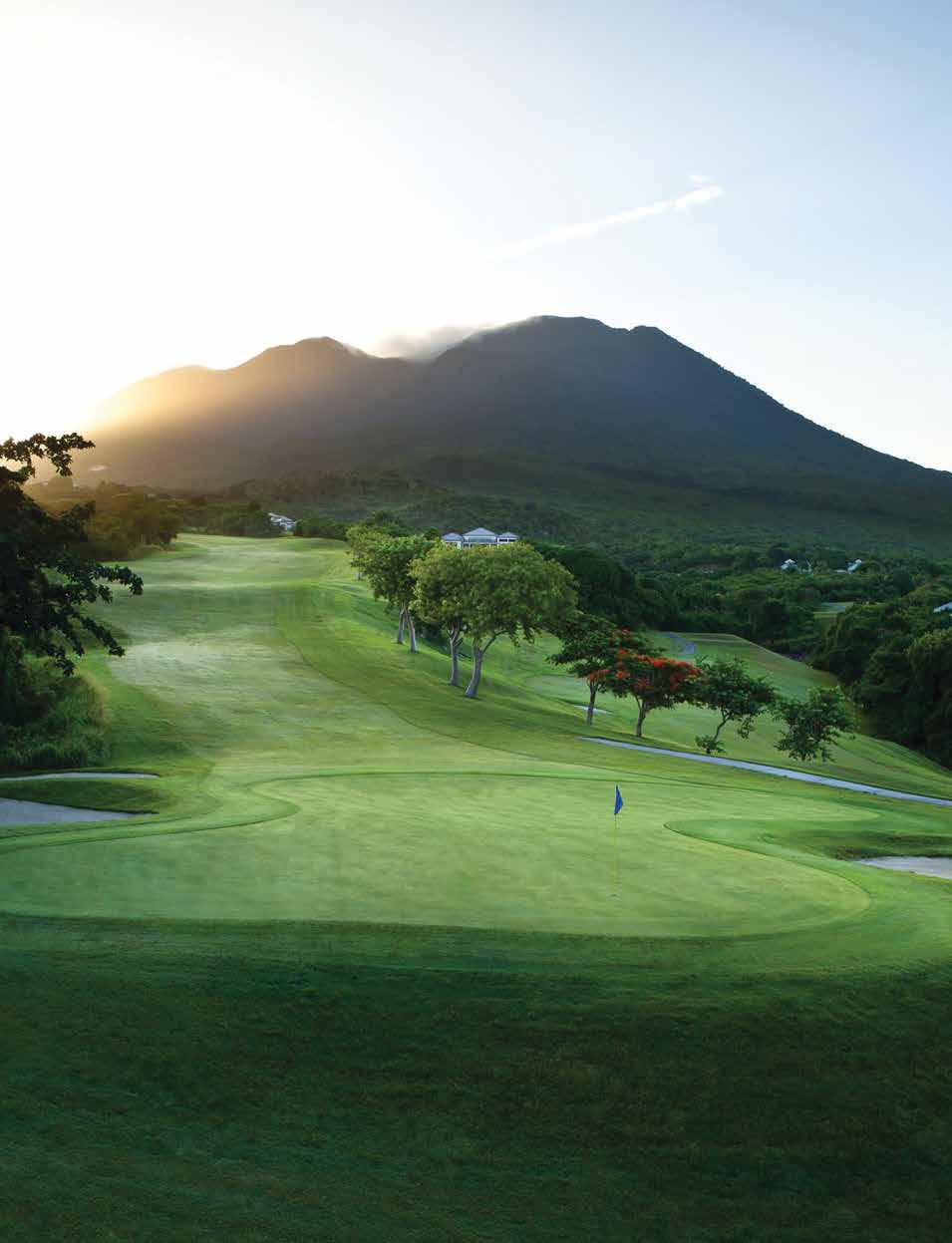 Canadian to the five-star Four Seasons Resort Nevis. Tucked neatly away on the western side of the minute 93 square kilometer island, the 196-room and suite, luxury Four Seasons Nevis resort houses 40 residential rental properties, a signature golf course, and world-class spa. Befitting the opulent chains reputation for finely appointed accommodations and service excellence bar none, the hotel offers private beach cabanas with butler service; three free-form pools including one adult only; breathtaking mountain or ocean views; and four restaurants including Mango that dish up a foodies delight of local fare and North American favourites. The exterior of the main house and two story cottages have a low-key plantation look conducive of the island's industrial past and meld seamlessly into the verdant grounds rich with exotic foliage and wildlife.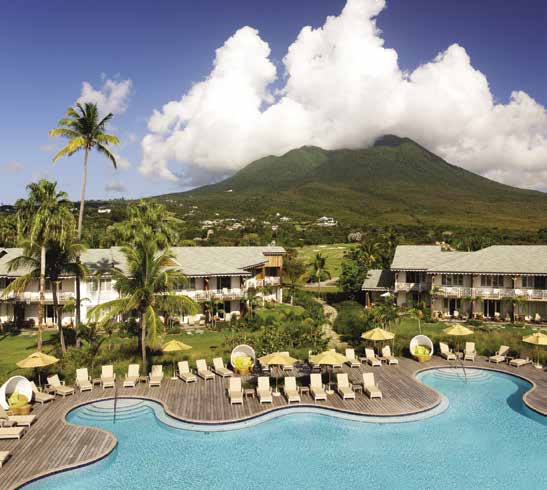 In addition to the 18-hole Robert Trent Jones Jr. designed golf course neatly laid out on the slopes of the Peak, the hotel boasts a 10-court, hard and red-clay tennis facility that wraps around the central plaza of the Sports Pavilion. All total, the courts are ranked the second largest tennis complex at any Four Seasons worldwide: a surprising addition to an island where no building can exceed the height of a palm tree and the monkey population outnumbers the islands human inhabitants at least two to one.
We arrived at the Four Seasons dockside and were greeted by our own personal concierge. By passing the traditional front desk check in, our host provided a mini tour of the expansive property on route to our ocean side hotel room noting that the hotel was at full capacity. Interesting since there was hardly a soul in sight. Kudos to the Four Seasons; the thoughtfully designed resort affords a full house without the traffic. Even scoring beachfront chairs was a breeze thanks to a sizeable landscape and an outstanding staff who made it their business to make sure we were well taken care of. Shout out to beach team Marva and Steve whose kindness and hospitality went above and beyond.
For this postage stamp sized island that has a single harbour town, incredibly 50 churches and one main road that circles the entire island –no threat of ever getting lost here – the warmth of its people more than makes up for what it lacks in geographical size. There is no doubt that the islands unspoiled landscape of rainforest, volcanic hot springs, towering waterfalls and local haunts that dish out authentic Caribbean fare (don't miss the Killer Bees at Sunshines – its secret ingredient is said to be homespun moonshine) are a must see destination experience, but it is the genuine sincerity and welcoming nature of its people that resonates most.
So, for those looking for the ultimate unhurried getaway, look no further than the island of Nevis – the raw gem of the Caribbean with the luxury world-class resort destination.

www.fourseasons.com/nevis