WRITTEN BY TERESA GRECO
IT'S ALL ABOUT THE RELATIONSHIPS
Alkarim provides highly personalized service to his discerning clients based on integrity, commitment, quality, and expertise. He credits his strong relationships as the foundation for his success. Having been in the real estate industry for over 25 years, Alkarim has formed integral and long-standing relationships as a highly respected real estate professional in central Toronto. Alkarim was recruited to join Forest Hill Real Estate close to twenty years ago by one of the company's three principals at the time, Arnold Bobkin, who had acknowledged his accomplishments and success in the industry. After forming a strong connection with Arnold, Alkarim decided to make the move to Forest Hill, recognizing them as a leading luxury brand that aligned with his own goals to focus on luxury real estate. It continues to be one of the fastest-growing luxury real estate brands to this day, boasting over forty offices and over a thousand real estate professionals.
Alkarim's success contributed to the growth of Forest Hill over the next 15 years. At the time, he was considering making his own mark, and after many years of being courted by the three principals to open his own office, he agreed to establish Forest Hill Prestige, a branch office. Alkarim knew it was the right move to make, although he did feel hesitant at first, saying, "When you're doing well, it's sometimes difficult to leave something that is working, but it was a change I knew I wanted to make." It ended up being the right decision for Alkarim. Partnering with Bobkin and Christina McCown, the three brokers started Forest Hill Prestige in 2017. "I did it with the understanding that I really wanted to set my own vision with what I had been doing at Forest Hill. I wanted to take it to the next level," states Alkarim.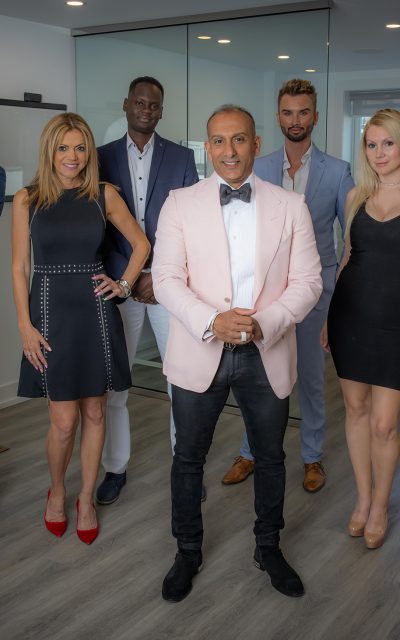 Christina McCown has been a broker with Forest Hill Real Estate since 2008. Arnold Bobkin and his wife Sharon, who was a leading realtor in the luxury market, mentored Christina when she began her career. When Arnold approached Christina to open an office in 2017, she felt nervous but excited at the same time, stating, "When I met Al, we hit it off immediately, personally and professionally. We shared a common outlook and goals for how we wanted to create a luxury real estate brokerage." The two have never looked back as Christina and Alkarim now operate the office together, as Arnold passed away in 2018.
Alkarim and Christina stayed true to what they had envisioned for the future of their luxury brokerage, which has grown to 26 agents. At Forest Hill Prestige and AC Luxury Team, their newest bespoke luxury division, their tagline "Experience Luxury" sums up what they want their clients to feel when dealing with them and their agents. "What we have accomplished has been amazing. We have built a boutique brokerage with exceptional, personalized service and really based it on relationships," says Alkarim.
Christina added,
" WE HAVE A WONDERFUL GROUP OF PEOPLE, AND WE CONTINUE TO GROW. WE WORK AND SOCIALIZE TOGETHER AND HAVE BUILT A CULTURE BASED ON SUPPORT AND TEAMWORK "
Forest Hill Prestige serves clients in the top-end neighbourhoods in Toronto, including Rosedale, Forest Hill, Bridle Path, and Lawrence Park. However, they have also assisted in the purchase of properties as far north as Muskoka when catering to their clients' needs. "It's our relationships that drive the geographical areas we work in. We ensure that we can deliver the highest level of service, so our clients come away feeling like they have experienced luxury," explains Alkarim. The brokerage has an international network of clients and properties that were established with Forest Hill Real Estate and is being expanded as Prestige distinguishes itself in the global luxury markets.
Alkarim's expertise in appraisal, financing, custom building, commercial and residential real estate combined with his sterling reputation has led to intergenerational referrals. "I believe that once clients have the benefit of the experience and service we provide, it becomes the reason they refer family, friends and business associates looking for luxury properties to us." The importance of relationships is something Alkarim reiterates to the twenty-six agents at their brokerage. "We have a diverse team at Forest Hill Prestige. They're true professionals with integrity and strong ethics. Christina and I emphasize the importance of building relationships as a key component to success in this industry," describes Alkarim. Both Alkarim and Christina focus on honesty and integrity being of paramount importance.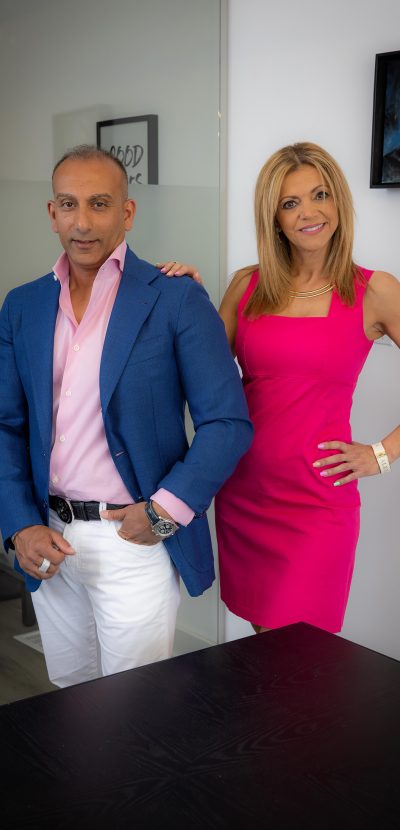 "Your reputation is all you have," explains Christina, "and how you're perceived in the industry, not only by clients but by the brokers you work with, contributes to your success." The opportunity to mentor their younger agents and instill the values Alkarim and Christina know are imperative when working in the luxury industry can be seen in their achievements. The brokerage's success has allowed their team to expand and include commercial and international divisions of the company.
Understanding who their clients are and their needs are what sets Alkarim and his team apart. The personalized connections they form with their clients is an approach Alkarim feels makes Forest Hill Prestige unique. "Our clients are at the top of their game, the top doctors, lawyers, entrepreneurs and business professionals. They're looking for that personalized service that can only come from taking the time to get to know them, understanding their priorities, what interests they have and what is important to them. We consider all of these things when working with our clients," explains Alkarim. This understanding can only come from having experienced what the luxury market is all about, something Alkarim and Christina are not foreign to. Like their clients, they have an appreciation for the very best in travel, fashion, fine dining, wine, art, decor, and real estate. "Understanding the expectations of high-net-worth clients and how they want to be treated is imperative to forming long-lasting relationships," shares Alkarim.
With the accomplishments of the brokerage, Alkarim and Christina began to discuss starting their own brand, and AC Luxury Team was launched in May 2021. Alkarim and Christina are the faces of the AC Luxury Team brand, where they are extending their appreciation for the luxury lifestyle to their relationships with their clientele. "I've been fortunate to travel extensively throughout North America, the Caribbean, French Polynesia, Europe and the Mediterranean, and I've had the chance to experience those finer things – from world-class skiing and golf to the best beaches, incredible cuisine and some of the most luxurious resorts in the world. I expect the best in everything, from the vehicles I drive to the fashion I wear. I understand what it means and what it takes to build a luxury brand. And that is what we want to offer our clientele," asserts Alkarim.
As Forest Hill Prestige continues to grow, Alkarim and Christina are open to expanding the brokerage and their team with agents who share the same values and focus on a luxury experience. The brokerage has been commended by others in the industry who have also felt the culture at Forest Hill Prestige is rare in the industry. By recognizing the strengths and qualities the agents bring, Alkarim and Christina have been able to give them leadership roles and assign them to either the commercial or international divisions.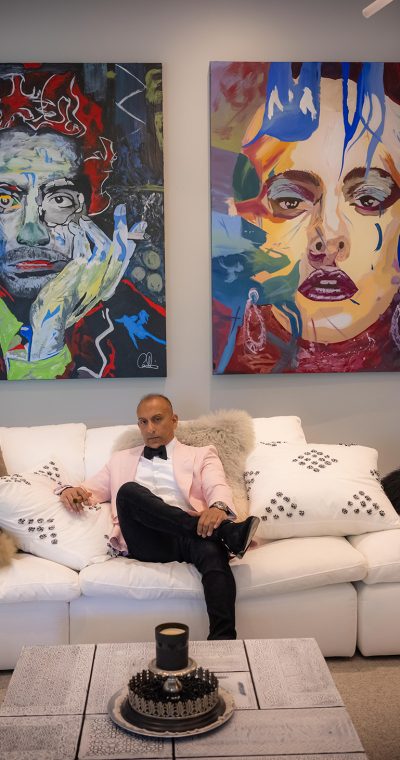 " THE FOCUS WE PLACE ON RELATIONSHIPS AND UNDERSTANDING OUR CLIENTS' NEEDS CREATES A LUXURY EXPERIENCE THAT BECOMES THE STORIES YOU SHARE, TAKE HOME AND REALLY VALUE. WE WANT OUR CLIENTS TO HAVE THAT 'FEELING,' THAT 'EXPERIENCE' OF LUXURY THAT THEY WILL ALWAYS REMEMBER "
affirms Alkarim.