I recently came across a great commercial dispelling the myth that all science is an infinite stream of formulas and equations. Instead, science is a boundless galaxy of possibilities fueled by innovative thinkers who are inspired by the "What if" scenario and translate the unthinkable and imaginative into reality. I am proud to be a self-proclaimed computer science nerd who would like to thank my fellow science brethren for continuing to dare to dream.
HTC RE Camera
When one thinks of the travel adventure portable camera, the name GoPro immediately comes to mind. However, HTC has challenged the action cam giant with the introduction of their RE camera. Shaped like a submarine's periscope, this little action cam eliminates the need to watch your smartphone screen as you record.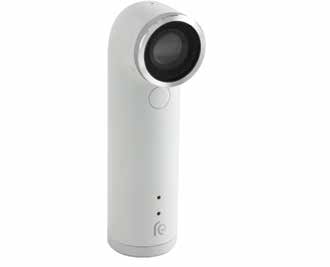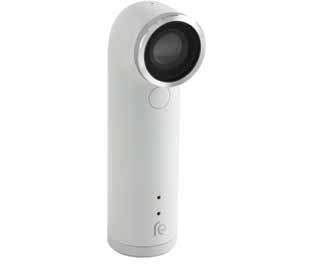 Built with the finesse that gave the One M7 and M8 their edge, the RE is both lightweight and compact, comfortably fitting in the hand. Featuring an ultrawide f2.8 lens with a 146-degree angle of view, the RE captures the world with a Sony CMOS 16 megapixel sensor. The design is simple yet effective as the vertical tube offers the hand a stable grip, with the record/release shutter button placed where the thumb naturally falls. This makes the camera ideal for one-handed shooting.
The RE also sports a waterproof chassis, allowing it to be submerged up to 1 meter of water for up to 30 minutes without an additional frame or house. Add the waterproof cap, and those numbers increase to 3 meters of water for up to 120 minutes.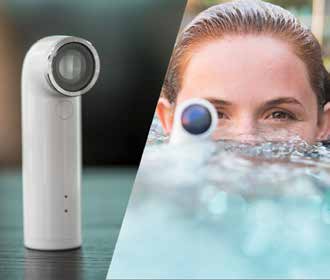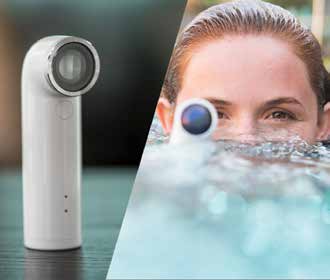 Press the shutter button once, and a 16-megapixel photo with 4:3 aspect ratio is captured. Hold the shutter button for a few seconds, and the RE begins recording either 1080p or 720p resolution, at around 30 frames per second. Under the lens lies a button that switches from recording regular video, to capturing slow motion footage at 720p and 96 frames per second. As there is no screen to view your footage, the RE can be wirelessly connected to any smartphone, where all recordings can be viewed in real time. I n t e r e s t i n g l y enough, there is no power button present anywhere on the camera. Using touch sensors, the RE powers on as you pick it up. This gives the RE a considerable edge over using a smartphone to record, as there is absolutely no hassle that launching camera apps are plagued by. Simply pick up the camera, press the shutter, and action!
DRONE FEVER
Once limited to military and special operation tactical use, unmanned aerial vehicles (UAV) or Drones are carving a growing niche in the consumer and industrial retail markets. An increasing number of 'Drone Entrepreneurs' are sprouting wings and setting up shop to produce the unmanned flying machines for a variety of missions including, tracking anything or anyone equipped with radio-frequency tags such as live-stock or pets, to delivering packages, to neighbourhood watch patrols, etc.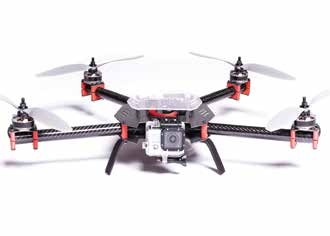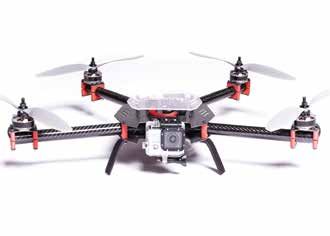 The design for recreational drones is fairly constant, but complexity and structure depends on the specific model. Sporting anywhere from three to eight rotors, and held together by a skeletal frame, recreational drones hover and buzz through the air remotely, controlled by either a piece of software or a physical controller. Attach an action camera or other recording device, and the drone transforms into 'eyes in the sky', affording the user a birds-eye view.
Taking to the skies with your Drone may be more commonplace these days but it carries with it a number of Transport Canada safety guidelines and restrictions that must be adhered to, and relies on 'trust in the user 'to exercise good moral judgement – no Big Brother spying on the neighbours.
At an affordable price point, the sky is the limit for the design, development, and use of these unmanned flying vehicles otherwise known as 'Drones'. Safe flight.
PRINTING THE WORLD IN 3D
Technical innovation has spawned the creativity and growth of an invention that will pave the way for global advancements once viewed as a sci-fi phenomenon. Introducing 3D printers and 3D printing technology.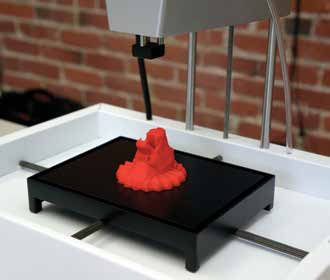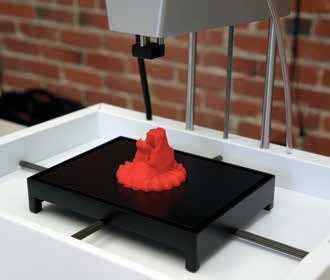 Using additive processes, a 3D printer, a.k.a. additive manufacturing, puts layers of material down until a three dimensional object has been created. There are a few different methods involved in the process such as stereolithography, fused deposition modelling, and selective laser sintering. However, despite the method used, the end result is a scale model of the object of your desire. All it takes is a digital model, easily found on the Internet, and viola!
At varying price points, 3D printing has found a growing audience among hobbyists intent on making all sorts of gizmos, to industrial users manufacturing their own parts and tools to build and enhance existing technologies. Some have even gone as far as using extremely large printers to create auto parts, and yes – even a house! Recently, 3D printers have been designed to print fully edible, nutritious portions of select foods. This technology not only has the potential to make everyday life easier for users, it may eventually be able to address greater issues facing hunger and the global food supply.
To date, scientists have been working on printing 3D living tissue and organs to allow for better skin grafts and eliminate wait lists for organ transplants. Soon, patients needing a medical implant will have their biological information inputted into a machine where a fully compatible, 3D printed organ will be produced for transplant.
Although 3D printing is still a fairly new scientific development, the technology behind the concept is advancing at an exponential rate, and is fast changing the man-made world as we know it.
At an affordable price point, the sky is the limit for the design, development, and use of these unmanned flying vehicles otherwise known as 'Drones'. Safe flight.
PRICES START AT: US $100+