Photographer:
Lindsay Anne Delaney
Instagram: @citylightlinds
Art Director:
Tanya Watt
Stylist:
Sara Roberts PM1
Grooming:
Brittany Sinclair PM1
It is now Season 2 of Private Eyes, and Jason Priestley is in front of the camera in a starring role, and behind the camera as a director. He is an experienced artist now, acting since 1984 and directing since 1993. The former teen idol started in commercials as a teen himself, later becoming a household name by appearing in staples of late 1980s and early 1990s television. We all know 21 Jump Street and of course, Beverly Hills 90210.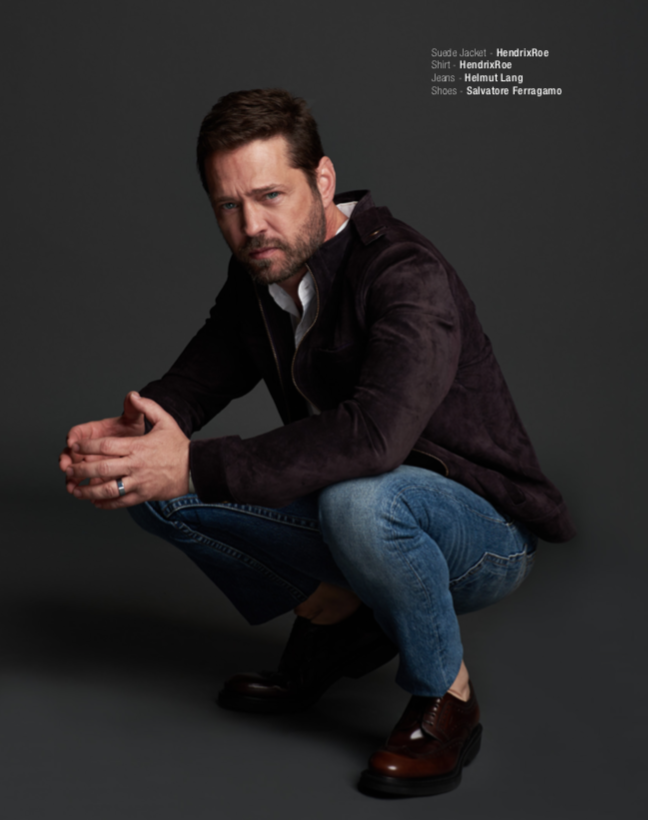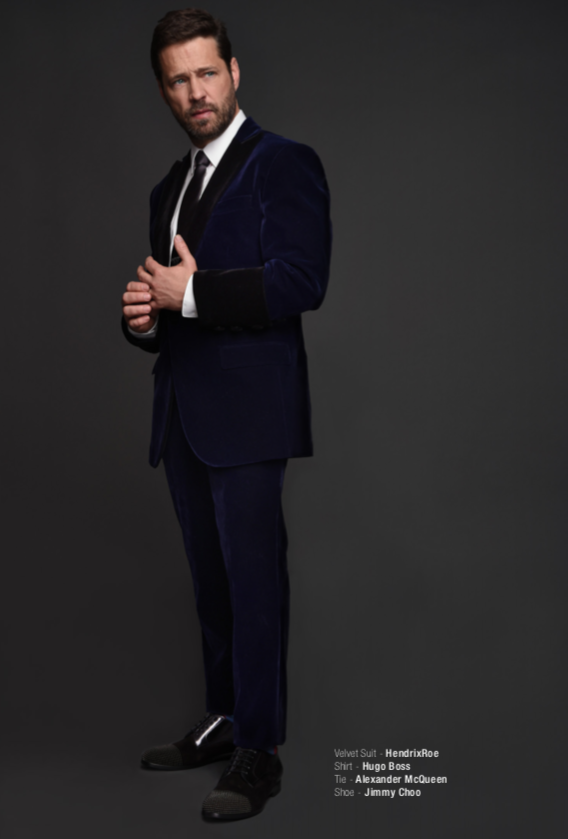 A Vancouver native, Priestley is a graduate of North Vancouver's Argyle Secondary School. Acting is in his blood; his mother Sharon is an actress, and his sister Justine Priestley appeared in Melrose Place. He has been married to Naomi Priestley since 2005. Naomi, a make- up artist and Priestley have two children.
When not with his young family or in front of or behind a camera, Priestley might be found outdoors. As he explains in his website, it is hard not to grow up in British Columbia without developing a lifelong fondness for mountains and the ocean. He enjoys skiing and fishing for salmon. Of course, it is also hard not to grow up in Canada and not develop a lifelong fondness for hockey. Priestley is a Canucks fan.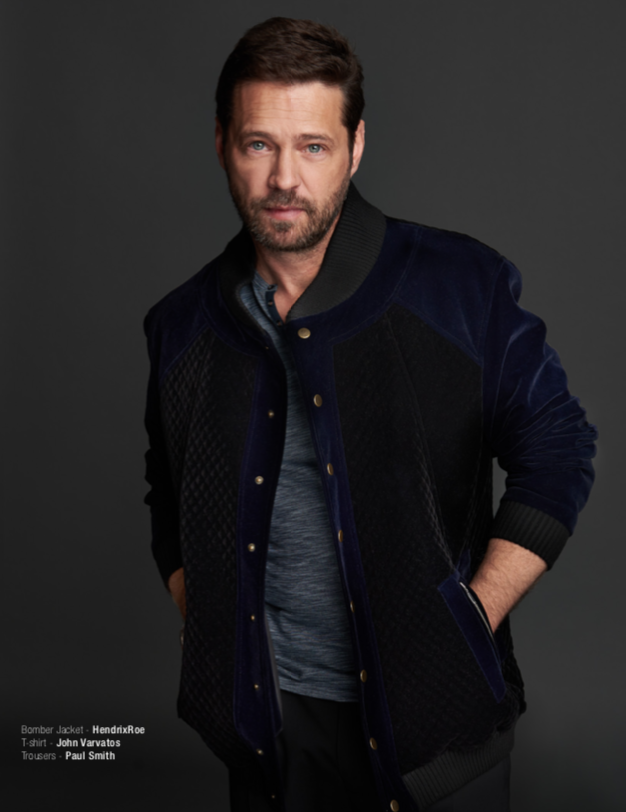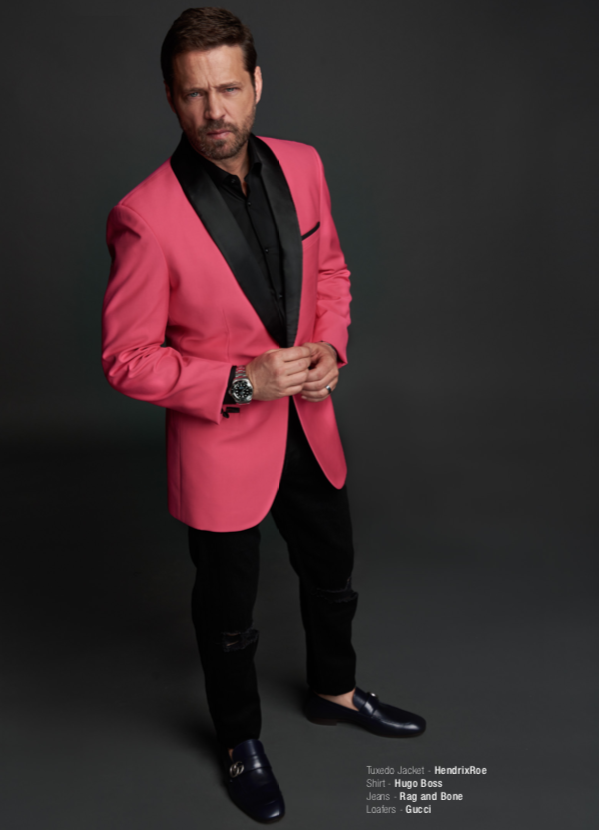 In Private Eyes, Priestley plays an ex-pro hockey player named Matt Shade who is now a private investigator. Shade's partner is Angie Everett, played by Cindy Sampson. Each episode of Private Eyes features a new interesting person with an interesting case. They include but are not limited to land developers, teacher scandals, and naturally, a race car driver. The relationship between Shade and Everett is always in the background. While it has an undercurrent of romantic tension, the two partners have complementary strengths and drive each other both personally and professionally. Priestley plays the lead role in a delightful series that combines mystery and romance.
"I'm always looking for new challenges. The one genre I feel like I haven't tackled yet is sci-fi. I think I'll be looking for opportunities in that genre next."
Priestley has delivered television entertainment for more than three decades and will continue to do so for the foreseeable future. New episodes of Private Eyes continue to be filmed in Toronto. Preferred was able to spend some time with this remarkable and accomplished Canadian actor, and asked some questions that you may have yourself.
Preferred: When you are not on set, what are the things you enjoy while filming in Toronto?
Jason: Our filming schedule has been very hectic this season and hasn't allowed for much free time unfortunately. But I have had the opportunity to escape the city, for the beauty and quiet of my friends' cottages on a couple of occasions. The lakes in Southern Ontario are spectacular, and the cottage culture is unique to the region.
Preferred: In Season 2 of Private Eyes, you had the chance to direct the episode, "the extra mile" that featured racecar driver James Hinchcliffe, do you see yourself doing more work behind the scenes in the future?
Jason: I've been directing films and television for almost 25 years now. I directed my first episode of television in 1993. I've always believed there would come a day I would spend most, if not all of my time, behind the camera.
Preferred: Since you've had a very versatile and successful career, is there anything specific on your radar that you would like to pursue in film?
Jason: I'm always looking for new challenges. The one genre I feel like I haven't tackled yet is sci-fi. I think I'll be looking for opportunities in that genre next.
Preferred: Reflecting back on your career, what would be the most memorable moment while filming?
Jason: Wow. That's a tough one. My time with John Hurt making Love and Death on Long Island was very memorable. Making Tombstone was memorable.
Preferred: Walsh, Fitz, Shade are some of the roles you have played, which character would you say is the most relatable to you?
Jason: Ha! Well there are aspects of them all that are relatable to me. The thing about playing characters is, you have to like them. Even if they are bad, you have to find a way to like them. Because everyone is just doing the best they can.
Preferred: You have been recognized as one of Canada's greatest icons and have recently been inducted into the Canada's Walk of Fame. Since you've helped pave the way for future Canadian actors, what would you say best describes your legacy as an actor?
Jason: My legacy… wow that sounds so permanent… but I guess that's where we're at… OK…
An actor's job is to entertain. To make the audience laugh, or cry, or, in a perfect world, both. Hopefully, I've been able to do that, for that's all I've ever wanted to do. Tell stories. Make people believe in my make believe.