There is so much happening in the whisky industry with new distilleries being built and experimentation across the board. Flavour, as it were, is being accentuated with different finishes, different approaches to blending are being taken, and the final product is being collaborated on by more than the Master Distiller. We've seen The Macallan special Editions taking the approach of collaboration and the over the last few years Glenfiddich has taken this and experimentation to a new level.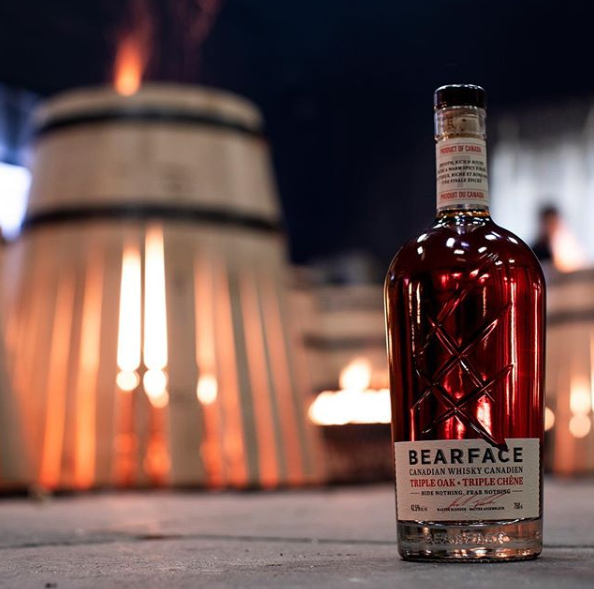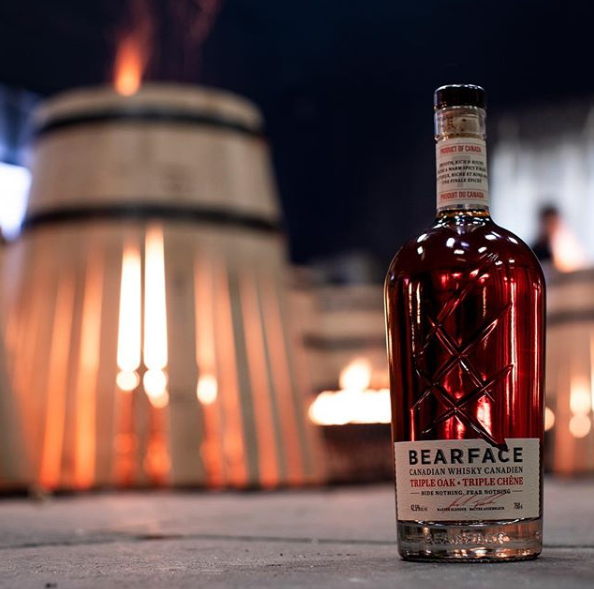 "Only by unlearning what we know and collaborating with like-minded mavericks can we try new things, experiment, push whisky boundaries and challenge traditions" ‒ Malt Master Brian Kinsman. The Glenfiddich Experimental Series created "a range of ground-breaking single malts." It began with the IPA Experiment (LCBO $89.95), a collaboration with IPA craft beer expert Seb Jones, that resulted in the first Scotch whisky to be finished in craft IPA casks. The Casks originally contained a specially created IPA. Aromas of green apple, pear, hops and herbs; Taste: citrus, creamy vanilla, and a bit of hop.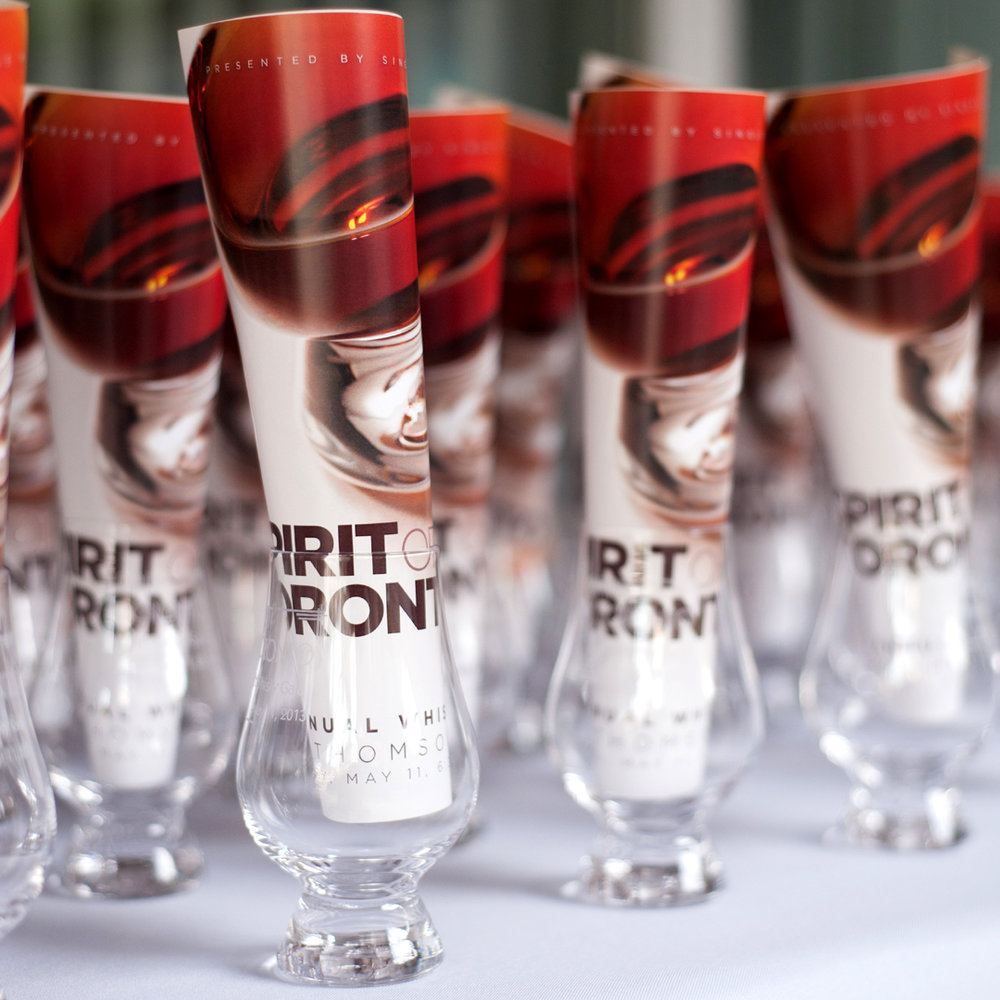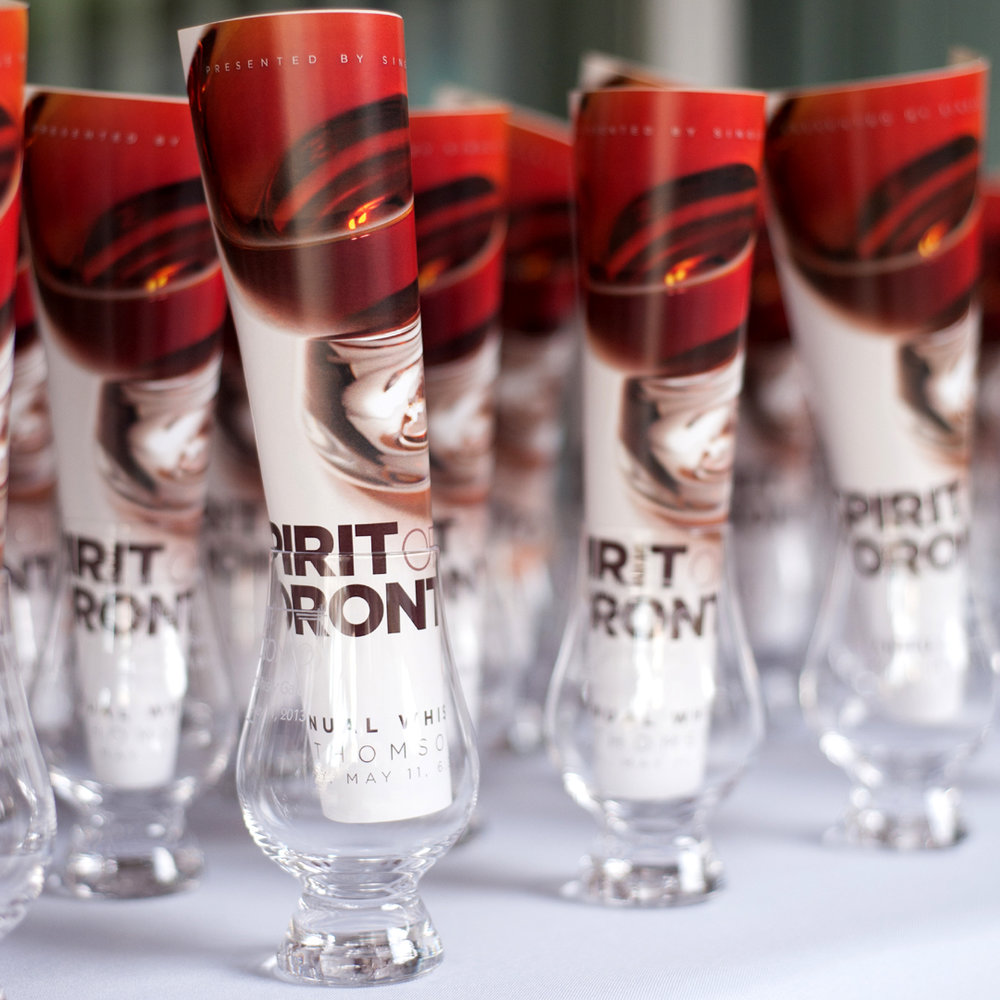 Glenfiddich Project XX Experimental Series (LCBO $99.95), the second in the series was a collaboration with 20 Glenfiddich Ambassadors from around the world. The fingerprint that you see on the bottle is actually created from the those of the 20 ambassadors. Aromas of classic fruitiness and plum pear. Balance of rich vanilla oak with golden sugar and a touch of liquorice. Taste: deep and mellow, candyfloss sweetness complemented by notes of almonds and cinnamon. Glenfiddich Winter Storm (LCBO $349.95), the third in the series brought Glenfiddich to Canada and our sweet Icewine. This limited edition 21-year-old is said to bring together the complexity of our classic aged single malt with the unusually intense sweetness of Icewine. Aroma is a bouquet of tropical fruit and candied sweets that are perfectly balanced with underlying wine notes. Taste: sweet notes, candied fruit and Turkish delight. A rich drying sensation from the Icewine. This edition will soon be sold out soon, so at least give it a try especially if you like a bit of sweetness in your whisky.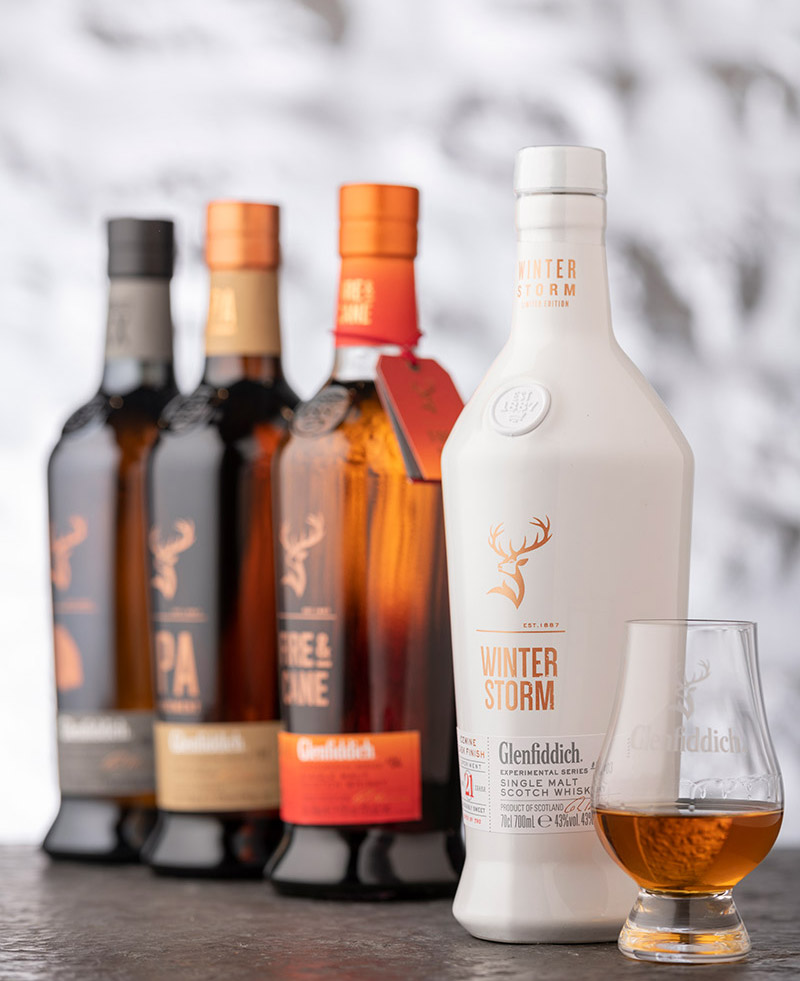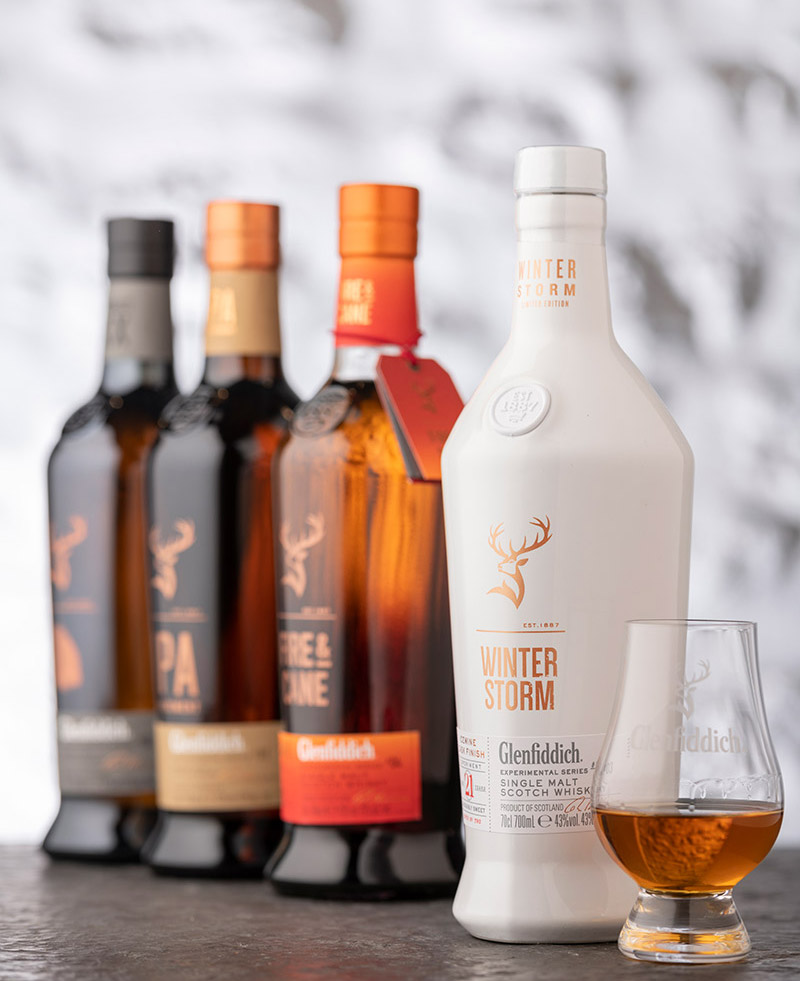 Glenfiddich Experimental Series #4 Fire and Cane (LCBO 79.75) The fourth and most recent release the Glenfiddich Fire & Cane is a bold fusion of smoky and sweet notes. It is described as "marrying peated whisky and malts matured in bourbon barrels, and then finishing in Latin rum casks." A great introduction for those who are intimidated by the heavier, in your face peated Islay malts that I enjoy. Canada's Bearface Triple Oak whisky (LCBO $39.95) which is seven-year-old released with its first edition in 2018. Master Blender, Andres Faustinelli used his wine background together with some innovative finishing. American Oak aged 7 years in ex bourbon barrels for smooth vanilla notes, French Oak then finished in tight grain ex red wine casks for dried fruit and chestnut notes, Hungarian Oak and a finish with 3 year old air dried virgin Hungarian oak to deliver a unique spice finish. Canadian Club Chronicles 41-year-old (LCBO $299.95) is currently the oldest Canadian Whisky released. There was a 50-year-old interestingly enough released in Australia a number of years ago. Hold on to you hats because it appears that last years 40-year-old and this year's 41 will continue on as a series until taking a pause after the 45-year-old in a few years and culminating with a 50 year old! From what I understand it includes small amounts of cognac, sherry, and rye. The launch event was quite something, with Jim Murray (Whisky Bible) conducting the tasting with no phones allowed during. The tasting notes are: Aroma: Caramel, toasted oak and baking spices; Taste: notes of dark plum and vanilla balanced with caramel, oak and a rye spiciness. Overall a nice whisky and a great way to impress your friends. Forty Creek turned the tables with it's annual release by inviting five fans of the whisky to choose the 2018 special release called the Unity (LCBO $79.95) which was released at Forty Creek Weekend held in September. The 2019 dates will be September 21-22 and you can be notified of all information, including pre-purchase, by signing up on the Forty Creek Website. So as Forty Creek described the process: "Our Master Blender first selected a blend of Canadian whiskies which were further aged with the addition of high mocha wood staves. This was then combined with an exceptional 10-year-old corn whisky which helps give it that smooth Forty Creek trademark taste. To layer additional sweetness and complexity to the blend, he lastly added a small amount of very rare Portuguese-style Starboard wine that had been aged 15 years in previously used Forty Creek whisky barrels." The result didn't disappoint and is still available for purchase at the LCBO. Wild Turkey Longbranch (LCBO $59.70) launched a collaboration with its Creative Director, Matthew McConaughey, and Master Distiller Eddie Russel. I was fortunate to attend the launch in Toronto where i got to try the Small-Batch Kentucky Straight Bourbon refined with Texas Mesquite and hear from Matthew the process of they came up with the final whiskey that became the Wild Turkey Longbranch. This collaborative project goes well beyond a "celebrity" lending a name to a product. The result is what is described as made with eight-year-old Wild Turkey Bourbon, it has a bright gold color and aroma that is a balanced blend of vanilla and spices. Flavors of caramel, pear, and hints of citrus round out the palate. The subtle, smoky finish is buttery smooth, with notes of gentle pepper and toasted oak. Signal Hill Canadian Whisky (LCBO $39.95), blended in Newfoundland, within eyesight of the historic Signal Hill. Three different types of casks are used during the aging process which are then blended to create Signal Hill: New White Oak Casks which bring out notes of vanilla, caramel and toffee, First-Run Bourbon Casks to bring out flavors of dried raisins and plums, and Canadian Whisky Casks to draw out the characteristics of the  grain. complex flavour profile and a deep, rich amber colour; the nose – a delicate blend of honey, vanilla, dried fruit and a hint of spice. An easy sipping Canadian Whisky worth a try. Auchentoshan for the second time has collaborated with 12 bartenders from around the world, that it calls the New Malt Order (NMO). Each bartender blended their own cask, then the casks were all blended together and used to create the Bartender's Malt Edition 02 (approx $70). I haven't tasted this whisky but the notes that I received indicate that Aroma: dried orange peel, vintage port, grenadine and cinnamon. Taste: orange wine, saffron, heather honey and black pepper. Finish: hints of pepper and orange liqueur. Auchentoshan 1988 PX Sherry Cask Finish (approx $750). Now this is an Auchentoshan that I did get to sample for another forthcoming release. It is described as being matured for 29 years in Spanish Oak Butts and seasoned in Pedro Ximenez Sherry casks. If you're not familiar with Auchentoshan, it is a lowland whisky that is triple distilled. The nose is described as cooked nectarine, sweet and oily. Hint of maraschino cherry liqueur, rich toffee and caramel, rose petals, cinnamon and a hint of scented wood and tannic rioja.  Taste: grapes, rich dark chocolate with Seville oranges. If you're looking to try a few whiskies and other spirits in Toronto, the 15th edition of The Spirit of Toronto Festival is being held on May 4th at Roy Thomson Hall. If you're looking for something more casual and outdoors The Wine & Spirit Festival returns to Sugar Beach on June 14 & 15. Finally, if you're looking for a reason to visit New York and drink some great scotches, The Water of Life Charity Event on May 16 has Standard, VIP, and Ultra-VIP (includes a special tasting and dinner on May 15). Until the next issue, enjoy!