A Luxury Boutique Hotel in the Heart of San Miguel de Allende
Nestled on a cobblestone street in the heart of San Miguel de Allende, Mexico, Casa Delphine is one of the newest luxury boutique hotels and the passion project of an American designer. San Miguel de Allende, named the best destination in Mexico for the fourth consecutive year by Travel + Leisure, continues to attract travelers from around the globe who are drawn to the city's rich colonial history, vibrant heritage, thriving art scene, beautiful baroque Spanish architecture and more. Casa Delphine was created as a place for creative world travelers to come experience San Miguel, to travel off the beaten path, to witness incredible culture from within the tranquil walls of a Mexican home. Every detail counts. Every corner has a story, and every piece of furniture has a thoughtful artisan behind it.
Owned by Los Angeles based jewelry designer Amanda Keidan, Casa Delphine opened its doors in April 2019 and has already welcomed guests from around the globe. "Casa Delphine is a modern and luxurious colonial Mexican home. It was originally built as a home, though its layout lends itself perfectly as a hotel," says Keidan, "My job was to create an environment that feels calming and that showcases that original work."
 The magical town surrounded by the Sierra Central mountain range in the middle of the Central Mexico Plateau completely stole her heart, as it does to so many visitors from around the world, and the concept of Casa Delphine was born. The city is known for attracting visiting artists, authors, and other creative individuals, and this hotelito is well positioned to be a chic gathering place where imaginative travelers land and conversations flourish.
Keidan redesigned the hotel herself and each design decision was carefully thought out and influenced by her own personality. Her concept was to create a luxurious place to stay and unwind with beautifully curated spaces for guests to enjoy conversation and revelations with fellow travelers.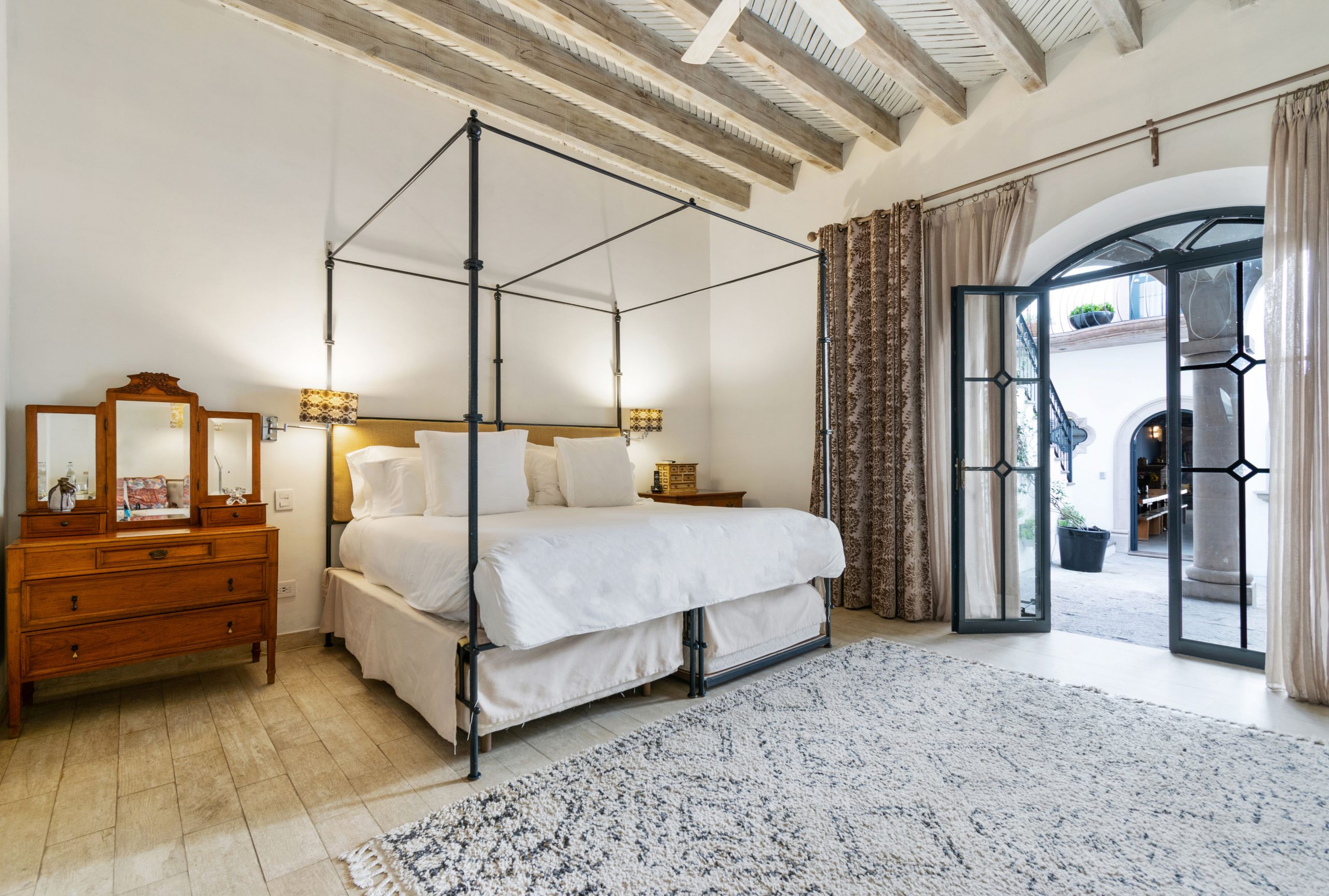 The hotel is a treasure architecturally with beautifully hand laid boveda ceilings, exceptional detail in stonework, and a layout that allows for two very private internal gardens offering a peaceful retreat from the city. The lobby, with its hand-carved large stone fireplace, is painted a deep rich blue, which melds into the deep blue velvet couches and 20-foot ceilings.
The hotel's intimate scale of only five suites gives it a distinct residential feel, with airy rooms and natural light streaming in through large glass doors and windows with geometric detail. The spacious suites all feature cantera fireplaces, hand designed furniture from Keidan's collaboration with local artists, warm accents, eclectic textures and colors, and balconies that overlook the private courtyards.
Casa Delphine invites wellness experts from around the globe to come to San Miguel de Allende and teach their expertise in an intimate, beautiful setting at the hotel and recently announced their first-ever wellness retreats for 2020. The first retreat in January 2020 is a Meditation Retreat, 5-night/6-day retreat focusing on deep meditation and looking inward to re-program one's mind, help individuals slow down and learn to live in the present more fully.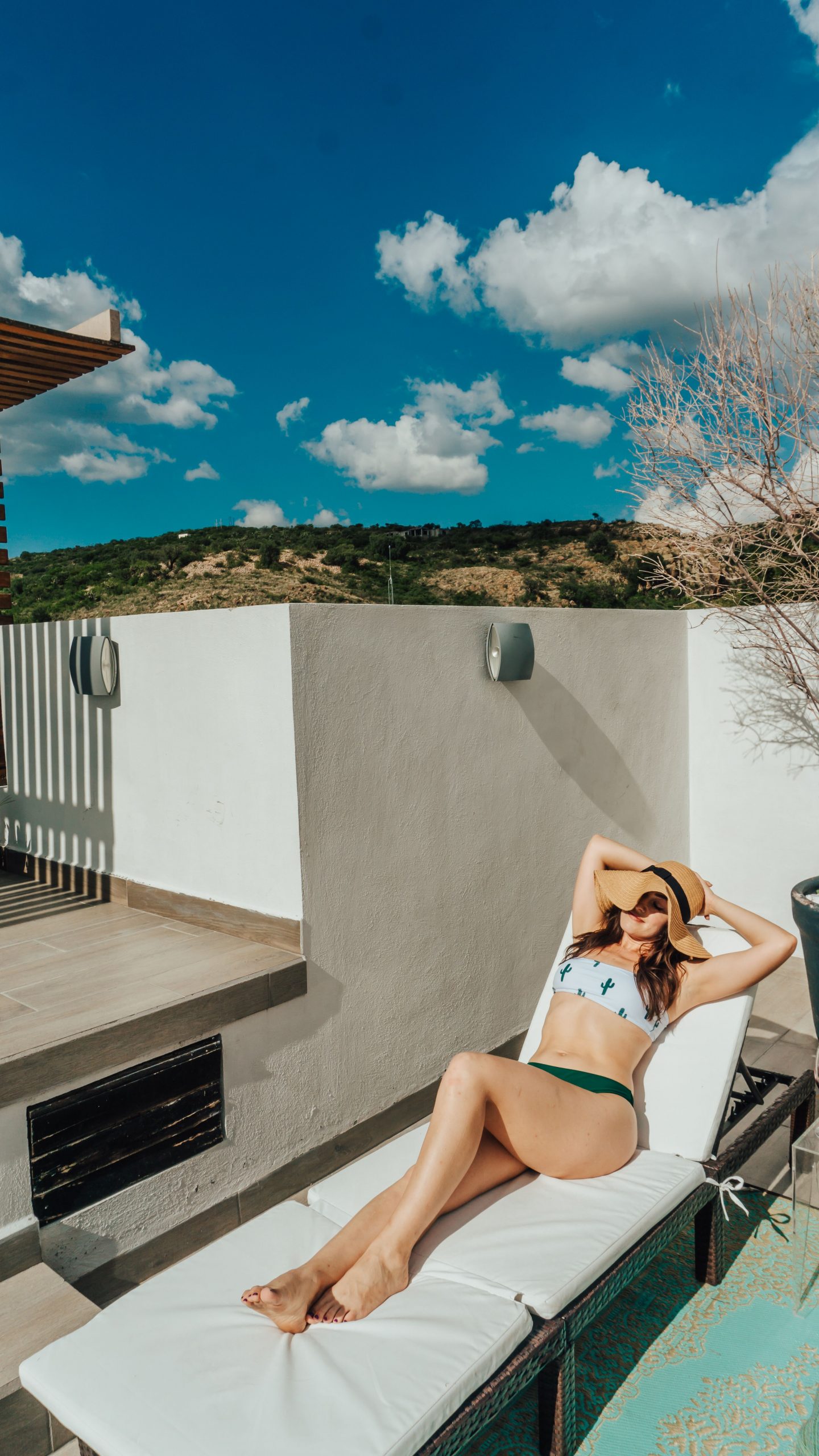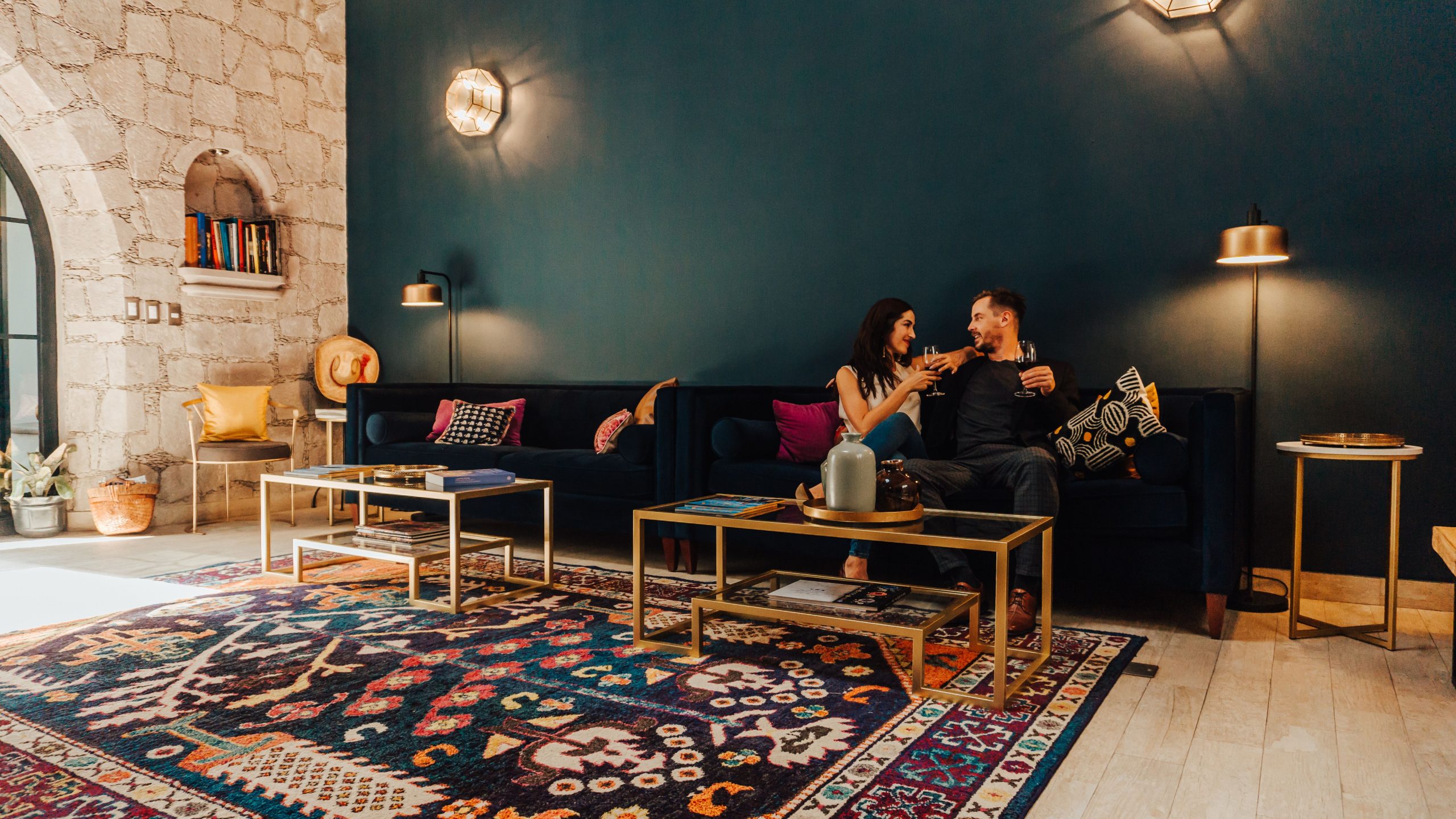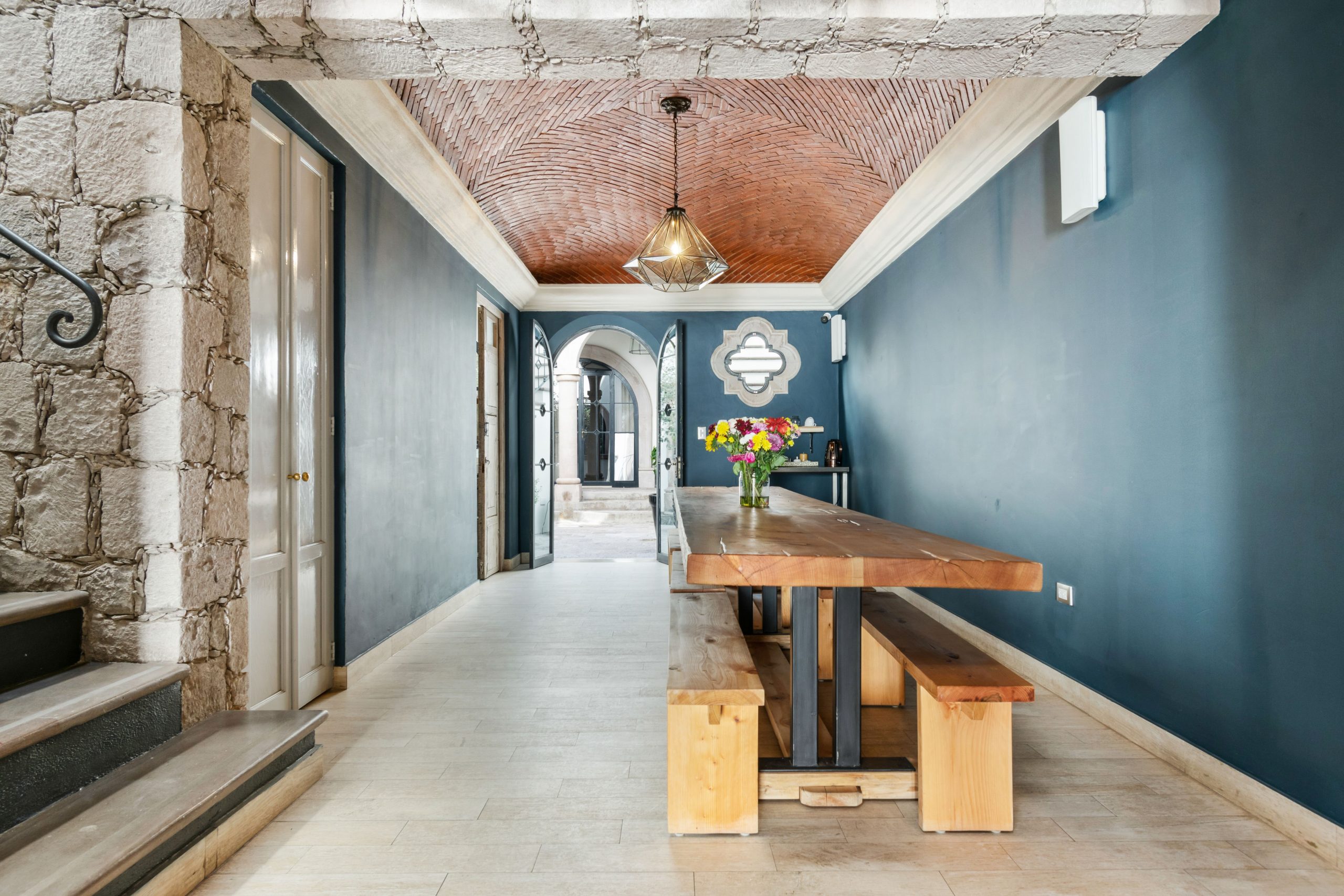 The retreat will be led by Brazil native, Públio, who has dedicated his life to meditation and yoga, is trained in several traditions, and has spanned continents in study and in teaching. In the spring of 2020, Casa Delphine will host a Wellness and Fermentation Retreat. This 4-night/5-day retreat features an array of cooking courses that will teach people how to better balance their gut health using plant-based cooking techniques and fermentation of vegetables and homemade nut milks.
Taught by Samantha Koch of the Netherlands, guests will have healthy breakfasts at the hotel, excursions to local organic markets, and afternoon cooking classes and teachings in making the best dietary decisions. Evenings will include exploring the town with the world class cuisine that San Miguel has to offer. The retreats include the specified nights at Casa Delphine, breakfasts, lunches, excursions to the local hot springs, and classes with the instructors. Airfare, transportation to and from airports, and dinners in town are not included.
San Miguel de Allende is a town with a deep connection to the mystic symbols of Mexican folklore. The history, beautiful architecture, legends and religious festivities of San Miguel offer the perfect inspiration and setting for a true tarot experience that connects mind and soul through images and words. Casa Delphine will continue to host a monthly "Tarot Card Dinner Series" led by Miguel Canseco in 2020. Canseco is a professional tarot reader and historian, who is also a psychologist, author, and visual artist. The tarot card dinner is limited to 20 persons and will include each guest having a mini tarot reading, a four-course dinner, two wine pairings, and a roster of rotating guest chefs curating the menu. The January 21st, 2020 dinner features Dahlia Heyman, a guest chef from Los Angeles. Dahlia Heyman has been passionate about food and cooking since she was a child. Using the flavors of her childhood (Jewish, Italian, and Japanese) has allowed her to create a unique culinary style that takes the diner's taste buds on a sumptuous journey.
The concierge team at Casa Delphine can personalize their guests' stay with adventure excursions and off-the-beaten-path experiences to fully appreciate Mexico's most charming and magical city. Some of these incredible experiences include horseback rides with Cayote Canyon Adventures, lunch at local wineries, hot springs, private astrology and tarot card readings, a private tour of Canada de la Virgen, Jazz nights at the Instituto, private massages in house or at local recommended spas.
Having traveled the world, Keidan knew exactly the elements she valued in a hotel. Close enough to the action but just far enough away from the hustle, you will feel luxuriously taken care of. Casa Delphine is one of those boutique hotels where modern luxury converges with historical charm.
For more information, visit www.casadelphine.com or email reservas@casadelphine.com.