WRITTEN BY MONIQUE SIMPSON
It is hard to believe that a mere 45-minute drive southwest of Portland lands you in the Willamette Valley – the heart of Oregon wine country. Passing the quaint town of Newberg – the gateway to the valley – main highway arterials soon become rolling countryside. We take a right off the main road and begin winding up through the hills. The big rigs parked curbside signal our arrival at Nicolas-Jay, the new winery busily nearing the final stages of construction.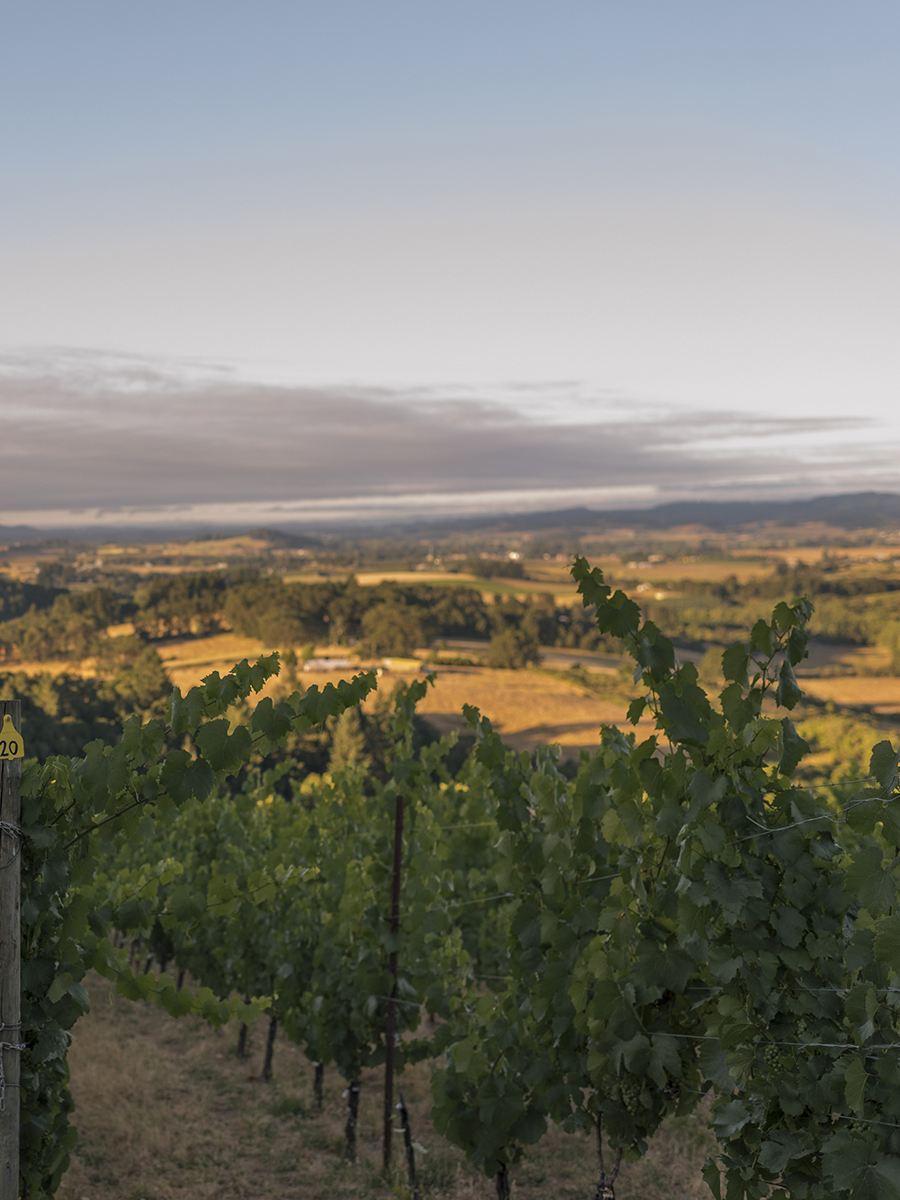 I meet with Kevin Schlachter, National Sales Director, and we make our way up to the southern ridge of the site giving a birds-eye view of the property. Located on the north face of the esteemed Dundee Hills (the most prominent sub-appellation (AVA) in the Willamette Valley), this new site is almost amphitheater like in its geometry. The new winery and tasting room take center stage wrapped to the West by sun drenched slopes rising up to the ridge. It doesn't take long for my white soles of my shoes to blend into the soil underfoot. This crumbly red loam, classically referred to as "Jory", is an ancient, volcanic marine sedimentary soil highly prized for its nutrient rich, high in iron and high clay content, and water retention capacity. Often touted as "an island of hills" in the Willamette Valley, the Dundee Hills complex soils, higher elevations, and coastal breezes allow Pinot Noir and Chardonnay to flourish indicative of why so many prestige players and Burgundian vignerons are attracted to the area.
The story of Nicolas-Jay's founders, Jay Boberg and Jean-Nicolas Méo, dates back to 1988 when Jean-Nicolas was studying abroad completing his Master's Degree from Penn State University. The two first met at a dinner party hosted by Jay's sister (who was also studying at Penn) and the pair became fast friends. After two years, Jean-Nicolas returned to his family's Domaine Méo-Camuzet – one of Burgundy's Cote D 'Or undisputed star estates. Meanwhile, Jay continued to build his new wave record label, IRS, discovering and signing acts including REM and Black Sabbath. After selling IRS, Jay went on to get his MBA from Harvard before beginning his tenure as President of MCA Universal Records launching the music careers of artists from Mary J. Blige to The Go-Go's to Sublime.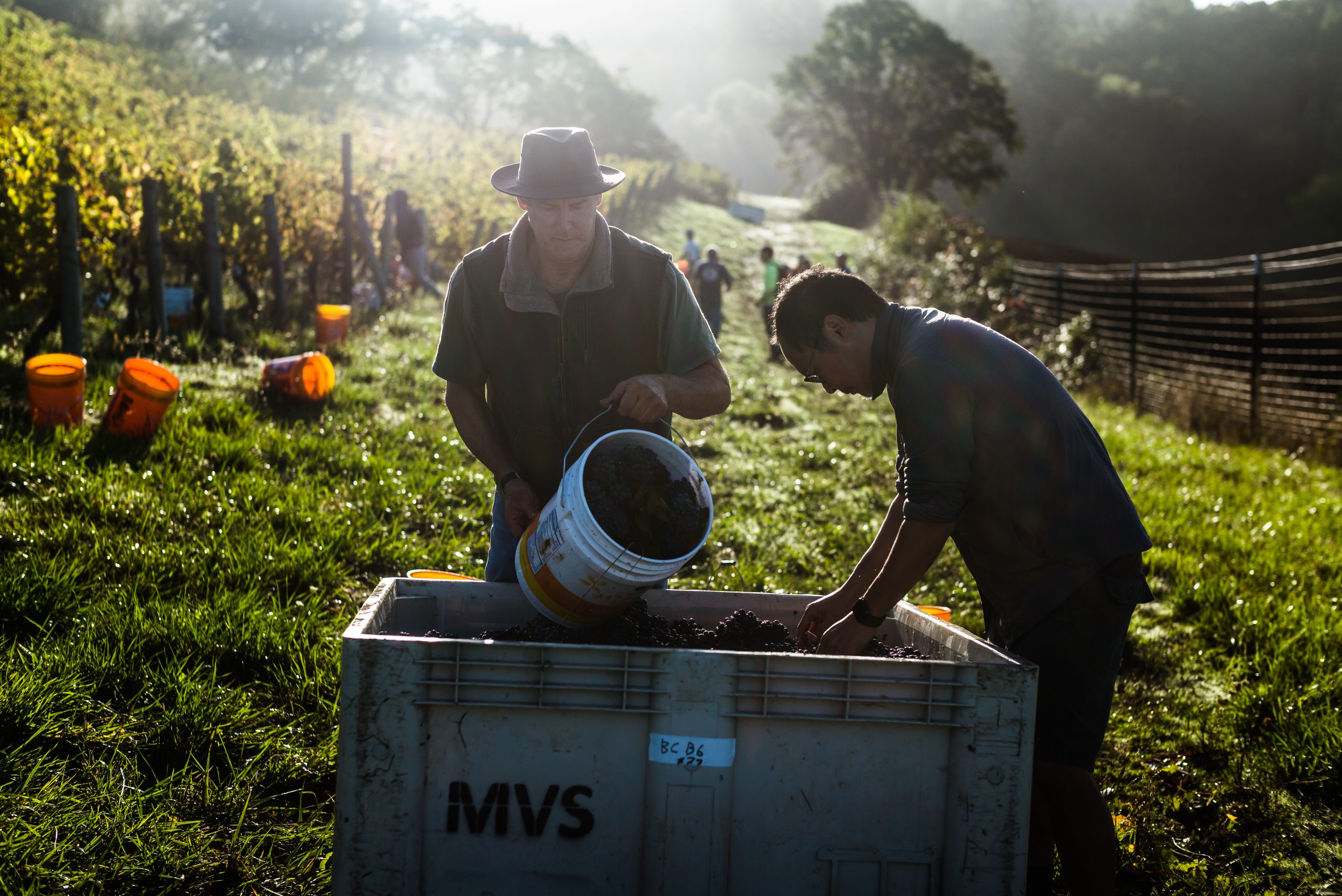 Jay's interest and love of wine also goes back some way. "He has been thinking about grapes and growing grapes for 30 years, so he has always had in his mind the hope someday to have his own winery project" says Kevin. If I take anything from Jay's background, it is the fact that this gentleman undoubtedly has a unique ability to understand and recognise talent. "He had always been nipping at Jean-Nicolas" Kevin tells me but it wasn't until 2012 that serious talks between the two beginning a winery project in Oregon began. In 2013, Nicolas-Jay was officially born. Take Jay, an entrepreneur and promoter at heart, and add into the mix Jean-Nicolas, legendary winemaker with nearly 30 years of winemaking skills and training making wines from some of Burgundy's great Grand Cru vineyards from Richebourge to Clos de Vougeot, and you have a very special, not to mention, powerful partnership.
So how did the pair end land on this new site? I am told by Kevin that after tasting upwards of 250 wines from different vineyards and producers, they landed on eight vineyards that they "really felt were unique and had a certain power and beauty to them". The vineyard they really fell in love with (and subsequently purchased) was Bishop Creek – not far from here in Yamhill-Carlton, an old vine, own-rooted, organically grown vineyard planted on ancient marine sedimentary soil, very different than Dundee Hill soils making very intense, powerful wines. They also buy fruit from seven other vineyard estates including Nysa vineyard – an old vine, 1990s planted vineyard at nearly 1,000 feet elevation sitting alongside Domaine Drouhin's homeblock in Dundee Hills. Kevin explains Jean-Nicolas loves these wines because "there is this sort of gentleness similar to Burgundy and new world density. That's what drew them to finding a site to build their own winery. They knew they wanted to be in Dundee Hills."
The new site, a former longhorn cattle ranch, is 53 acres in total of which about 25 acres will be planted next fall with Pinot Noir and a small plot of Chardonnay over the ridge that enjoys more sheltered conditions. Kevin details all the vineyards Nicolas-Jay works with currently are either organic, biodynamic or LIVE certified. Jean-Nicolas and the team agree "a natural plant in a natural environment produces a better grape." Interestingly, Jean-Nicolas has in quarantine cuttings from Richebourg that he intends to plant here. It is one to pop in the memory bank, but when the opportunity comes it will be fascinating to see how the plant material performs here in Dundee Hills. Nicolas-Jay's deep, intertwined connection to Burgundy is apparent in every aspect, particularly with regards to their philosophy and winemaking. They make wine here the same as they do at Domaine Méo-Camuzet entailing a rigourous "vine to VAT" process. Grapes are harvested and field-sorted into small quarter ton cherry bins (forgoing the standard one ton bins) to reduce breakage among individual berries and ensure every cluster goes into the winery unbroken to allow a natural yeast fermentation. All the wines enjoy 15 months in French Oak, and are unfined and unfiltered.
Making our way back down to the winery, I spot two vintage cars peaking through the long vegetation. It turns out this site has quite the history too. Legend has it, the two 1930s vehicles were owned by a family who had two late teenage sons. After an argument, the two brothers got in the cars intoxicated, came flying over the hills here and crashed into each other, stumbled away and never came back for the cars. The team plans to spruce them up and preserve this piece of history, along with the new winery which itself is developed around the original barn structure, or at least the skeleton of it. The old trees on the property Jay felled to clear space for the winery are also being milled with plans to use these in the formal tasting room for the flooring, tables and furniture due to open October 2020 by appointment only.
IF PAST PERFORMANCE IS THE BEST PREDICTOR OF FUTURE SUCCESS, NICOLAS-JAY HAS A VERY EXCITING AND PROSPEROUS ROAD AHEAD.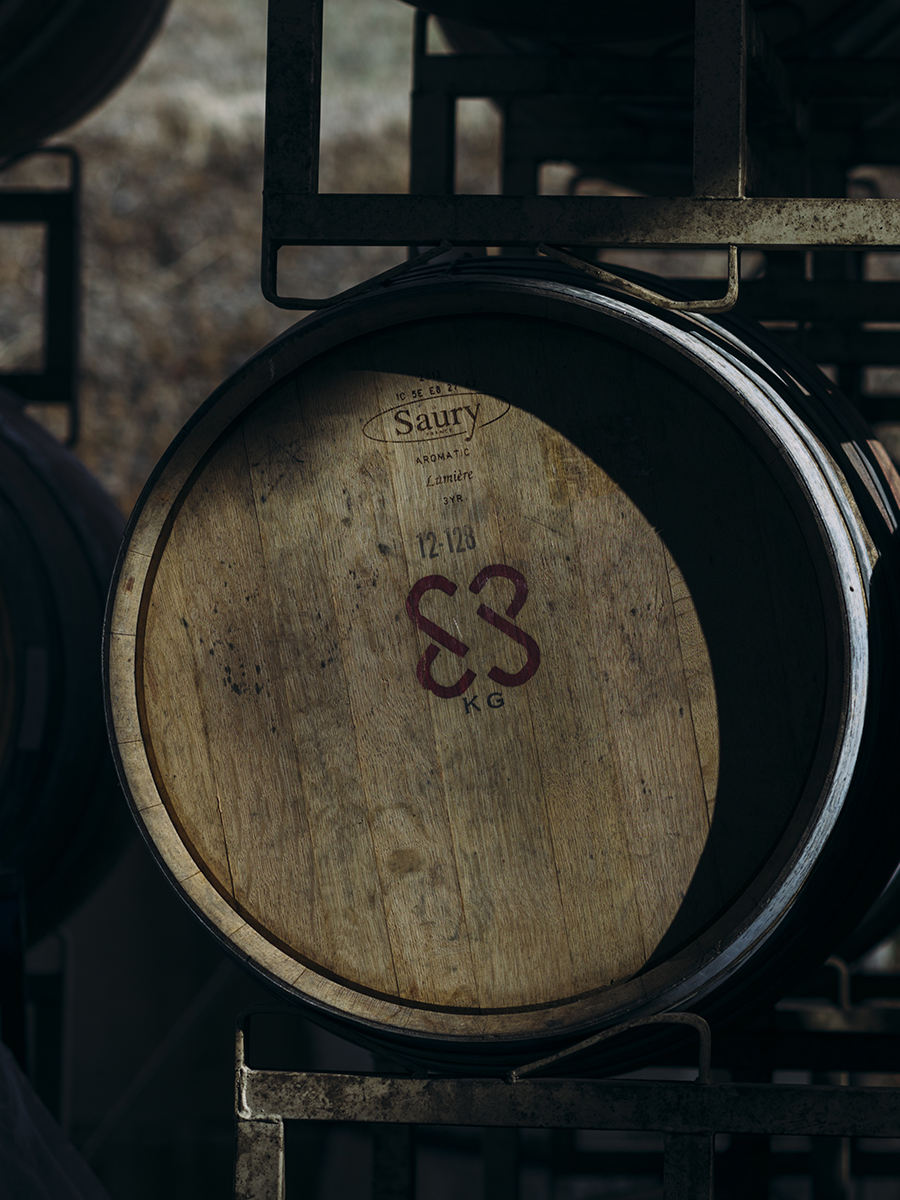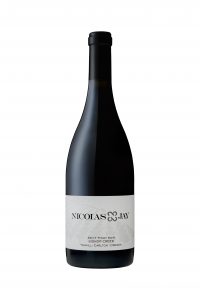 NICOLAS-JAY BISHOP CREEK PINOT NOIR, YAMHILL-CARLTON, OREGON 2017:
Sourced from Nicolas-Jay's own estate vineyard, this wine has true star power. It starts on the nose, with heady, dark berry fruit, floral and licorice aromas and a whiff of smokiness. The wine evolves in the mouth from upfront, rich black fruit to spicy nutmeg, forest floor, earthy flavours underlain by bright acidity, tantalising minerality and structured, silky tannins. Savoury finish and generous long length. Exceptionally well- integrated, balanced and polished wine.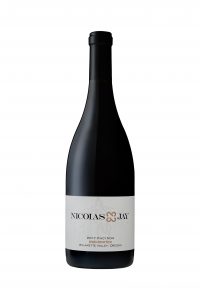 NICOLAS-JAY OWN ROOTED PINOT NOIR, WILLAMETTE VALLEY, OREGON 2017:
Blended entirely from several non-grafted vineyard sites in the Willamette Valley, each at least 30 years old, adds another layer of complexity and intensity to this wine. Intense red and dark fruit, violet and cassis aromas on the nose, while the palate is multi-dimensional with its ripe, concentrated red raspberries, dark cherry, blackberry, baking spices (French oak influence), cocoa, espresso flavours, textured tannins and long length.
WINES AVAILABLE IN CANADA AND USA.