How does the saying go? History might not repeat but it rhymes. This time it's different. Well these days it's more like "I'm drinking my grandfather's spirits, not my fathers."
As we've seen in previous articles, spirits have continued to evolve by creating, and responding to, demand. Distilleries have come and gone, and in a few cases have been resurrected or relocated.
Vodka is a "neutral, tasteless" spirit (or is it?), whereas Gin is a spirit whose flavour is influenced by botanicals – with Juniper being instrumental. Now we have a new category of flavored Gin. How about Rum? Bacardi has released a limited-edition release where the barrels were aged in warehouses in the Bahamas. And, since it's summer, what better way to sit back and read about some new products and try a few new cocktail recipes.
There have been references to Juniper being used to "cure" ailments dating back to ancient times, it has been cited as a cure for jaundice. As time moved on there was a Gin craze that took hold back in 1720. The infamous Beefeater Dry Gin was launched by James Burrough in 1876 (he actually lived in Toronto for a number of years, prior to that), In 1987, not that long ago, Sydney Frank launched Bombay Sapphire bringing Gin back into the mix – as it were. Today, Gin is everywhere, gaining popularity and innovation.
When the opportunity came up to meet and to listen to Desmond Payne from Beefeater Gin speak and introduce the new Beefeater Pink Gin, I could not pass on the opportunity. With just over 50 years of experience, Desmond Payne has worked for two major Gin producers (Plymouth and Beefeater), created a number of new gin products including the Beefeater 24 and now the Beefeater Pink.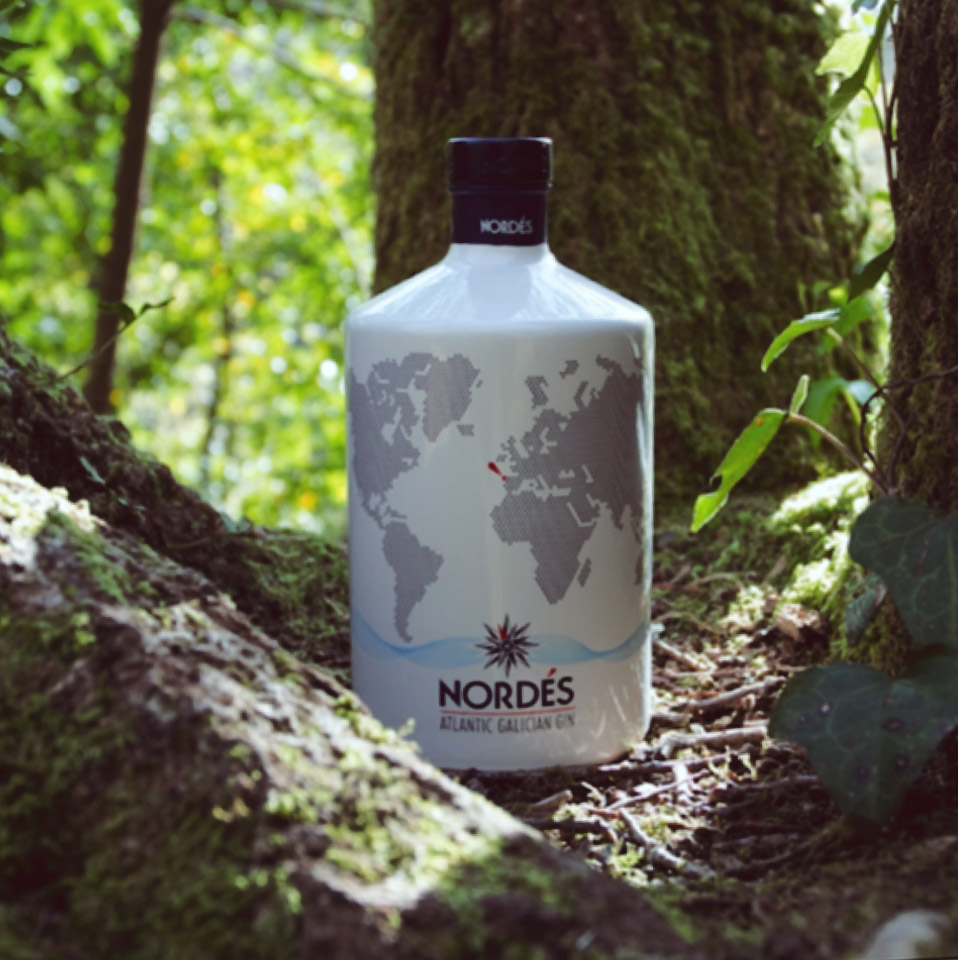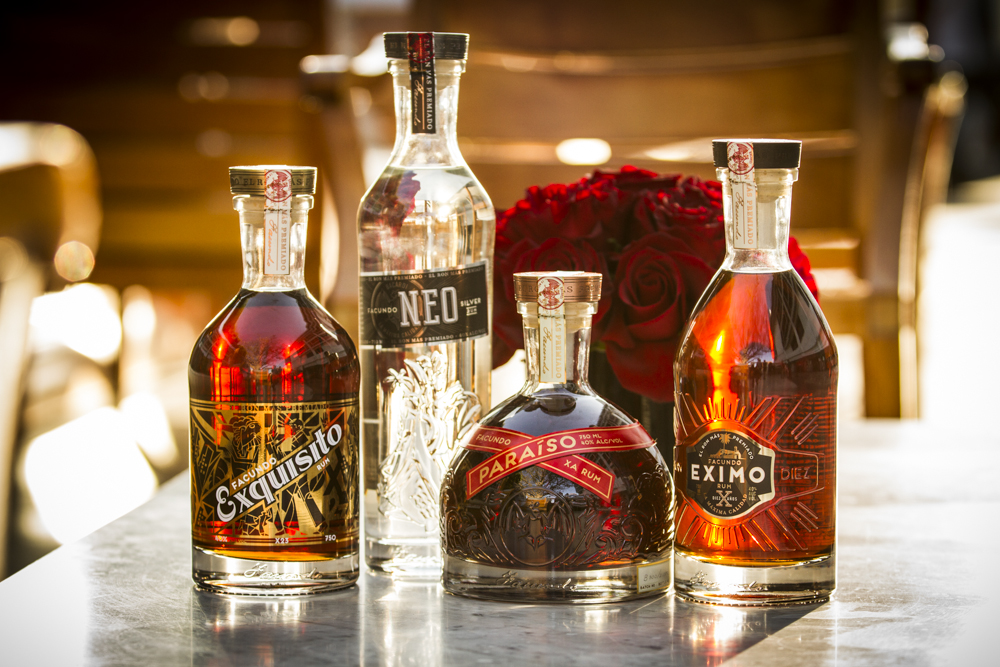 Spain is one of the top Gin consuming countries <Beefeater's largest> and over the last 5 years there's been a huge immersion of flavored Gin. Let's take a step back because Gin is flavored, as mentioned above – gin is about juniper and whatever you put in for complexity. In making Beefeater the classic recipe is made with 9 botanicals that are steeped for 24 hours and then distilled – Juniper is he largest ingredient, coriander seed, Seville orange peel, lemon peel, angelica seed, angelica root which provides earthy dryness, liquorice root, almond, orris root seed – which holds together the flavor and particularly the aroma is also used by the perfume industry with Chanel being the largest buyer.
The Beefeater Pink (LCBO $29.95), is pink in colour and has a strawberry flavor. Distilled spirits do not have a colour, they are clear, so natural colour has to be added to the final distillate. Also, since soft fruits don't distill but rather ferment you need to add natural fresh favour for stability. Although gin has flavours, it is not generally a sipping spirit, it is a mixing spirit. The Beefeater Pink pairs well with tonics and other basic ingredients for your cocktail enjoyment:
Pink & Tonic: 1.5 oz Beefeater Pink; 3 oz Fevertree pink aromatic tonic; Fresh Strawberries
Pink Collins: 1.5 oz Beefeater Pink; 0.5 oz strawberry liqueur; 1 oz lemon juice; 0.5 oz simple syrup; dehydrated strawberries
Strawberry Lemonade: 1.5 oz Beefeater Pink; 3 oz lemonade; splash of Strawberry Perrier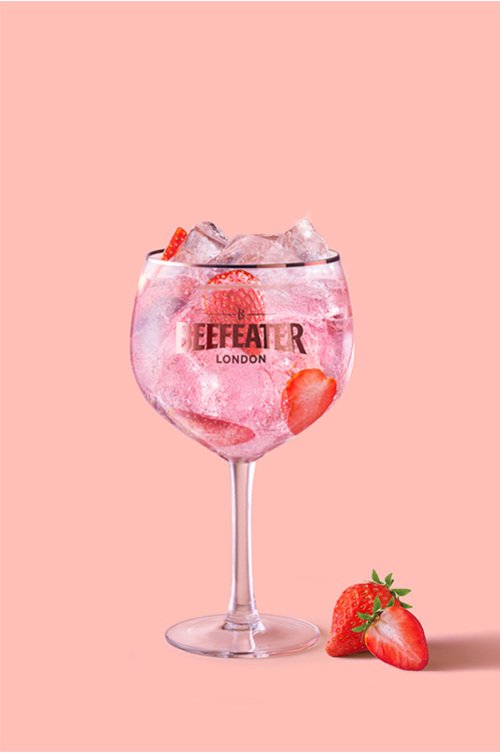 Nordes Gin (LCBO $39.95) is described as "the first Atlantic Galician Gin, a Premium gin from Galicia (a region in northern Spain) that honours its homeland, rich in natural aromas and exquisite flavours." Some of the flavours are attributed to the distillate which is produced using Galician albarino grape which is said to impart subtle notes and white fruit aromas. It is made with 11 botanicals where 6 are wild Galician ones – sage, laurel, verbena herb, eucalyptus, peppermint, and a type of glasswort, which give it its signature balsamic aroma. In addition, 5 botanicals from overseas are used – juniper, ginger, cardamom, hibiscus flower, and black tea. Unique in the process that I found was that some of the botanicals are macerated separately and then blended together resulting in a fruity gin. I got to make my own Nordes Quijada, which is a delicious cocktail. Now it's your turn
Ingredients: 1.5 oz Nordes Gin; The juice of half a lemon; 0.75 oz ginger syrup; A touch of Albarino wine; 3-4 coffee beans; Glasswort seaweed
Preparation: Pour Nordes Gin into a cocktail shaker with ice, lemon juice and ginger syrup. 2. Shake vigorously for 10 seconds then strain into a wine glass with ice. 3. Add a splash of Albarino wine. 4. To garnish, flame a lemon peel to release the aroma of the essential oils in to the drink. Top with a few coffee beans and the unmistakable glasswort. 5. Serve immediately!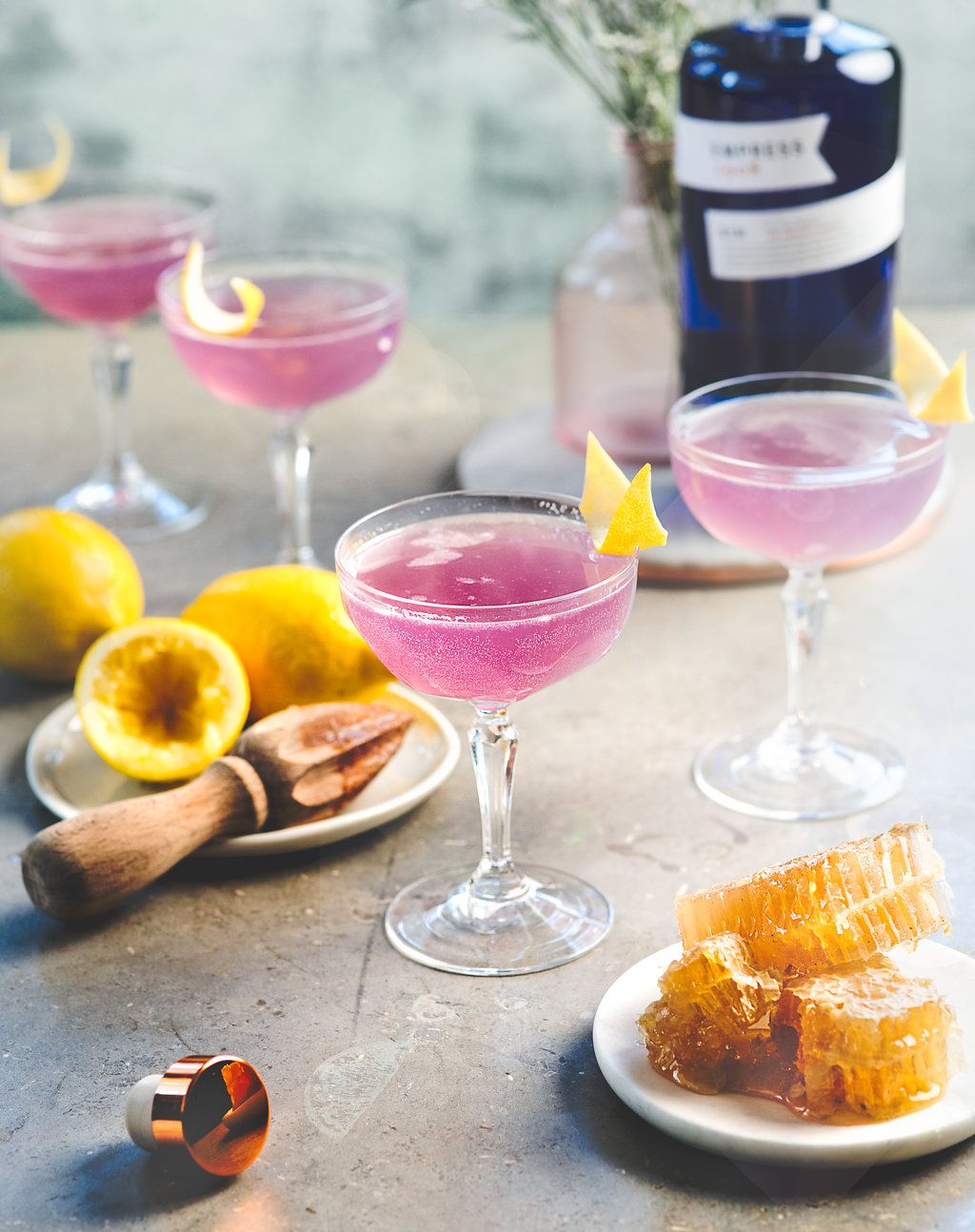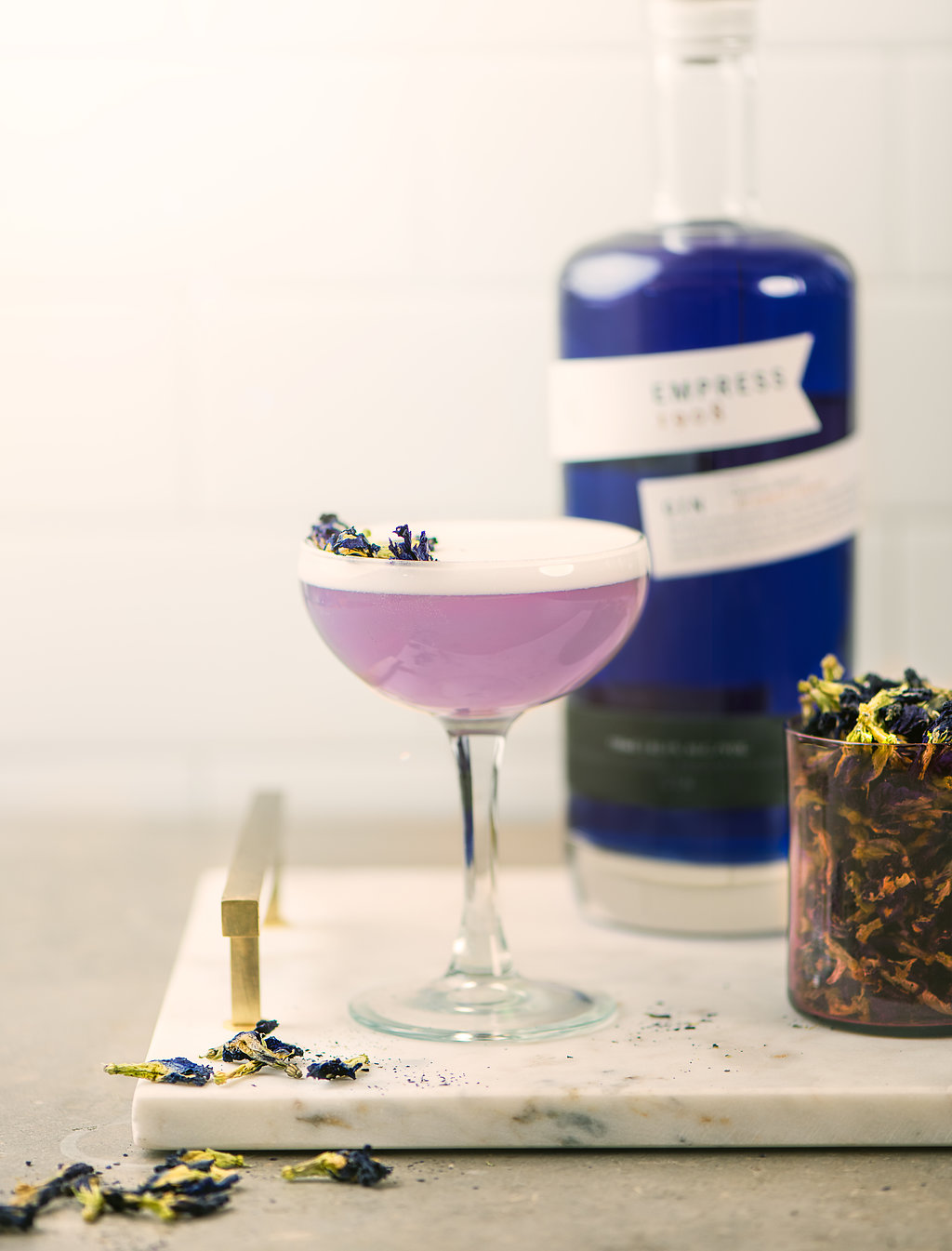 The use of local botanicals make gin unique and many are challenging what gin is. Roku Gin (LCBO $49.95) is a Japanese Gin where you'll find six special botanicals that are sourced in Japan – note that Roku translates as the number six. From their notes it is indicated that: Sakura flower, Sakura leaf, Yuzu peel, Sencha tea (green tea), Gyokuro tea (refined green tea) and Sanshō pepper. Six Japanese botanicals cultivated over four seasons, the six Japanese botanicals have been carefully selected to create ROKU, Japan's authentic craft gin.
I was only able to sample this Gin and Haku Vodka (LCBO $49.95) but looking forward to learning more about the spirits in the future. The vodka is made with 100% Japanese white rice. The gin is floral and sweet on the nose with a nice peppery finish. I look forward to using Roku in traditional gin recipes, I tending toward making a Negroni with it.
Let deviate for a moment to look at the release of the Facundo Rum collection which I was fortunate to try at the Toronto release. They are a unique release of four oldest rums bottled by Bacardi and in addition they were matured in the Bahamas. Once they're gone, they are gone for good! The information provided and tasting notes follow as:
Facundo NEO (LCBO $45.95) is one of the oldest light rums available on the market that features a perfectly balanced blend of medium to heavy bodied rums (aged up to 8 years). NEO is smooth, with sweet notes and a clean finish. Facundo EXIMO (LCBO $125.95) is the only rum in the collection blended before the aging process. Facundo EXQUISITO (LCBO $279.95) is is the perfect marriage of fruitier, younger rums (7 years old) and smokier, older rums (up to 23 years old) which imparts a distinct aroma and taste to this smooth, silky blend. Facundo PARAÍSO (LCBO $399.95) is aged up to 23 years and is a unique blend of the most distinguished rums in the private Bacardi Family Reserves.
We can't continue without a refreshing and incredibly smooth cocktail – the Facundo Neo Pomegranate Daquiri -the pomegranate and citrus juice combine to make a delicious summer sipping cocktail.
2 oz.'s Facundo Neo; 1 oz. pomegranate juice; 0.5 oz.'s simple syrup; 0.5 oz.'s lime juice
In a mixing tin, add all of the ingredients. Fill the tin with ice and shake vigorously to dilute and chill. Double strain the cocktail into a chilled coupe. Garnish with a lime wheel or an edible flower.
We've primarily looked at gins from around the world but Canada is not forgotten. There is also a Canadian craft distillery movement going on where we are seeing vodka, gin and whisky production. We have to touch on the new Spring Mill Distillery which based in the Guelph area. The Sleeman family created a thriving brewery in 1834 in but did you know that it also created a distillery in 1836 at St. David's but it ceased operations shortly after its founding. This undertaking has taken John Sleeman, together with his sons (Cooper and Quinn), close to a decade. I must point out one unique feature that I'm looking forward to see when I get to visit is that their column and pot stills are Forsyths stills and from what I understand the only ones in Canada. Oh, and they have laid down spirit that will be whisky but not for another 6-8 years, their focus is on releasing quality products.
The Spring Mill Distillery Gin (LCBO $39.95) is described as being bright and approachable juniper with gentle floral notes on the mid-palate and a crisp clean citrus finish, all working in concert to reflect the sweeter character of a traditional London gin style. Provincial earthiness is highlighted by the supporting cast of botanicals which present bright pine, green leaf aromatics, cheerful notes of mint and echoes of soft, sweet, spicy undertones reflecting the lush rural landscape of Ontario. The Spring Mill Distillery Vodka (LCBO $39.95) is described as a smooth versatile premium spirit, it is made from soft red winter wheat grown in the Canadian heartland.
A versatile Cocktail (can be made using Gin or Vodka, I preferred the Gin version, let me know what you think), The Dellemere, was created and named in honour of its namesake tavern that operated in the 1830s.
2 oz Spring Mill Vodka or Gin; 1 oz freshly squeezed lemon juice; 1.5 oz honey syrup; 3 mint sprigs; 1 mint sprig for garnish
Combine all ingredients and shake vigorously with ice. Double strain into chilled cocktail glass. Garnish with mint.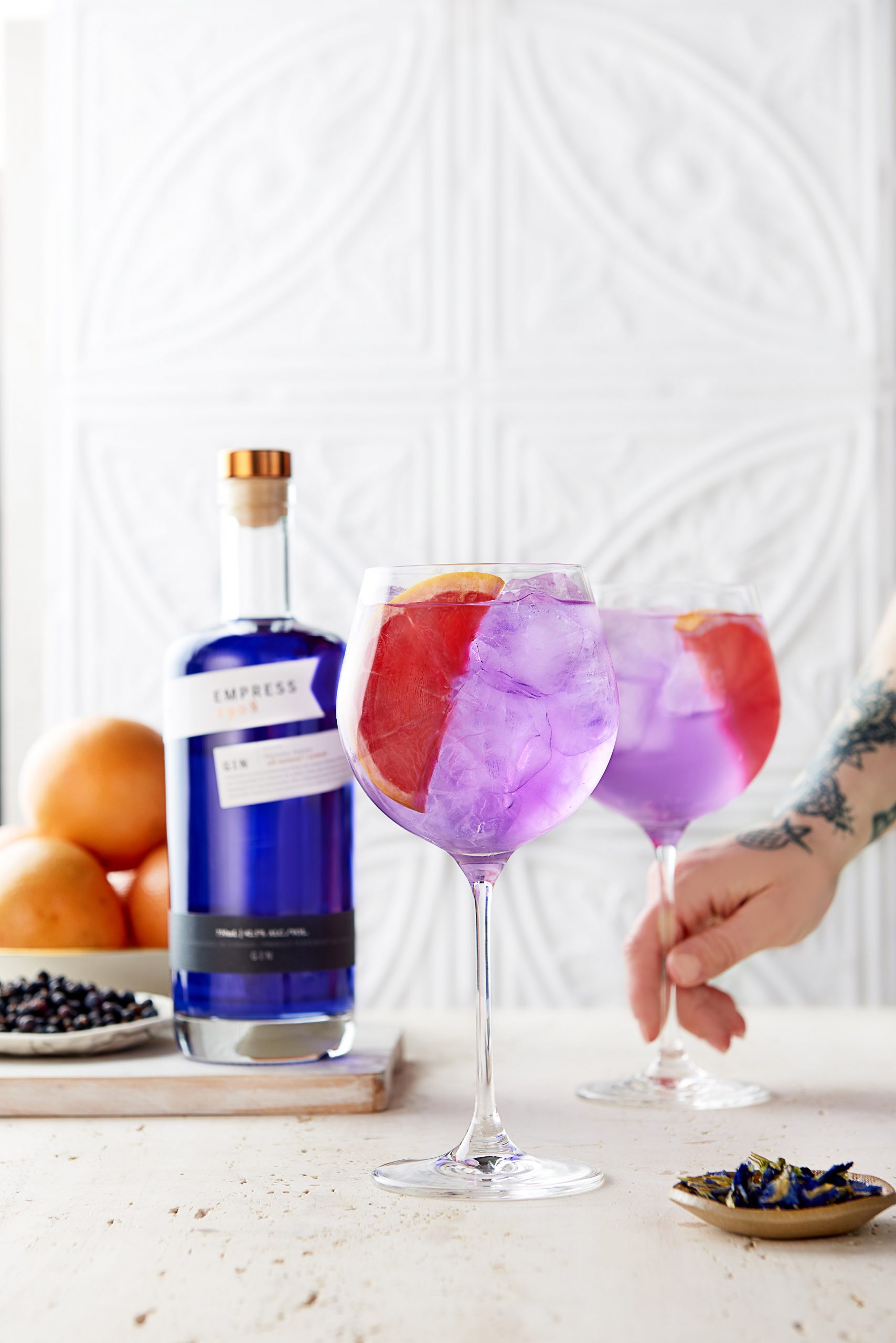 Empress 1908 Gin (LCBO $49.95), is made in Victoria BC. Yes, the balmy place where I attend the Victoria Whisky Festival and the Canadian Whisky Awards <written about a few times>. Its name is derived from the Fairmont Empress Hotel which has hosted travellers from around the world. The hotels afternoon tea inspired the creation of the Gin.
The gin is identified as being hand-crafted using eight signature botanicals: tea, juniper, rose, coriander seed, grapefruit peel, ginger root, cinnamon bark, and butterfly pea blossom. It's the pea blossom, which we discovered in one of the Empress tea blends, that imbues the gin with a distinctive earthy note. To finish, you deserve the Royal Treatment
Ingredients
1.5 oz Empress 1908; 3 oz white cranberry juice; sparkling wine
Build in a stemless wine glass. Garnish with kiwi slices (skin removed), berries, and a mint leaf.
Hope you enjoy the rest of the summer and try some new cocktails. As seen above, it isn't that hard.