The Porsche Taycan carries a legacy that is reflected by performance.  The 2020 Porsche Taycan Turbo S delivers incredible acceleration, precise handling, and aggressive styling and remains the most expensive, most powerful, and best-performing Taycan.  As Porsche's first electric car, the Taycan is a sleek sports sedan that fully lives up to the brand's high-performance reputation.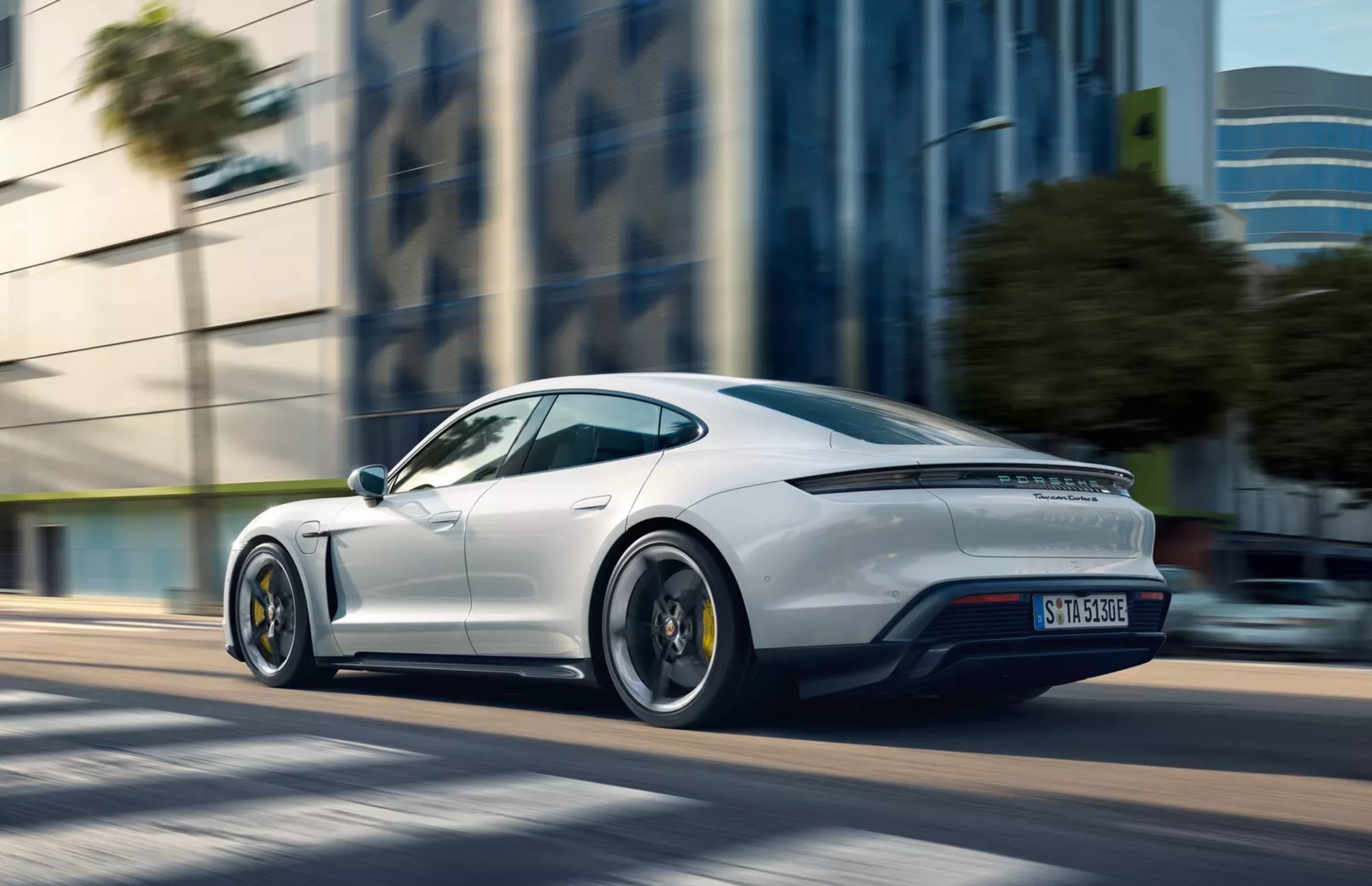 The Porsche Taycan Turbo S has been described as vicious.  Its full shot of 750 horsepower and 775 pound-ft of torque is enough to make the 2.5-ton sedan shudder for only a second.  Once the wheels grip, you're propelled forth with enough g-force to make you dizzy as your senses try to recalibrate. With a standing start of 1.2g, it accelerates faster than the force of gravity for the first few yards – making it faster than a skydiver in free fall.  The latest drive technology ensures that its performance can be repeatedly reproduced: two permanent-magnet synchronous motors (PSMs) catapult the Taycan Turbo S with up to 560kW (750 HP) Overboost Power with Launch Control from 0–60 mph in 2.6 seconds and reach top speed in excess of 160 mph.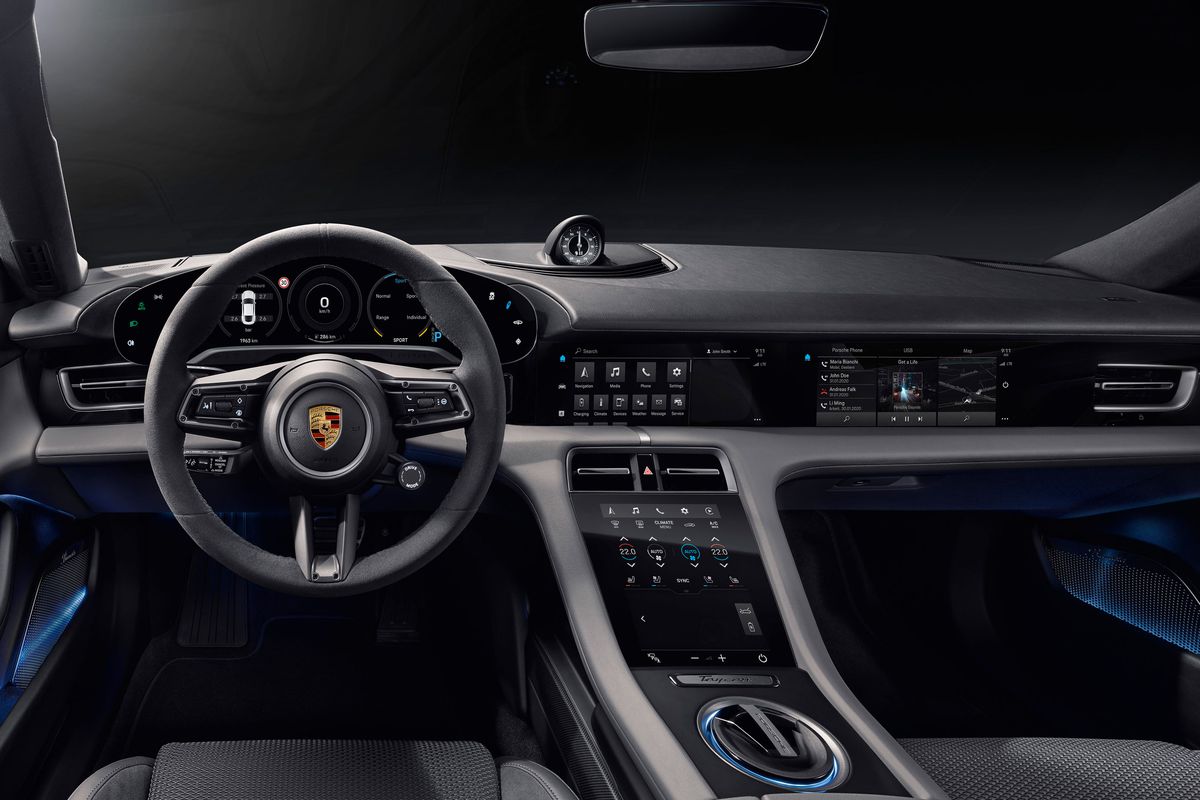 What Porsche has created is a driver-focused road rocket that happens to use an electric drivetrain.  The Taycan is the first electric vehicle to be built on an 800-volt electrical architecture, twice the norm for EVs, anchored by a 93.4 kWh battery pack that's good for a reported 256 miles in the Turbo S.  This design allows Porsche to offer more powerful 270-kilowatt charging that can recharge the battery from five to 80 percent in 22.5 minutes. The two motors – one front, one aft – powers all four wheels. The rear motor has a two-speed transmission, although it drives around mostly in second gear. The Turbo S gets active rear steer, carbon-ceramic brakes, a different inverter to allow the overboost and bigger 21-inch wheels as standard.
For more information email mgreco@policaro.com
or call 416-454-9444
The interior design is impressive. The Taycan's interior is a triumph in modern minimalism with impressive materials and a luxurious feel, topped off with enough tech to satisfy any cybernaut. The only physical buttons you'll see inside are on the doors and steering wheel. The fully digital 16.8-inch curved display is the driver's main focus. Everything else is controllable by a plethora of touchscreens along with intuitive voice controls.
Given the Taycan's low and sleek roofline, the interior proves surprisingly spacious. The seating position is very low, which contributes greatly to the sports car-like driving feel. Also like a proper sports car, while the driver and front passenger have more than enough room, it's a different story in the rear seats, where taller passengers might find the rear quarters tight on longer hauls.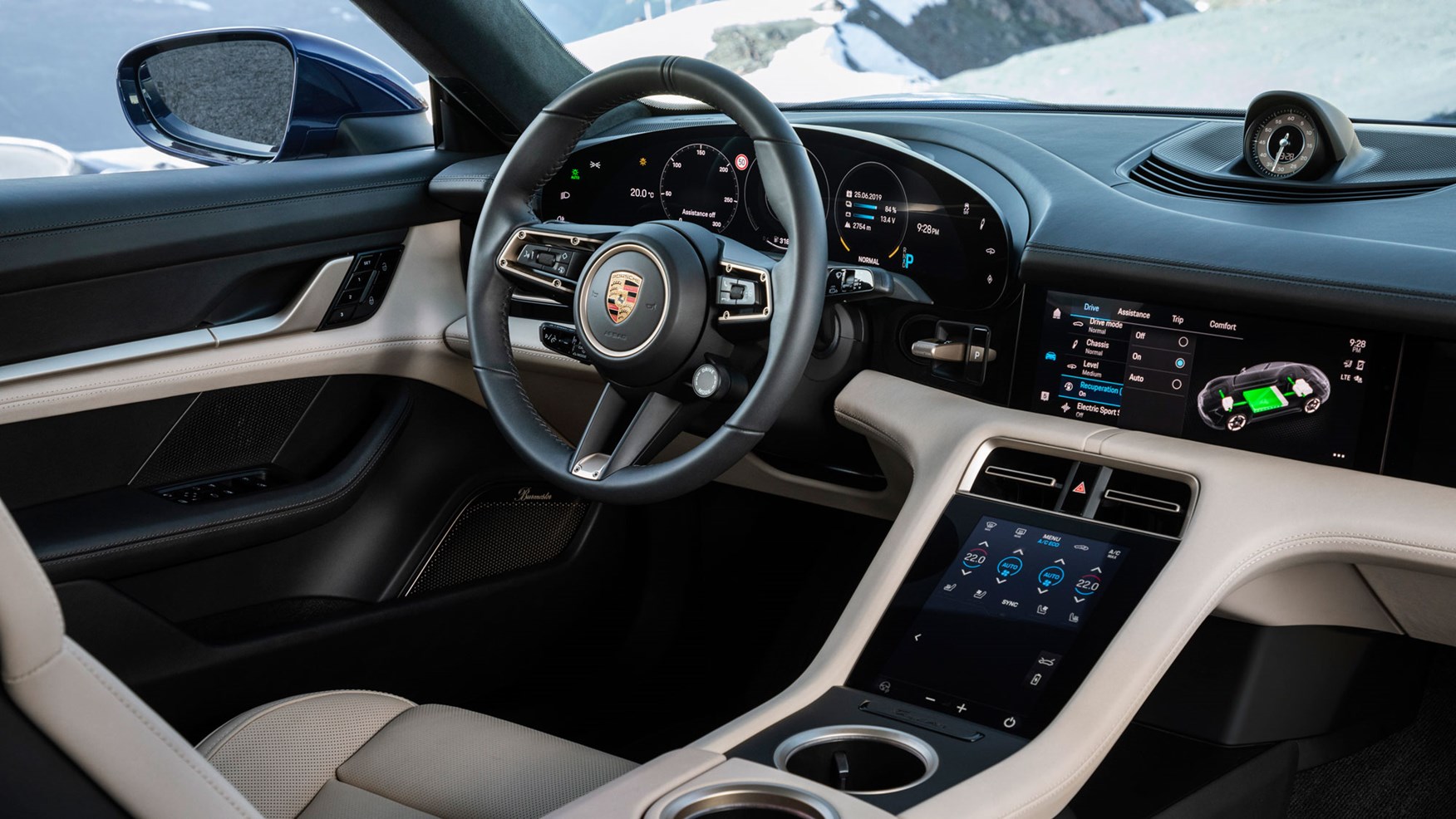 Pedals are medium weighted, the steering likewise, and as in everything from a base Cayenne to a 911 GT2 RS, the Taycan feels tidier and not as unwieldy. Turn the wheel and it responds crisply, accurately. Push the throttle or the brakes and it goes and stops as much as it should. This is the kind of thing that marks out the best driver's cars – and something you find in all Porsches but too few EVs.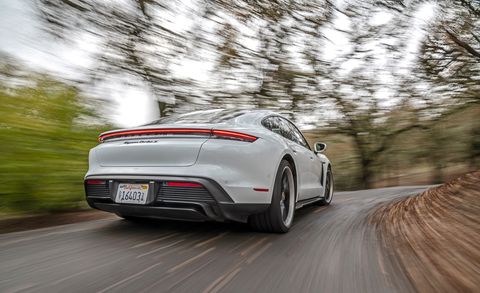 The Taycan is fitted with the Porsche Active Aerodynamics system, consisting of an adaptive rear spoiler and adjustable cool air intakes, specifically for dynamic driving. Equipped with longitudinal and lateral control systems such as Active Lane keep and Night Vision Assist, the Taycan is kept safely in lane while the infrared camera displays pedestrians and wildlife as thermal images to provide additional support.
Following a publicity push that included tech workshops, a ceremonial factory opening, a splashy introduction at Niagara Falls, and a nine-country media drive from Oslo to Stuttgart, the new Taycan sent a series of shockwaves through enthusiast culture and sparked debates unlike any Porsche release in recent memory. Porsche wanted the Taycan to be a proper Porsche. Made specifically to tackle the road like a 911 but be as comfortable and as practical as a Panamera, Porsche's Taycan represents a monumental leap forward in terms of what a performance electric sedan can be.
2020 Porsche Taycan Turbo S
ENGINE                              Two Permanent Magnet Synchronous Electric Motors
OUTPUT                            616 Horsepower / 774 Pound-Feet (750 HP w/Overboost)
TRANSMISSION               1-Speed Automatic / 2-Speed Automatic (front/rear)
DRIVE TYPE                      All-Wheel Drive
BATTERY                           93.4 kilowatt-hours
SPEED 0-60 MPH            2.6 Seconds (manufacturer's estimate)
MAXIMUM SPEED           162 MPH
EV RANGE                         241 – 256 miles (WLTP testing standards)
CHARGE TYPE                 110 Volt / 240 Volt / Up to 270 kilowatts DC
CHARGE TIME                 Not Advised / 11 Hours / 22.5 Minutes
WEIGHT                           5,100 Pounds
EPA FUEL ECONOMY    Combined/city/highway: 68/67/68 MPGe Range: 192 miles
SEATING CAPACITY       4
CARGO VOLUME            2.9 / 12.9 Cubic Feet (front/rear)
BASE PRICE                     $185,000