Aluxury men's collection rooted in Italy's finest textiles and its history of superior construction alongside distinguished modern design
is Leone Napoli. With the belief that clothes do not make the man, they reveal him, each small-batch garment from Leone Napoli is artisanally handcrafted from start to finish with exquisite detail. This belief is deeply embedded into every garment, exploring the vast principles of craftsmanship and the rich legacy of style to create profoundly personal, modern wardrobes for men.
The Leone menswear collection is 100% Italian made, crafted exclusively in Casalnuovo di Napoli, Italy – the 'city of tailors'. This region in Italy is renowned for its masters of a complex and revered tailoring craft – that has generated the world's finest apparel. There is a deep-rooted mastery in the production of clothing in this region, with the construction possessing a true technology in the historic ways of traditional tailoring; which is why Leone chose a family-run operation to handmake each garment, where the closest attention is paid to even the smallest details.
Leone is heavily influenced by the cultural significance of clothing worn on the streets of Naples: it is a reflection of enjoying the beauty of life. This Italian mindset has a compelling influence on each Leone collection, and the creators are invested in creating garments that provide more life to the everyday.
The Neapolitan mentality doesn't view clothing to serve a singular function like going to work but rather regards an ensemble as a transcendent element of their day – from an early morning meet-up over espresso to a day at the office to post-work drinks with friends followed by a late-night dinner. Pieces from each collection are therefore designed to work together to help you look impeccable as you transition from one activity to the next in your day.
The Men's Fall/Winter Leone Napoli's collection reflects the brand's tradition of implementing a modern interpretation of the most classic fashion models of the past, filtered through a contemporary Canadian mindset.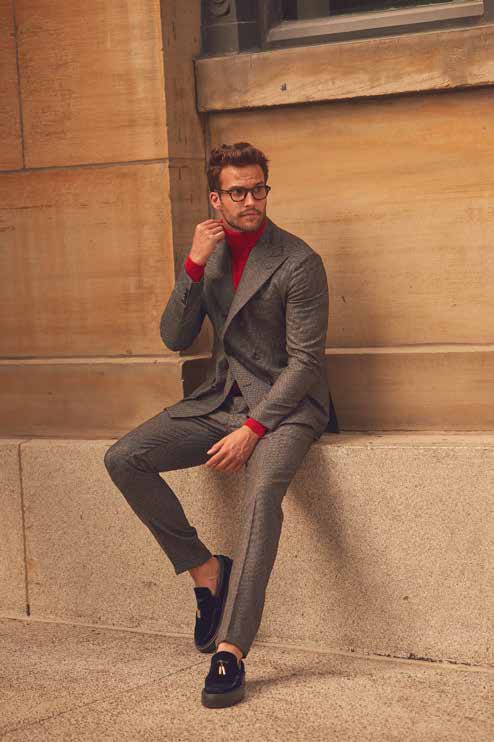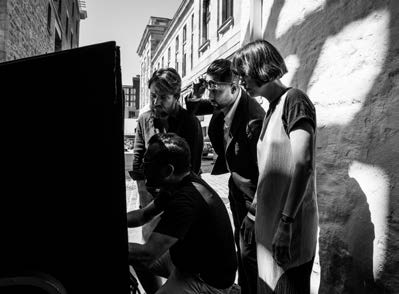 The FW19 collection is deeply influenced by the rich glamour exuded by 1940s Hollywood, coupled with the crisp lines found in military uniforms and the heritage of British fashion. It is created for a man who loves fine wine, appreciates the architecture of a Porsche, and never has to seek attention – all eyes are on him when he enters the room. With both single and double-breasted suits, peak lapels, luxurious wools in deep colours in cashmere, the FW19 collection features the precise tailoring and silhouette design that harkens back to the exquisite nonchalance of refinement found in previous eras.
Leone Napoli, with its bullish sense of duty, has brought justice back to the craft of menswear. The brand is dedicated to providing a luxury product that is actually luxury, where the best piece goods, are produced in the very best way. The founders of the brand, David Petrash and Aaron Gonsenhauser, who share the Italian philosophy towards clothing and personal style, are involved from inception to completion of each collection.
With frequent trips to Napoli to manage production, the founders of Leone are personally invested in their Italian partners as well as in the integrity of the creation of each garment. David and Aaron share a passionate commitment to curate a collection of versatile garments that translate into timeless, modern classics.
Growing up in his grandfather's tailor shop, David Petrash has deep roots in the clothing industry, expressing, "Seeing my grandfather creating fur coats and men's suits in his shop and being exposed to the craft of tailoring from a very young age gave me an initial insight into the world of manufacturing, on an artisanal level." With a strong knowledge of fabrication and manufacturing qualities, David has the ability to curate a collection through colour and fabric selection.
From holding just a small swatch of fabric, David is able to imagine what type of garment to manufacture. Petrash has held every role in the men's clothing business – from fitting and tailoring to importing and distribution to owning a multi-brand retail shop.
David was also formally mentored by Harry Rosen, the founder of the Canadian retail chain of luxury men's clothing stores Harry Rosen Inc. Petrash remarks, "Working with Harry Rosen gave me the understanding of the importance of having a singular vision that you don't deviate from as well as the importance of providing your clients with exceptional customer service." With an avid imagination, an eye for design, and his pervasive background in fashion that goes back generations, he is the artistic design force behind every garment in each collection. Petrash serves as the head of Design and Sales at Leone Napoli.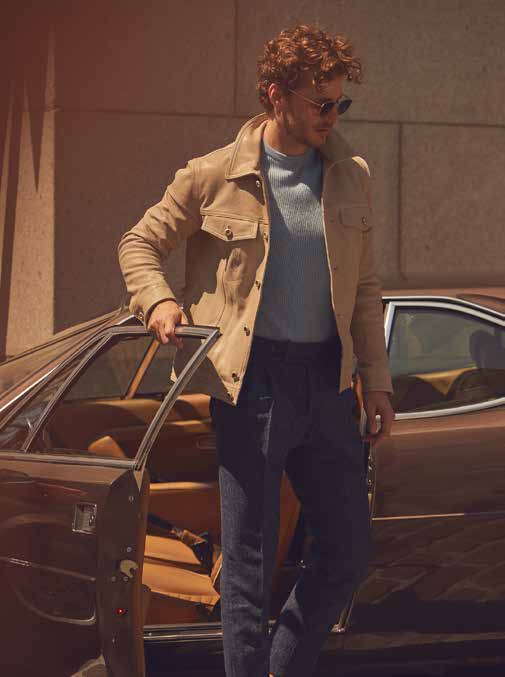 Aaron Gonsenhauser has always been inspired by the power of clothing – he views it not merely as a uniform for work, but as an expression of one's individuality, asserting, "Clothing for me has always been about dressing for the position you want and not the position you have." Aaron began working to help support his family from a very young age which armed him with a strong sense of entrepreneurship, stating, "My brothers and I quickly understood that if you'd like to go fast, go alone, but if you'd like to go far, go together. Thus, I've always aligned myself with people who are like me and have the same
vision as I do. I have always followed my heart when investing my time in people and in my various investments." As Aaron became aware of the discrepancy in quality amidst existing luxury menswear on the market when selecting his own personal wardrobe, this fueled his motive to create Leone. Gonsenhauser manages the business, financial aspects, and the strategic brand direction of Leone Napoli.
These two visionaries behind the Leone brand ultimately met over menswear. More than a decade ago, Aaron Gonsenhauser had just entered the real estate market and was looking
for ways to differentiate himself and attract highend clientele when David Petrash's keen fashion eye intervened. David owned a menswear store on Bloor Street in Toronto that sold made-tomeasure garments and multi-brand collections, and he began to curate outfits embraced by Aaron's discerning appreciation for menswear.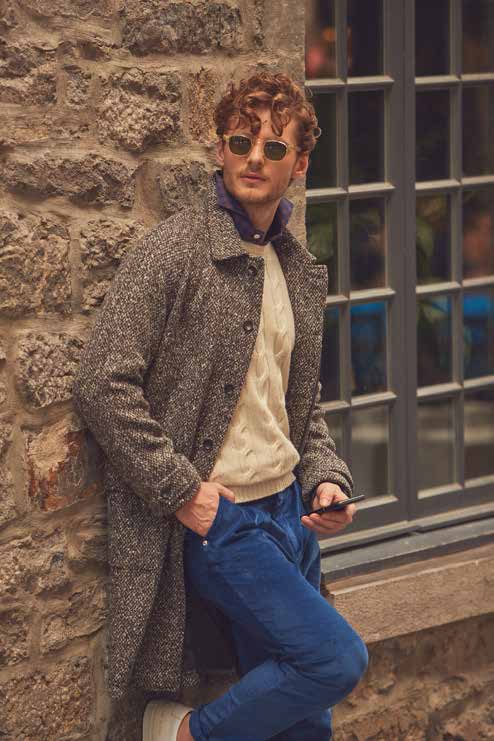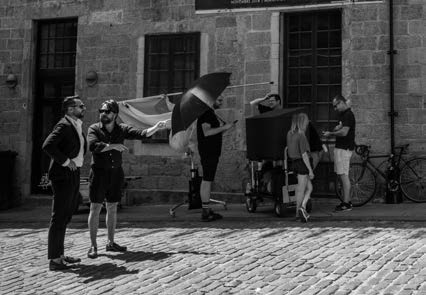 Aaron recollects, "David and I both felt that the collections from the high-end clothing brands were all very similar in design and colour; lots of dark blues and blacks. David wanted his clients to wear pieces that turned heads and reflected one's individual style and personality. Essentially, we were knowledgeable in all these brands but weren't inspired by any of them." An instant friendship was born between the two who shared respect for well-made, finely crafted garments and timeless style. This friendship eventually evolved into a business partnership in which they would create a brand of men's clothing with an entirely new approach to luxury. "Together with David we hoped to revolutionize the luxury men's clothing market and bring back true value and confidence in quality manufacturing," explains Aaron.
With that vision in mind, David and Aaron soon began a quest to create a menswear collection crafted of superior materials with the highest quality of manufacturing, integrated with transparent pricing. After securing their trusted manufacturing associates in Napoli, the partners began designing collections of extremely versatile pieces that work together in a man's wardrobe. And in 2017, Leone Napoli was born. Aaron declares, "After many months of hard work, sweat, and tears, we were excited about launching the Fall/Winter 2017 collection in our flagship store in Toronto.
The collection quickly sold out. We had fathers and sons buying the same pieces which indicated to us that our designs were, in fact, timeless and that dressing as an individual thinker is more about a mindset than about age. This spurred us to ramp up production and increase our focus on research and development." Possessing the hallmarks of many long-standing tailors in Italy, Leone is proud that 100% of its manufacturing and operations are fully family-run by a multigenerational legacy of tailors in Napoli. David remarks, "We've partnered with a wellestablished manufacturing business that was recently passed down to the next generation of two brothers, with their mother serving as head pattern-maker and cutter."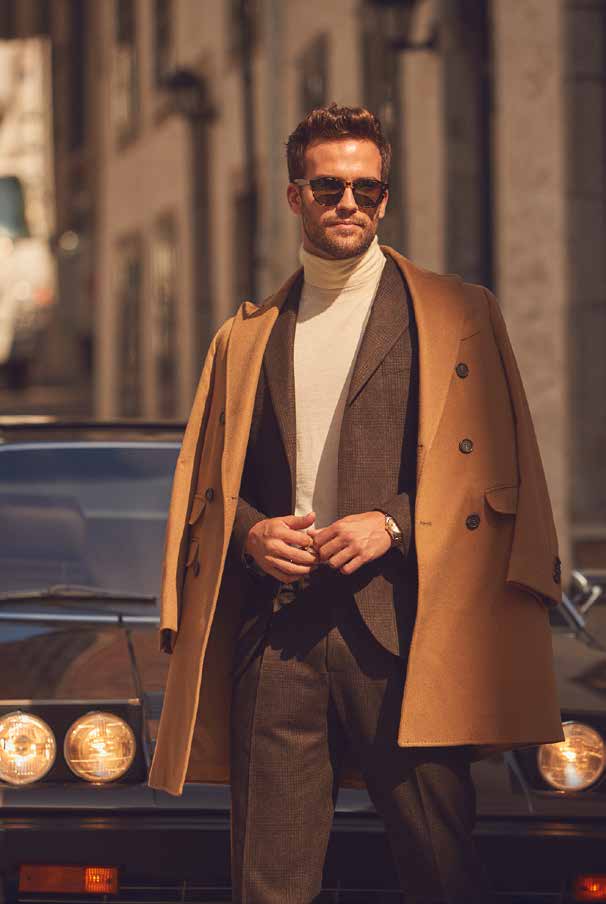 The production process in Napoli provides a very modern approach to an age-old tradition rooted in all the attributes of classic Italian clothing manufacturing but also focuses on innovation. Petrash adds, "Just like us, our Italian business partners are forward-thinking and share the same mentality of using new technologies but rooted in the old ways of manufacturing."
All fabrics and textiles of each Leone Napoli garment are sourced from niche limited production mills. The textiles are sourced primarily from Biella, in the northern Italian region of Piedmont, which is renowned for producing the best fabrics in the world. David expresses, "Textiles are important to our brand because we start with the very best and it produces the very best. I can envision how those fabrics can be used to create different pieces in our collection, pieces which we've adapted to fit the body type of Canadians."
Leone is committed to exclusively sourcing environmentally friendly and sustainable goods for its production. This leads to small and precise quantities being produced as a result of their specific manufacturing processes and treatments in Napoli. Each garment reflects a superior quality that cannot be replicated by cheaper, industrial production methods that have become standard in the industry. David asserts, "We knew that many popular luxury brands lacked true quality in fabrics and in design and we wanted Leone to be a return to the old ways of manufacturing true luxury goods from start to finish."
When you hold, feel, and try on a shirt, jacket or coat from the Leone Napoli collection, you immediately recognize the hallmarks of a true Neapolitan garment – being fully unlined and possessing a Spalla Camicia (shirt shoulder); this serves to mold the garment to the wearer's body, enhancing its shape with each subsequent wearing. David further explains, "The trademark of a premium clothing brand is having pieces that last and actually look better on your body the longer you've worn them." This legacy of superior construction is an integral part of each piece of Leone clothing.
Leone Napoli has a dedicated following of clients which they serve as part of their private shopping experience at their flagship location in Toronto, CA. This luxury retail destination provides individualized expert advice and offers the highest level of customized and personal customer service possible to each client. Clients can even find the collection's co-founder, David Petrash, personally available for custom fittings and style direction. "We've developed deep and lasting relationships with our clients who are trailblazers in their respective industries and feel comfortable to recommend our brand to family, friends and a contemporary. There isn't any smoke and mirrors – just genuine style advice about what they truly want and are looking for," expresses David. At Leone Napoli justice is done to the craft of menswear with the hand-made creation of luxury pieces that reflect one's personal style, their appreciation for tailor-made items from top-quality fabrics, and shares the desire to return to the rich Italian legacy of exceptional construction alongside superior modern design.
PHOTOGRAPHY: MAX ABADIAN | FASHION STYLIST: CARY TAUBEN