Seven years and going strong, the Rally for Kids with Cancer Scavenger Cup annual fundraiser for SickKids Foundation made a return visit to Toronto September 19- 20. Orchestrated by event management agency Solutions With Impact (SWI), the weekend thrilled patrons with an outstanding array of unparalleled experiences in support of The Hospital for Sick Children. "It has been an amazing run," said Joel Hock, president and founder of SWI. "We're thankful that we have been able to make such a huge difference to both the kids and the hospital, and we will continue to put 'fun' back into fundraising."
To date, the Rally has raised more than $13 million for pediatric cancer research, treatment and care making it one of the country's largest contributors to SickKids. A major component of the event's success can be attributed to the unique premise of its main attraction: the Scavenger Cup. Teaming with Hollywood celebrities, each Rally participant navigates a high-end vehicle through a six-pit-stop driving circuit scattered across the Greater Toronto Area.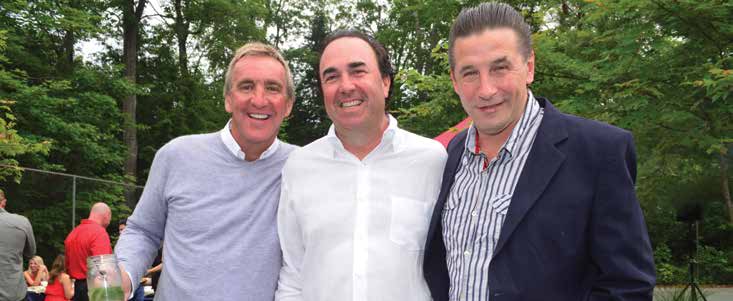 Each stop features a priceless experience such as, shooting a 30 second commercial; hopping aboard an F-18 fighter jet; and engaging in a staged emergency situation on Air Canada's training facility flight simulator. Although the Rally is not a race, the activities are scored, allowing participants to harness their competitive spirit. Every year, the SWI team makes a concerted effort to overhaul the pit stops and details of the Rally so that it remains fresh for returning drivers and maintains a positive momentum. The two-day engagement features roughly 25 participants, who raise a minimum of $25,000 each to take part. The Rally kicks off with the celebrity draft party at Kool Haus, where fundraisers determine which TV, film personality, or athlete will ride shotgun with them during the Scavenger Cup. The unforgettable weekend also includes a Tony Gala Dinner and live auction at the Ritz- Carlton, Toronto. Over the past seven years, the event has run with between 20 and 30 participants and has raised more money on an annual basis than most charitable events that number in the thousands. For example, in 2011 the Rally raised more than $3 million for pediatric oncology, due in large part to the incredible generosity of that year's honorary chair, Kiss frontman Gene Simmons. "I'm extremely proud of everyone who has been involved, both from my organization as well as the sponsors and the fundraisers," stated Hock.
Other former Rally celebrity attendants include actor Kurt Russell, actresses Goldie Hawn and Eva Longoria, and NHL star P.K. Subban. SickKids sees about 25% of all pediatric cancer patients in Canada, boasting an 80% plus survival rate. Sadly, that means that roughly 20% of their patients will not make it, underscoring the need for successful fundraising events like the Rally. The hospital's research is not government funded, forcing them to rely heavily on local philanthropy to develop breakthroughs in cancer treatment and care. "The Rally funds are helping support our program in personalized medicine," said Dr. Jim Whitlock, Chief, Division of Hematology/Oncology at SickKids. "We're now in the second phase of a three-phase program to undertake a genetic analysis of the DNA for every patient with cancer who walks through the door at SickKids. This is not only going to change the way that we diagnose cancers, but also how we treat them."
Ask any past driver or celebrity participant in the Rally which pit stop is their favourite, and the answer invariably comes back: the one at SickKids Hospital. The stop gives participants an opportunity to meet, engage, and share time with patients. Meeting the beneficiaries of their generosity strengthens the bond between the fundraisers and SickKids, while allowing the participants to witness firsthand the courage and extraordinary determination exhibited by cancer-stricken children. "Ultimately, the stop at the hospital is the highlight of the day for everyone," said Hock . "That is why we're here. That is why we have worked so hard. It was part of our creative process to try and integrate and create some interaction between the drivers, the celebrities and the kids, just so people truly understand the premise of why they are having the best weekend of their lives, and why they have worked so hard to raise those kind of funds."
The Rally's unprecedented growth over such a limited time span has far exceeded the initial expectations of SWI, however the team has its sights set even higher for the future. Notably, October 2014 marks a major milestone for the Rally as it takes its show on the road to Nashville, Tennessee in support of Vanderbilt Children's Hospital. "This year's Rally will be one of the biggest and best," said Bobby Genovese, Chairman of the Board BG Capital Group, this year's event chair. "It is a can't-miss experience." For more information, visit www.rallyforkids.com