In addition to having a genuine passion for embracing the vintage cigar experience, I also enjoy helping fellow cigar enthusiasts mature their smoking experience. It always surprises me how little knowledge and education there is on the subject of vintage cigars. Look at fine vintage wines, spirits or even antique collectables. They are supported by enormous documentation and there is no shortage of experts and enthusiasts. However when it comes to vintage cigars, in this respect, it is a very different story. So when I come across another true, connoisseur of vintage cigars, it's like looking through a window into another era.
During one of our most recent cigar excursions at Havana House's 'Smokes and Strokes' 8th annual golf tournament, I had the privilege of Preferred Cigars sharing vintage experiences with Montreal's Casa De Habanos manager Antonio Marsillo. When in Montreal, I always stop in to their lounge and enjoy a few fine cigars from their dedicated vintage cigar walk in humidor. They keep the humidity at a lower setting and maintain a perfect climate to preserve a great collection. One of the real gems of this official Habanos retailer, is they are also stocked with a large selection of rare, vintage Cuban cigars. On top of sourcing, accumulating and selling these treasures, Antonio smokes them, too. This makes him not only knowledgeable about the subject, but a true retailing authority on vintage cigars in Canada. As a result of the proper attention and commitment to properly showcasing Vintage Cigars their staff and clients are also equally more verse on vintage cigars than what you will find at the average retailer. This is definitely a special place and worth adding to you vintage bucket must visit list.
The golf tournament in Toronto, was held this year at Bond Head. It has panned out to be one of the most anticipated events among lovers of Cuban cigars with a limited attendance of 200 Habano aficionados. During the course of the dinner, the 'Smokes and Strokes' organizer Roger Lanteigne from Havana House (Canada) hosted a silent auction of a large number of fine vintage Cuban cigars. This included our featured Vintage Cigar the San Cristobal de la Habana Muralla 2006 release. The bidders at the tables were indeed no strangers to vintage smokes. They included cigar enthusiasts invited from Havana House retailers from across the country. Every time someone lights up a rare, discontinued cigar like the one I smoked at this years event, in theory it only boosts the value. By objective definition, it becomes that much less available.
Most of those Vintage Cuban Cigars were inspected, bid on and then disappeared into people's bags. Perhaps in 20 years, they'll resurface at some other vintage tasting in some other part of the world. I can only hope I'm invited. The Havana House "Smokes and Strokes' event is extremely sought after and sold old months in advance. As part of my annual excursions, this is one date that I try not to miss. If you are fortunate enough to be invited to the next tournament, you should jump on it, as this is one of Canada's most exclusive vintage cigar events. This year I bid on seven or eight boxes and was able to walk away with five of them. These moments in time only come by once and you need to seize the opportunities as they present themselves. Another great event each year is the Habanos Festival, with 1200 delegates and a few celebrities from almost 80 countries around the world. There is also an auction at this event, but it is not for the weak heart as it raises over $1.3 million. In short, events and auctions are a great place to enhance your collection and meet others who share in your love for a truly matured smoke.
If you have any input or questions, please feel free to contact me at orion@preferredmagazine.ca and I will do my best to respond to them as I am able. May your Vintage Cigar journey be never ending and filled with treasured moments in time! In closing, remember a good vintage cigar is like tasting a good wine: you smell it, you taste it, you look at it, you feel it – you can even hear it. It satisfies all the senses…Please take the time to enjoy your next smoke and savor the experience!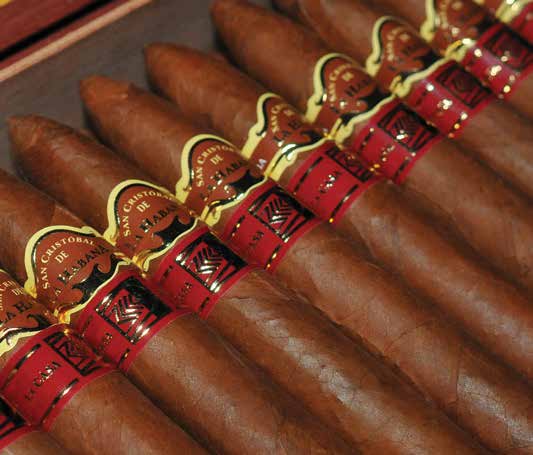 San Cristobal de la Habana Muralla This is a beautifully crafted cigar, most recognized by it two tone labels finished with a foil accent. The box itself is a higher quality crafted box and displays nicely in a collection. One of the most impressive qualities is the cigar smoke and draw, as it burns evenly and pulls nicely from start to finish. The earthiness is finely tempered with peppery hint, which is not too strong but evidently marks its performance on your taste buds. Reaching onto the mid part of the cigar the earthiness and woody character blend remains as the core flavor builds with a clean draw of smoke and great aroma. This cigar is better than when it was first released and matures to a medium body smoke with some hints of dark cherry. It is lighter than I tend to gravitate towards normally, but was still very enjoyable and a worthy addition to my collection. My Proffered Rating is 91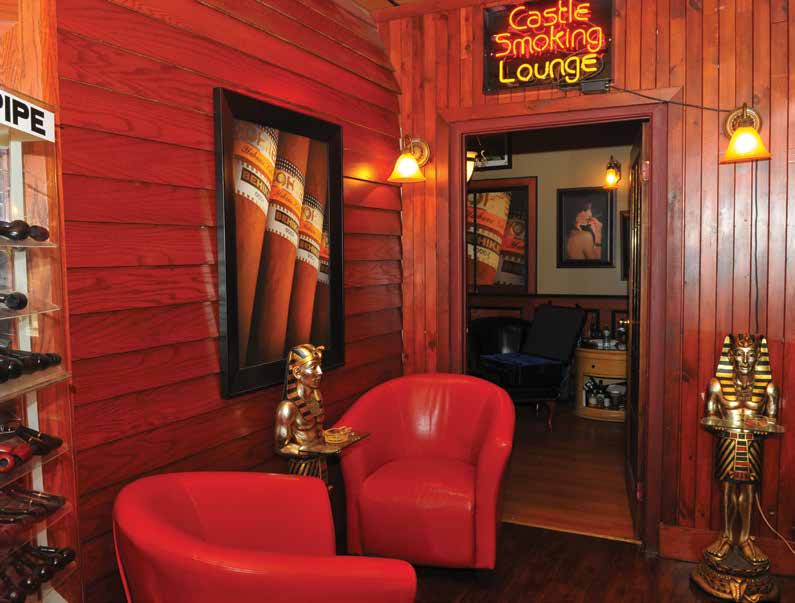 Two Locations to serve you:
48 Lakeshore Road West 84 Lakeshore Road East
Oakville, Ont. Port Credit, Mississauga
905-338-0540 | 905-278-333
Visit us at www.havanacastlecigars.ca