The award-winning airport lounge network reopens the doors to its Toronto Pearson Terminal 1 Domestic and Vancouver US Transborder lounges, adding more ways to make travel better during the country's busiest travel season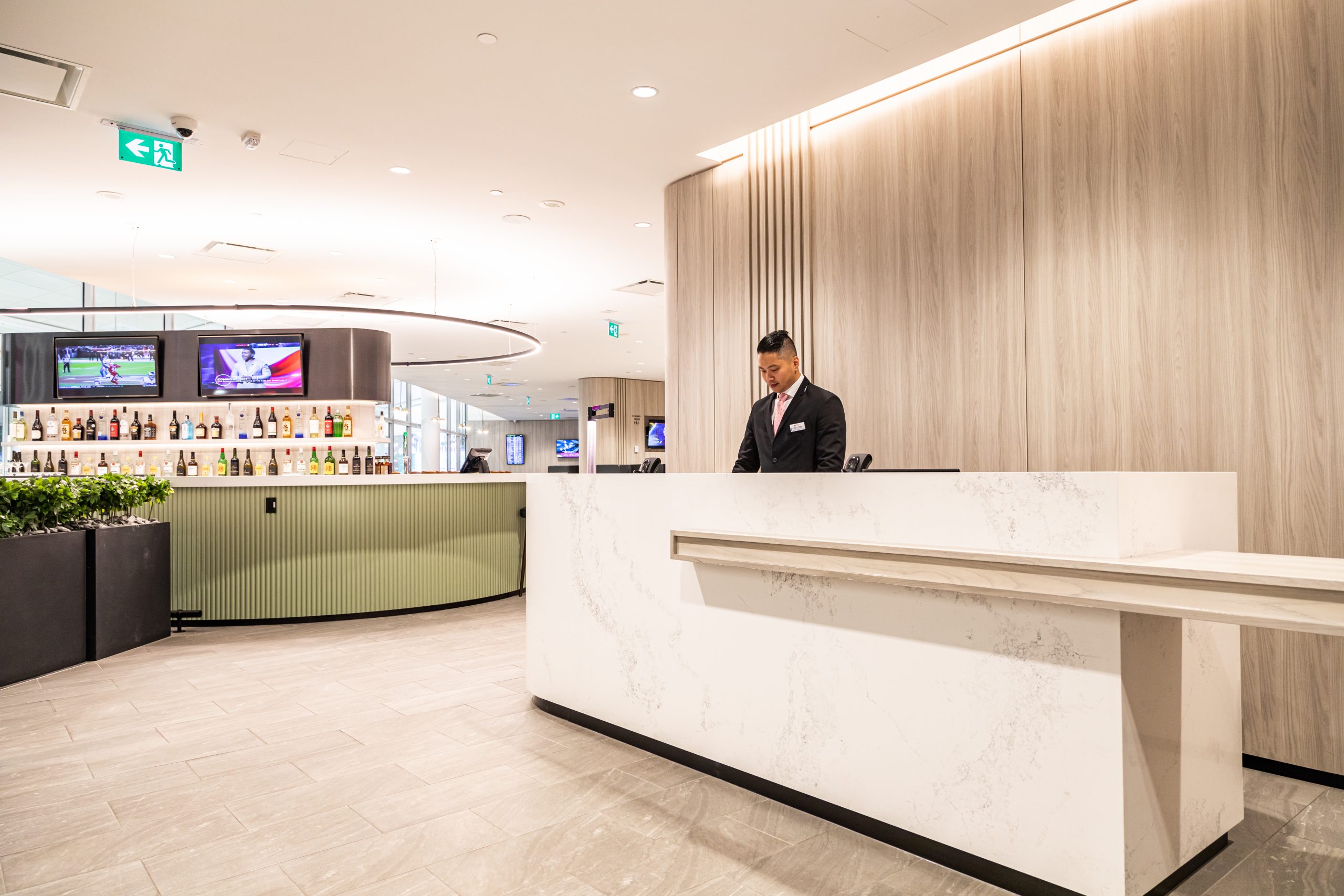 Hours of Operation
YYZ Toronto Pearson Renovated T1 Domestic Lounge 05:30 am – 20:30 pm daily
YVR Vancouver Renovated US Departures Lounge 05:00 am -20:00 pm daily
YVR Vancouver Root 98 Restaurant 05:00 am -20:00 pm daily
The new Toronto Domestic Lounge, Vancouver US Transborder Lounge and
Vancouver Root98 restaurant is now open to global travelers and passes are
available to purchase on plazapremiumlounge.com
Plaza Premium Lounge (PPL) is excited to announce two updates to its hospitality airport services with the opening of newly renovated lounges in Terminal 1 Domestic departures at Toronto Pearson International Airport and at Vancouver International Airport servicing US departures. The newly renovated lounges have arrived just as PPL sees a 570% increase in its airport lounge services across its Canadian network as compared to November 2021. In addition, Plaza Premium Group (PPG) has added Root98, the group's premium airport dining destination to Vancouver's US transborder terminal to suit every traveler's needs during the holiday travel season.
"We are excited to unveil these newly renovated lounges at a time when travelers need it the most",

said Pascal Bélanger, Senior Vice President of Business Development and Operations for Plaza Premium Group.
"The mission of Plaza Premium has always been to offer guests an elevated and comfortable airport experience no matter their ticket status and with the reopening of our T1 Domestic and US Transborder lounges, this will help us to further democratize the airport lounge experience for those traveling to and through Canada's largest cities".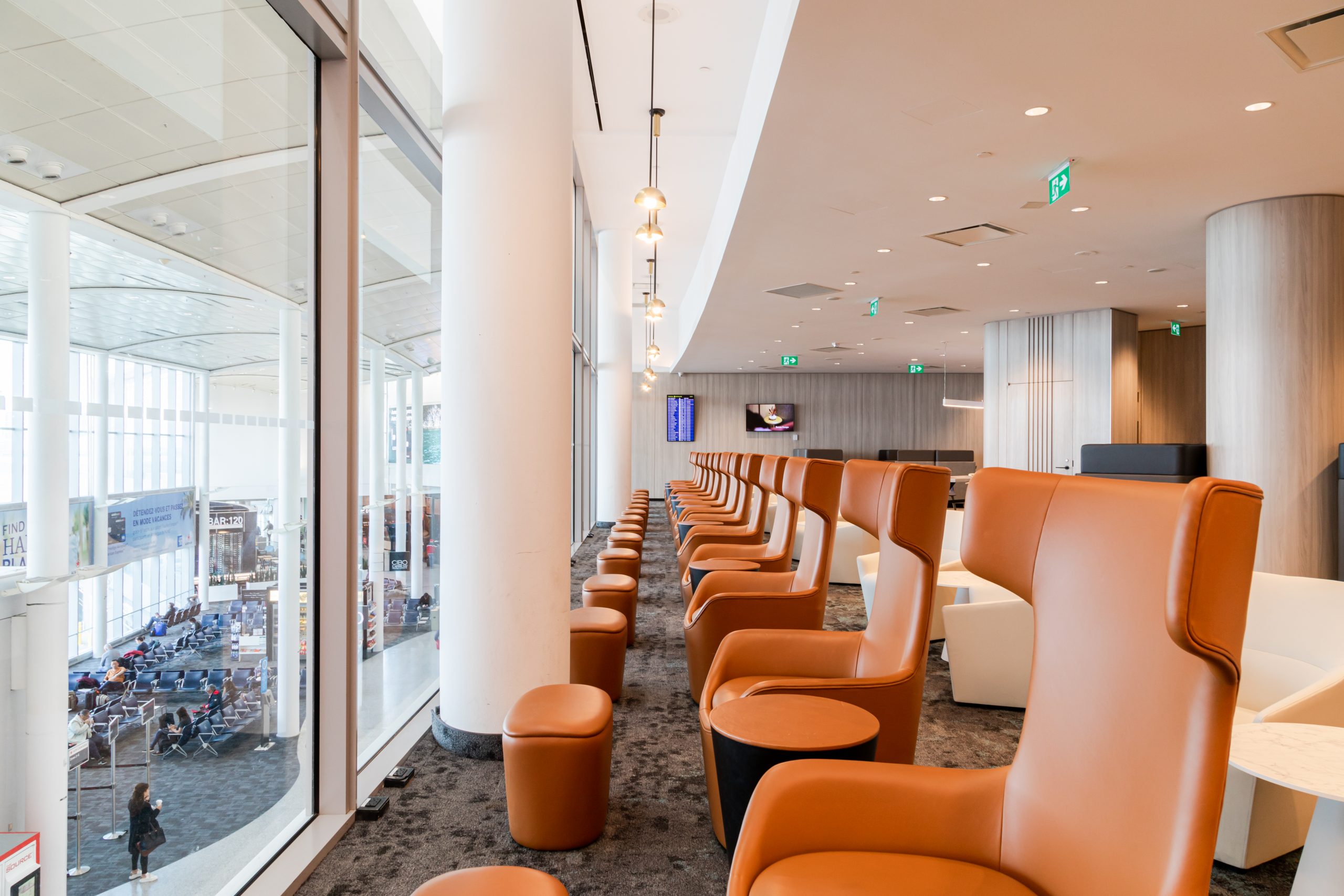 Conveniently located  just past security screening, the new lounge now expands to over 4,900 square feet and can seat up to 120 guests. Comfortable sofas and leather covered swivel chairs provide the ultimate relaxing environment while plush carpeting, soft lighting and high-end design features present a warm and inviting environment. Guests will receive premium hospitality services and amenities such as WI-FI, charging stations, flight information displays, TV services, shower room, baby changing stations, printing and photocopying services* and much more. 
"It's always a pleasure to work with like-minded partners, and Plaza Premium's focus on the passenger is on full display in its newly renovated lounge at Toronto Pearson," said Ian Clarke, Chief Financial Officer and Acting Head of Commercial and Business Partnerships at the Greater Toronto Airports Authority.
"Just in time for the traditionally busy holiday travel season, Plaza Premium's new lounge is a welcomed addition to Toronto Pearson that will contribute strongly to our end goal of continually elevating the passenger experience."
New to the Plaza Premium Lounge network in Canada, the T1 Domestic Lounge will be the first to offer guests the opportunity to upgrade their entry fee to gain access to a newly added exclusive VIP area. This new service located in the lounge will provide guests with their very own private oasis by reserving a dedicated seating area that includes elevated privacy thanks to elegant partitions and dividers, special snacks, premium beverages selection, shower access and dedicated bar. The new VIP service can be added on to a guest's entry fee for as little as CAD $19.99.
Guests can now indulge in a wide variety of cuisines, from Asian to American, through dishes crafted to perfection. Plaza Premium Lounge offers all guests the experience to enjoy freshly made meals while catering to all dietary choices upon request such as: vegetarian, gluten-free, a dedicated kids menu and more. All guests visiting the lounge can expect to receive complimentary coffee, tea and soft drinks and have the opportunity to browse through a selection of house beer and wine. While visiting the full-service bar, travelers can also indulge with a Premium Pour menu that includes delicious signature cocktails.*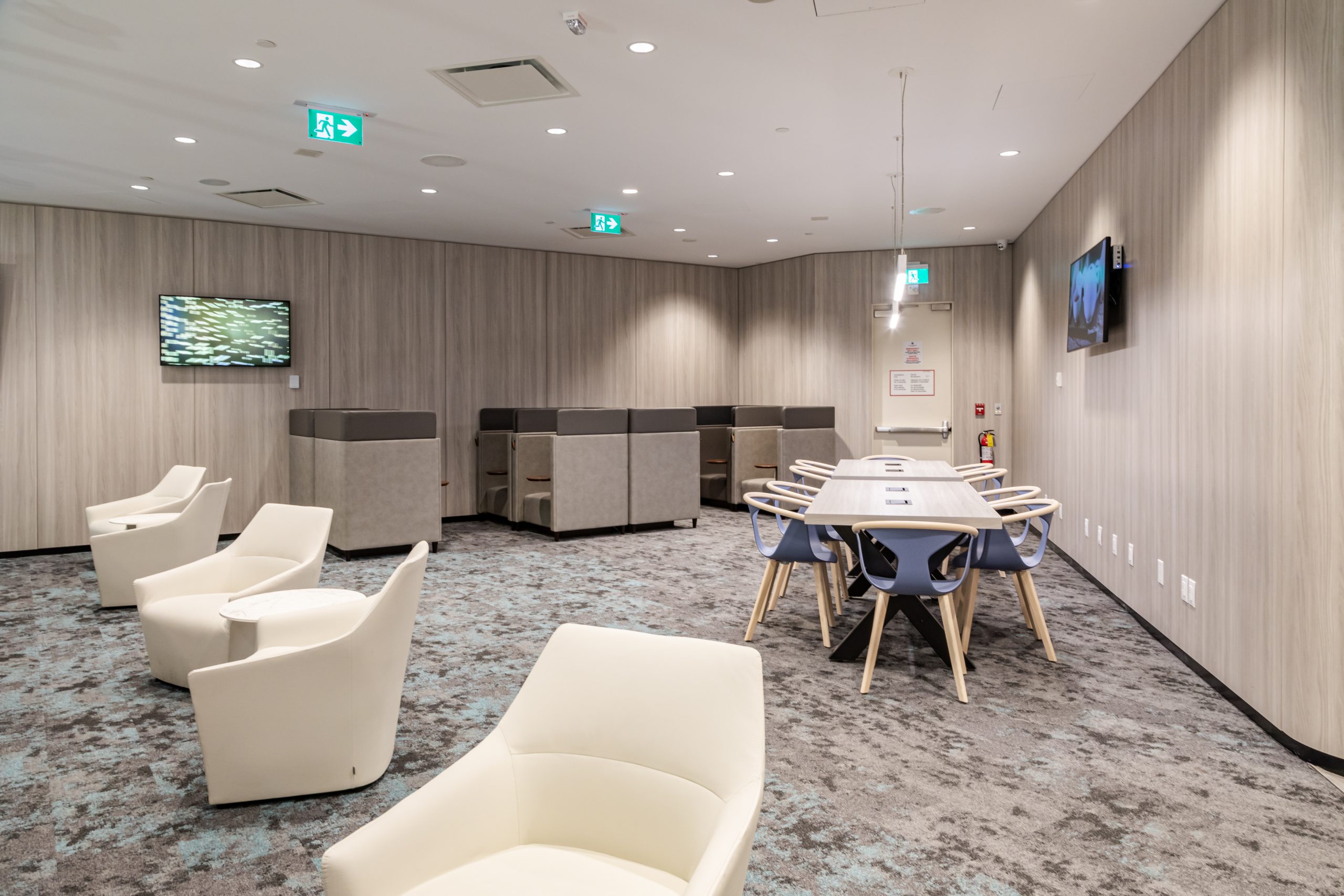 YVR Vancouver Renovated US Transborder Lounge
The newly renovated lounge in the US Transborder Terminal has been expanded to accommodate 132 guests, double the amount based on its previous layout thanks to an added 2,000 square feet. 
Upon entering, the new lounge offers a restorative environment with the help of a contemporary and refined design featuring clean-lined wood paneling,  soft neutral tones, and forest green accents to reflect the natural environment of Vancouver.  Unique screen partitions, a feature ceiling over the bar and unique light fixtures add a touch of brass, elevating the space to exude refined luxury. A thoughtful floor plan design of the main lounge has a variety of zones, including a dining area, as well as a lounge area and bar, creating a natural focal point for the space. Clusters of lounge seating are spaciously located, offering guests a non-intrusive atmosphere and a sense of privacy. New amenities include a nursing room along with added shower rooms, a full service bar featuring premium drink offerings* and an updated dining menu. 
In keeping with Vancouver's green initiatives, sustainability has been carefully woven throughout every aspect of the design approach. Locally sourced reclaimed and FSC certified wood products are used throughout the space, as well as upholstery and solid surface countertop materials containing recycled materials. 
YVR Vancouver Root 98 Restaurant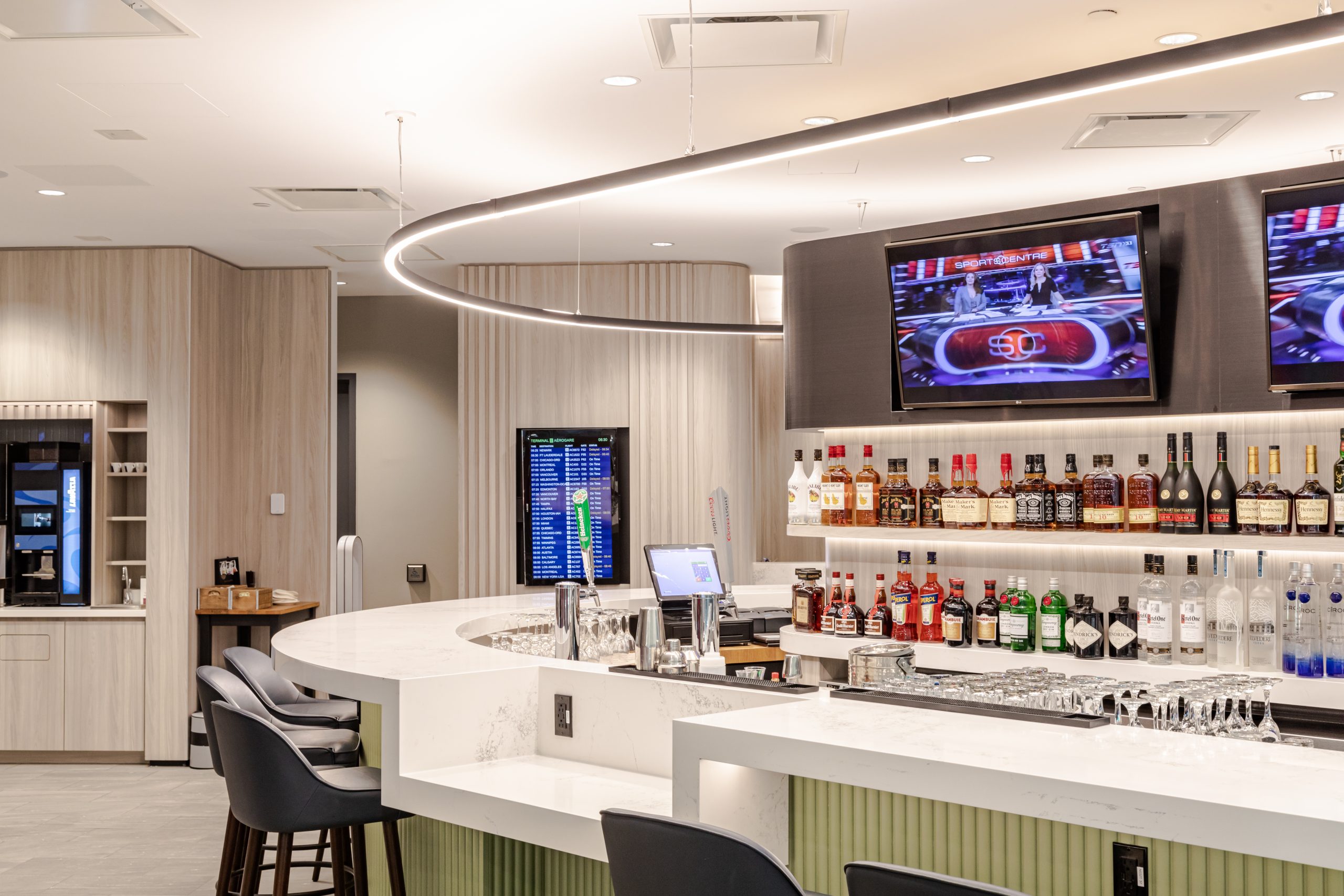 Root 98 is Plaza Premium Group's premium airport dining experience. A herbs and seeds inspired dining concept, it is designed to suit and accommodate every traveler's dining tastes and needs by offering an international culinary selection. Taking reference from the word's "origin" and "beginning," "route" is a play on the airport journey travelers will embark on, while "98" pays homage to the year Plaza Premium Group was founded. The concept places emphasis on the theater of artistically plated dishes through live preparation experiences and a combination of delightful flavors. Bringing light to the importance of well-being, health and nutrition education is weaved into the design to promote better eating habits and lifestyle changes.
Benefiting from a corner location, the design is open and inviting, enticing the traveler to sit down or make a purchase to go. Behind the front counters, packaged goods for purchase are displayed in a décor punctuated by green potted plants. A bronze canopy frames each of the spaces, and colorful graphics illustrate the concept inspiration.
The new Root98 location features two components. The Marketplace invites travelers to sit down, relax and take in a warm meal before embarking on their journey while the Grab & Go offers a variety of healthy and tasty packaged meals to take on the go and enjoy either in flight or upon arrival.