Men more than ever are taking steps to preserve their youthful appearance and the selection of skincare products on the market has risen. Quality skincare is one of the most powerful tools we have against common skin issues like wrinkles, acne, and even sun damage.
Effective skincare takes more than just washing your face with soap and water. Like anything worthwhile, having great skin involves using great products along with commitment, consistency, and care. Now if you are already using anti-aging skincare, wouldn't you want it to be from a skincare brand that is ranked #1 in North America? What about if you suffer from acne? Wouldn't you want to be using products from the #1 acne brand to achieve really effective results?
There is one skincare brand that has taken the skincare market by storm in the last 10 years as the #1 fastest growing skin care brand in the US and Canada . Rodan+Fields is the skincare brand you should definitely be aware of. Started by two Stanford trained dermatologists who also previously
created Proactiv (a skincare line designed to target acne-prone skin), Katie Rodan and Kathy Fields began the skincare company Rodan+Fields in 2000. Their products are sold online through independent consultants across the US, Canada, and Australia.
Surpassing the major department store brands like Clinique, Lancome and Estee Lauder, Rodan+Fields acquired the title as the number one skincare brand in North America as of 2016 .
So what makes these products so phenomenal? The doctors' Multi-Med Therapy approach to their products. Building a skincare routine from ground zero takes only a few simple steps and they've laid it all out for you in their easy to use regimens or kits. The kits are designed to treat the most common skin concerns in 4 simple steps. So simple that the steps are even marked on each product in the kit.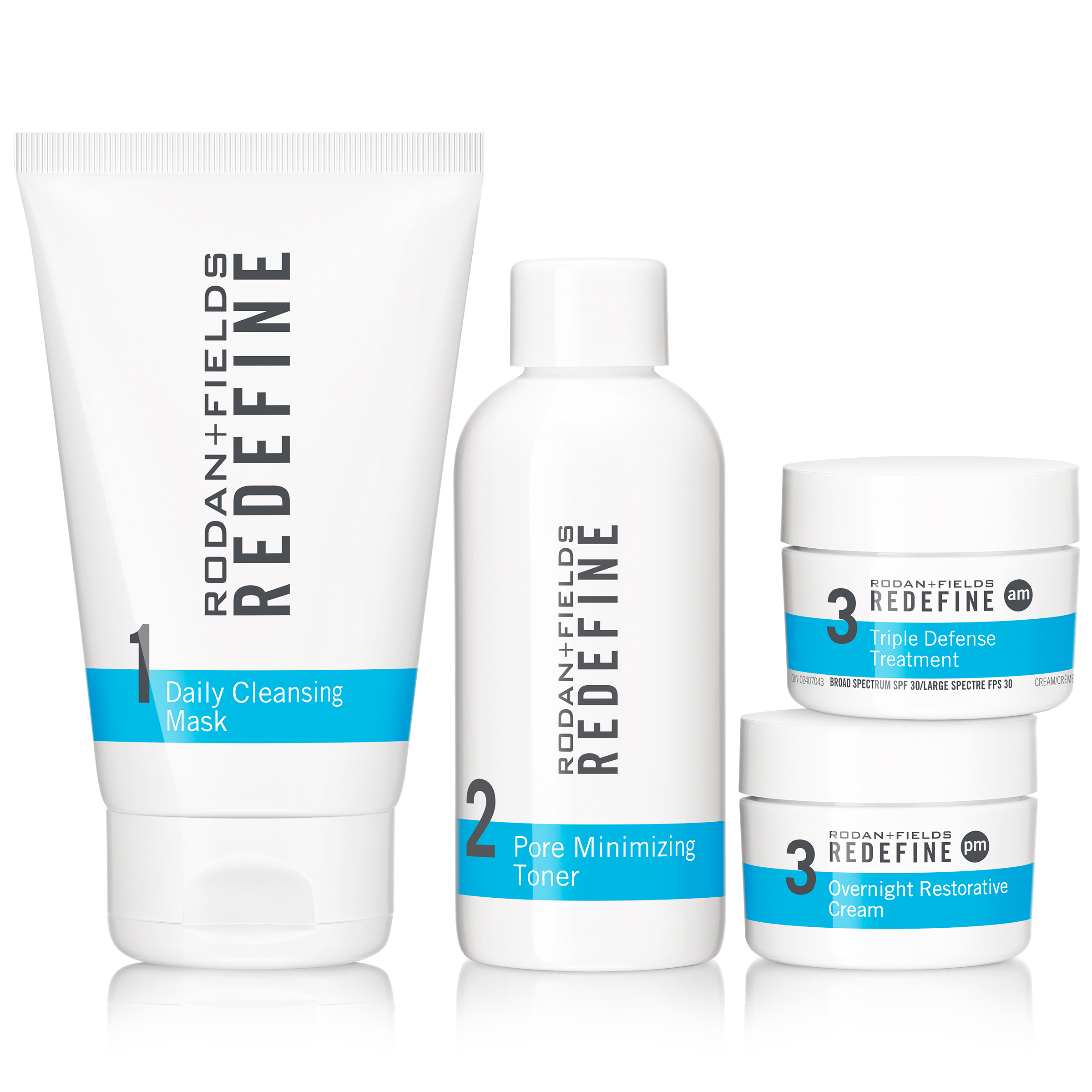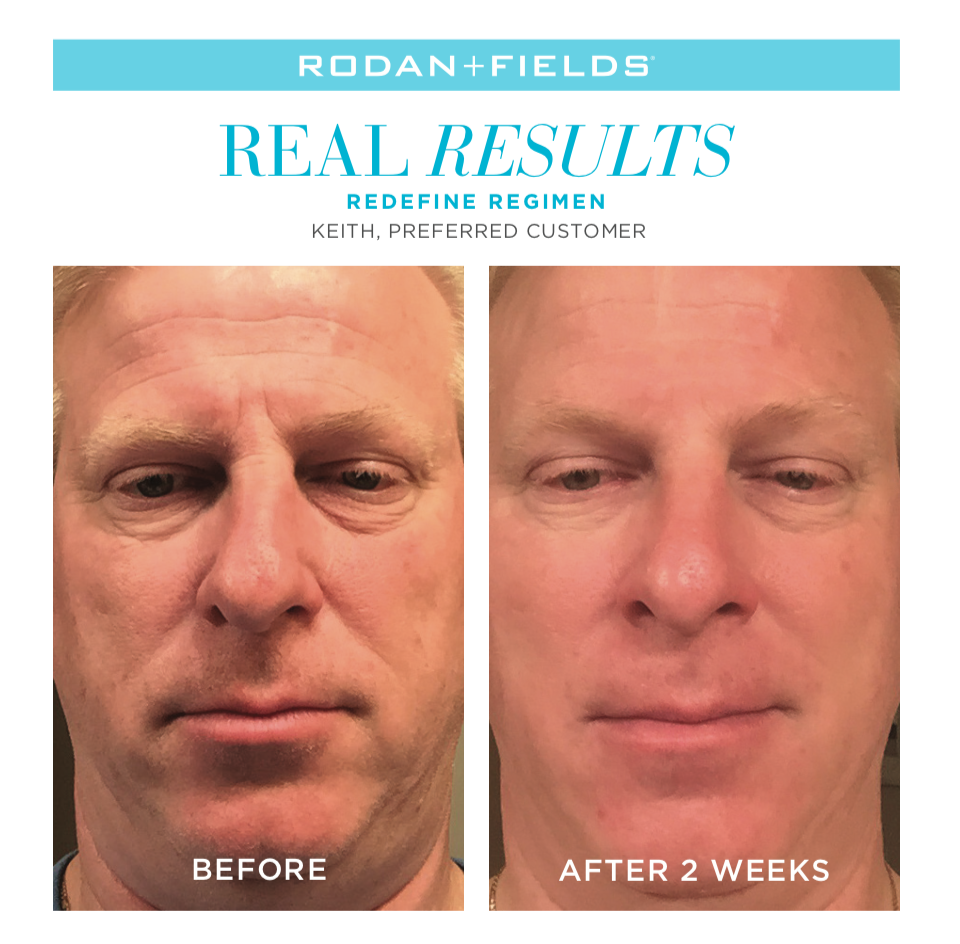 Anti-Aging:
Redefine is the skincare regimen that addresses lines, wrinkles, loss of firmness, large pores and helps users get smoother, firmer-looking skin. The kit includes all three necessary steps (cleansing, toning, and moisturizing) and all the key anti-aging ingredients you would want to have in your anti-aging products in high concentrations. Ingredients such as Kaolin Clay in the face mask draws out impurities and gently exfoliates for smoother skin; Polyhydroxy Acids to reduce the appearance of pores; potent Peptides and Hyaluronic Acid help smooth the look of lines; while Vitamins A, C, and E repair the skin's moisture barrier in the AM and PM moisturizers.
Brown Spots, Dullness and Discolouration:
When the harmful effects of the sun have left your skin with too many freckles, age spots and brown marks, there's REVERSE. This very exfoliating regimen effectively sloughs away dead and discolored skin giving you a brighter and smoother complexion.
A combination of pharmaceutical and natural ingredients help brighten uneven skintone. The Dual Active Brightening Complex is packed with vitamin C and retinol reducing the appearance of skin discoloration, fi ne lines, and wrinkles.
Acne:
If acne is still plaguing you as an adult, Unblemish for Adult Acne is your solution. Unblemish is ranked the #1 premium acne brand in the US and Canada. Formulated specifically for adult skin experiencing breakouts and signs of aging, this 4-step Regimen gently and effectively clears acne, unclogs pores, and prevents future blemishes while it visibly smooths, fi rms and improves the appearance of pores and fine lines.
Source: Euromonitor International 2018
"Get Your UNBLEMISH Regimen For Acne, Blemishes And Breakouts | Rodan + Fields®." Rodanandfields.com. N. p., 2019. Web. 4 May 2019.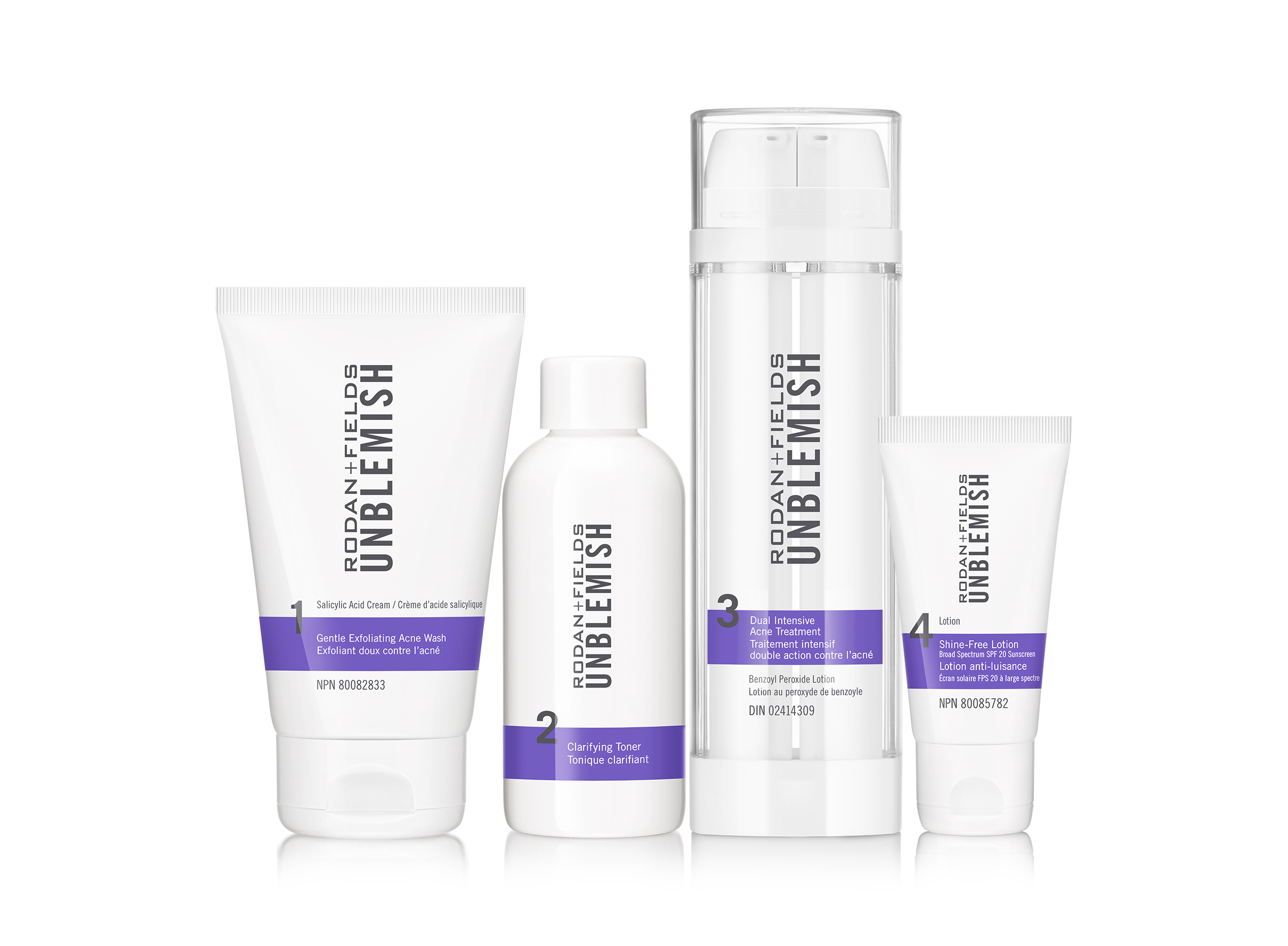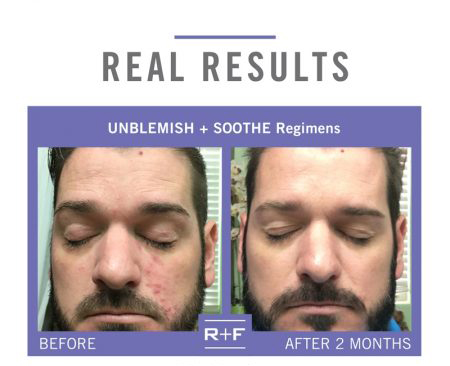 For Sensitive, Dry Skin and Facial Redness:
Do you get irritation from shaving like razor burn, bumps, and redness? If environmental triggers like cold weather, heat, wind, sun exposure, and in-office cosmetic procedures have your skin screaming red and sensitive, soothe is the regimen for you. Soothe is designed to calm sensitive skin, heal dry, chapped or red-looking skin yielding a healthier, more even-toned complexion.
And if you've got people asking you "Have you been getting enough sleep?" because of the dark circles and puffiness around your eyes, Rodan+Fields also has a line of enhancement products including the Multi-Function Eye Cream and Active Hydration Bright Eye Complex which target lines, wrinkles, dark circles and puffiness.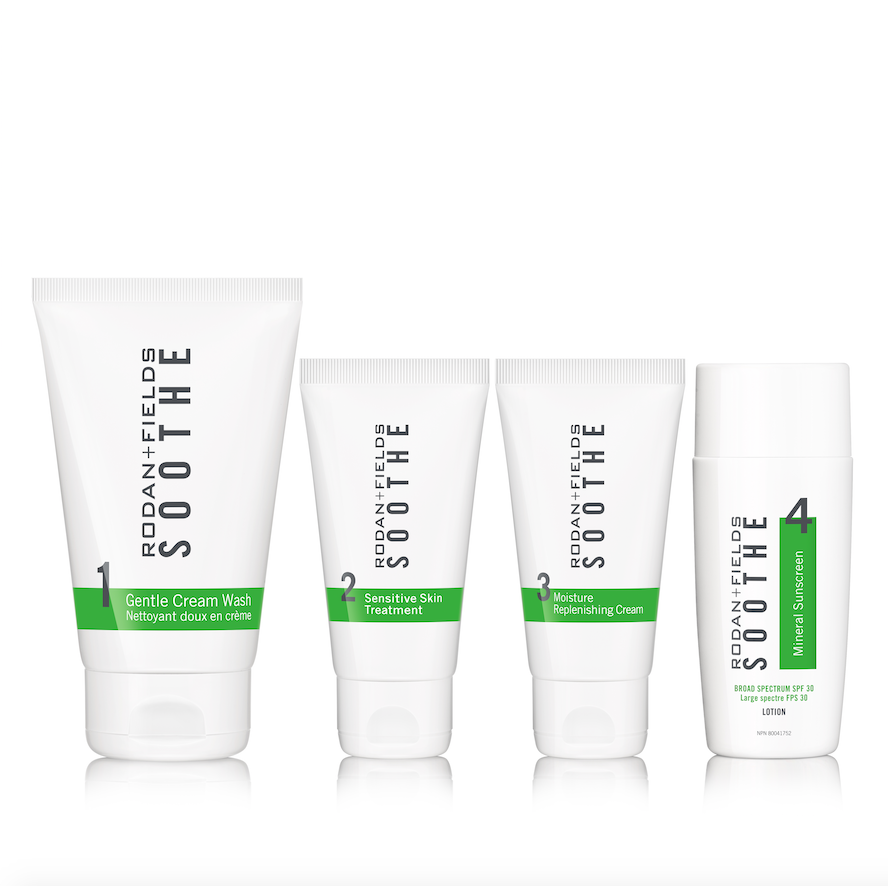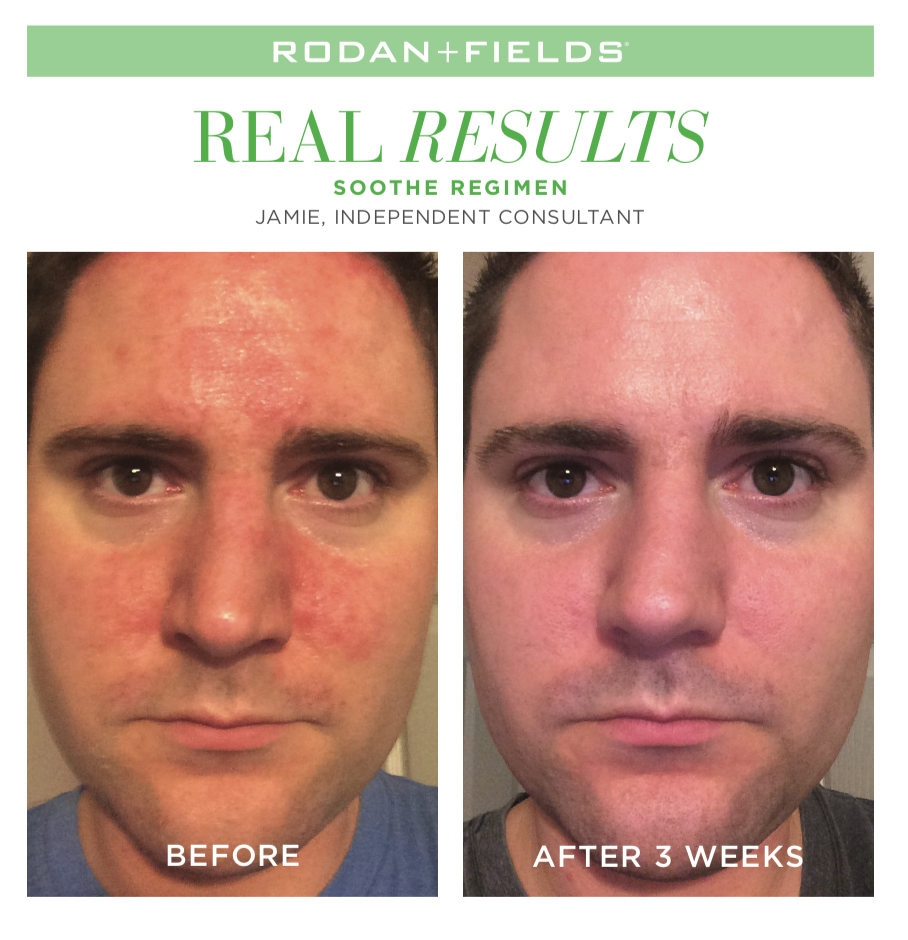 In a couple simple steps, you'll be surprised by how much of a difference you'll see after a few weeks of following them. The chances are, once you see your face after using a proper cleanser and moisturizer, you won't ever want to go back.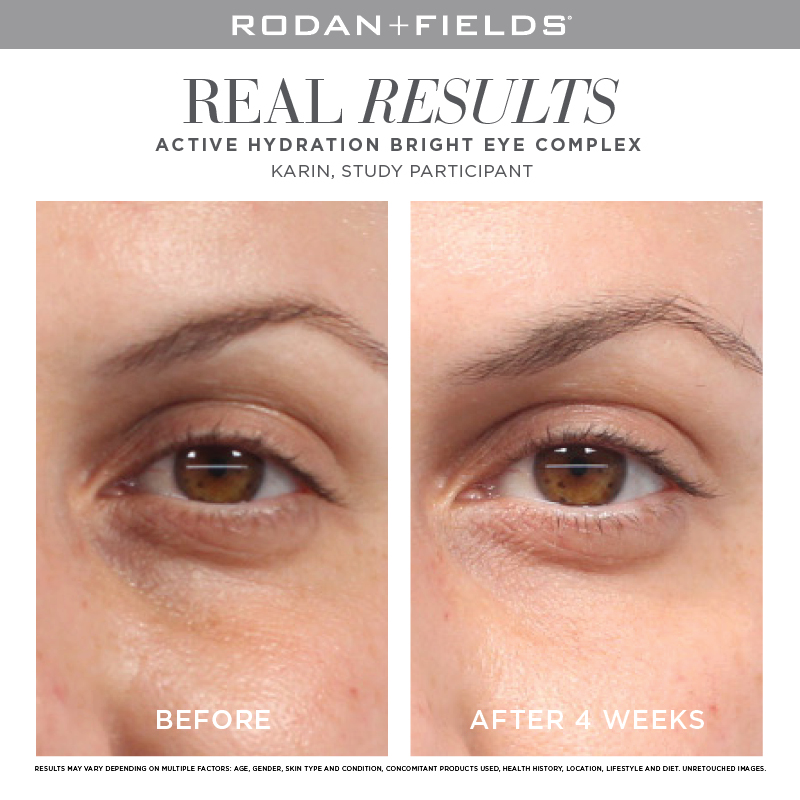 For more information about the Rodan+Fields products, go to preferredmagazine.ca/rodanandfields or teresagreco@preferredmagazine.ca 
Before and After Pictures Disclaimer:
"Results may vary depending on multiple factors: age, gender, skin type and condition, concomitant products used, health history, location, lifestyle and diet. Unretouched photos."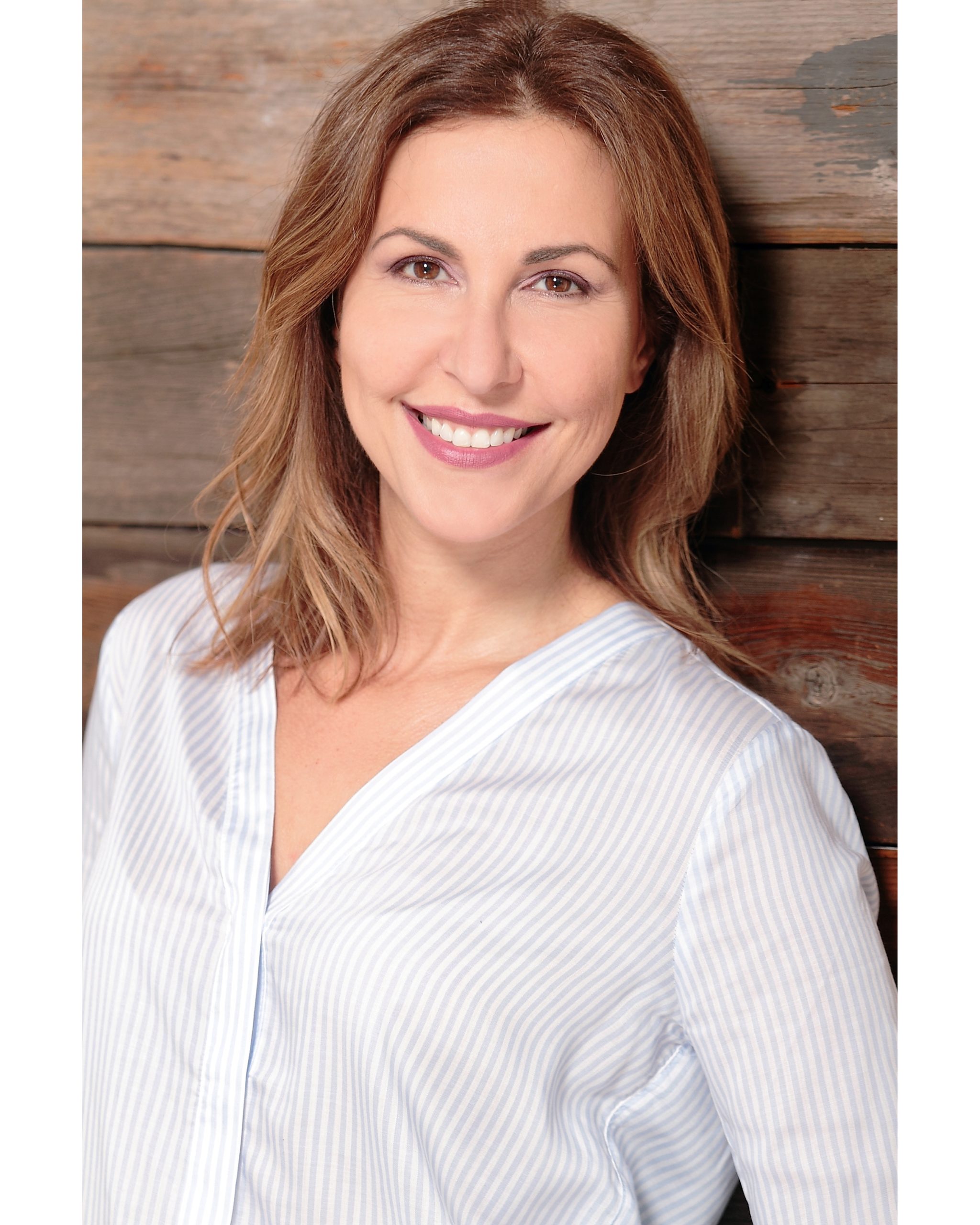 Teresa Greco, B.A., B.Ed., M.Ed

Lifestyle Editor at Preferred Magazine