REACHING NEW HEIGHTS WITH THE BREVA GÉNIE 02
The old adage of 'time on your hands' has taken on a whole new meaning for Swiss watchmaker, Breva Genève with their follow-up series Génie 02 Air and Terre model mechanical wrist watches that not only display time, but measure altitude and temperature and can predict the weather using tiny moving parts.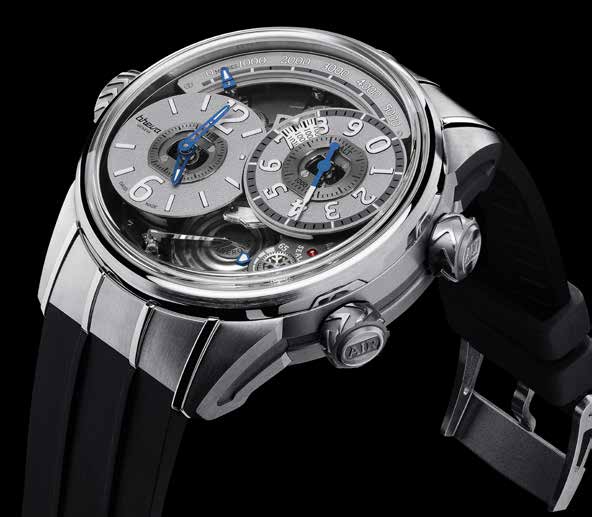 Fetching a hefty US $132,000, these mechanical marvels are the world's first timepieces that combine luxurious craftsmanship with the practicality of a fully functional, high-performance altimeter. Following on the heels of the Génie 01 collection held as 'mechanical weather stations for the wrist', the new offering from Breva is a more accessibly priced variant of the same movement but with the added bonus of a built-in altimeter that can measure altitudes of up to 5000 m or 16,400 ft.
How do they do it? Teaming up once again with mechanical movement master Francois Mojon and his team at Chronode, a new set of aneroid capsules were especially developed for the Génie 02 to derive altitude from air pressure. The capsules are made from a special non-magnetic memory-metal (Breva patented invention), which is lighter and stronger than aluminum and has twice the ductility of steel. When the crown at 4 o'clock marked 'Air' is unscrewed, the capsules receive a deep breath of fresh air and begin to expand and contract accordingly. Simultaneously, a high-precision arm goes to work multiplying by 200 times these small movements and relaying the calculated air pressure to the two altitude indications.
Highly intuitive and easy to read, the impressively stylish 44.7mm x 16.1mm Génie 02 Air and Terre are extremely comfortably on the wrist thanks in part to their titanium construction. Available with calibrations in either meters or feet, both designs house the names of prestigious ski resorts − Aspen, Vail, Las Lenas, Gstaad, St Moritz, Zermatt, Courchevel, Cortina, Kitzbuhel, and Lech − along with their altitudes around the perimeter of the case-back. Nicely done Breva!
A Preferred watch pick, the Breva Génie 02 Air and Terre are a unique breed of ultra-luxury timepieces for man with the active lifestyle looking for a distinctive mechanical backup to their traditional electronic gear.
For more information, visit www.breva-watch.com.