WRITTEN BY GERALD GLAVOTA
An exceptional new single-malt Scotch whisky from world-renowned Scottish distillery The Macallan is set to hit Canadian retail shelves in the coming weeks. Created to "reveal the story of Scotland's world-famous Hogmanay festivities and capture the universal joy of celebrating the change of year," The Macallan's A Night on Earth in Scotland is the first in an exciting new annual limited-edition gifting series.
A Night on Earth in Scotland is an absolute joy to the senses. Its warm ember colour is a fitting prelude to what awaits you, like the overture to a classic opera. Your nose is caressed immediately by soothing scents of vanilla, rich butter, baked apple, baking biscuit, plum, and almond. As far as initial taste, your palate will experience a soft, velvety sweetness reminiscent of shortbread that coats your entire mouth – along with the sweetness of vanilla, lightly toasted marshmallows, dried oranges, figs, and cinnamon. Its 'medium finish' brings sweet butterscotch and freshly baked biscuits that delightfully linger.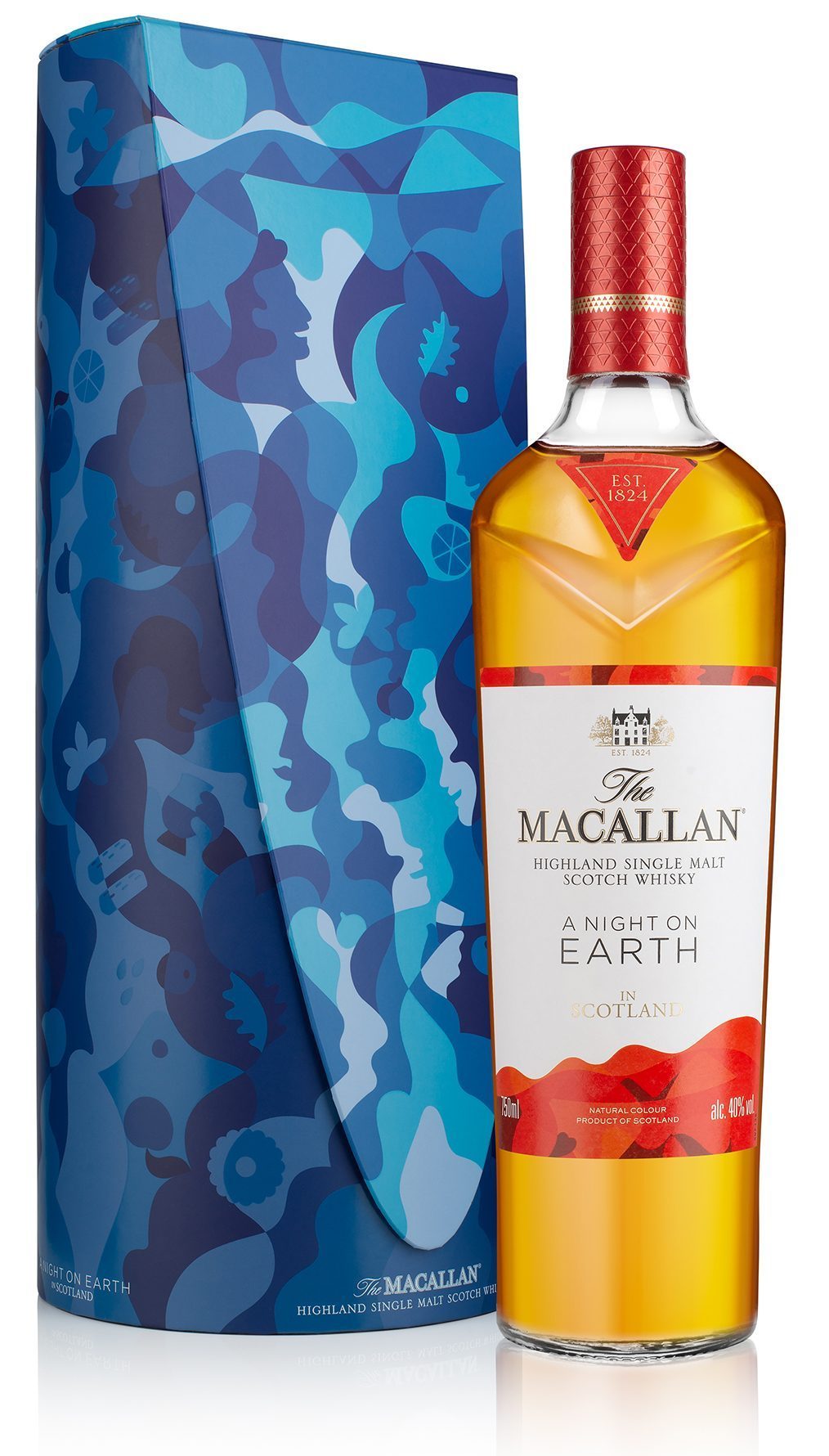 In collaboration with acclaimed Japanese-French illustrator Erica Dorn this new single-malt offers a multi-layered packaging concept that provides an exceptional unboxing experience. Dorn has previously created designs for some of the world's leading luxury brands and is known for her work on Wes Anderson films. Dorn's playful, abstract illustrations are inspired by the historic fire rituals dominant in New Year's celebrations worldwide. The unboxing also reveals some of the distinctive customs of Scotland's Hogmanay, including the tradition of 'first footing' when it was good luck for a dark-haired visitor to be the first one to enter your home after midnight while bearing symbolic gifts – such as coal, Scottish shortbread, and of course, whisky – each aim to bring comfort and happiness during the year ahead.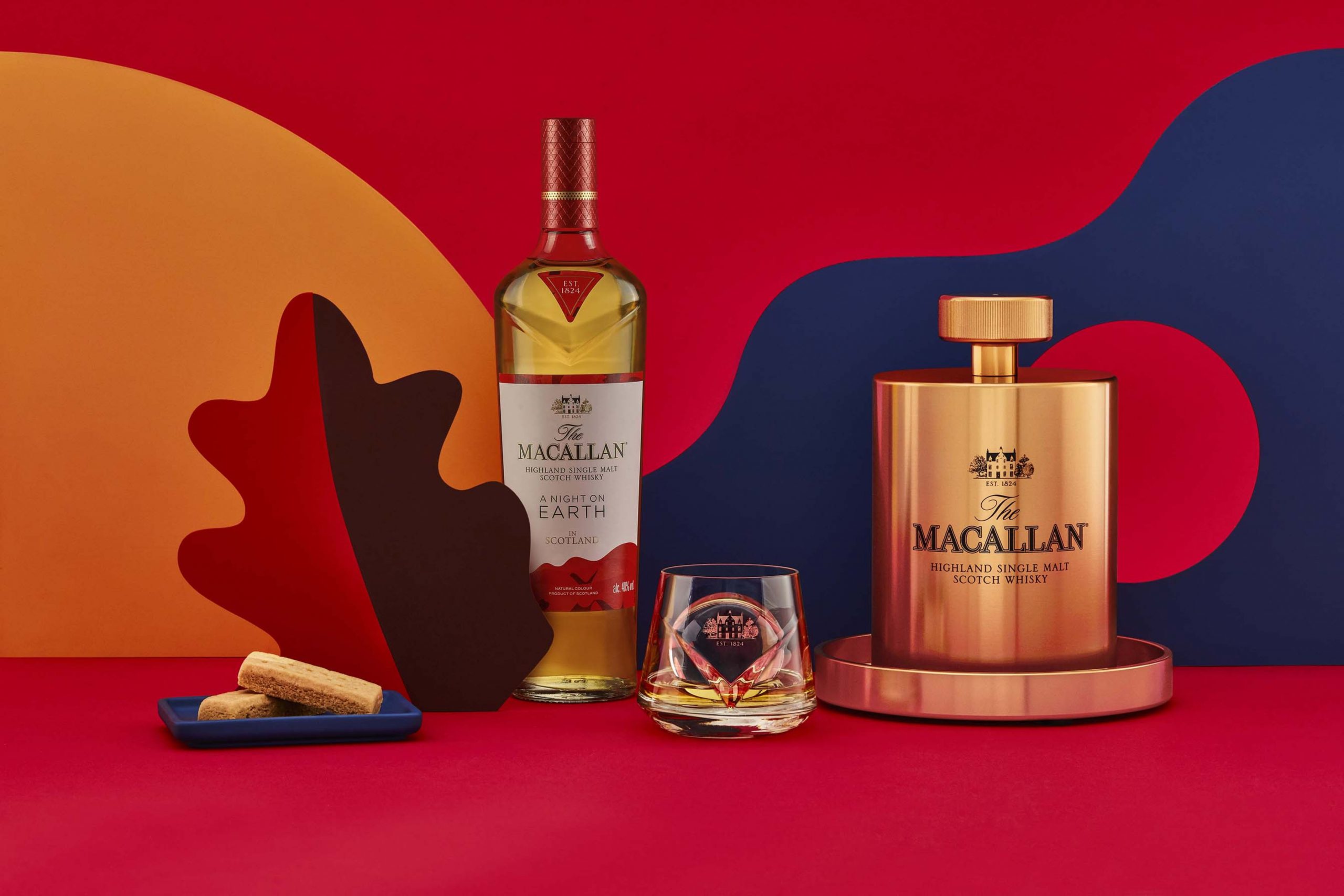 Other design elements focus on the flavours found within this remarkable whisky crafted by The Macallan's Lead Whisky Maker, Sarah Burgess, who drew on fond family memories of Hogmanay to create an evocative single malt. "Crafting A Night on Earth in Scotland has been an extremely personal experience for me, which took me back to growing up in our family home in Speyside, just across the river from The Macallan Estate," she revealed. "The whisky's vanilla sweetness references the rich Scottish shortbread traditionally gifted and eaten at Hogmanay, while notes of dried orange and spice recall the flavours and aromas that filled our house throughout the festive season."
The Macallan Brand Ambassador Cameron Millar explains further: "This very special single malt was created from a selection of The Macallan's exceptional sherry-seasoned American and European oak casks, along with American ex-bourbon barrels which deliver that rich, sweet shortbread-like character. With a soft, velvety mouth feel, it showcases the skill of our whisky maker, and The Macallan's commitment to craftsmanship and uncompromising excellence."

Founded in 1824, The Macallan was established by Alexander Reid on a plateau above the River Spey in northeast Scotland. In 2018, it opened a new chapter in its history with the launch of its award-winning Speyside Distillery. A Night on Earth in Scotland will be available in 750 ml bottles at a suggested retail price of $175 per bottle with an ABV of 43%.
For further information please visit