Do you know where you can meet Hollywood stars? No, not in Hollywood, but in Canada, in southern Ontario, in the Muskoka region. Here is an unexpected twist: the rich and famous have long favoured the Muskoka area. The figure of Steven Spielberg, Cindy Crawford, or even Madonna, can be seen behind an elite cottage or estate fence. The "Canadian Beverly Hills" attracts tourists from all over to Muskoka.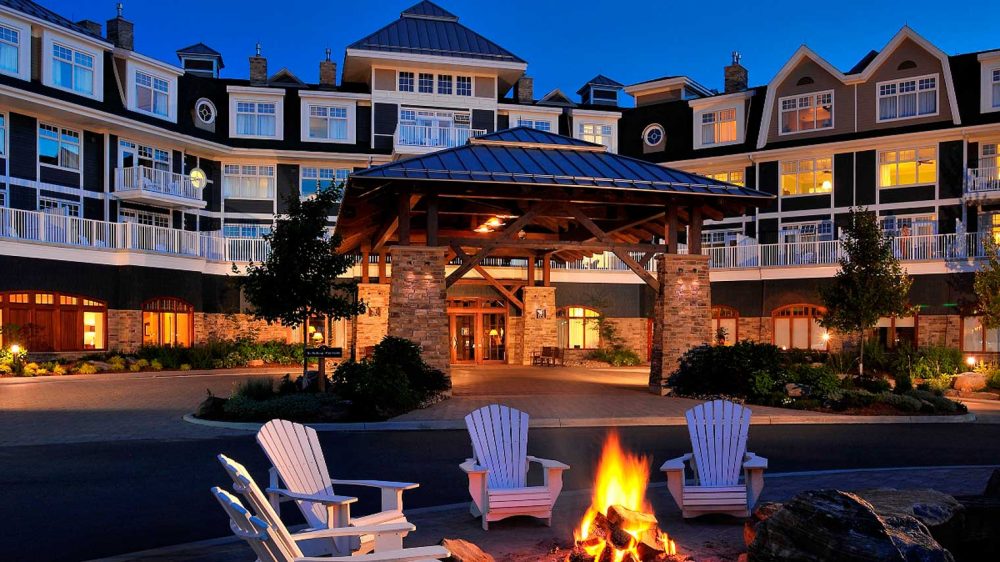 You are probably wondering what makes the properties on the list below the best out of all, and what is so special about them that they deserve to be your primary choice? What makes these hotels and resorts unique and worth your stay? To help you with an answer, they are in Muskoka.
The Muskoka area is a unique place, even for Canada. Nature and untouched ecosystems are what distinguish this tourist area from dozens of others. Just a couple of hours north of Toronto, and you are face to face with mother nature. These places, the homeland of the Iroquois, Ojibwe, and Hurons, were very much loved by Ernest Hemingway and Fenimore Cooper, who mentioned them in their works. The Muskoka region is named for the Ojibwe chief who resided there, Mesqua Ukie, 150 years ago. It is here that the largest and most elite estates (cottages) of Muskoka are located, and property prices on these lakes are among the highest in Canada, along with the ski resort area of Whistler, in the province of British Columbia.
Do you still need more exciting information to fall in love with this area?
Proceed with caution. You might end up ordering a room in one of the suggested outstanding hotels with impeccable service and be on the way to making unforgettable memories right after the reading.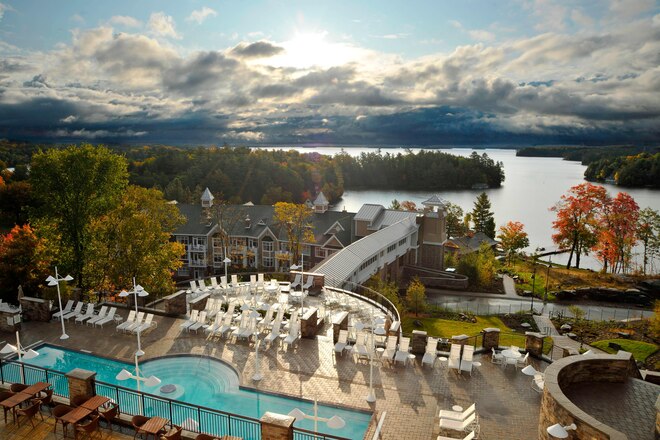 JW Marriott The Rosseau Muskoka Resort & Spa
You will feel at home thanks to the services offered by this hotel. The Rosseau, A JW Marriott Hotel provides guestrooms appointed with a flat-screen TV, a kitchenette, and a refrigerator. Guests can connect to the Internet at any time thanks to free Wi-Fi. The hotel offers room service and Concierge service to make your stay even more enjoyable. Guests arriving by car have access to free parking.
The hotel features two outdoor swimming pools and three spa baths, as well as an indoor pool. Recreational amenities at the hotel include a private beach, a steam room, a 24-hour fitness center, and a children's pool.
Spa Rosseau has treatment rooms, including for couples. Services provided include facials, body wraps, body scrubs, and body treatments. The Spa offers a range of therapeutic treatments, including aromatherapy. The Spa also features a sauna and steam room. The Spa is open daily.
The property is currently applying enhanced security measures to protect guests, using enhanced sanitation measures, and following internal and government guidelines for sanitation by the Global Cleanliness Council (Marriott). While staying at JW Marriott, you may want to visit some restaurants near the resort, such as Teca (0.0 km), The Rock Grill and Patio (1.1 km) and Pie (0.5 km).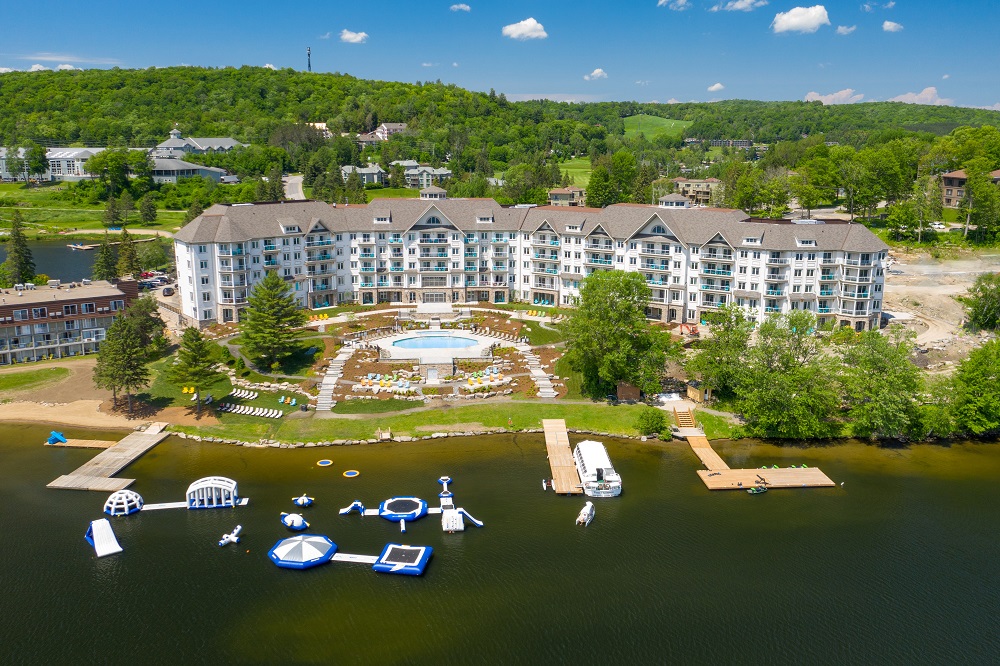 Deerhurst Resort
Deerhurst Resort is a two-hour drive north of Toronto. Its history began back in 1896, and in 2010 it became the venue for the G8 summit. Every evening, guests can enjoy live performances by artists. It was here that the career of the famous singer Shania Twain began. The resort hosts prestigious Golf tournaments, cross-country and triathlon competitions, and even the Canadian ice hockey championship on the lake.
Deerhurst Resort is an excellent choice for Huntsville guests. The family atmosphere and many useful services will make your stay very pleasant. Rooms are equipped with a flat-screen TV, air conditioning, and a kitchenette. Guests can be online at any time, thanks to the free Wi-Fi that the resort offers. Deerhurst Resort Huntsville provides a 24-hour Front Desk and Concierge service to make your stay even more enjoyable. It also features a swimming pool and a restaurant. Free parking is available for those who drive to Deerhurst.
If you are looking for a place to eat nearby, go to Eclipse Dining Room (0.1 km), Compass Grill & Bar (0.1 km), or the Antler Steakhouse (0.8 km), located near Deerhurst Resort Huntsville. If you have enough time, visit the popular Hidden Meadow Farms attraction, which is a short walk from the resort.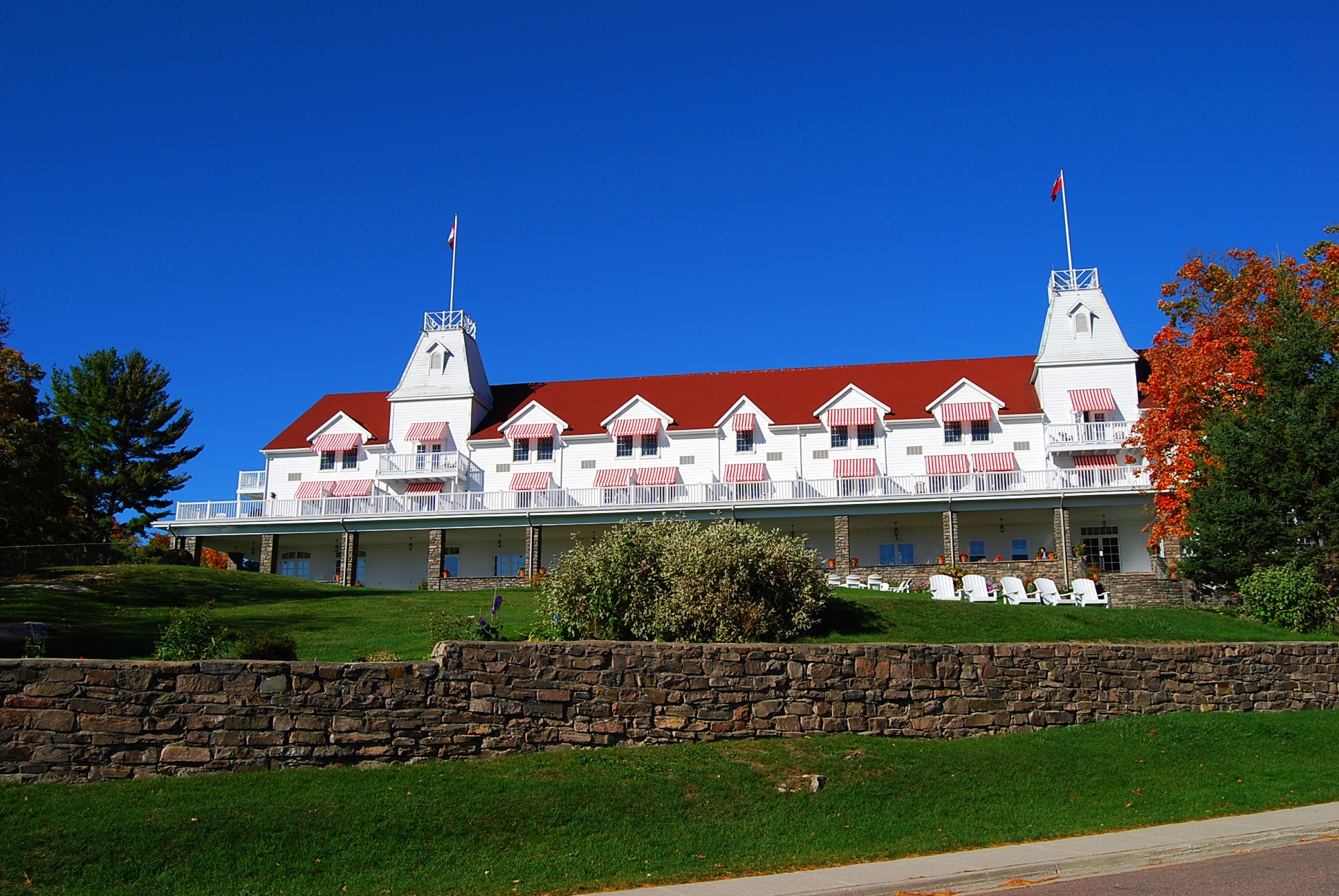 Windermere House
Have you ever heard about Windermere House? This hotel is established in Windermere, Ontario, a historical place in the Muskoka area. The resort proudly calls itself "The Lady of the Lakes." It was built in 1887 in the Victorian style, initially as a boarding house, overlooking Lake Rosso. The original structure, completed by Thomas Aitken, was destroyed by a tragic fire in 1996. The Lady of the Lake was immediately rebuilt in the image of its former historic glory, using much of the original stonework, and was ready for guests in the summer of 1997. In 2007/08 major renovations created an even more enhanced experience for hotel guests.
Windermere House Resort & Hotel is an outstanding choice for travelling in Windermere. The charming atmosphere, nature, services, and history of this place will make your stay unforgettable. As always, free Wi-Fi is available. The rooms in Windermere House Hotel come with a flat-screen TV and climate control. Guests can make use of room service during their stay. Windermere House offers its valued guests a wide variety of leisure and sports equipment to enhance your experience, including: a heated outdoor pool, outdoor tennis, horseshoes, basketball, shuffleboard, badminton, bikes, kayaks, paddleboats, canoes, bocce ball, and volleyball.
The Windermere House Pub & Patio is a must-visit while staying at the resort. If you are looking for something to do off the resort, visit Dee Bank Falls, a famous waterfall among tourists.
Today, Muskoka is in the top 20 places to see in Canada (according to National Geographic Traveler magazine). Children are often brought here to visit the museum, walk along the hiking trails (declared untouched in the guidebooks), gaze at the stars, and be silent by the fire. Tourists come here both in summer and winter. In summer, there are many pedestrian activities and entertainment. In winter, Muskoka is transformed and becomes a snow resort. Words cannot convey the full beauty of the places here!