Waiheke Island, a scenic thirty five minute ferry ride from Auckland's CBD, has long been a popular weekend retreat and summer holiday destination for Aucklander's and visitors alike seeking to escape the stresses of the big smoke. But in recent times, Waiheke Island, has propelled itself into tourism stardom, named by Lonely Planet travel guide as the world's fifth best destination to visit in 2016, and later awarded the world's fourth best island by readers of Conde Nast travel magazine.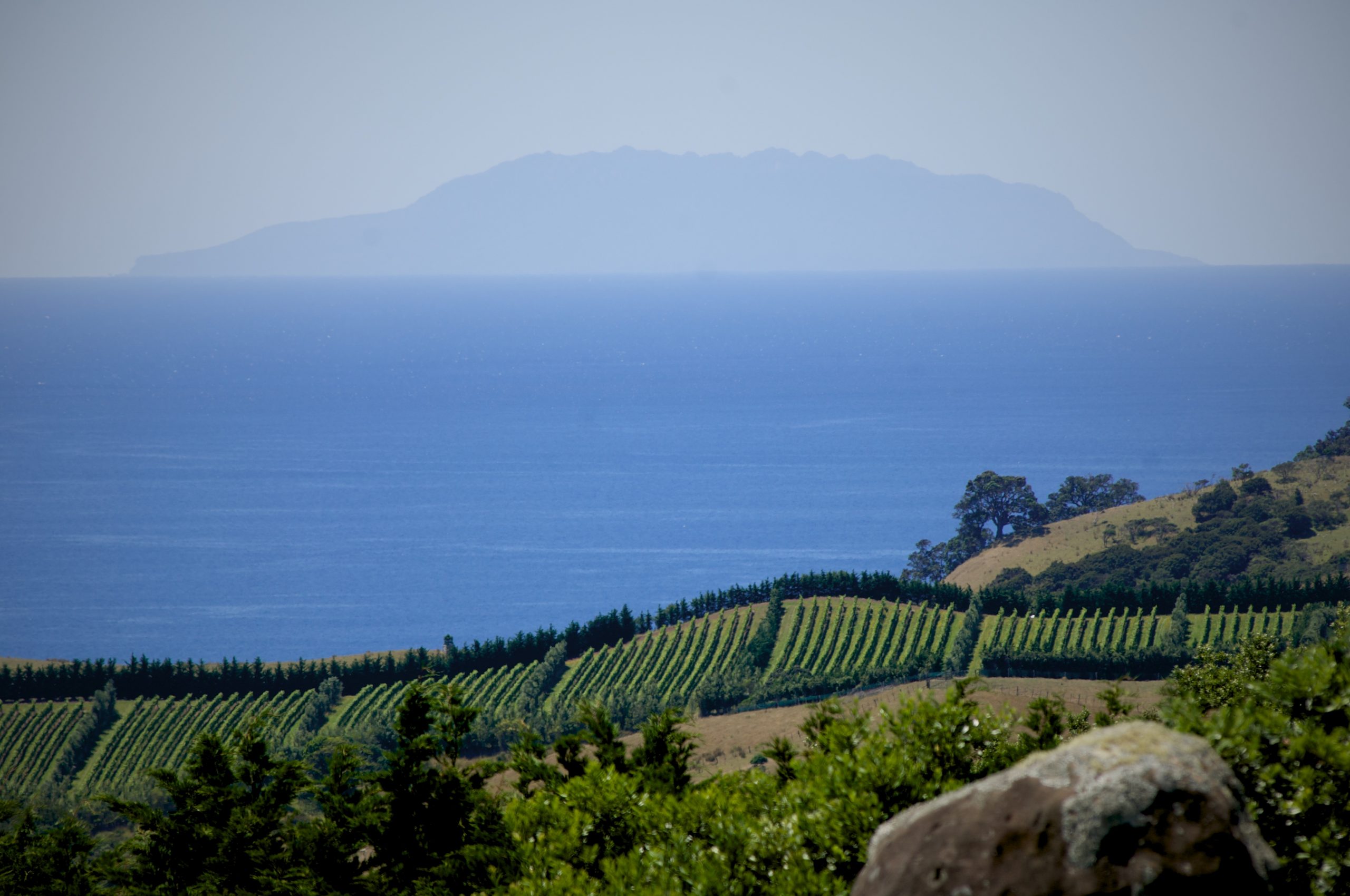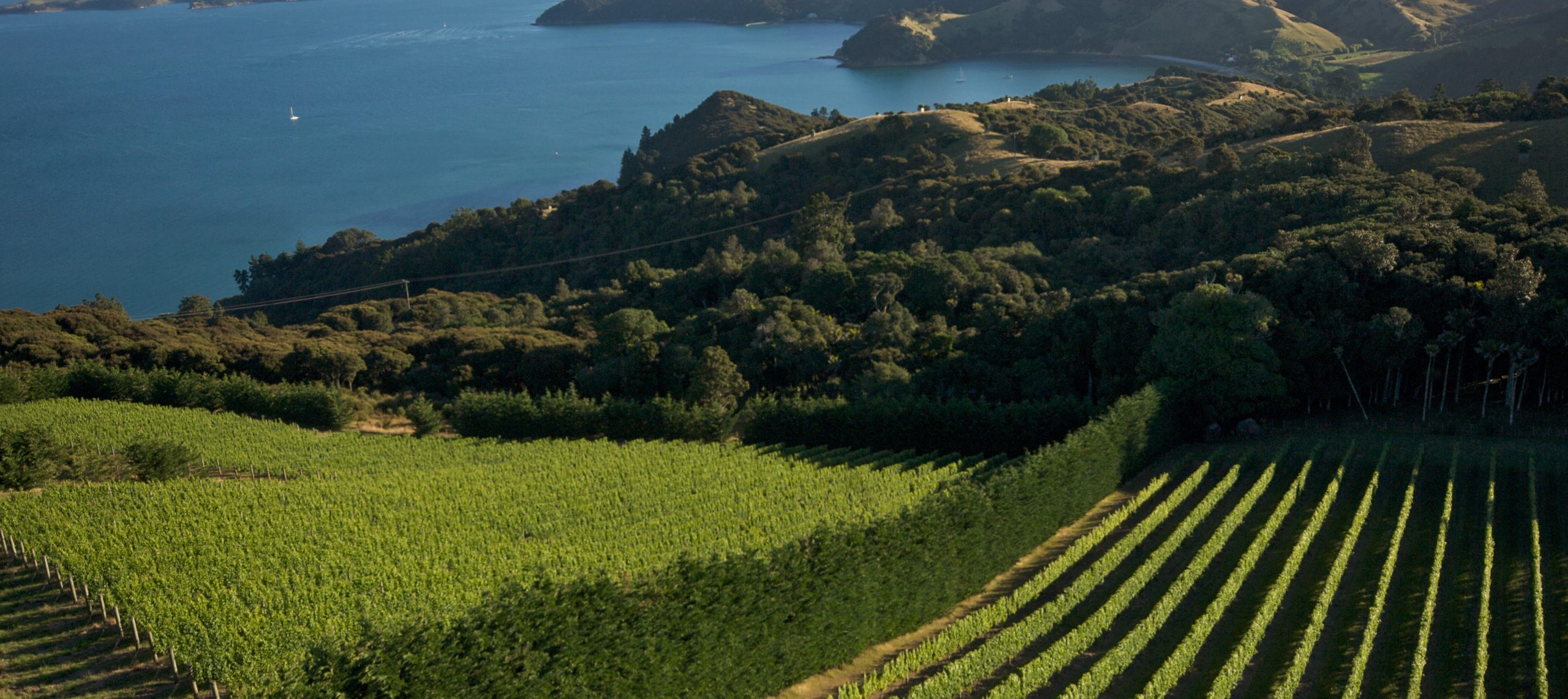 While Waiheke is famous for its relaxed, bohemian sensibilities, raw beauty and diverse landscape of rocky headlands, secret coves, white sandy beaches, grazing pasture, olives groves, rolling vineyards and native forest and luxury lodges, it also provides a host of beguiling experiences including a niche, world class wine scene with a rich diversity of wineries and wine styles.
Situated in the Hauraki Gulf adjacent to Auckland (New Zealand's largest city), Waiheke, roughly oval in shape measures 16km long and 19km at its widest point characterized by its treacherous, mountainous terrain. Its location is fortuitous, in part buffered from the prevailing cold, wet west and southwest winds that sweep across its Auckland neighbor, blessing the Island with lower humidity, less rainfall and more sunshine hours. But from a vinicultural viewpoint, its Waiheke's proximity to the surrounding ocean that plays the biggest role in the ensuing vineyard microclimates – cool, ocean breezes moderate warm summer days whilst at night providing an insulating effect as temperatures plummet. The result is a climate more comparable to, for example, Napa, minus the gruesome extremities typically plaguing warmer climates. Importantly from a quality perspective, the moderate temperatures extend well into the crucial autumn ripening period allowing grapes to enjoy long hang times and develop a rich array of flavours.



Waiheke's 'Jurassic' soils are yet another crucial facet of the island's terroir. Most of Waiheke is underlain with weathered bedrock with the upper most layers often thin, hard and rich in minerals but in many areas remain cloaked by a thick sedimentary layer of topsoil of silt dominated by clay. The soils magnificent drainage and low nutrient level soils force the vines to work hard to survive rescinding vegetative growth and ensuing small, tight berries leading to more structured and rich, intense flavored wines.  Coupled with the diversity of microclimates due to varying aspect and slope, Waiheke vintners have been able to play with a large number of different varietals from classy Syrah, rich Chardonnay, to intense Merlot and Cabernet, and aromatics like Pinot Gris showing great finesse.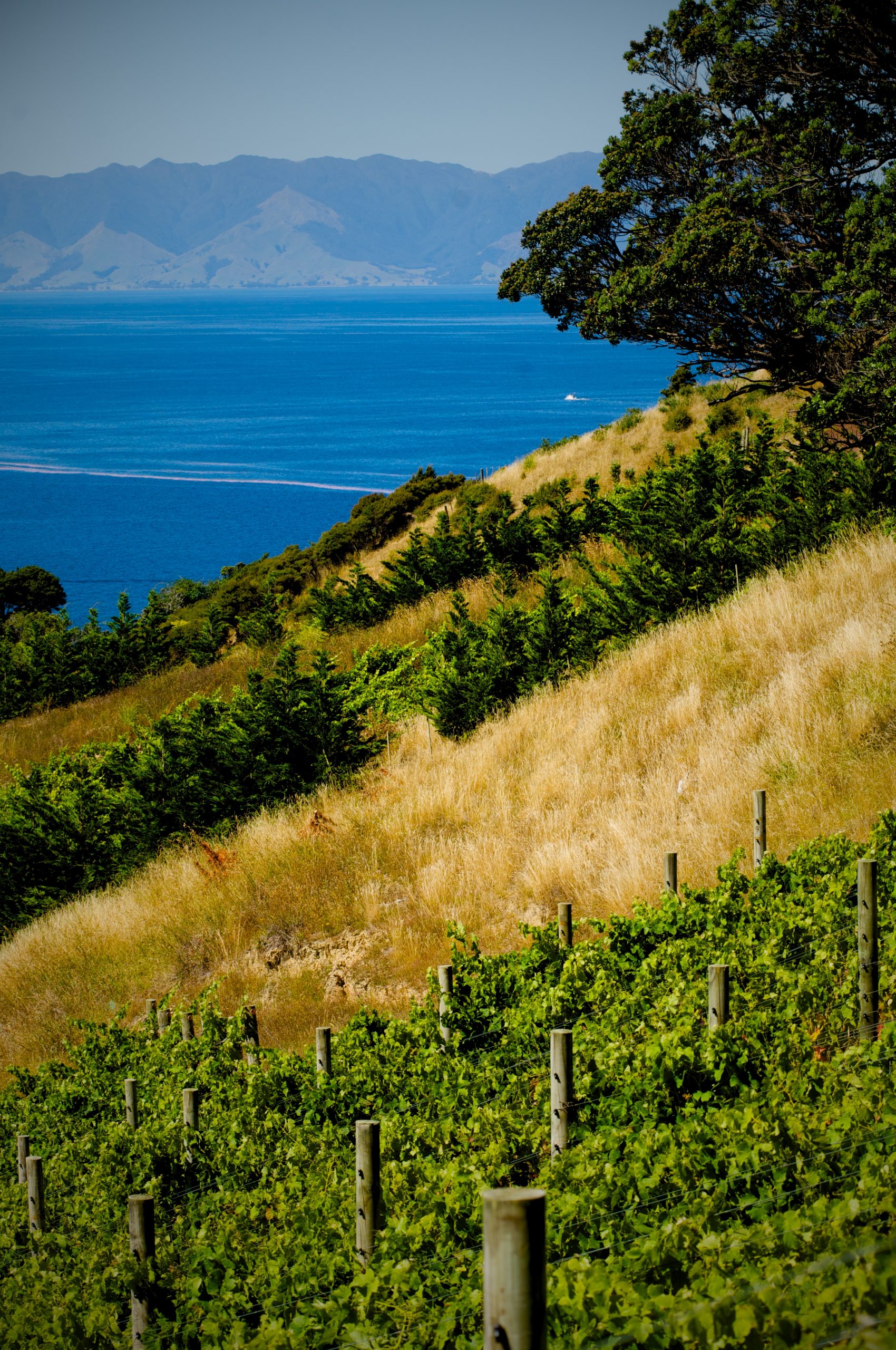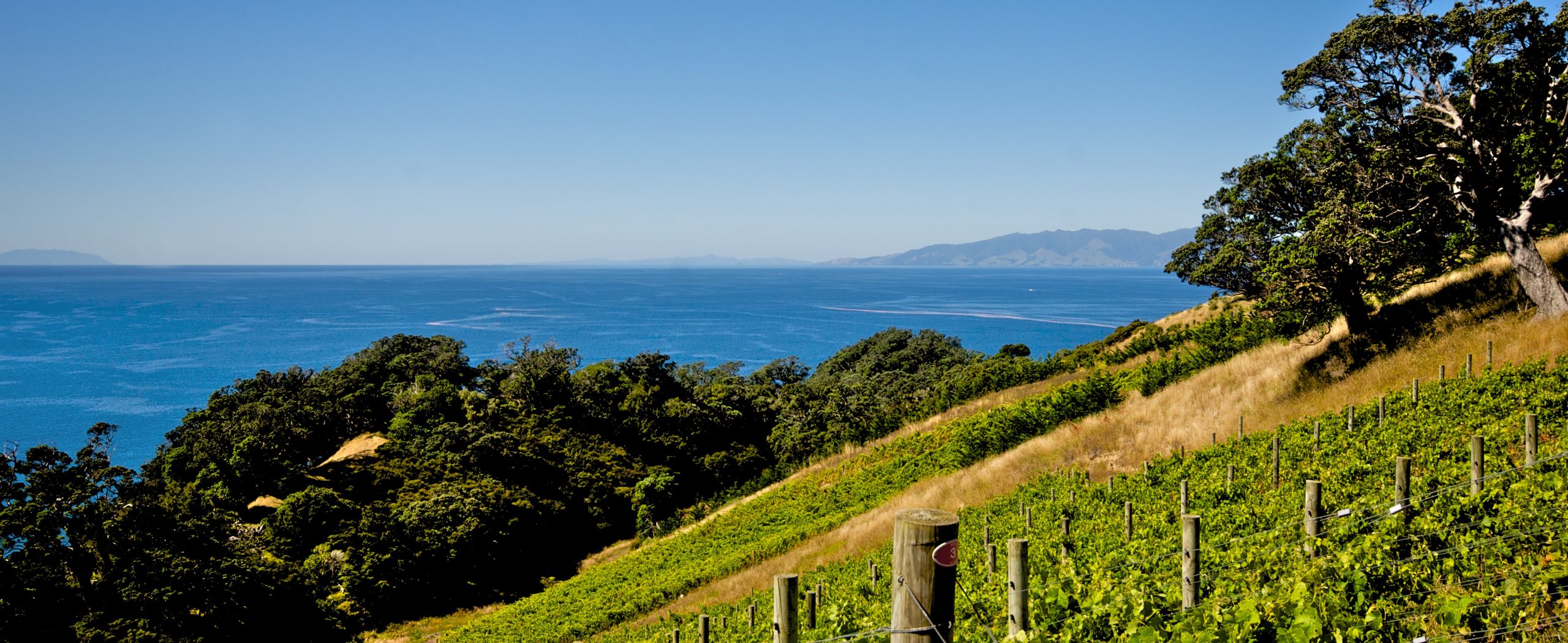 For those who have lived on Waiheke Island for some time, they are the first to tell you Waiheke Island wines have come a long way from the early days where its wines were regarded as "over hyped, over-priced, over there".  Today, quality across the Islands producers is extremely high fostering its reputation as high caliber wine region whilst wooing its guests with its authentic, charming, boutique character.
Producers in the Spotlight – From Old Guards to Spectacular New Arrivals
Te Motu
Pulling up a pew in the courtyard in the former remnants of a converted tractor shed in Waiheke's only 'hatted' restaurant, Sam Dunleavy (Te Motu's third generation family member) reminisces over Waiheke's revolution of sorts recounting the changes on the Island since his childhood days of riding push bikes along the unpaved, gravel roads – a far cry from its newfound tourism mecca status.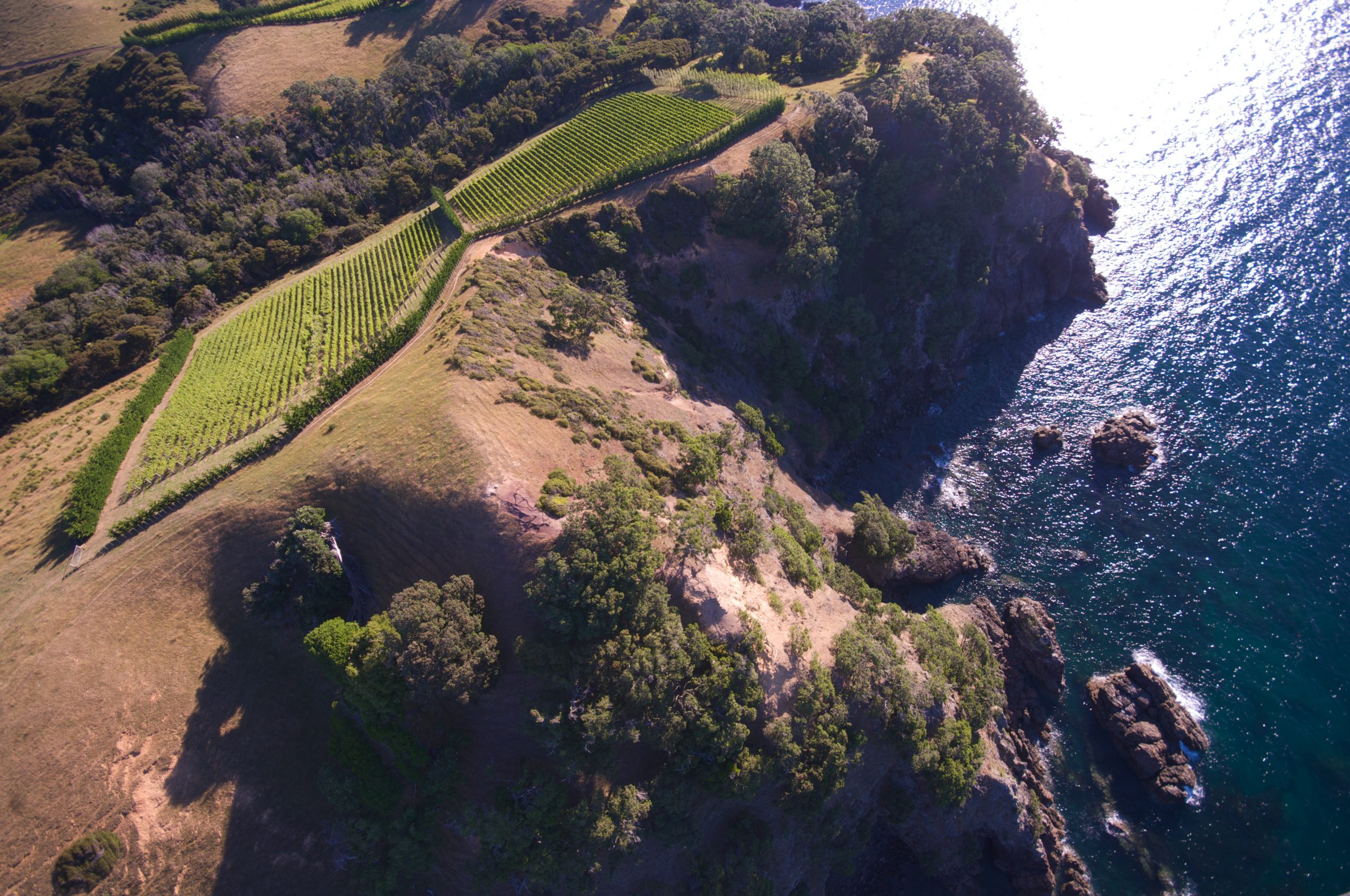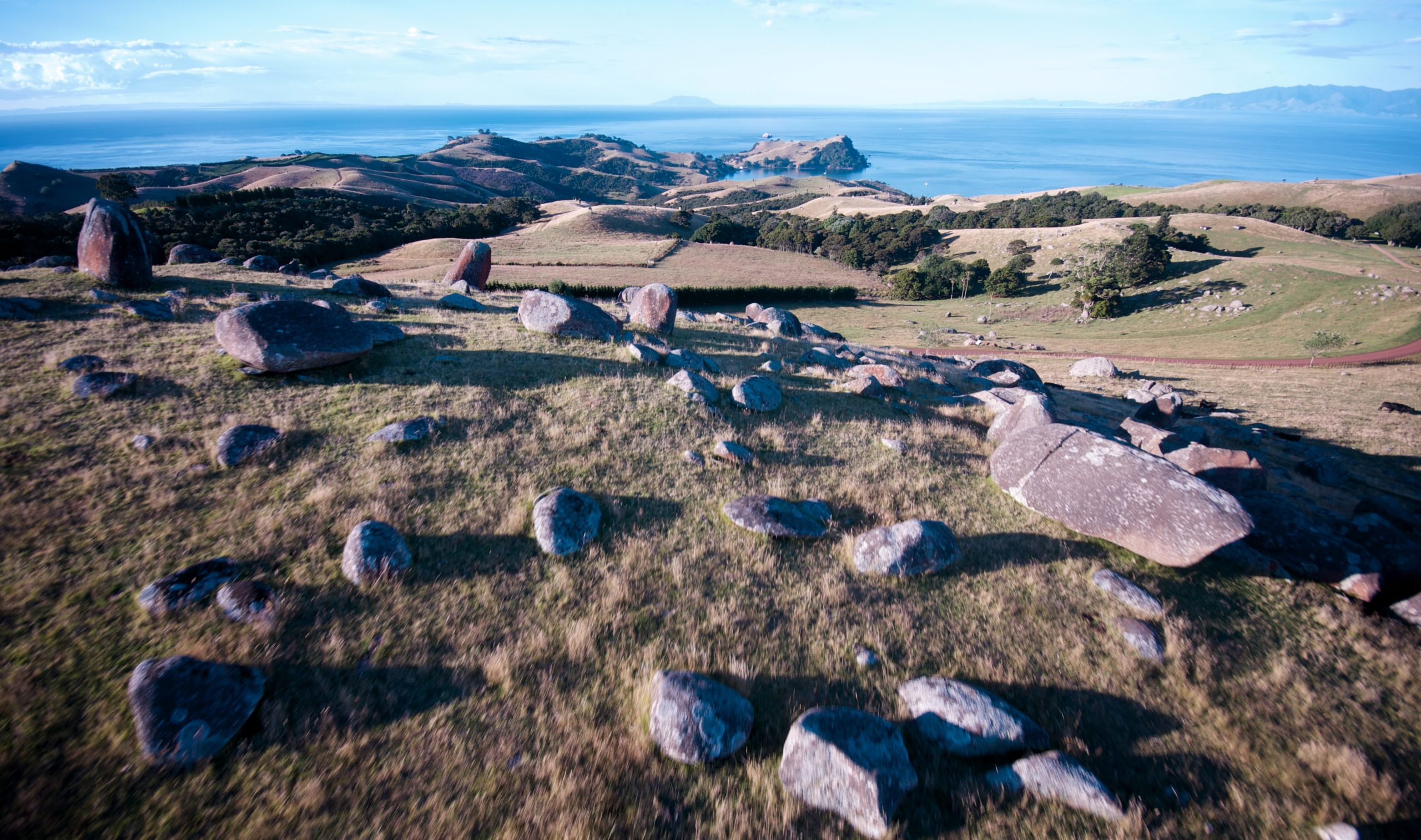 Te Motu, translating from Maori name 'The Island', is a story that really begins with Sam's grandfather, Terry Dunleavy. Of Irish decent and with no formal winemaking background, Terry began his wine journey when he landed a labelling job with New Zealand's then mammoth wine producer, Montana. Widely regarded in the trade as an excellent communicator, he was appointed in the 1970's as the first Chairman and CEO of the newly established Wine Institute of New Zealand tasked to raise the profile of New Zealand wine across the globe.
Next enters Terry's son and Sam's uncle, Paul Dunleavy.  Paul developed a passion for wine at a very young age undoubtedly fostered through his Dad.  While working in the banking industry in Napier, Paul developed a close relationship with Tom McDonald – described as the 'Father of New Zealand red wines' with his Bordeaux style wines gaining international acclaim.  For what seemed an inevitable twist of fate, Paul made the decision that he wanted to own his own vineyard and specialise in Old World, Bordeaux style wines.  With his brother John Dunleavy and his family already living on the Waiheke and the Island's first vintners Stoneyridge and Goldwater beginning to make a name in the trade, Waiheke was a natural choice for Paul who believed Waiheke was an up and coming area to grow Bordeaux varietals.  During his search for land and potential vineyard sites, he stumbled across this small 4 hectare piece of land.  Located in Onetangi Valley sheltered from the north by the ridge protecting Onetangi's famous beach and from the west by a rocky outcrop (Stoney Ridge), Te Motu's north facing aspect, all day sun, undulating ground, gentle slope and deep thick clay soils made it the perfect site. In 1989, the family planted the first vines with Bordeaux classic varietals – Cabernet Sauvignon, Merlot, Cabernet Franc and Malbec – with a vision of making classy, Estate made Bordeaux reds.  Since their first commercial vintage in 1993, Te Motu has produced some outstanding blends attracting several accolades and rave reviews in the wine world; a story of success that should continue as the vines come of age.
Today, Te Motu's small, collaborative team is glued together by the experience of the Dunleavy family who continue to own and work the land – Paul, the Managing Director, John, the winemaker or 'artist' and viticulturalist inheriting his 'green fingers' from his grandmother, and Sam Dunleavy whom runs the day to day operations until he can convince his dad to take a step back' and retire.
Te Motu's restaurant and cellar door are quaint with an element of fitting rustic John hand crafting everything the eye sees including the tables and chairs.  Te Motu's wine making philosophy is as humble and meticulous as its cellar door and winemaking operations: producing wines that express the unique terroir of Waiheke's Onetangi Valley and continue to develop and improve with age a vision achieved by growing the best fruit possible, attention to detail, and low intervention winemaking simply allowing each vintage to speak for itself.
Te Motu's future is exciting. Its small nimble size coupled with Sam's formal science and wine based qualifications and appetite for experimentation (who could have predicted the Dunleavy late harvest Rose made from clean, slightly raisined Cabernet Sauvignon fruit that was otherwise be disposed of would sell so well that it has become a regular feature) brings a new generation of dynamism solidified on a polished platform as a Waiheke pioneer and one of New Zealand's best in class producers of Bordeaux style blends.
Tantalus
Over the brow of the ridge from neighbouring Te Motu, I arrive at Tantalus attracting quite a different feel.  Walking in the grandiose front doors of the majestic cellar door reveals a true architectural masterpiece with stunning details and sustainable finishes including cleverly re-upped old uprooted vines from the Estate artistically interwoven with small glass bulbs to create the overhead lighting fixtures.  It's not long until I am greeted by Clare Dunleavy – daughter of the inaugural Terry Dunleavy, sister of Paul Dunleavy and Sam's Dunleavy's Aunty – and I soon come to realise that on island this size it's not a small world, but a tiny village.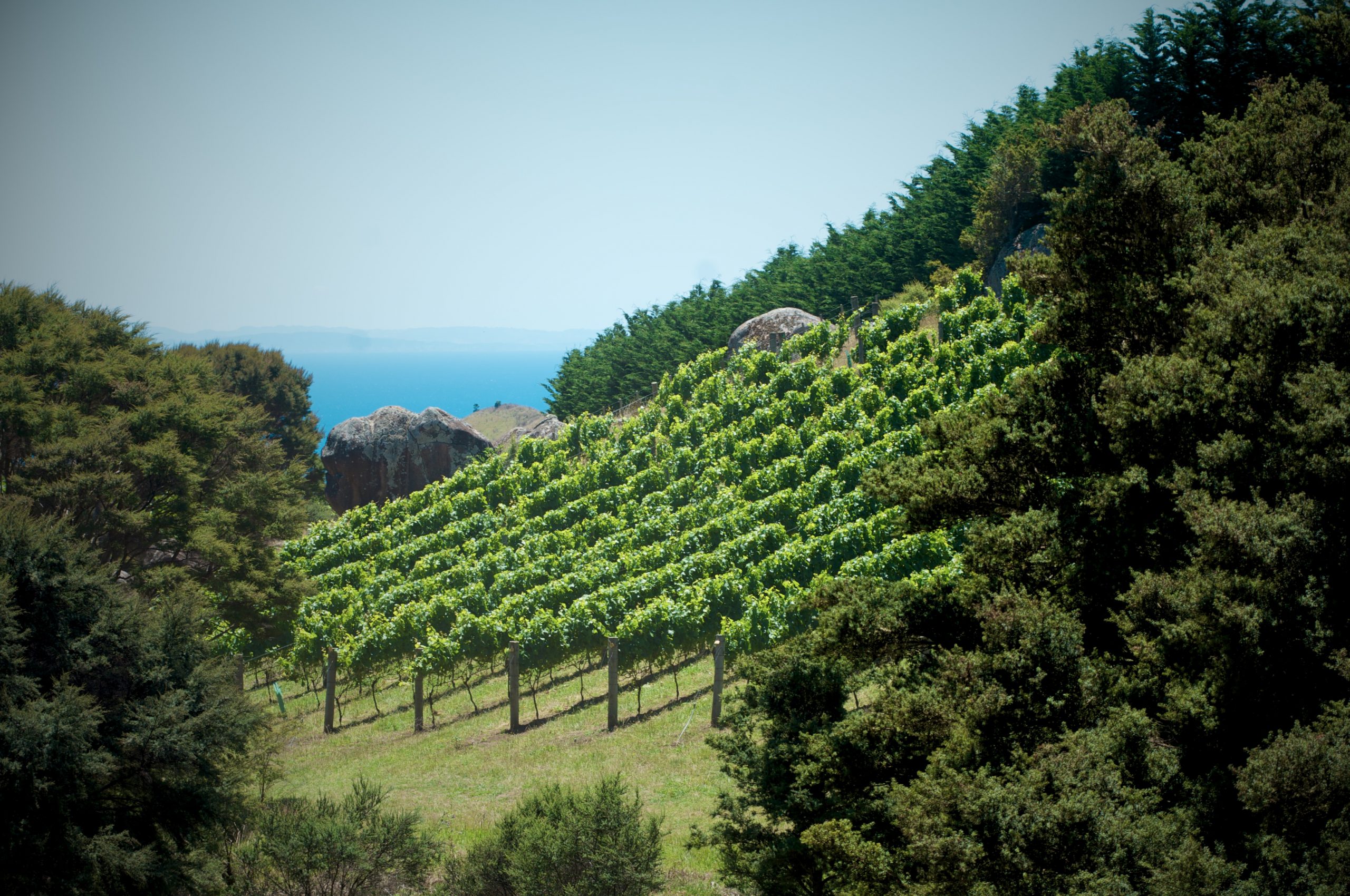 Situated on the main road to Onetangi, the Estate has a curious history.  The property was formerly owned by a California winemaker planting vines here in 1998 explaining the bell tower out front and the cellar doors distinct mission feel.   Sadly, he suffered an ill-fated accident and was forced to sell his dream passing ownership to a new, sketchy owner who wound up getting himself into all sorts of unspeakable trouble.  In 2013, the property was thankfully saved by a 'kiwi' family employing their son, Campbell Aitken and his Canadian wife Carrie Mendell with their respective operational and culinary tourism backgrounds and visionary youth perfectly suited to managing this formidable project.
The couple's first step was to employ a series of capable managers including Argentinian winemaker Alex Perez and viticulturalist Chris Ward – both in their early 30's whom to this day continue to work closely alongside one another and in tandem.  The team then spent the next two and a half years replanting the diseased vineyards with more suitable varieties and managing the monumental renovation of the cellar door and restaurant while maintaining its historic relics redeveloping Alibi craft brewery downstairs (remnants of the former owner) and furnishing the bell tower with a majestic new bell.
But Campbell and Carrie also needed a name.  "Tantalus" Claire explains "it's a thing of the past, an antique ornament decanter with something delicious inside under lock and key" pointing out the various ornaments on display throughout the cellar door. However, the name also has a very personal meaning for the couple being the name of the Whistler corridor mountain range in Canada where Campbell and Carrie met and fell in love while working together on a tourism project.  Unravelling the name mystery, its allure is now evident symbolizing Campbell and Carrie's intention to deliver a top quality experience to its guests.
Today, Tantalus is home to five and a half hectares planted at capacity with Cabernet Sauvignon, Merlot, Cabernet Franc, Malbec, Petit Verdot, Syrah, Pinot Gris, Chardonnay and a few experimental rows of Grenache, Mouvedre and Viognier.  Producing almost 20,000 bottles annually, each wine is entrusted with a French name honoring the spiritual homeland of each varietal and the style and quality of which they seek to emulate while tying in with the secrecy and mystery of Tantalus.
Walking across the expansive courtyard area flanked by vines and the whirling of a helicopter above beginning its descent, we make our way to the far side of the property's restored natural wetland replanted with over 5000 native trees.  The focus upon preserving and protecting this pristine environment is clearly visible Claire pointing out the untreated wood wrapped in plastic with a 75 year life span to stop leeching into the soil, the introduction of bee hives, planting of olive trees and macadamias and Alex' worm farm.  "We also recycle to the nth degree here" Claire explains with the property garnished with materials that would have otherwise been scraped including the recycled oak tables, natural stone, composting, and even distilling off alcohol from oxidative wine leftovers used for cleaning in the restaurant!
As we continue to walk and talk, it is evident that the couple's signature and painstaking attention to detail embellishes every inch of the property demonstrating the name Tantalus is not simply an attractive brand name with an enticing story but a deeper embodiment of couples modus operandi – wowing guests, unlocking the secrets of great wine, food and surroundings and delivering a truly exceptional and world class wine experience. With the pairs youthful energy, optimism and raw natural talent, the future of Tantalus is, well, simply put tantalizing!
Recommended Waiheke Island Wines:
Te Motu 2012: Described as the Estate's 'top dog', Te Motu's flagship wine is a Cabernet Sauvignon dominant blend with Merlot, Cabernet Franc and Malbec.  Made only in the very best vintages, the blend varies from year to year with only roughly 4500 bottles made each vintage.  A stunning old world inspired this wine is showing lovely development with fragrant aromas of dark fruit with whiffs of leather saddle, pencil shavings and dried garden herbs. The palate is rich and complex with a strong line of acidity, textured tannings and revealing an array of flavours of dark red berry fruit, plums, herbs, forest floor, liquorice and oak influence (vanilla and toasted nuts) and a pleasant 'meatiness' through age.  Long, lingering length and spicy, savoury finish.  Keep an eye out for the 2016 which Sam believes will be one of their best vintages yet.
Tantalus 'Voilé' Reserve 2014: Meaning veiled or shrouded, the name pays homage to its spiritual home of Northern Rhone.  Deep purple in colour with lifted, aromatic nose unveiling hints of cassis, licorice, floral violet rose, and blackcurrants.  On the palate the wine delivers bright, linear acidity, soft silky tannins, and generous flavours of dark red berry fruit, black pepper, spice from oak influence, and dark chocolate. Savoury, spiced finish and generous length.  Extremely well balanced, seamlessly integrated and stylish wine.
Man O' War 'Valhalla' Chardonnay 2017:  Arguably Waiheke Island's largest quality wine producers with almost 80 different sites across 60 hectares, the flagship Chardonnay is produced from a selection of Man O' War's best Chardonnay barrels.  The nose is seductive and aromatic with aromas of lemon, stonefruit, and white flowers.  On the palate, the wine delivers bright acidity and a rich concentration and complexity of flavors of citrus fruit, stonefruit, subtle nuttiness and yeastiness from oak ageing and a strike through of minerality that dances across the palate.  Powerful yet refined and well balanced. A truly exceptional wine.
Te Motu, Tantalus and Man O' War wines can be shipped direct from the winery through NZWINEHOME offering a door to door service.  Man O' War wines are also distributed in Canada by Amphora Imports and Black Stallion Imports.